Will left guard Clint Boling continue to see time at right tackle?
How much will we see the combo of Pollak and Boling at LG and RT, respectively, going forward? Seems to be working well, and while Newhouse held Watt in check well, he hasn't exactly been the most consistent. Matt Eliott, Hamilton, OH
MATT: Guess they didn't think it was working well enough since they signed veteran tackle Eric Winston Tuesday afternoon before you filed.
You'd think Winston would be inactive for the Pittsburgh game this Sunday, but after that your guess is as good as mine on how they use him. Is he just a backup in case someone gets hurt or does he start in Cleveland Dec. 14, or do they rotate him in there with Newhouse or Boling, or both?
It sounds to me like it's a work in progress. Winston had low grades last season and he hasn't played a snap since preseason. But before that he was one of the top tackles in the league. It sounds like they're concerned enough and he's been good enough that he'll get some snaps.
My Question is did Marvin Louis get the game ball for the Bengal's win Sunday. Ricky Ehemann, Cincinnati, OH
RICKY: Coaches rarely get a game ball. The only time I remember it happening is defensive coordinator Mike Zimmer getting one when he was on the sidelines working in Baltimore on Oct. 11, 2009, 72 hours after his wife died and the Bengals beat the Ravens in the last 20 seconds fueled by a remarkable defensive effort. Clearly an extraordinary moment.
That's not to say Lewis didn't deserve one for throwing the challenge flag that wasn't supposed to be and got the 12 men penalty that won the game Sunday in Tampa. But to Lewis' credit, he handed around the credit and pointed to the coaches in the box because they told him immediately on the phones, led by defensive coaches Matt Burke and David Lippincott.
And maybe the coach that also deserved a game ball was offensive coordinator Hue Jackson for the way he lit into the offense at half time, particularly quarterback Andy Dalton. He wouldn't elaborate Monday, but it sounded like, "Sick? I'm sick, too, but you have to play."
Bottom line? Lewis and his staff had a good day and anyone of them deserved a game ball.
What is the status of Domata Peko's elbow injury? Dave Leonard, Lakeside Park, KY
DAVE: Peko's got an ugly bruise, but all indications are he'll play Sunday against Pittsburgh. The guess is he's out Wednesday, goes limited Thursday, and goes full Friday.
Right now, who is the leading running back moving forward, Jeremy Hill or Giovani Bernard? Tyler Huser, Independence, KY
TYLER: There's not a lead back at the moment. It looks like both guys are going to get pretty close to the same number of carries. Hue Jackson indicated Monday now that Bernard has been back for two games after losing three weeks to a hip and shoulder injuries, he may see more action as both a runner and receiver. But I think both are the No. 1 back right now.
How they are used depends on opponent, situation, package and play-calling, of course. Certainly if the Bengals have the lead in the fourth quarter and are trying to pound it, Hill is the guy. If they're in a two-minute drill at the end of the half or game, Bernard is the guy. And most of the time you'll see in Hill in short-yardage and goal line, but Gio will get his shots there, too.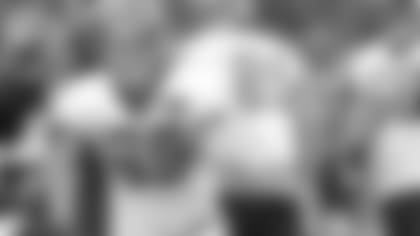 Ryan Hewitt should be on everyone's all-rookie team at fullback.
I know this may sound like a silly question but do you think Ryan Hewitt should be given any consideration as this year's rookie of the year? Robert Whitaker, Owensboro, KY
ROBERT: No such thing as a silly question. He has to be on the all-rookie team as the fullback.  No one on the Bengals offense has been as steady and as consistent as Hewitt. But Hewitt just doesn't have the stats for an award that that is most likely ticketed to one of the receivers, the Bucs' Mike Evans or Carolina's Kelvin Benjamin. Or even the Bengals' own Jeremy Hill, the running back who could really make a splash in December.
Geoff: I'm excited by the development and increasing role of James Wright. Do you think he has a chance to fulfill the role that Chris Henry once did? Also, league-wide, is there a better rookie free agent than Ryan Hewitt? Thanks for your insight and expertise. Warmest regards, Les Kachurek, Hornellsville, NY
LES: Nice to hear from the Southern Tier, the high school home (Elmira Free Academy) of Heisman Trophy winner Ernie Davis.
Wright is having a great rookie year, but there's no way you can compare him to Henry at this point in his career. Henry came out of college as the No. 1 receiver on a passing team, a first-round pick who fell to the third round who had unique height (6-5) and speed. As a senior, Wright played behind a first- and second-round pick at LSU and didn't have a catch.
That said, Wright has good size (6-2), very nice speed, and has a terrific attitude. Right now you'd say his niche is as a solid fourth receiver who is an excellent special teams player. He can be more of a No. 3 this month without wide receiver Marvin Jones and tight end Tyler Eifert, so we'll see how far he can go. He's just getting started. One thing we know is they got another last-round blue chipper who is going to produce a lot for them to go along with Brad St. Louis, T.J. Houshmandzadeh Jon Fanene, and Chinedum Ndukwe.
Hewitt has been great, hasn't he?
But he's had company, especially from two guys that scored against the Bengals this season. Browns running back Isaiah Crowell, out of Alabama State, has fewer carries (107) as fellow Cleveland rookie and third-round pick Terrance West (133), but he's averaging more at 4.4 yards per pop and scoring more with seven TDs. Jacksonville wide receiver Allen Hurns, via the University of Miami, has 35 catches, five TDs, and is averaging 15.1 yards per catch.
Also, University of Buffalo running back Branden Oliver has produced for the Chargers with 431 yards and two TDs.
The Bengals offensive line is not run blocking well at all?...will there be significant changes moving forward?.....and when will Dalton stop locking in on A.J. Green? Kirk Bemus, Newark, OH
KIRK: You also filed before they signed Winston. There is the significant move. As for locking on Green, there's a fine line there. You have to lock on to him. If you don't lock on him, you get ripped for not throwing it to him (i.e. first half in the playoffs against Houston). He's got to lock on, but he can't force it.
Geoff, Long time Bengals fan here, and Cincinnati native. Well it is late in the year and the biggest issue I can see on our defense is the linebacker group. Why is it we never see the Bengals hitting the trade market. I realize that Marvin has always liked to develop young talent, but when that talent starts to drop like flies early in the year, and with another playoff hopeful team under his helm, don't you think it would have been nice to pick up a good backup (or starter) before the trade deadlines? Keep the great articles coming and WHO DEY! Jack Jordan, Asheville, N.C.
JACK: Thank you and thanks for the question. It's a legit one. I think they batted around the idea of getting a veteran backer before and during training camp, but they also wanted to develop their young guys, which has worked well with Vontaze Burfict and Emmanuel Lamur. Once everyone went down during the season, though, they explored all avenues, as you can see by the parade of backers they've brought in and put on the practice squad. Duke Tobin and Mike Brown haven't been afraid to trade for help (Reggie Nelson, Brian Leonard, Kelly Jennings) and they signed a veteran backer last year in Michael Boley that really didn't pan out.
It's tough to give up a draft pick that could be a James Wright for a guy that might be at the end at a positon you can develop. The things that do concern you is a guy like Vincent Rey is playing so well in place of Burfict, but he's played more snaps this season than he's played in his entire career.
Pittsburgh really stuck it to us last time we played them. They were the bullies of the AFC North. They broke the jaw of the most underrated punter in the NFL (which should have been a penalty by the way) & shut down the rest of the offense. Do the Bengals feel like they owe Pittsburgh one from the last game they played or is a division game enough to get the Bengals ready to hit the Steelers in the mouth? Beau Christopher, Los Angeles, CA
BEAU: Knowing special teams coordinator Darrin Simmons, who misses nothing in preparation, the Bengals have enough axes to grind than Paul Bunyan this week. And looking at punter Kevin Huber's twitter feed, he knows what week it since it is 51 weeks since he had his jaw broken against the Steelers.
Simmons has a proud group. They lead the NFL when you combine the top 10 major special teams categories. They have one of the top punt cover teams in the league and in the Green-Dalton Era, only one returner has scored on them. And Pittsburgh's Antonio Brown has done it twice.
I've been a Bengals fan for 33 years I have seen the good the bad and the ugly with this team, I jus't dont have a good feeling about this team this year, even though they sit atop of the north. I have two questions, in your honest opinion is Dalton the elite QB that he signed his contract for? My second question without a playoff win this year do you think coach Lewis will be in Cincy next year? Randy Patterson, Interlachen, FL
RANDY: Dalton is worth the contract they paid him, which is basically a two-year, $25 million deal. It is only an elite contract if he hits the landmarks, which is fair, since his swing in play has been so wide. But there is still a price to be paid for having a pretty solid QB who can win games and not make you the Jets, or Titans, or those other teams that have been in no man's land with no quarterback.
I get the fans' frustration with Lewis and he gets it too. Listen to him on the days he's asked about Mike Brown's patience.
But here's the other side:
This season they've never had Marvin Jones or Tyler Eifert. They didn't have A.J. Green for four games. They didn't have Giovani Bernard for three games. They've lost Andre Smith for basically the last six. One of their Pro Bowlers on defense, Burfict, has hardly played. The other Pro Bowler, Geno Atkins, is just rounding into form. Plus, he's had two new coordinators.
And yet, he's got them in first place in December.
That's one argument. We know the other argument and we can't have it until we see what happens. More importantly, how it happens.
First things first, and to becliché, I look forward every week to reading "Hobson's Choice," thank you for that! Been a Bengals fan my entire life, originating from Dayton OH, but currently live in WA, because that's where the Military has taken me (good thing for Sunday Ticket)!!!!!! My question/obersvation is this: Where has Maualuga been hiding all these years? I'll admit I was never sold on his potential, but it's obvious his return has helped the Run D tremendously. Kudos to the coaching staff for sticking with him, they've seen something us fans haven't.
The defense has played great the past 3 games, I'd say better than the first 3 games when we were getting praised. Held the Saints to 10 (gave up a garbage time TD) only allowed the Texans 2 FGs (pick 6 obviously nothing the defense can do about that) and the Bucs to 13 (team is better than their record in my opinion) is it that they are finally staying in their assignments and not trying to do too much? Looks like they are trusting one another at the point of attack and staying in their lanes. And what's the word on Burfict? 2 weeks has silently turned into 5.
And lastly is it illegal for the offense to show emotion and fortitude? It seems when they are struggling they just accept it and they look flat the entire game. I.e. browns, pats, Colts, and this past week against the Bucs. Is this a coaching problem? Mark Thomas, Tacoma, WA
MARK: Thank you for your service and all that you do.
It sounds like you've hit it on the head about the defense. Trust has a lot to do with it and playing soundly follows suit. And you can't underestimate how much Atkins means to them. His improvement has mirrored the numbers, topped off by last week in Tampa. It certainly seems like Rey has settled them down. It was fascinating listening to new linebackers coach Matt Burke in training camp. Burke is an NFL vet who has worked in Tennessee and Detroit and listening to a new voice rave about the unique things Maualuga does in the run game was instructive.
As for emotion on offense, they came out of half time with enough emotion to win it. It sounds like Jackson had enough emotion for everyone and pushed all the right buttons.
Here's your Burfict answer:
What's really the deal with Vontaze? Seems like we never really know what's wrong with our players. Marvin does a great job at keeping things on the hush about injuries. Thanks Butch. Anees Nammari, Minneapolis, MN
ANEES: We never know what is wrong with the players because that's the way Marvin wants it. Some coaches could have guest starred on Grey's Anatomy because they're so open about their injury rolls. Not Marv. He'd be the hospital's mean legal counsel. When the players are instructed not to talk about their injuries, it's tough to even guess because you don't want to put them in a tough spot.
(I wonder how things are going your way with Zim up there. He's the classic don't-ask-me-I'm-not-a-doctor guy.  And I can't blame a coach when he says that.)
But we don't have to be a third-year resident on Burfict. He had a knee scope five weeks ago and there's no sign of him playing yet, so it didn't go as fast as some scopes have gone. And that happens because everyone is different.
Hobson, Why is Andy Dalton so inconsistent? Anthony Rangel, Ontario, CA
ANTHONY: I don't know. But I do know he's got a lot of company. There's about five QBs that are good most of the time. After that…. It's not that he's inconsistent. It's that his lows are so low, he doesn't give you a shot. At the same time, he's shown he's good enough to get on a roll.
With the overall success of trick plays, specifically with Muhammed Sanu at QB, why aren't they used more frequently, 1-2 times per quarter, seemed great with Tampa a few different times. These last four games should be all or nothing, and with no regret. Tim Schaffner, Cincinnati, OH
TIM: I hear you, but you can only go to the well so many times. High risk, high reward. And the other coaches are getting paid, too. But, I hear you. We've seen Jackson enough to know he'll let everything out of his bag by the time Santa shows up.