The Bengals went safety early, George Iloka, in free agency.
Hi Geoff - Happy that we were able to re-sign Iloka and Adam Jones but sorry that MoJo and Sanu are gone. (MoJo's was personally a head scratcher to me!) Do you think the Bengals would consider signing any vet WRs in free agency for vet min or team friendly deals? - do you see any of the following as possible candidates: Anquan Boldin, Andre Johnson, Mike Wallace, Roddy White, or James Jones? Or do they keep staying young with what they already have and the draft? Guha Srivatsa, Leesburg, VA
GUHA: At some point the Bengals are going to look at veteran free-agent wide receivers, but not UFAs and not 30ish guys. So that takes out Boldin, Johnson, Wallace, White, and Jones. I mean, when they played the Texans two years ago it looked like Johnson was done so they're not looking for that or a one-year band aid. We know they'll most likely draft two receivers, so they'd like to get a vet that at least has some juice left.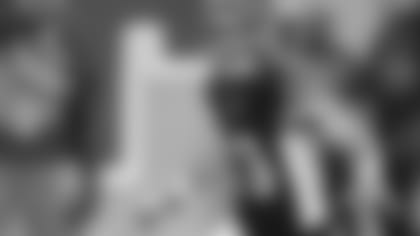 Rex Burkhead should see more slot time this spring.
With the loss of Marvin Jones and Sanu finding new receivers is of the utmost importance. I'm sure we can find someone in the draft to develop for Jones' role opposite AJ and probably the slot spot position as well. But what are the chances that Rex Burkhead could take over the slot position. He seems to run routes pretty well and has good hand also. Steve Schmitt, Hamilton, OH
STEVE: The role of Burkhead, the No. 3 running back, remains to be seen, although I can't see him as a full-time slot guy. With all the weapons they had, the Bengals didn't have a lot of snaps to put him in the slot once they got through putting Sanu, Eifert, and Bernard in there. So he should get a lot more looks in there this spring.
It almost seemed like Burkhead went into the dog house a bit after he fumbled against Seattle in Week Five even though offensive coordinator Hue Jackson flogged himself for a play that called for Burkhead to get a handoff as he went in motion. But Burkhead is usually a reliable guy and he would seem to be a nice fit in a spot the Bengals need reliability, so you're right. He looks a bit Welkerish to me, and I think he'll get some snaps in the slot, but not all of them.
Are the Bengals the only team in the NFL that would reward a player whose immaturity, selfishness, stupidity and lack of discipline and self-control cost the team a playoff win? I guarantee if a player did that with the Patriots, that guy would not be around next the next year. John Holm, Cincinnati, OH
JOHN: I don't know what the Patriots would do, but I don't see the Broncos cutting cornerback Aqib Talib. Talib came dangerously close to costing Denver some huge games last season with some 15-yard penalties, most notably two for a facemask and then taunting in the first half of a Super Bowl that was still close.
I don't know what the Patriots would do, but I don't see the Steelers firing assistant coach Joey Porter for his stupidity that put his team in position of very nearly blowing the game against the Bengals.
Bengals cornerback Adam Jones has admitted he lost his cool on that play, but to say that he lost the game and that he shouldn't be brought back because of it oversimplifies a complex situation. There was more at work than Jones's one second of frustration and there is more to Jones' career than one flag.
Let's go to that last play, where Jones was given a 15-yard penalty for brushing an official, giving the Steelers a chip shot field goal to win it.
Jones reacted to Steelers assistant coach Joey Porter on the field taunting the Bengals as they huddled up for one last play. Yes, a dumb play by Jones. But even a dumber play by Porter, who the NFL now says was illegally on the field. If the officials did the right thing, Porter would have been flagged, blowing the game for the Steelers. At the very least, both should have been flagged in off-setting penalties, setting up a long field goal in the rain.
That doesn't make what Jones did right. But he certainly didn't make the only decisive play in the game. There were 10 other plays that could have decided it, one of which was another play the NFL said the refs whiffed that wrongly allowed the Steelers' only touchdown of the game.
Jones was one of the main reasons they were winning at that point with his punt return a few moments before and his great coverage of Antonio Brown all game.
And in a game where if Steelers assistant coaches weren't running all over the field, they were pulling the hair of Bengals safety Reggie Nelson, the officiating allowed a lack of discipline. Two wrongs don't make a right, but the whole night was a travesty and to implicate only the Bengals or just one of their players is to ignore what went on the entire game.
For the last two seasons Jones has been arguably their best defensive player and one of the game's top returners. His fiery play has helped fuel this remarkable three-year run where the defense has helped win two division titles with the NFL's No. 3 defense in 2013 and the NFL's No. 2 scoring defense in 2015.
If Jones let emotions get the best of him for a second, the team can't let emotions get the best of them in trying to build the best roster they can. Should one second of frustration be measured against a man's body of work?
I don't know what the Patriots would do. But my bet is they wouldn't let one of their best players go and they would stand by him if they were involved in such a game.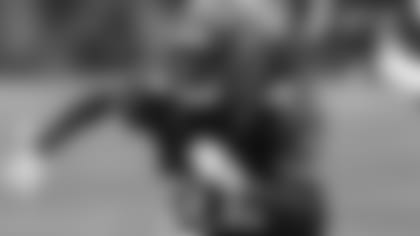 Adam Jones has put together two of the best seasons on the NFL corner in 2014-15.
Hi Geoff. As always, love to read your thoughts on all things Bengals. Couple things I have been pondering. First, I was wondering if Sanu was upset with the team for some reason considering he made it abundantly clear that he was not coming back before free agency even got close. Or was it like Jones and he wanted more targets and touches in general and with A.J., Eifert, Gio and so on he wasn't getting it here?  I just hate to think that loss to the Steelers made him think it can't happen here. That is poisonous thinking.
Secondly, could you see them drafting Braxton Miller if he's still sitting there in round 2? Even if they take someone like Treadwell in the first Miller should be hard to pass up at the end of round 2. Particularly with their best man available strategy right? But especially if they go DB or pass rusher in round 1 could they grab Miller or do they feel they will need instant production with the departure of Mo and Jones too much to take such an inexperienced receiver? I feel Miller is going to end up being the best receiver taker in 2016 and he gives us some of the same versatility as Mo but deadlier. Anyway, thoughts? John Lee, New York, N.Y.
JON: Thanks for the note. My sense is that Mo would have loved to have come back, but he got the sense they were moving on as free agency neared.
And, yeah, I think the number of targets had something to do with it. Even if he came back and Marvin Jones didn't, A.J. Green and Tyler Eifert would still be in front of him, as well as the touches of running back Giovani Bernard, and I think he'd like to show he can put up what he calls "ridiculous numbers," that he couldn't put up here. But from what I can gather it had nothing to do with the Steelers game. He would have loved to have come back if a good enough offer was there.
Just can't see them taking Miller that high. Or at all, really. He's going to need time to adjust to the positon and the Bengals don't have time to bring him along. It's an interesting comparison you make with his versatility and that of Sanu. But Sanu is a high school quarterback who excelled for years in college at receiver. Miller is a college quarterback who learned receiver for one year in college.
You may be right about Miller. But the Bengals can't wait on projects at receiver.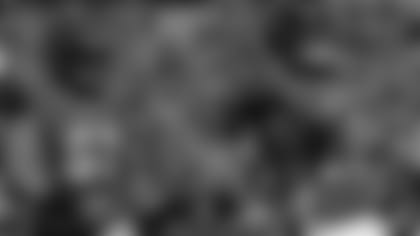 Don't forget Giovani Bernard's 148 career catches.
Dear Geoff, I love that we've kept and resigned a lot of own guys i.e. Brandon Tate, Vincent Rey, Adam Jones, George Iloka, etc. With that said, the obvious question is how are we going to replace our #2 and our #3 receivers with Marvin Jones and Mohammad Sanu signing with the Lions and Falcons respectively? Does management have a potential free agent in mind to lineup opposite of A.J. Green? Are they eyeing a specific slot receiver in the Draft? Lifelong fan out of California and I feel we're right on the doorstep of a playoff win and beyond. WHODEY4LIFE!!! Eric Reeher, Modesto, CA
ERIC: From what I can gather they'll peruse what it is out there for veteran free agents but won't drop a bunch of money on him. Their main source of replacing Jones and Sanu is through the draft (probably two picks), as well as more double tight-end sets and, one would imagine, more pass targets for running backs Giovani Bernard and Rex Burkhead.
They won ten games in 2012 in a similar situation, piecing it together behind Green with tight end Jermaine Gresham, second-year slot receiver Andrew Hawkins, veteran Brandon Tate, practice squad promotion Armon Binns, and the drafted rookies Jones and Sanu.
This time around they've got the tight end (Eifert), the practice squad promotion (Jake Kumerow), and they'll have the drafted rookies. Missing is an experienced slot man. Hawkins not only had one year of NFL experience with 23 catches, but two years of CFL experience when he came into the '12 season. Mario Alford, a seventh-round pick last year, played in just one game as a rookie.
* Hey Geoff, Shopping season is here and I wanted to follow-up your comments about Mike Wallace. While I agree that he is a bit old and we haven't had much luck with the WRs. I think Wallace could be worthwhile for the right price. We need speed: check, experience: check, AFC North experience: check, leadership (ask Zimmer): check, Steeler revenge: dbl. check. Am I convincing? Cheers, Kirkmo from Newark. Kirk Homrighouse, Granville, OH*
KIRK: I hear you, but you said it right. "The right price." I think he may be out of range, at least for a couple of weeks. Wallace always seemed to me to be a bit of an underachiever. I think they'd be better off getting a younger guy that could stick around a little longer. I love the idea of getting a solid vet to help out the kids, but it seems like by the time they get in the swim, the kids are ready to take over anyway.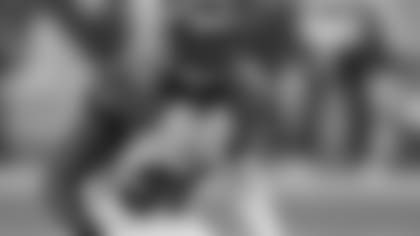 Shawn Williams, a third-round pick in 2013, has impressed them at safety and looks to be on the verge of starting.
Geoff, Thanks for keeping us up to date through the highs and lows of the playoffs and free agency. I must say, I've never seen a happier place than the Bottom Line - the Bengals' bar here in DC - during those few minutes we thought we had it during the Pittsburgh game. The end was a tough pill to swallow, but we're back on board with the team's theme of 'unfinished business.' Two questions: - Love that we locked down George, Adam, and Vinny, but what about Reggie? The consummate pro, fan favorite, and thorn in the side of the unspeakables from Pittsburgh. As of now, he's still out there, and while Williams has shown he can play, are you going to just let a Pro Bowler walk? How about letting Williams step into Lamur's role as the athletic hybrid while bringing back Reggie? Seems he could excel there... –
With Marvin and Mo gone, we're perilously thin behind AJ. I'm sure Duke and the team will eye a pick or two in the draft, but what are the chances of picking up an under the radar free agent for depth? Brian Quick, Rishard Matthews and Travis Benjamin were just signed for good value, so what about a guy like Jeremy Kerley? I'm certainly not in favor of the stopgap big name-but-over-the-hill signing (we've been there...) but we do need some depth, and I'd hate to be in a position where we have to draft for need vs. BPA. Many thanks, and continued Who Deys! Tim Holbert, Arlington, VA
TIM: Greetings to one of the grandest places in America, the Bottom Line in D.C., where the weekly e-mails setting up the next Bengals game are among the most well-written prose about the National Football League. I know a patron of the Bottom Line who happened to be at Paul Brown Stadium that night and they described how many fans wept when Green slithered into the end zone with 1:50 left and how they wept and danced with strangers in the aisles when Tez picked off the ball seconds later.
So I can imagine what it was like at The Line. Clearly one could glimpse The New Frontier.
I also love Reggie Nelson. As cool as Elvis in Hawaii. He's been the last stop on the greatest run of Bengals defense ever. He's picked off Ben Roethlisberger more than an orthopedic surgeon. Mike Munchak should be suspended for a month.
 But what do you do? He's 33 and Iloka is almost seven full years younger while Williams, who turns 25 on May 13, has a hell of a lot of good football in front of him. Williams is much more than a nickel safety. It's tough to let go a safety coming off a Pro Bowl season. But what's even tougher is letting one of the young guys sit or even leave in what Paul Brown called, "A young man's game."  Maybe the idea should be to extend Williams, up after this season.
Yet, believe me, there are a lot of feelings down here for the Bengals to re-sign Nelson and I still think it could happen if it drags out a little longer. I know what you're saying. Reggie has so much to add to the team and to the kids. But it also hits them in a weird spot. This is why you draft well. To stay young.
 Sounds like you've had your fill of stop-gap guys, too. From what I could gather, Kerley didn't get a lot of play here. Who knows, maybe the Green ghost of Laveranues Coles (speaking of stop gap) scared them off. I think they'll look, but they won't drop a lot of money. Again, I think they do what they did in '12 while Jones and Sanu developed and won 10 games riding Green and the tight end.
What are the possibilities of bringing in a released free agent like: Colston Hankerson white I think Hankerson could be a great fit. He is a solid receiver when healthy and I think his foot injury is behind him. John Fig, Chino, CA
JOHN:  At 32, Colston is a little long in the tooth, but a guy of Hankerson's ilk (age 27) is more like it.
Geoff, with the departure of Emmanuel Lamur and Vontaze Burfict's suspension, does that make linebacker a premium position for the Bengals in the draft? And what do they do about WR? Without Marv Jones and Tyler Eifert in 2014, the passing game struggled. With Jones and . . . Sanu now gone, where do they find an impact guy that makes Dalton as dangerous as he was in 2015? Thanks, John Phythyon, Columbus, OH
JOHN: Getting Vincent Rey back is huge, so I don't think that makes linebacker a premium position in the draft. You figure with Lamur gone and A.J. Hawk at age 32, backer is a target in the draft, but not a premium target.
You ask a good question about Dalton. He needs to have weapons around him and without two of his top receivers, where does this leave him? Better than in '12 when they had a similar predicament. First of all, Dalton is better than he was in '12 and so is Green. Eifert is better than Gresham was in '12, and running backs Giovani Bernard and Jeremy Hill and tight ends Tyler Kroft and C.J. Uzomah are much more explosive than what they had in the cupboard four years ago.
But that doesn't answer your question, which is, I think, can Dalton be an MVP candidate without Jones and Sanu? I would say yes, because there are still Pro Bowl weapons like Green and Eifert, a break-away threat in Bernard, and a 1,000-yard back in Jeremy Hill.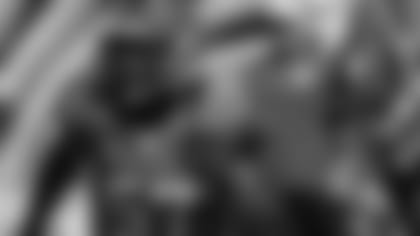 The re-signing of Vincent Rey means the Bengals don't have to draft a backer high. Hey Hobs, Always love the insight and calm that you bring to what seems to be the whacky world of the NFL! That said, and not really a knee jerk reaction, but surely the Bengals learned their lesson a couple of seasons ago when they found out that you cannot have too many good receivers on a team.
It seems obvious the Marvin Jones wanted to be elsewhere so, who do they have their sights set on, they need another speedy, sure handed receiver and the thing about Jones was his consistency and big play ability. Looking at what the Bengals now have on the roster, that is a rather large hole. Tate is not the guy, Alford is unproven, Sanu fades as the season where's on and Wright, who knows after the micro-fracture surgery. So, the Bengals must have a game plan, knowing that they won't let on what that is.....what's your best educated guess? Thanks for all inside scoop! Jeep Wilson, Loveland, OH
JEEP: Thanks for the kind words. I wish I could bring a little calm, but I realize what a loss Marvin Jones is. That's why they put so much money down on him and were ready to put up more. The big thing is that he was a vertical threat along with being an extremely tough player, a unique combo.
The plan seems to be (and why not?) to keep drafting well while getting something out of kids like Mario Alford and Jake Kumerow and maybe getting run out of a late 20ish veteran a la Hankerson or LaFell. They can't struggle in the draft like they did in '08 with Jerome Simpson in the second round and Andre Caldwell in the third. They have to hit it out of the park like they did in '12 with Jones and Sanu.
It's going to look different, but I still think there's enough there for Dalton to be a point guard. Between the running game, the versatility of tight ends Tyler Eifert, Tyler Kroft, and Ryan Hewitt, and the Pro Bowl plays of Green, there's plenty to keep the defense occupied.