Alex Erickson is adjusting to life as an NFL punt returner.
Hi Geoff, on the positive side, Andy and AJ have both been playing fantastic and shown that they are leaders of the team. I have three questions for you.
1. Offense - Why is the O-line having so many struggles despite having gone through almost half the season now? I know it's all not on Ogbuehi but a lot of it seems to be. One would think that with a highly respected coach like Alexander and a super talent like Ogbuehi, they'd have been able to fix it by now.
2. Why is Alex Erickson and in general the special teams not been able to produce anything significant through the 7 games?
3. Geno showed up big time during pre-season that everyone was saying he's gotten even better. But how come it hasn't translated in the regular season. I know opposing teams double him but he still finds a way usually, right? Guha Srivatsa, Leesburg, VA
GUHA: All good questions and about the only one I have any kind of a handle on is the second.
You're looking at a rookie returner in Erickson who did it just one season at Wisconsin, so he's clearly feeling his way when it comes to where and when to catch a punt. And last Sunday's fumble and quick recovery shows you can't let decision-making interfere with catching it. And with the great Adam Jones only averaging five yards per his five returns,  down from his 11.4 yards per for his career in Cincinnati, it shows neither guy is getting much room.
And you have to look at the youth on a unit dominated by first- and second-year players. While the offensive and defensive starting units have stayed relatively intact, there's been a transition on the back end at receiver and in the secondary, a huge impact on special teams and it's reflected in the stats, where a perennial top 10 unit is mired in last in punt returns and 25th covering kicks. Very uncharacteristic of a Darrin Simmons-coached unit.
Not only is some of it youth, but the loss of Pro Bowl special teamer Cedric Peerman has been as devastating as Simmons feared. Remember, he compared it to losing Andy Dalton, and look at kick coverage, where Peerman was an absolute demon. They were 12th in the league last year in covering kick returns and third in the NFL in opposing drive start. This year their 25th and 23rd, respectively in those categories.
And it hasn't helped that one-time Pro Bowl punter in Kevin Huber is having a so-so year. There are a lot of factors, but his 37.9-yard net is two yards below his career average and nearly three below what he did last year. It's just not Huber. The inability of the defense to keep teams backed-up and the offense's early fits and starts have something to do with special teams trying to dig in.
The other two questions are tougher. Ogbuehi's struggles as he tries to adjust to the bull rush have now translated into a semi-benching in his rotation with Eric Winston and some of his problems couldn't helped but leak over to right guard Kevin Zeitler, particularly on games and twists.
And that, in turn, can impact center Russell Bodine, a player that profootballfocus.com has graded as the 28th center in the NFL. The Bengals believe Bodine can be a big-time player, but he needs to become more consistent. After some struggles, PFF named him one of the Bengals' top offensive players last Sunday against Cleveland, when the web site graded Zeitler No. 1. And, it follows that Ogbuehi played one of his better games against the run. So maybe that is starting to turn around.
You're right about Geno. He was unblockable in the preseason, but teams have consumed him with double teams as the weeks go on. And rarely do you see him get kicked out like he got kicked out on Browns running back Isaiah Crowell's one-yard TD run Sunday. But that is a flat-our rarity. He's still Geno. A legit Hall-of-Fame candidate. With him taking up two blockers, other guys in the front seven have to account for that and as defensive coordinator Paul Guenther talks about, there hasn't been enough consistency there, either.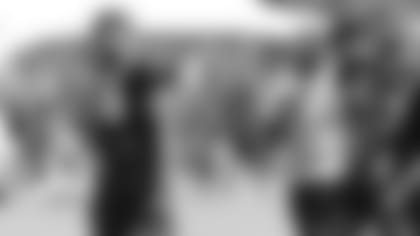 Karlos Dansby (56) had a big game against his old team last Sunday.
Hello Mr. Hobson! I love reading your articles and this is my first time writing in. What is going on with the defense? We are healthy and have Tez and Geno hitting their prime plus the addition of Dansby... I thought we would improve upon last year. Why are we giving up so many big plays? And we let Cleveland's 29th string QB run for 100 yards? I continue to be impressed with Dalton as he puts up big yardage numbers and isn't turning the ball over. With a soft schedule left I feel confident we can make a run and get in the playoffs. Do you see that happening for this team? Kevin Teall, Oakwood, OH
KEVIN: Thank you for reading and I hope you write in again. It's a good question and we're all trying to figure it out. Guys like defensive coordinator Paul Guenther, nose tackle Domata Peko and linebacker Vincent Rey have talked about how they're trying to fit in several new players as well as four new position coaches on defense. They adjusted pretty well on Hogan by the end of the game, so you hope that was more of a scheme thing than anything.
But if that's all true, then this is when they can and have to kick it in, right? The second half of the year. They've had their 11 pre-season games playing without Eifert and Burfict while working in new receivers and new starters like Karlos Dansby and Shawn Williams on defense. Yes, I agree with you. They should be ready for a run.
What's happened to Maualuga? Profootballfocus has him graded at 35; you can't get any lower. He has only 11 solos in 7 games, the worst for all MLBs. He has to be replaced. What do you think? Ticket holder since day one. Glenn Groh, Cincinnati, OH
GLENN: Good to hear from you again. Happy 50th coming up to you as Bengaldom salutes you. I could be a wise guy and say it is the Bengals.com jinx. After I featured him in my Matchup of the Game against Dallas, Maualuga hasn't done much.
And there's no question he didn't play well in that game tailored to his in-the-box strength. Nobody played well down there. But after playing 40-plus snaps against the Cowboys, he hasn't played a whole hell of a lot because they're getting a lot of nickel and dime looks.
He played 24 snaps last week when Cleveland went for 180 on the ground, he played just nine snaps in New England the week before that, and he barely played in New York when the Jets went for 152 on the ground.  Take away the Dallas game and he played well when he played a lot of snaps, such as against Pittsburgh and Miami.
So I think part of it is he's one of these guys that needs to play a lot of snaps in a game to get a rhythm, kind of like a running back. He'd like to play more and they'd like to play him more, but the opponent hasn't fit.  It's a bit of a conundrum and it's something they're examining in an attempt to get him snaps.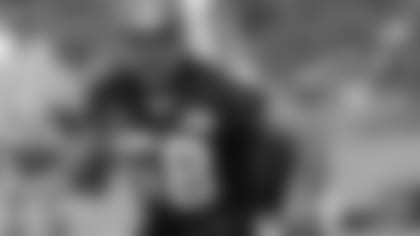 *MLB Rey Maualuga hasn't been getting a lot of snaps lately.                *
Do you think the Bengals will be tougher than last year going into the play offs, given that they are having to fight hard to get there, compared to last year's 8-0 start?  Sam Reeve, Brighton UK
SAM:  It certainly sets up as a second-half team with tight end Tyler Eifert coming back and Vontaze Burfict getting settled after his three-game suspension to open the season and the brutal sked calming down. Four of the last seven games are at home and the last three road games are against teams that are a combined 7-14. That's compared to the first seven, where four were on the road against three division winners.     
Mr. Hobson, love reading Hobson's Choice! Keep up the great work. My question is why on third down or when the opposing team brings in a backup we've never seen (Like Hogan) our defensive coordinator never sends 5 or even 6 to get some pressure? Hogan ran for 100 yards we need some guys taking him down!! Our d-line looks tired and our backs can't cover forever! He needs to send more and help our guys out. WHO DEY Billy Hug, Massillon, OH
BILLY:  Thank you for reading and please write again. Blitzing isn't the Bengals' style. But rushing four and dropping seven certainly ended up bothering the rookie QB enough that on  the first six third downs of the second half in what amounted to Kevin Hogan's debut they stopped him five times. Since the guy had zero experience and certainly doesn't qualify as a pure passer, they wanted him decision-making into coverage and didn't want to give him a chance exploiting a blitz. I think they thought they'd be doing him a favor, but they lit him up a few times on the blitz on first and second down. And they were getting enough pressure with four on third down on two sacks and 11 hits on Hogan, primarily in the second half.
Hey Geoff, Love your coverage of our Bengals. Keep up the good work. Looks like we are back in the playoff hunt. What do you see as the record we will need for another AFC North crown? Ron Del Pino, Thunder Bay, Ont.
RON:  Thank you for the kind note. You'd love to say 9-7, but how can you? A 9-7 record hasn't won the AFC Central or the AFC North since the Bengals won the Central in 1990.  I realize that Big Ben is coming off knee surgery, but he's already practicing, so I imagine he'll at least play against Dallas at home Nov. 13 and maybe even at Baltimore Nov. 6 after this week's bye.
Say Roethlisberger misses the Ravens and the Steelers lose. That makes them 4-4. The Steelers rarely lose at home and I'm not sure the defenses of the Cowboys, Giants, Ravens, and Browns can stand up to them at Heinz. That's 8-4. Now they have to split the Bengals, Browns, Colts, and Bills on the road. The toughest game there is the Bengals and I think the Bengals get them.
But I think Cincy has to also get to 10-6 to have a shot at the division, just going on history. And I see the Bengals going on a similar closing run.  Their five remaining road foes are 3-4, 4-3, or the 0-7 Browns. And with the Bills, Eagles, Steelers, and Ravens headed to the Paul, those clubs are only a combined 15-12.
Getting to 4-4 would be a huge help.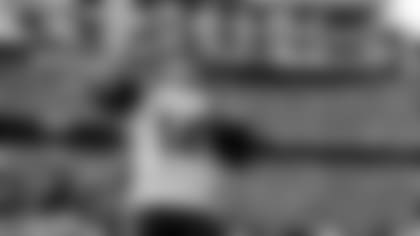 Andy Dalton: can he point them to another run?
Have been a loyal reader for many years now. It seems to me that one of the reason the Bengal's running game has been doing so poorly this year, except for this past Sunday, is the fact that the Bengals don't seem to be using Ryan Hewitt as much this year as they did last year. Last year everyone was singing his praises while this year they are running mainly single back sets without Hewitt. Would luv your take on this and why the big change? Bernard Moskowitz, Cincinnati, OH
BERNARD:  Thank you for reading. I agree with you. I asked offensive coordinator Ken Zampese about the lack of Hewitt after the New England game and he indicated it was because they were in more two-minute stuff after being down early in games and that he was looking to get him more snaps.
Let's hope so. He's a solid player. I thought he could have been more of a factor as well last year. When they were both rookies in 2014, Hewitt and Jeremy Hill were gold running out of the I since Hewitt was in there on most of his long runs. And on Sunday he got a nice back-side block on Hill's 40-yarder. Zampese said he'll use him more and he did and if they make a run, they have to run, so I would expect to see more of him down the stretch.
Hey Hobs, always enjoy reading the articles. My question today is about the run game. While I really like Hill and Gio, do you think there will ever be an opportunity for Rex Burkhead to be more involved in the run game or is he too important to special teams? He seems to run the ball well when he gets a chance and at times I've thought, what would it hurt to put him when the run game isn't doing well. Paul Province, Washington, WVA
PAUL: Thank you for reading and please write in again. I would say I have to agree with you. He's got terrific hands, runs hard, and has really good vision.  I've always been a bit surprised they didn't expand his role as a slot receiver when he did well on an emergency basis in the 2014 Wild Card Game. And on 10 carries in the last two years he's got 4.3 yards per carry
All that said, it always seems like they're scrambling to get Bernard and Hill the carries they deserve, never mind a change-of-pace guy like Rex. But, no question, a talented guy you would think would have a niche after four seasons. I guess his biggest problem is there is only one ball.
Hello Geoff, I love what you do, as a Bengals fan not living in Cincinnati your column keeps me in the know. I have been a fan for over 30 years and share season tickets with my father which he has had since Paul Brown came to Cincinnati. I wanted to ask your opinion about our special teams, specifically Mike Nugent. His missed kicks did not hurt us this last week but do you think the team is worried they may cost us a game and maybe the post season down the road? It seems Nugent never missed at Ohio State and now he appears to be missing important kicks in big games on a regular basis. Are the Bengals looking at possible replacements? Keep up the great work and thanks for all you do! Jarrad Yee, Indianapolis, IN
JARRAD: Thank you, sir. They're always looking. They've got a short list of kickers that they could fall back on for either injury or implosion. But they'll be patient with Nugent.  He missed two Sunday, but they were his first misses this year inside 50 yards.  He's had bad stretches before, but he always seems to add up to 82 percent.   And it's not like he whiffed. The 45-yarder hit the right upright and the 40-yardrer barely went wide right.
Hi Geoff, to say I am looking forward to the game on Sunday is a massive understatement. I won't bore you with how long I have loved those stripes, let's just say, it was when Pete Johnson was running over people! My question is, do you believe, as I do, that we are only a tiny fraction away from being a really top quality football team? When you consider that in the NFL as a whole, most games turn on one or two major plays, it follows that many of the plays also turn of the tiniest of margins.
I think we have been just like that in this early part of the season, so very very close to making negative plays into positive ones. We have a lot of new parts to bed in this season, patience will not just be a virtue, it will pay big dividends towards the back end of the season. Would you rather start the season with an 8-0 run? Or finish the season with an 8-0 run? I know which one I'd would prefer. Good luck to everyone in the Bengal nation, from Mitchell from London UK PS where are we practicing while in the UK? I don't have a match ticket and must get to see the guys while you are over here. Mitchell Burman, Easebourne, West Sussex, England
MITCHELL:  That's a long time to be loving stripes. All of Bengaldom salutes you for the support. I agree. Look at the history with Green-Dalton. In 2011 they got off to a 6-2 start. In '13 it was 6-2. In '14 it was 5-2-1 and last year it was 8-0. '12 was the only year they had a finishing kick at 7-1 and, really, before last year's heartbreaker that was the closest they came to winning a Wild Card in that 19-13 loss in Houston. So give me a hot November and December any day.
The practices are closed but keep an eye on the site for Fan Forums during the weekend.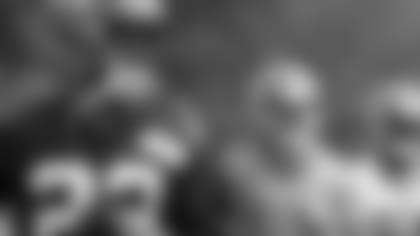 Rookie cornerback William Jackson is still rehabbing.
Are there any updates on William Jackson? Do you think he will play this season? Matthew Drury, Prince Frederick, MD
MATTHEW: The word is Jackson, this year's first-round cornerback, is having a good rehab for his torn pectoral muscle from the first week of training camp, so he's coming up on that original three-to-four month window. They have to make a call on whether it is Jackson or Peerman that gets designated to return from injured reserve with the other going on IR for the rest of the season.
They were eligible to practice a week ago and they're eligible to play after this game. But since they haven't practiced yet and they haven't decided who to practice, we're not there yet. Peerman is in the ninth week of what is usually a 12-week injury (broken forearm), but it's unclear who is ahead of whom. I would think Jackson as the cornerback has an edge because of the premium of the position, but we've also detailed how special teams has taken a hit without Peerman. Not an easy call given Peerman's experience and productivity and Jackson's position and upside.
Cincinnati Ben-Gal cheerleaders arrive in London for 2016 NFL International Series.