Joe Mixon has got them buzzing with his early play.
Hey Geoff!! Love your work! I follow you and My Bengals daily! I keep hearing about my man Joe Mixon has been wowing early in training camp! I just have a great feeling about this kid! I feel like if he can stay healthy he is going to be hands down our #1 back for a long time! I get that All Day Adrian Peterson feel from him! He took his number and he's from Oklahoma as well! Do you agree!? Who Dey!? Danny McCullah, Huber Heights, OH
DANNY: Thank you for reading and for checking in. Just had a discussion with Mixon about how he spent 10 days at Peterson's home in Houston before he came to camp and he talked about how he's seen him as a mentor since his freshman year in Norman. So, yeah, I see where you can get that idea. And I agree with you. Mixon is the real deal. I think you have to think about him as a 15-to-20-carry-a-game guy with three to five catches. Right away. Sept. 10. Vs. Baltimore.
 Corey Dillon was drafted 20 years ago. Let's not celebrate that anniversary by repeating history, when Dillon barely played his rookie year until the 10th game even though he was clearly the best back on the team. It cost them a play-off spot. They went 7-9 in '97 and Dillon still rushed for 1,000 yards.
That said, I think they should keep Jeremy Hill. And there'll probably be plenty of buzz about trading him late in camp, but don't do it. This guy can still help them. He's a good back, very good on the goal-line and what a perfect panacea for an offensive line in transition: a stable of three starting caliber backs in Mixon, Hill, and Giovani Bernard. Perfect. Rotate them, make sure you run it 30-35 times to take heat off the young tackles, and how much room do you think that will give A.J. Green and friends?
I understand non-contact drills but what can you possibly learn about yourselves as a team, it's not tag, if you're not going to go full out what's the point? Low hit on a teammate bad, but so are bad habits formed by playing paddy cake. John Crout, Hamilton, OH
JOHN: I'll take a wild guess and assume you're talking about the Bernard-Vontaze Burfict play on Tuesday. By the end of the period when the snap occurred, social media had already labelled the play a cheap shot.
 But the sense in the building from coaches and scouts as Wednesday wore on is that it wasn't a shot at Bernard's knees and Burfict didn't try to hurt him.  They pointed to Burfict perfectly playing off fullback Ryan Hewitt's block, but his feet got tangled on an offensive lineman's foot and when he fell, he instinctively put out his arms and first hit Bernard on his hip.
It was a non-contact play, but there were some snaps later in the period and in the practice that were "live," instead of just 'Thudding," the ball carrier. Burfict appeared to be trying to 'thud,' Bernard until he appeared to trip. So they don't think Tez went low on purpose.
Hitting is a hard thing to moderate in this era. They are bound by a collective bargaining agreement that has pretty much turned the old training camps of two-a-days in pads into spring ball practicing in front of crowds. They're limited to how many days they wear pads. If you do too much hitting to make up for it and key guys get hurt before you ever play a real game, how have you helped yourself? Yeah, you have to hit some, but is it worth the risk?
I know Lewis gets heat when players keep on practicing after they've been in a fight. "Look at Belichick," is the rejoinder after he throws them out of practice. But I also look at the Bengals' 14-7 record in September since 2011 and figure Marvin must be doing something right in training camp.
As always, let's go back to Paul Brown for the answer: brief, crisp practices that didn't go longer than 75 minutes and hardly had any hitting. But every practice started with a simple take-em-to-the ground tackling drill. Pair up with a guy your size and each guy do it once. Even quarterbacks.
You're right. It has to be done. But it's a different game. P.B. had it right. Get it done the right way, but efficiently and if you look at Lewis' record coming out of the gate, they're tackling somebody. But they don't think Burfict meant to the other day.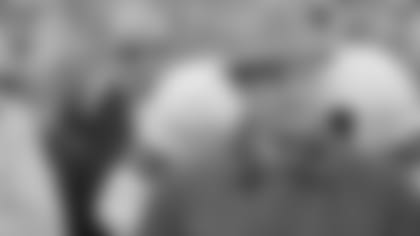 Paul Brown didn't hit his players often.
Good afternoon Mr. Hobson! My question is after watching the first few practices how would you gauge your optimism for this season? Is it higher or lower compared to before training camp?
My optimism is through the roof right now! If you look at this team this year compared to last. The Bengals improved almost every weakness on the team. Peko and Mauluga were basically liabilities. With the addition of Minter and the potential of Billings that's two holes filled. The. Depth at WR is good and Mixon looks like the real deal. Not to mention the added depth at DE. If the tackles can play average we have a real dangerous team. Matthew Ellison, Winchester, OH
MATTHEW: I agree. After watching them for five days, it's higher. I think this is a quietly dangerous team and I guess people are really down on their offensive line to be picking them 8-8 and worse. From what I can see, they've got 10-win talent out there. They look really good on defense, where they are much faster and younger, and the ability is just oozing on offense. Lewis has never had three running backs like this and the last time Tyler Eifert was healthy with A.J. Green, Andy Dalton won 10 of the first 12.
Of course, the two questions that decide a season, how quickly can they put it together and do they stay away from injury, are what we're waiting on. After watching them, though, I stand by my offseason observation. If the line protects Dalton, they can win 10 or more. If it doesn't, they can lose eight or more.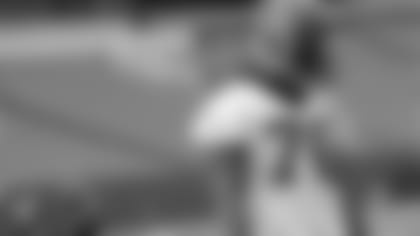 Left tackle Cedric Ogbuehi: key to offensive line.
On paper this looks to be the best Bengals roster ever in my opinion at the skill positions. Defense should be top 10 no doubt...OLINE will determine our record. If they play well...I predict 13-3. Saw Heath Evans predict 6-10! What are your thoughts /predictions? Side note - Mixon fits our OLINE much better. Hill is a step too slow to hit the line... Our lineman are smaller and more athletic...we need someone to burst through the line quickly. Which is why I think Burkhead had success and not Hill last year...Diamond Nick, Cincinnati, OH
NICK: Well, 13-3 would be their best ever. That's always tough in this division. Teams that have won Super Bowls haven't done that. The Ravens went 10-6 back in '12 when they won it all. But I hear you. They don't have a gut-buster schedule and they're a lot better than last year if they stay healthy. Give me 11-5.
Do you think Joe Mixon will be able to expand his role a couple weeks into the season and become a top 10-15 fantasy RB? Ant Fed, Williamstown, NJ
ANT: At some point, yes. But when? Tough call. He certainly looks capable to have that rank pretty close to now, but we don't know how they'll use him or if they'll use him. I still think you draft him in the third round and be the envy of all your friends. You just may have to endure some ribbing for a while. But not for long. How long? Who knows? But I would think you'd have a happy Thanksgiving.
First of all great job Mr. Hobson! I'll be brief. What's the latest on P.J. Dawson? I thought by now that he would have straightened up his act, but I haven't heard anything about his progress. Ernest Carpenter, Arlington, TN
ERNEST: Thanks for the kid words. Dawson was known as a game day player at TCU and it looks like the same deal here. Younger guys like Nick Vigil and Carl Lawson are emerging in the practices, so let's see how he does in games. But it's looking like Dawson isn't the only long shot if they're keeping just six backers. (The starters, plus Lawson, Vincent Rey and Jordan Evans.) If they go seven, that's a wild scrum for the last spot.
Now that the pads are on, how does Carl Lawson look in live drills?  Brian Ulbricht, Fort Thomas, KY
BRIAN: He looks like he did in the spring. Fast and good and a natural pass rusher. Still on track for 15 snaps per game as a nickel edge rusher, I would think.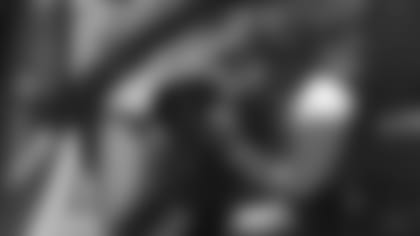 Carl Lawson: so far, so good.
Thanks for your consistently great work over the years, Geoff. I'm wondering about the possibility of using an Offensive Line rotation, similar to what they do at nearly every other position group, including and especially the D-line. The rotation there keeps the big men fresh, so I'm wondering if it would be advantageous to the other side of the ball?
They always talk about the O-line having continuity and jelling together for effective play, but it seems like that would also be the case at other position groups. I'm actually optimistic about the new O-line this year, but wondering if we might see a few moving parts there this year. James L., Portland, ME
JAMES:  Thank you for reading down through the years, which gives me a great lift since my three years at the Portland Press-Herald (1987-90) were a blast. Just enjoyed a Hobson's Wharf Special at Becky's back in June and the town looks great.
It's an interesting question given that Andre Smith hasn't had a lot of snaps at right guard in the first five days and there are times offensive line coach Paul Alexander has rotated during games. I'm thinking back to '09 and their last major offensive line overhaul before this one, when, ironically, rookie right tackle Andre Smith was hurt and Alexander worked both Anthony Collins and Dennis Roland early in the season.
 I could see a rotation happening if there are struggles and no answers to questions. But that's a last resort. You raise an interesting point, but I think the preference is always going to be to get five guys up front in a rhythm, particularly at tackle.
If the O Line produces, I'm really excited about this team's chances. So much emerging talent. Would you please clarify AJ McCarren's status for next year's off season? I have read that he is unrestricted and also that he is not. Douglas Nilsen, Marietta, GA
DOUGLAS: The McCarron case is still in arbitration. He could either be restricted or unrestricted and they won't know until probably January.
Cincinnati Bengals host Training Camp at Paul Brown Stadium Practice Fields 8/1/2017