Andy Dalton has led the way early.
Hi Geoff. Thanks for the constant updates from Bengaldom. I'm especially grateful as a Bengals fan in Cardinals territory. You don't hear much about the Bengals out here win or lose. That leads me to my point. I'm extremely impressed with Dalton's start to the season and nobody in the national media is going to talk about this, but Andy has been carrying this team through 2 weeks. No run game and an offensive line that hasn't played up to their normal standard. Yet, this guy leads the NFL in passing yards? Wow, it's impressive to me and I realize it's only 2 weeks but I sure am excited to see what he does over a full season.
Kudos to the defense as well. Impressive as ever yesterday were Adam Jones and Dre Kirkpatrick. Sloppy conditions and they still played excellent when the offense was stagnant for 3 quarters. Here's to a happy home opener. Sean Walls, Glendale, AZ
SEAN:  Thanks for hanging in there in the desert and it will be finally nice to hit the oasis Sunday in an honest-to-goodness home game.
 You're right. Dalton and the defense have carried them. I really think two of the more underrated quarterbacks in the NFL were on display in Pittsburgh Sunday.
 Maybe it's because we see Steelers quarterback Ben Roethlisberger twice a year, but why he's not mentioned with Tom Brady and Aaron Rodgers as one of the league's best is beyond me. What more can a guy do? He's got two or three guys hanging all over him on a lot of his throws and he still it gets there, turning almost every play into the possibility of a big-play-play-ground completion. Then he'll also throw a seed to someone no one ever heard of, such as tight end Xavier Grimble for his first career catch and TD catch. Half-a-foot lower and Bengals safety George Iloka knocks the ball down.
That's another thing about Big Ben that is Brady-esque. Wide receivers Martavis Bryant and Markus Wheaton are out. Running back Le'Veon Bell is suspended. Tight end Heath Miller is retired. Yet Roethlisberger still finds a way to put up the same numbers with no names and fugitives like Grimble, Sammie Coates and Jesse James.
The thing his teammates keep coming back to about Dalton is how much he does beyond playing. They give him the show to run and he runs it from the line of scrimmage like a maestro or a surgeon. And you can't argue with a play-off berth ever year he's been in the pros. What Cincinnati pro athlete has done what he's done in his first five seasons?
Hi Geoff Love your stuff and need it to stay up to speed up here in Canada. A couple questions. First, do we need to be concerned about Ken Zampese yet? I know we are missing some pieces but the offence looks pretty shaky 2 games in. Second, I know it didn't matter but on that scrambled play where Antonio Brown (unbelievably) dropped that ball didn't Ben slip and actually take a knee? Seems like the play should have been dead right there. Thanks for keeping us current. Paul Cope, Edmonton, Alberta
PAUL: Thank you for reading from the home of one of the greatest sports headlines ever written. When Wayne Gretzky got traded from the Oilers to the Kings, The Edmonton Sun bannered "99 tears."
Kenny Zampese is just fine and is going to be fine. Very few offensive coordinators are going to look good when you run the ball as badly as they have. You get ripped for not running it enough, but how do you get first downs when you're next to last in yards per rush?
I would argue the opposite. I think Zampese has shown creativity in producing drives and red-zone opportunities despite having half his call sheet erased. I don't think the lack of a red-punch (one TD in six tries) can be traced to play-calling, but rather to the lack of Pro Bowl tight end Tyler Eifert and a glut of new wide receivers. It takes timing down there and as I wrote after the game Sunday this offense is a work in progress. Actually, Zampese and wide receivers coach James Urban should be praised for how quickly the receiver group has gelled. But the offense as a whole isn't there and that's why they need the line to carry them until it is.
As we're starting to find out, close only counts in horse shoes, hand grenades, and replay. If it's close, nothing is going to change.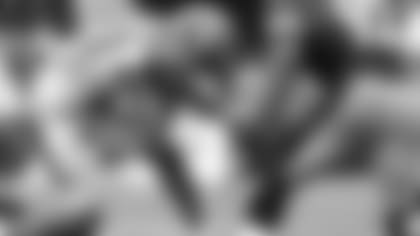 The Bengals believe Boyd didn't fumble on this play.
Geoff, I just read the NFL's explanation of the Tyler Boyd fumble call. What a bunch of bull. Everyone watching TV could see the shot of Boyd's knee on the ground while the ball was still in his hand. But I believe the real problem is how the Steelers ALWAYS get all the calls. It could have just as easy been ruled a catch and make Pitt challenge the call. Or the "touchdown" to Uzomah could have/should have been ruled a touchdown but again called for the Steelers.
I always recall the Seattle-Pitt super bowl where the officials won it for Pitt. I was to the point Sunday where I was wondering how to get a prosecutor to look into cheating by the NFL. What do you think?  Robert Greenwood, Louisville, TN
ROBERT: I don't think we have to start looking for a prosecutor. This isn't Refgate. The league is on the up and up, but I understand how fans get frustrated. Particularly in the last two Bengals-Steelers games when they can't even get the replays right.
As I listened to all the fallout of the officiating on Monday, I thought back to the original vote on instant replay. More than 20 years ago, Bengals president Mike Brown stuck by his principles of not voting for it and was vilified.
Brown felt it was a bad idea trying to perfect the innately imperfect act of making judgment calls. He feared it would slow the game down for the fans and that it would open a Pandora's Box of problems. If you replayed this set of plays, why not replay that set? What happens when the replay isn't clear? Will there come a time when every act can be reviewed?
Now look at it. On Sunday you had writers in the press box breaking down plays frame by frame and not to find out why a play worked or failed. The storylines about blown calls blanket what the coaches and players do. Football is a distant second in the aftermath of too many games.  And Brown called it. There's a guy that really must be frustrated. You'd think they'd at least get the replay right after all this.
There are no conspiracies. But Brown was right all those years ago. You can't legislate the impossible.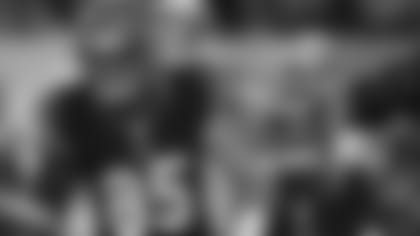 Tyler Eifert is close to being back.
Hope things are going well. Quick questions, any news on WJ3 recovery? In your opinion do you think he will be back this season? Any updates on Andrew Billings recovery? Also please tell me Eifert will be back very soon, like game 4 soon? Thanks Chase Sallee, Louisville, KY
CHASE: Hard to tell on cornerback William Jackson because it's a pectoral injury. It's a race between him and running back Cedric Peerman (fractured forearm) to see who is the guy that can come off injured reserve. If you went by who has been around more, Jackson has been bouncing around practice and the rehab field while we haven't seen Peerman outside. Given that corners are a premium, you may have to give the edge to Jackson but the timetable is hazy. I would think some time in November.
The gut on Eifert is that he comes back Oct. 9 in Dallas. He hasn't started practicing yet and he'll need a few weeks of practice and I just think with a Thursday night game next week, they'll take the 10 days between the Dolphins and Cowboys to make sure he's OK. Just a gut. Maybe he's back practicing this week, but I can't see them throwing him out there after just a week of work.
Billings' knee surgery for a torn meniscus was done with the long-term view. They didn't want to rush him back. So he should be fine with a good, long rehab.
Hey Geoff, tough loss Sunday considering how well the defense played against the NFL's best offense. Do you think the offensive line might be to blame for the inconsistent run game since last season or the coordinators? I see worse offensive lines for other teams run the ball better than we have the past 18 games. and also, do you see a star ascending in Dre Kirkpatrick? Played an awesome game and should get some recognition I thought Andrew Todd, Medford, OR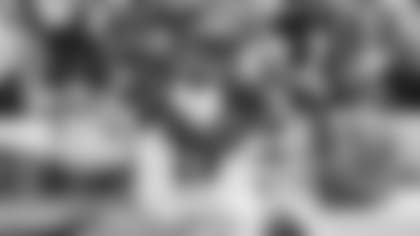 Cornerback Dre Kirkpatrick is coming off a big game in Pittsburgh that included this pick.
ANDREW: Like I say, I'm not going to blame Zampese. You need more out of a talented, experienced offensive line group than what they've offered the first two games. With Eifert down and the new receivers, the Bengals need the line to carry them early.
Kirkpatrick has been terrific. He's doing the best thing in a contract year. Selling himself.
Geoff, Tough one against the Steelers. The faithful at The Bottom Line bar in DC were none too pleased with the non-reversal on the Boyd "fumble"... That said, despite that, CJ's possible touchdown, and the blatant missed holding calls on the Steelers' O-line, the Bengals really dug their own grave on this one.
Most concerning is the run game. Where is it? Most specifically, why do they insist on handing it to Jeremy out of the shotgun? We all know he's not a ballet dancer back there and needs a head of steam to get moving, so on an ugly day on turf that's bad even in the best of weather, why not line up in the "I" a few times and see if Hewitt can help blast open some holes? I get it that you got to take what the defense gives you, so if they're giving you the short pass and get it to Gio in space. Hill's got real talent, but it seems like we're not using him where he's most effective. Again, a tough one, but we seem to be hanging in there without Eifert and Burfict, so here's to hoping with their return and better O-line play we can get this thing going! Tim Holbert, Washington, D.C.
TIM: I can imagine what it was like at The Line when Pete Morelli emerged from under the hood. There's no way I can compete with The Line's weekly newsletter summing up what happened last week and what will be this week. It is truly hilarious and witty and it is one of the highlights of my week.
Yes, we'd all like to have a job like fullback Ryan Hewitt. Get a nice big raise and work less. Like eight snaps a game. You're right, that obviously has to change. But so does down and distance. You can't roll Hewitt out there in the I on second and eight and third and seven.
I hear you. Hill is much more effective behind Hewitt and Gio is better in a one-back set on the perimeter. To me, it's more of a big-picture question. Under Marvin Lewis, the Bengals have attacked defenses in multiple ways as opposed to a club like the Steelers that keeps it pretty basic. Maybe you could make the argument the Bengals (and I'm going back to Bob Bratkowski, Marv's first coordinator) jump out of the I and the power game too quickly and don't stick with it long enough. But they've put up a lot of points doing it how they've been doing it. They've been able to run effectively enough out of three wides in the past.
To me, the problem isn't the play-calling, which is dictated by down and distance. How do you get to second and eight?  I think you have to look at an offensive line that is still trying to find its way replacing Andre Smith at right tackle.
Cedric Ogbuehi is going to be a hell of player. But right now he's up and down, as expected after two NFL starts and is still trying to get in sync with right guard Kevin Zeitler and center Russell Bodine. According to the profootballfocus.com rankings, Bodine is ranked the 25th center, Zeitler, the 27th guard, and Ogbuehi the 26th tackle in the NFL. That's lower than they are accustomed.
The Bottom Line? They need more Hewitt. And better down and distance.  
Hey Mr. Hobson! First time writer, longtime fan! I am a big believer in Tyler Boyd. I think he has great potential to be a big time NFL receiver for the Bengals. Given his athletic ability and the way he goes about his business and the way he carries himself, does he remind you of Chris Henry a little bit? I would love to hear what you think!! Whodey!!! Michael Popper, Canal Winchester, OH
MICHAEL: Thank you for reading and hope you write in again.
I think you're exactly right about Boyd and you called it. Under Marvin Lewis, he's having the best year of any Bengals rookie receiver not named A.J. Green since Chris Henry 11 years ago.
But other than their confidence, I think they've got two pretty different games. Henry was long at 6-5 and he had another gear with the deep ball in the air. The 6-2 Boyd doesn't have that kind of height or deep speed. He's good going deep and he can hurt you at times there.
But he reminds me more of a faster T.J. Houshmandzadeh. Like T.J., Boyd is crafty in the slot and has a good sense of nooks and crannies in zones. He runs good routes and can also slip outside to play wide receiver. I think Boyd's got a great chance to eventually surpass both Marvin Jones and Mohamed Sanu, two excellent receivers in their own right. But let's give him some time and not anoint him after 120 minutes.
Hello Mr. Hobson, I read all of your articles and I love them. My only complaint is that you don't write enough of them. Here is my question about your write up of the game. You didn't say anything about the refs. I mean come on. They gave the game to the Steelers. Did you see their center rocking back and forth like he was on a rocking horse but we get the call against us? I don't have the time to go into all of the blatant disregard for our team. Where is the antacids? Daniel Burke, Columbus, OH
DANIEL: Thanks for reading. I hope I haven't driven you to the medicine cabinet. I guess I can't churn out the stories like the young bucks, but I'll keep trying.
If you go back and look on Sunday, I did mention the calls on Boyd and Uzomah and even put Boyd's reaction in a headline. But, like you, I don't have time. I only have so much time writing after a game and I'm going to spend most of it on what happened instead of what should have happened. I guess when they have a draft for officials I'll start writing about them.
But I understand the frustration and I thank you for taking the time to write about it and hope you will again.  
Geoff, thanks for keeping us fans engaged in everything BENGALS! I am a huge fan of the offensive group but indulge me for a second as I play devil's advocate. Bengals offensive line is one of the highest paid in the NFL, right? Yes, they do well in pass protection with a couple of the guys giving up 0-1 sacks per year. BUT, they do have the advantage of Dalton having a TOP 5 quickest releases in the NFL - so I am curious how they would stack up if they had to hold blocks through multiple progressions
Ok, I've gotten that out the way. WHAT IS UP WITH THE RUN GAME? We are paying the guys like TOP 5 but their production doesn't say Top 5. Can we get a push from anywhere on the line? I was willing to blame lack of production vs. the Jets as them stacking the box, but if we are paying the O-Line like they are great, I would like to see us push around a good D-Line, not just those that have weaknesses. What are your thoughts?  Beau Christopher, Los Angeles, CA
BEAU: You're preaching to the choir, as they like to say. I thought coming into the season, the line, along with the defense, was going to be a strength. Last year there were times in games they would simply take over and it just hasn't happened yet.  Like I say, some of it is the time it takes to develop Ogbuehi, but they'd be the first to tell you they have to play better.  
G'day from down under, thanks for having this forum. Since Sanu & Jones departed the offense has struggled to get its timing & mojo back, is it too much to expect a rookie & a veteran to fill that void immediately, or at all given how dynamic Mo & Marvin were in partnership with AJ. Of course Eifert returning will help but again he will need time to settle back into game mode. It looks like this year will be a gradual build up to the end unlike last year's unprecedented start. Who Dey Colin Davey, Melbourne, Australia
COLIN: Thank you for following from so far away from PBS and I have to agree with you. I think this is going to be a very good team in November and December once Eifert and Vontaze Burfict are back and guys like LaFell and Boyd and Ogbuehi and Dennard get snaps under them. The question is, can they hang in during September and October at 5-3 or 4-4 to make a run? They need that offensive line to take over some of those early games.