Nick Vigil is having a break-out sophomore season.
Some Bengals observations & questions: I keep remembering the excitement of Gunther & Haslett when they drafted Vigil. All Bengals fans were befuddled... now we are starting to see what Vigil can do on the field. He looks good. Love seeing WJ3 and Dennard out there getting playing time. Dennard may be the best tackler on the Bengals.
Love how our defense is playing. What can they do to generate more turnovers? Is it a luck thing or scheme & technique? We have 7 WRs but only AJ can get separation. Core still have growing pains? Time to give Malone some snaps? Beau Christopher, Los Angeles, CA
BEAU: Thanks for checking in again. Here's the amazing thing about that. The Bengals lead the NFL with 34 straight games with a sack while setting an NFL record going 16 straight games without recovering a fumble. To me, that sounds like chance.
You'd think just by accident they'd get a sack-and-strip, or hit a quarterback just as he was getting ready to throw and then fall on the ball. That's what happened to Bengals quarterback Andy Dalton on the first series of the game in Cleveland and the Bengals don't have one of those in a full season of 16 games?
The defense works on that kind of stuff every day in individuals and they've even got some big-time equipment that simulates ball carriers. After that, I don't know how much more you can do. I really do think its law of averages more than anything. As they say, they're due in that category.
 They don't have a true center-fielder at safety in the Reggie Nelson mold, but even though George Iloka and Shawn Williams may not get the same number of interceptions as Nelson, they're both solid players that have the ability of catching the ones that matter late in games as Iloka evidenced last week and Williams showed two years ago in Pittsburgh.
One of the biggest surprises for me this year is the lack of snaps for wide receiver Cody Core. Core has slipped on their depth chart since he finished the spring as the team's most improved player. He didn't make the play on a couple of deep balls in the preseason and he's not a natural catch. But, still, how much can you tell about a guy if he's played just 14 percent of the snaps and they've thrown it to him only twice?
Fourth-rounder Josh Malone is a project, too, but some believe he's ahead of Marvin Jones when he was a rookie. We'll probably see Malone sooner rather than later, but they need somebody now that can make some plays down-field opposite A.J. Green. Veteran Brandon LaFell is terrific in the nooks and crannies of the defense, but they need someone from the young gun trio of Core, Malone, and John Ross to scare defenses.  
John Ross may line up in practice again this week.
Hey Hobson, how are you doing? My question is John Ross. When is a realistic time in seeing him play? From what Lewis said he might not even be ready for Pittsburgh. Drew Zimmerer, Ashland, KY
ZIM: Fine, thank you. Good to hear from you again. My sense is Ross is going to try and practice this week and they'll go slow. Like, how does it feel after the first practice and can he put together back-to-back practices, and go from there? Given that Ross hasn't done anything for a month, it'd be hard to see him playing in Pittsburgh just because he's got to get acclimated again.
Hey! I love your articles. I have two questions really. The first is do you see us re-upping 85 since he is hurt more than healthy? Secondly, with our defense as good as it is, if the offense plays more like it has recently or a bit better, could you see us running the table or close to it the rest of the regular season? Joshua Adams, Lakeland, FL
JOSHUA: Thank you for the kind words. Well, they certainly won't give tight end Tyler Eifert the franchise tag, which is where they were headed when they extended linebacker Vontaze Burfict last month and before Eifert went on injured reserve for the third time in his five seasons. I think they'll try to do something with him, but I'd be surprised if it was for more than a year. Is there a team out there that would gamble on multi years? Probably. A hell of a player when healthy. But it's a little early. Let's see if Tyler Kroft keeps playing big and how Eifert responds to surgery.
I don't know about running the table, but I would think an 8-3 finish and AFC North title at 10-6 is certainly in the realm. They have a defense that's even better than the 2012 team that finished 7-1. But they've got to do more than get three yards per rush. Like the '14 team, they've got three straight on the road but when they swept New Orleans, Houston, and Tampa Bay on the way to 10 wins, that wasn't as formidable as this year's run of Jacksonville, Tennessee, and Denver from Nov. 5-19. We'll know on Nov. 20 if they're still in it.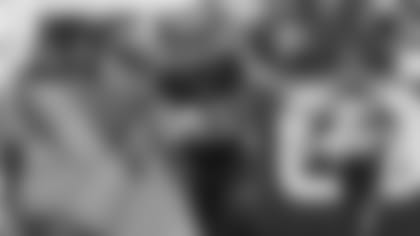 What next for Bengals and Tyler Eifert?
Hello again Mr. Hobson; Have written several times but never answered. About signing Tyler Eifert to a new contract. Do you think it would be a good idea to make it laden with several marks to hit for a bonus? Such as, (a) no of regular season games played,( (b) no. of catches, c) yards caught for season, (d) no. of TD receptions for season. And so on. Does this sound like a reasonable type contract, considering his health questions? I personally would not like to lose him, as he is one of the best Tight Ends in football. Would like to hear your thoughts. Sincerely Chuck from Mesa, AZ
CHUCK: What you offer is quite reasonable and it figures to be the frame work of what Eifert is going to be facing in free agency. When you're talking about a guy that goes in missing more games (41) than he's played (39) off his third back surgery, it's hard to offer anything else. But I would never rule out one of the other teams from gambling. And it only takes one.
Hey Geoff, what's the chances of us possibly signing a TE free agent since Eifert is out? Or will we bring somebody up from practice squad? Also, speaking of TE'S what's going on with CJ Uzomah? Ben Mccollom, Hamilton, OH
BEN: They've still got four tight ends with Kroft, C.J. Uzomah, Ryan Hewitt, and Cethan Carter, so the player that replaces Eifert on the roster won't be a tight end even though Hewitt might not play in Pittsburgh. Uzomah has played in the last three games with an average of 18.5 snaps per game, mainly when they go double tight ends and while he's got just two catches they think he's athletic enough to be a factor at some point in the passing game.
They'll most likely make a special teams move from the practice squad later this week, unless a try-out guy from early in the week impresses them and they sign him right away to play special teams.
With Ogbuehi being very athletic would a move to center maybe be a better fit? Granted he seems to be playing better LT now but if a stud tackle falls to the Bengals in the next draft and with Bodine being one of the lowest rated centers in the league do you think they might consider a change of position for Hubei? John Dahlgren, Clinton, MI
JOHN:  You're right. Cedric Ogbuehi is very athletic, but at 6-6 he's just too tall to play center and, remember, he's trying to  improve on his bull rush technique and that's pretty much all you get at center. They've got Ogbuehi at the right spot, but he needs to play with more consistency. How consistent he plays will determine if they go for a tackle right away in the draft. But that certainly seems where they're headed.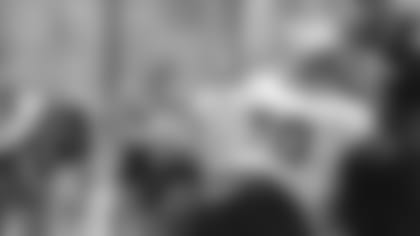 Cedric Ogbuehi (70) is in the right spot. But he needs to be more consistent there.
Replacement for Eifert? When i look at the offense i see three areas where bringing in an experienced FA may help. 1st at WR - Green needs help, 2nd the OL - still not the best, 3rd TE where I am not convinced anyone after Kroft is any good. If you could add a FA now to this offense who would it be and why? I see the team may be looking at adding someone for special teams depth but couldn't they get that from the practice squad? I think it's time to add a new weapon to the offense, could we look at a trade - say Jeremy Hill for an OL or WR? Then add a ST player to replace Eifert? Two wins is a start but to beat Pittsburg we need some more depth, at least in my opinion? What are your thoughts on all the above. Thanks, as always I enjoy reading your thoughts and insights. Jerry Fink, Forest, VA
JERRY: Thank you for checking in and for reading. Let's face it. They're last, best chance to replace Eifert was taking Alabama tight end O.J. Howard with the ninth pick.  Of course, if they knew he was going on IR again after two games, they may have taken Howard. But, look, Kroft may be not be the game-breaker Efiert is when healthy, but he's a solid player in the pass game with nice hands, good size, and good enough production with which to win games.
There's nothing out there now that is going to help you beyond special teams. Trading Hill won't get you the impact player you seek. The answers have to be here at this point and they are.  Hill is part of the deepest backfield in the NFL and they have to find a way to unleash that. Whether that's changing the style of runs or ratio of runs or both, I don't know. But those guys should be getting more than three yards per carry. Some would tell you for them to get three yards per carry with the chances they've had shows you how good these backs are.
 This offensive line isn't stacked with stiffs. You've got two first-rounders, two fourth-rounders, and a second-rounder. Again, whether that's plays or scheme, I don't know but I would think there's enough here than out there to turn it.
They're not free agents, but Ross and/or Malone are just the kind of guy you're talking about. A guy that can come in and give you some juice down-the-field. To me, those are the answers. Have to be. That's how the team was built and there's nothing out there in mid-October that transforms you.
Geoff, thanks for your previous responses and ask for your insight on this one. The Bengals have self-promoted the drafting of John Ross as the key to opening up the running game, freeing up AJ Green and other offensive fireworks. While I recognize that Ross has been banged up, I also recognize that we are 1/3rd of the way through the season and there is little sign of a stud running game and/or offensive fireworks. Back in March/April, we all pretty much stated that we needed a #1 draft choice who would play NOW and who would make solid contributions in 2017; i.e. not the usual 1 year learning process.
Yet we draft a WR with an injury history and who still seems weeks away from being a noted contributor. Do you think this was a questionable choice to begin with, or do you think the plans/strategy are just a little off track at the 5 game pole and will get alot better? There was a lot of talk that this was the best player available at a "needed" position. I know that I have never personally bought into this especially with the likes of Howard (TE), Foster and Hassan (LBs), Barnett (DE), as well as a few Safeties and OTs surrounding the #9 pick.
So here we are having spent 1st and 2nd round draft choices on (smallish) WRs the last 2 years and still have ills at a couple other positions, especially OL. We'll see how this goes but my perspective is that these draft/strategy choices are haunting us now and will continue to haunt us through year end. A significantly improved running game, fewer sacks, and maybe 8-10 TDs combined by Ross and Boyd would probably be enough to change my tune...which I hope is the case. Thanks for your thoughts. Doug L., Knoxville TN.
DOUG: As an O.J. Howard guy myself, I see where you're coming from but I'll defend the Ross move because what played out after it.
They felt like there wasn't a whole hell of a lot of difference among the pass rushers from rounds one to four and the way Carl Lawson and Jordan Willis are working out, that looks to be a pretty good call.
Grabbing a linebacker at No. 9 isn't the move, either, if you're extending Burfict and high on Vigil. Now, they had no idea they were getting Oklahoma linebacker Jordan Evans in the sixth round, but now that he's here I think they believe they're set at backer for a long time. And they didn't take a major roll of the dice to do it in middle linebacker Reuben Foster, the biggest injury risk of them all up there among the top prospects.
I just think it's hard to rip them yet on Ross. Is he going to be Eifert and Chris Perry, an injury-plagued first-rounder? Or is he going to be Andre Smith or Dre Kirkpatrick, first-rounders that got banged up early as rookies but came on to be quite productive and earned second contracts?
 As for tacklers, let's applaud them there. At least on paper. They didn't think there was one worthy at No. 9 and they didn't reach. Plus, you can't make that move without knowing for sure if your first and second-rounders from two years ago can't play.
Yeah, in that sense I'm OK with the pick.