No-nonsense A.J. Green on a mission.
Geoff, always a pleasure to read your well-considered and spirited answers. My question is about tight ends. Given the monster performance of our own Tyler Eifert on Sunday, and the performance by other tight ends in the league (most notably Gronk), is the role of this position permanently changing, becoming more central in a game plan? Are the coverage mismatches these big, fast men create going to change the way defenses prepare each week? Or are these receiving tight ends just a fad, like the read-option QBs of just a couple years ago? Thanks for your time. #WHODEY Tyler Nants, Cincinnati, OH
TYLER: Thank you for the kind note. It's a world of Tylers this week. We may have to change it to "Tippecanoe and Tyler Eifert, Too." A little twist on the 1840 campaign song that lifted Cincinnati's William Henry Harrison (North Bend) to his brief presidency.
I don't think the receiving tight end is a fad. Because the Bengals haven't had a true receiver-type tight end in more than 20 years (Jermaine Gresham showed occasional glimpses) you can forget that the Bengals West Coast offense pioneered the modern tight end.
You can look at this franchise and see how the receiving tight end has been a big factor ever since Bob Trumpy arrived in their first draft class of 1968. You can make an argument that Trumpy, along with John Mackey, are the fathers of latter day tight ends that have caused defensive coordinators massive matchup headaches.
Then the Bengals drafted Danny Ross out of Northeastern in 1979 and in 1981 he put up wide-receiver numbers at tight end with 71 catches, igniting a league-wide evolution. Suddenly tight ends like Kellen Winslow, Ozzie Newsome and Todd Christensen were blowing through the '80s catching 80 and 90 balls. The Bengals most versatile tight end ever, Rodney Holman, ruled the '80s not only as a great blocker but as a game-breaking matchup asset for quarterback Boomer Esiason. Not as big or as athletic as Eifert or as prolific as some of his contemporaries, Holman managed 13.6 yards per his 318 catches in 11 seasons.
The '90 gave rise to Shannon Sharpe and Ben Coats before the 21st century gave us Tony Gonzalez, Antonio Gates, and Jason Witten. Now The Gronkasaurus roams the middle like his Astroturf uncles.
So I think you can say the receiving tight end has been here for about 50 years and he's not going anywhere. There never seems to be enough of them. But when you get one, you see what a difference they make. Ask Bengals all-time passing leader Kenny Anderson about Danny Ross in 1981. Ross is a big reason Anderson won the MVP in his 11th season even though he had already had won two passing titles in the '70s.
Geoff, What a great game Sunday! That had to be one of the most satisfying openers in Bengals history, certainly in the Marvin Lewis era. If they can stay healthy, you have to believe the Bengals are one of the best teams in the NFL and a legit shot for a deep run in the playoffs. My question is this: What was up with all the pre-snap problems? The Bengals called five of their six timeouts because they couldn't get to the line with the right personnel in time to snap. They got called for delay of game in the second half because they couldn't get set up for the punt. On one occasion, a guy came running in late, because the Bengals only had 10 men on the field. Why was this a recurring problem Sunday, and how do they get it fixed? Thanks as always for your fantastic coverage and terrific prose. You're a pleasure to read. Who dey! John Phythyon, Columbus, OH
JOHN: Thank you for the kind words. I think their problems were mainly in the second half when they were shuffling in a lot of backups. Combined with the plethora of formations it got a little sticky at times. I don't think it is something you would have seen had the regulars been in there all the way. But it does show the other side of being able to run a lot of different personnel groups. It can get unwieldy at times, but the benefits outweigh the negatives.
Do you wish Bengals would've drafted Julio Jones instead of A.J. Green? Greg Kallmeyer, Davenport, FL
GREG: Absolutely not. Jones, taken two picks behind Green in 2011, is a fine player, but Green's career has been just as good, if not better.
Jones has a slightly better career yards per catch (15.6 to 14.8), but Green has been more durable, has more TDs, and has been to two more postseasons. That's a lot of big catches in big games.
Just look at last year. Green saved the opener when he made a spectacular juggling TD catch with five minutes left. After he lost time with a big toe injury, he carried them on his back in New Orleans in a game they absolutely had to win. He started off the killing fourth quarter TD drive converting a third-and-18 and ended it catching a 24-yard TD. Then two weeks later they finished the dig-deep-three-game road trip 3-0 when Green scored the winning TD on a 13-yard leaping knife job as the third quarter dripped away.
The man is on pace to beat Chad Johnson's franchise yardage record in nine years while Johnson did it in 10. And . . .ah, forget it.
I know what Falcons owner Arthur Blank said about Jones, but I also know what Bengals head coach Marvin Lewis said about his guy. Everyone knows what a great kid Green is. He's humble, he's a team guy, and not once did you hear a peep out of him about his contract. He's a prince.
Not only that, he was in the weight room on Tuesday, his first off day since agreeing to an extension that gives him $32 million in about six months.
So, no. I feel the same way I felt on April 28, 2011. I prefer Green ahead of Jones.
Dalton played all of Sunday's rout.
Hi Geoff - Love your work. Question - why did Marvin keep the starters ( namely Dalton) in the whole 4th Quarter ? With all the injuries around the league, it would be nice to get Dalton & Company out as soon as possible. Thanks, Matt Steinau, Laguna Niguel, CA
MATT:  Thanks for writing. My sense is that Dalton would have been out of there at some point in the fourth quarter if it had been a home game. But given that it was on the road and the game plan contained so many shifts and formations, it seemed to me Lewis didn't want to put AJ McCarron into such a tough situation in his first NFL appearance.
Tyler Eifert has basically missed his first 2 years in the league because of injured. How happy is the team that Tyler Eifert had a HEALTHY breakout game? Gary Lorigan, Oxford, OH
GARY: Pretty happy, but he's only missed one year because of injury. In his rookie year of 2013 he played the first 15 games before getting a stinger that forced him out of the finale and limited him to three snaps in the Wild Card Game against San Diego. The Bengals get another shot at the Chargers this week and a healthy Eifert playing 50 or so snaps cast a much different light on this one.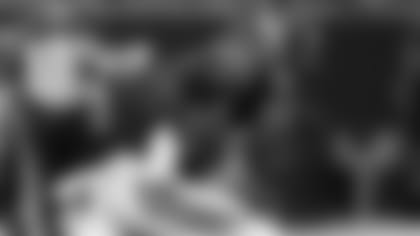 Mario Alford is eventually going to get his chance because he can run. But why rush it?
THE CITY WOULD LOVE TO SEE MARIO ALFORD RETURN PUNTS AND KICKS IT WILL HELP THE TEAM ALOT CONSIDERING THE YARDAGE HE CAN GET WITH THAT SPEED AND HUNGER TO BE AN IMPACT Thomas Griffin, Cincinnati, OH
THOMAS: The mayor or city council is going to have to talk to the coaches because it isn't going to happen right now. It will eventually, but why rush the kid into a high-pressure job? Particularly in a position he never played until he got here?
Plus, what's wrong with what happened Sunday? Adam Jones, one year removed from an All-Pro season, set up a touchdown with an 18-yard punt return, and Brandon Tate made all the right decisions and catches in a hostile environment that would have been so tough on a rookie. Indeed, I'm not sure I want Alford learning on the job in Baltimore's home opener Sept. 27, in Ralph Wilson Stadium Oct. 18 or in Pittsburgh on Nov. 1, the Bengals next three road games.
And, Alford has got to get active first and there are a bunch of receivers ahead of him besides The Big Three. He's also looking at Eifert and running backs Rex Burkhead and Giovani Bernard.
But everyone likes Alford. They've got high hopes for him. But they're not going to rush him or give up his spot to a guy who is productive.
Is there an update on Iloka's injury and when is he expressed to return to full activity? Max Kelly, Fort Thomas, KY
MAX: We'll find out on Wednesday when the Bengals have the first practice of the week. That's when he'll get his first classification. As a pure guess, I think he plays. He's a tough guy who has made 33 straight starts and it looked like he was running on it pretty well on the sidelines late in the game. Because Lewis likes to keep such a tight lid on injuries, don't look for a return date to be divulged. If he's probable on Friday, he'll play.