A.J. Green is on the list of where Bengals head next.
Mr. Hobson, I think it's great the Bengals are dropping some cash and re-signing some of their own. However, I thought getting AJ extended was also a priority. Do you think the Bengals may have over extended themselves to the point where signing AJ and some of the other offensive weapons may be difficult? Britt Altizer, Powell, OH
BRITT: They've still got some money. The first priority is completed and that was making this year's team better. Now A.J. and friends are up.
In my mind, this is where the Bengals have done a nice job. They took 2015 and spent their cap on what they felt they needed to make them a better team, which was finding a pass rusher (Michael Johnson), keeping their offensive line intact (Clint Boling, Eric Winston) and re-signing one of their best run defenders (Rey Maualuga).
But the fact they did deals that didn't go nuts in future years ( the cap numbers for Johnson, Boling,  and Maualuga are less in '16 than ' 15) helps them under the 2016 salary cap.  While they're pretty much tapped out for '15, they can use the $8 million rollover on extensions.
There's not only Green up next year, but there are also his two running mates at receiver, Marvin Jones and Mohamed Sanu, as  well as right guard Kevin Zeitler and cornerback Dre Kirkpatrick, just to name a few. But they've still got money to use.
With Matt Shaub being released by the raiders, do you think the Bengals will pick him up as a second string quarterback? Alan Chase Middleton, ID
ALAN: Doubt it. It's going to have to be at the minimum salary and Schaub's probably not quite there just yet.
The addition of Michael Johnson, Agent 90, is great for our revamped defensive line. People don't realize the impact of his run defense, which creates more 3rd-and-longs & his QB hurry stats from 2013. Fans wanted Bengals front office go after a free agent DT like former Dolphin, Randy Starks or Nick Fairley BUT there simply isn't room on the roster to add a free agent DT & draft a DT in round 1 or 2 - Considered to be a good year to draft DT. If the Bengals keep 9 D-Lineman, the following are locks to make the team- Atkins, Dunlap, Agent 90, Gilberry, Peko, Thompson, & Rd. 1/2 Draft Pick. That leaves our last two DL as Will Clarke & Margus Hunt. Many want us to draft DE to replace one or both. Any updates on off season workouts or 2015 goals for #93 or #99? We have a lot riding on them especially if we pass up on a pass rush specialist in rd.1 to keep them on the roster. Beau Christopher , Los Angeles, CA
BEAU: I like you're thinking and, yes, this is a good D-tackle draft. But I'm thinking the Bengals may go the veteran route looking for that fourth tackle. I'd expect them to re-sign Devon Still on a one-year minimum (that's all anybody is getting now) and bring in a vet or two to compete. Unless a D-Tackle falls into their lap in the draft, I would expect them to chase starting caliber players early in the draft, like wide receiver, tight end, and offensive tackle.
We'll get the update on players when they report April 20 to Paul Brown Stadium for off-season workouts. They're hoping at that point Clarke will be about 12-15 pounds heavier than the 271-pounder they took last year.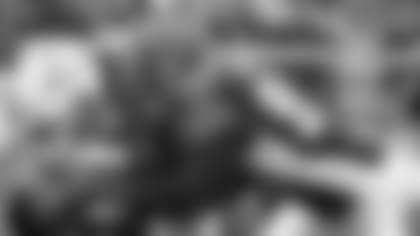 Margus Hunt, very much in the mix, will get snaps inside and out.
Geoff, As I mentioned last week, the Bengals have built a solid roster through the draft. I'm little concerned by the lack of development from a few players. Tanner Hawkinson has been a regular on the inactive list. One of the main complaints was a lack of strength? Shawn Williams has played mostly special teams. Marcus Hunt has yet to really flash. Is this going to be make or break camp for them? Maan Aboulhosn, Titusville, FL
MAAN: I wish I knew. Beyond preseason, no one has really seen them enough to make a judgment. In two years, Hawkinson has played 10 regular-season snaps from scrimmage, according to profootballfocus.com, while Williams has played 39, and Hunt 342. Any year is a key year for any player looking to break through.
Williams has played well on special teams and from what I understand the coaches think he's a promising safety and are looking to give him more snaps this spring. Same with Hunt, who was a project coming in because of his sparse football experience and last year's ankle injury wiped four sorely needed games in his development.  They think Hawkinson, a guard-tackle type, has a shot if he bulks up in the weight room because they really like his quickness.
Do you foresee any free agent signings before the draft? Bob Connolly, Cincinnati, OH
BOB: Only a couple and it will be at minimum salary after they dropped about $23 million in cap hits the last week.
Do you think the Bengals are more concerned over Vontez Burfict's knee than they are publicly saying? After all this was originally thought to be a 2-3 week process at the most. Tim Weber, Cincinnati, OH
TIM: When it's a micro-fracture knee surgery, they don't have to say anything publicly or privately. Everyone knows that's a major concern. They've pretty much said they won't know for sure for two or three more months. They can say the rehab is going well, but so was Antonio Bryant's. So, I'm assuming they won't say much until they know for sure.  But so far, so good, they think.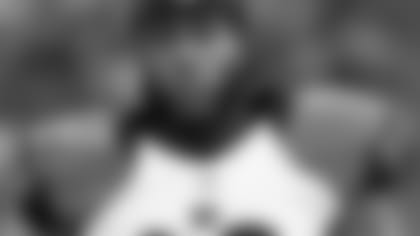 After playing 61 snaps as a rookie, Will Clarke stands to play a bigger role in an expanded rotation.
With Michael Johnson back which is huge for the Bengals, how will that affect the development of Margus Hunt and Will Clarke? Paul Roe, Cincinnati, OH
PAUL: They still have to take a lot of snaps. What made the line so good in '12 and '13 when Johnson was here was the rotation and the only guy that's really not here is end Robert Geathers and that's the spot those two guys play and that's where they have to pick up the slack. Plus Johnson is going to be better playing fewer than the 922 he played for the Bengals in 2013, so Clarke and Hunt have to take the remaining snaps. They'll get plenty of work, a lot more than last year because they'll roll through more guys.
Mr. Hobson, long time reader, love your insights - so here's my question. After getting MJ back does this mean the FO has lost faith in Hunt and Clarke, or do they view MJ as a great mentor for these guys? While I absolutely love the MJ return it seems to me both Clarke and Hunt's rookie contracts will up before they ever have a chance to start here. Great depth maybe but also wasted picks. What are the chances we draft Kendricks at LB at 1, it would in my opinion really solve depth and talent questions at ILB short and long term? Mike Pantano, Cincinnati, OH
MIKE: Thank you for the kind words, Mike.  I don't know if it's the FO, because it's the coaches doling out the snaps. At some point someone upstairs maybe looked around and wondered why they were dropping another $24 million or so on a defensive end after taking one with high picks in the last two drafts.
But they did the right thing. The fact they had a chance to go get a productive, proven edge guy and came through quickly is big. But just the kind of guy Johnson is and how admired he is in the locker room made it a must and they made their club better.
And, you're right. Having Mike around helps both those guys and Clarke and Hunt are far from lost causes. Neither of them has played much, so let's find out. I think Hunt sees more time inside on passing downs and Clarke gets more snaps because there'll be more of a rotation. Plus, with the very productive Wallace Gilberry heading into the last year of his deal, a guy that plays both end and tackle, they've got to find out about these two kids. They are still very much factors.
I just don't see them taking a linebacker in the first round. Maybe ever again. The position just doesn't match the value. Look at the 12 drafts of The Marvin Era.
They've taken two linebackers in the first round and one was a college defensive end who was a projection (David Pollack) and the other (Keith Rivers) was their last option of the top nine guys in the draft. Plus, both played outside.
Even B.M. (Before Marv), the last time they took a linebacker who played some inside was in 1998 when they took both Takeo Spikes (13) and Brian Simmons (17) in the first round and that's because they played a 3-4. Both were special guys who could also play outside in a 4-3.
The last linebacker they drafted in the first round who primarily played inside was Joe Kelly in 1986, but that was in a 3-4. So I just don't see them talking a backer in the first, or even the second, frankly.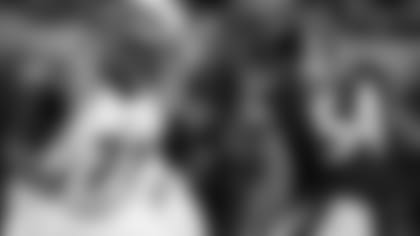 Andre Smith is expected to have his hands up in time to start training camp.
I actually have 2 questions. First, I know you are a reporter for the Bengals, but how do you seem to have so much insight to what the team does? Either you have access to internal gossip or you are in line for the GM job. Also, what's the update on Andre Smith's bicep injury? It's never discussed, and was wondering if he was going to be ready for training camp. Harold Mintz, Las Vegas, NV
HAROLD: Thank you for the kind words, but there's a lot of reporters on this beat who give the same kind of insight. Paul Dehner Jr. over at The Cincinnati Enquirer, ESPN.com's Coley Harvey, Jay Morrison at The Dayton Daily News, Kevin Goheen at Fox Sports Ohio, and long-time Associated Pressman Joe Kay can all fill it up when it comes to the Bengals.  The only thing I'm in line for is lunch.
From what I understand, Andre Smith (torn triceps) is going to be limited in the spring and won't do team stuff, but he'll be ready to go for training camp.
Geoff, I see we have about $22M (as I write this) in cap space. Any chance we extend any key players and front load them while we can? I can see us adding an extra $8-10M cap hit to make sure AJ Green stays in stripes.  Niklas Bauer, Cleveland, OH
NIKLAS: I don't think Michael Johnson's cap number has been logged in yet and the numbers the Bengals set aside to sign draft picks and for an injury pad don't show up on cap counts.  So I think they've pretty much reached the '15 budget on free agency, except for three or four minimum deals. But, the $8 million rollover and the '16 cap room is a good place to start for Green and, I would imagine, Dre Kirkpatrick and Kevin Zeitler.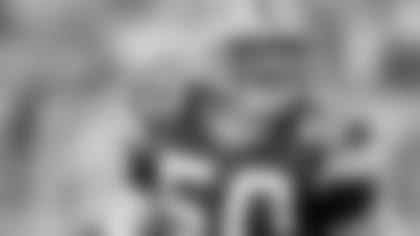 At some point, A.J. Hawk figures to make his presence felt in the locker room and on the field.
Hello Mr. Hobson! It's me again. I've been a die-hard Bengals fan since the mid-1980s. By the time the dark ages of the 90s began I was already hooked. I am happy to see this team finally rising up and gaining some respect from around the league. That said of course like the rest of all Who Dey land, I am really hoping that the next step will be taken soon. My question for you today is about AJ Hawk. How much will he play this year and what kind of impact do you think he will have? The reason I ask is because I was excited when we signed James Harrison but I was really disappointed that he didn't have a bigger role and this only bothered me more when he was released only to give our bitter rival another great season. Thanks again Sir and keep up the great work that you do! Chaz Bond, Columbus, OH
CHAZ: Thanks again, Chaz. Glad you're enjoying the revival. Yeah, I hear you. The mystery on Harrison is the Bengals rushed the passer with him on just 39 percent of his snaps, and that's what he does best.  This past year, the Steelers played him 100 more snaps and he rushed 51 percent of the time.
We'll have to see what happens with Hawk. A lot of it depends on the health of Pro Bowl WILL linebacker Vontaze Burfict's knee. If there's any delay there, Hawk could start in his spot. He could also push to play SAM with Emmanuel Lamur on early downs.
Hawk will clearly have a big impact in the locker room, where he is supposed to be a terrific teammate and true professional. And, every linebacker usually gets the call some time during the year no matter where he is on the depth chart. So I think you'll feel his presence.
Hey, Geoff! Pretty exciting start to the offseason, wouldn't you say? AFC East should be very fun to watch. Seems to me that the Bengals appropriately addressed some important needs during free agency. I'd love to hear which direction you think the Bengals plan on taking in the draft now. And maybe a Day 1 prediction? Thanks! Brady Mathias, Centerburg, OH
BRADY: No question about it. They're lifting the Lombardi Trophy in Buffalo and they haven't even been to Foxboro yet.
In the aftermath of the Michael Johnson signing, I thought the move opened up the draft and I still feel that way. Getting that pass rusher now is huge because now they can pretty much take what falls to them. We now know what they won't take in the first round: DE, RB, TE, QB, LB, WR, S, G, C, but that's about it. It leaves it open for a DT, a T, or CB, just going by the premium positions.
But, who knows? If a WR or DE that was just too good to pass up was there, well, I think they could do that because the Johnson signing means they won't ignore the best player. If you show me the first 20 picks, I'd make the guess since the draft is going to pick the player, not them.
I was wondering even though Michael Johnson is back is it still possible they could draft a pass rusher still? Greg Luther, Cincinnati, OH
GREG: I really doubt it. Not after they drafted Margus Hunt in the second round in '13 and Will Clarke in the third round in '14. They'd have to be in love with a guy who took a massive fall in the first round, but even then I don't see it because that position is such a gamble.
Hey Geoff, I've been reading your articles for years now and now I'm finally submitting my first question. As a lifetime Bengal fan for 28 years, you've done a great job of keeping me up to date. Anyway, now that free agency is pretty much done for the Bengals, what do you think the Bengals are going to target the most in the first 3 rounds of the draft? Jacob Knapp, Williamsburg, VA
JACOB: Thank you very much and I hope it won't be your last coming from one of America's great historic sites.
 I don't know what rounds they get them, but just going by age and the depth chart, you'd think they've got to address in the draft somewhere speed wide receiver, blocking tight end, linebacker, offensive tackle, defensive tackle. But, again, I also think they go best available player all the way, so they could conceivably take a cornerback, or safety, or guard. The only spot you wouldn't expect them to take early is running back.
Now that the Bengals have reunited with Johnson, should the Bengals go after Collins as insurance for the O-line--especially with Smith and Whitworth are up after this year?? Dave Campbell, Cincinnati, OH
DAVE: If he'll take the minimum. That's all they're looking to add.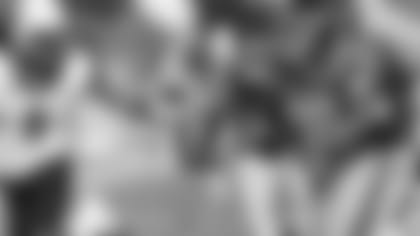 West Virginia wide receiver Kevin White figures to be long gone by No. 21.
Since we have been able to add so much needed depth in FA with Hawk and Agent 93 along with resigning many of our free agents, what do you think will be more imprtant in the first round of the draft, OT or deep threat WR? What's the chances in the 2nd and 3rd round we pick up more DBs to plan for the future with our ageing highly capable group we have now? Jonathan Francis, Harlingen, TX
JONATHAN: Historically, they don't take wide receivers in the first round. Just two in this century (Green and Peter Warrick) and before that you have to go all the way back to 1985 and Eddie Brown. The next year they took Tim McGee, but he was their second pick in the first round.
So, I guess they could take one, but only if one of the big guys fell and it doesn't look like Amari Cooper or Kevin White are going to do that and Dorial Green-Beckham is too big of a gamble at No. 21.
But, yes, they are a threat to take a cornerback at any point if the value matches the pick and that includes the first round. There will be one there.