Second-year linebacker P.J. Dawson has looked quick and athletic this spring.
Geoff - Great article on Cool Hand Luke! Great to see another "heady" linebacker in the fold! In the article, you mention Dawson playing the sam behind Dansby. How does Dawson look at practice? Is he going to be a long term fit in the backer corps? Would be great to roll Tez, Vigil and Dawson for the next few upcoming seasons. (Assuming Dansby and Maualuga move on) Thanks for your work Matt Steinau, Laguna Niguel, CA
MATT: Thanks for reading the Vigil story with the headline a bow to Paul Newman's 1967 classic film, "Cool Hand Luke."
The media has only seen two of the six practices, but from what I'm hearing Dawson looks better than he did as a rookie. He's fast and flows to the ball, but this is a big year for him. No question he's a talented guy. His main challenge is proving he has down-to-down reliability and winning the trust of the coaches, just like it was last year.
Always enjoy your articles and I have been a fan thru it all. Even years before the brown bags were worn at games. My question to you is with today's playing surface and todays cleats does the rain give an advantage? If so who benefits more the offense or defense? Is it the same with a frozen field? Our last 9 games starting in London weather could be a factor except for the Houston game. Seven games basically in the northeast area and one in London. Thanks and this is the year!! WHO DEY Brad Schlueter, Florence, KY
BRAD: Good call looking at the sked. After London it is New Jersey, Baltimore, Cleveland, Houston, as well as four home games. It depends probably more on wind, but I think it is pretty much a wash when the field is wet or frozen, pardon the pun.
It's just tougher to throw a wet and/or cold ball, but the offensive players have the edge. They know where they're going and they can get defenders to slip with indecision. Plus, the pass rush slows down when the conditions are bad. Throw in a big headwind and now you're looking for one of those passers with just-rip-it-arm strength.  A wash.
But, just my opinion, if you've got a good defense and can run the ball, you defeat a lot of negatives, including the conditions.  
Hey Goeff! Writing to you from Naval Station Sigonella! Sicily is nice but I miss my Bengals. Hope all is well back in the states! I have an idea. Why don't the Bengals sign whit for 3 years and let Zeitler walk? I know the age thing, I know how productive Kevin is but, Whit is better. By doing so we can allocate money to good old Gio and Kirkpatrick. Plus we have other interior linemen waiting in the wings. I just think with the line of CED, Fisher, Whit, Bodine, and Boling, Hill and Gio will run forever! Thoughts? Daniel Kairn, Sigonella, Italy
DANIEL: Thank you for your service and taking the time to write. It's an excellent question and I've got to believe they've thought about it.
Zeitler is a fine young player, but how many second contracts can you dole out? Plus, guard is a position (safety is another) where they don't traditionally drop top-of-the-market contracts and as a former first-rounder who has had a solid career Zeitler figures to be looking at a leading number. Still, they love the guy and want to find a way to keep him.
And they're also mindful that Whitworth turns 35 on Dec. 12. Yes, he looks terrific now but it also puts them in the uncomfortable position of predicting someone's medical future, always a risky venture and you have to look only as far as Tyler Eifert's ankle surgery. Yet, Whit is such a great leader for them it makes sense to think about it. The big question would be if Whitworth is going to cost close to what Zeitler commands. Like I say, I think they'd like to make it work with Zeitler and go from there.
Hey Geoff, Love the columns, podcasts, photos, everything! I'm a little numbers challenged when it comes to looking through preseason photos. I know a lot of the names, but much fewer jersey numbers. Any chance someone could add some captions of key players in the photo identified by their jersey number? Peter Neefus, Virginia.
PETER: Thanks for the kind note and coming to the site. We'll continue to try and give you as much information as we can.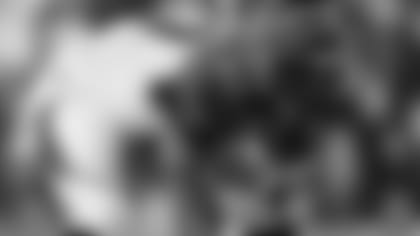 C.J. Uzomah is having a nifty spring catching the ball as he continues to learn playing in a stance.
Hey Geoff thanks for always making these and answering our questions. I have a couple questions I was hoping you'd answer. #1 I know that we probably won't have an idea of how the receiver battle is shaping out until we get through training camp but how much of a chance do you think Kumerow has of winning a spot on the team and winning the opportunity to play in the regular season? Do you think he will get a fair chance also?
Question 2: How much faith do the Bengals have in Uzomah? I know he was raw coming out but his physical skills are extremely high and I am curious how they feel about him and how he's doing. I know Kroft played well in relief last year but I think with two off seasons training with the Bengals staff he could grow into an even better player than Kroft. If you choose to answer me thank you very much Geoff and keep up the great work. Patrick Carlisle Newark, OH
PATRICK: Thanks for sending in the queries. After spending his rookie year on the practice squad last season, Jake Kumerow is going to get a good, long look. With James Wright not practicing yet and rookie wide receiver Tyler Boyd seemingly ready to inherit the No. 1 slot position and get a chance to return punts, that would seem to help Kumerow.
But, it's just a tough call at this point. The four receivers that figure to make it are Boyd, veterans A.J. Green and Brandon LaFell, and sixth-rounder Cody Core. After that, the final two spots are anyone's guess. Second-year slot receiver Mario Alford has dropped some balls, Kumerow has caught some, and Brandon Tate still has the coach's trust when it comes to catching punts. No question Kumerow gets a very fair shot, but let's see how these guys look in pads during training camp and in pre-season games before making a call.
As we've noted the first two weeks, C.J. Uzomah, the 2015 fifth-rounder, is quietly impressing them. You've got it right. He's physically gifted. His 6-6, 270-pound size has caught some eyes because it is paired with a mid-4.6 40-yard dash speed and soft hands. Backup quarterback Andy Dalton said this week he thinks Uzomah is really underrated and can be a factor.
I could see where they put together a package for him weekly when they scout out the best mismatches. But in Tyler Eifert's absence the bulk of the two tight-end sets figures to be right now Tyler Kroft paired with Ryan Hewitt as Uzomah continues to learn to block. But they love what he's doing and what he could eventually do for them and if they develop faith in his blocking during the preseason we could see a lot of him early. It seems to me there are two ways of looking at the Bengals' kicking the tires of Dwight Freeney. Either they do not feel confident about Hunt and Clarke, or they just want a veteran presence to replace Gilberry. In any case, should be a make or break year for the two of them. Your thoughts please. John Allen, Lebanon, OH
JOHN: I think the pursuit of Freeney is independent of how they feel about Margus Hunt and Will Clarke, the two young defensive ends drafted high. They don't know how to feel about Hunt and Clarke. They haven't played them enough to find out.
But I think even if Gilberry were back or even if they had played Hunt and Clarke more they still would have pursued Freeney. They've been kicking the tires on aging Pro Bowl rushers since Marvin Lewis has been head coach and it's a good thought. Maybe eight sacks on 25- percent play time  combined with everybody else puts you over  the hump. Maybe it gets you a win or two at the end of a game against an opposing two-minute drill.
But it comes at a price. If you sign Freeney, do Hunt and Clarke get enough snaps to show you what they can do?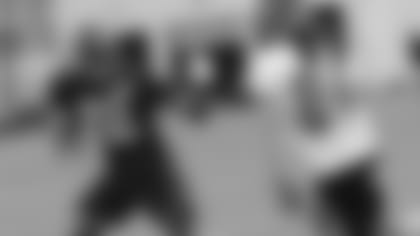 They hope rookie corner William Jackson (22 working against Jake Kumerow) is a future starter. But not this year.
Hey Geoff, really enjoy your work and I hope the offseason is treating you well. I personally am pleased with how the Bengals wrote the offseason. Considering the circumstances, I feel they worked hard to fill all of the holes of FA and tried to keep their talent here.
My question is this: What are the chances of William Jackson and Nick Vigil starting in 2016 other than just rotational roles? To be honest, I think Dre Kirkpatrick is our weakest link in the secondary and of course our linebacking corps. could use some speed in the pass game. We have heard a lot about Boyd and Core but not much about Jackson. I was really excited we got him. Thanks again Geoff, for all of your Hard Work! Andrew Gilligan, Amelia, OH
ANDREW: Thanks for the kind words and it's always great to hear the word from out your way, the Gateway to Lindale Golf Club.
The Bengals disagree with you on Kirkpatrick. They view him as a solid No. 2 corner and feel good enough to not only pay him about $8 million this year but also venture into talks to give him a big second contract. Sure, he gets beat some, but what corner doesn't? He's tough, he cares, and he produces. For the first time in his career last season he played more than 309 snaps with 1,170 and the club finished second in the NFL in scoring, 11th in defense, and fifth in passer rating. He must have played pretty well.
I hear you on Jackson. They were very excited to get him. I remember after the draft defensive coordinator Paul Guenther saying he thought after the draft's No. 1 corner Jalen Ramsey, he thought Jackson had the biggest upside. They hope Jackson is going to be a starter someday, that's why you pick him No. 24 in the draft. But not this year. I don't think they see him as a slot guy, where Darqueze Dennard and Josh Shaw look to be settled.
Same thing with Vigil. Can't see him breaking into the starting lineup with this depth chart. But he's a future starter somewhere because they think he can eventually play all three spots. But right now he's only playing WILL and we know he's not playing in front of Burfict. He could end up seeing a lot of time in nickel, which would virtually make him a regular.
Did the Bengals front office hold talks with or consider UFA Steve Wisniewski C who signed with the Eagles? I know OL coach loves Bodine. Ken Korb, Cincinnati, OH
KEN: You're right about that. Offensive line coach Paul Alexander swears by Bodine, so they weren't making that move for a variety of reasons. They typically don't sign UFAs because it will hurt their chances to get a draft pick in the compensatory pool.
Geoff, A few times, I've seen you refer to Martavis Bryant's touchdown catch in the wild card game as being incorrectly called. Was it Dean Blandino that came out with the statement that it should not have been called a touchdown? What was his reasoning for that opinion? Really appreciate you taking the time to keep the world's far flung Bengals fans so well informed. Andrew, Gold Coast, Australia
ANDREW: Thanks for the kind note from so far away. Here's an item from ProFootballTalk.com dated Jan. 15, 2016 reporting on NFL VP of officiating Dean Blandino's weekly video:
"I don't think this is a catch," Blandino said. "If I just had a blank slate and I could say, 'Do you think it's a catch or not a catch'?, I would said no catch. But the ruling on the field was a catch, and we have to see clear and obvious evidence that it's not a catch.
"Is there indisputable evidence to overturn the ruling on the field of a catch? It was ruled a catch on the field, so the basic premise of replay since its inception is the call on the field is presumed correct unless we have indisputable visual evidence that it is incorrect, then we can make a change. You watch the play live, and the question is going to be control. Initial control. Bryant is going to pin the ball against his leg . . . and then as he rolls over he's going to maintain that control. And again the issue, did he have control with the right foot down? There is some movement, Slight movement does not necessarily mean loss or lack of control. He pins the ball against his leg there. Is the foot still down as he starts to go to the ground? . . . Again, not indisputable."
Maybe not indisputable. But I think most people who saw it knew it wasn't a TD. It would have looked great in an NBA Finals highlight, but juggling the ball between the legs usually means no control. Indisputable? Call it inexplicable.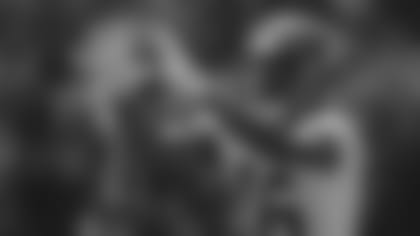 Rookie Cody Core has showed some hands.
Geoff, love your post/response about not giving up on Eifert. Yes his injuries are frustrating but he may get through this and go on a 3-5 run with nothing further. And the Kid can flat out play. Loved your take on the receivers...totally agree. If this young guys have the quicks/hands and can play...play them. I believe it will pay huge dividends for the future. Many are saying the Bengals window for the playoffs and SB are closing. I disagree. The way they draft and develop players I see us solid as hell for another 4-6 years...as long as we keep the key pieces in town. Thoughts? Andy Eskew, Discovery Bay, CA
ANDY: Thank you for reading. Yeah, I like the two rookie receivers Boyd and Core. Obviously they're not going to be as good or as productive this year as Marvin Jones and Mohamed Sanu were last year in their fourth seasons and that's a big obstacle. But there is some buzz that by the time Boyd and Core get to their fourth seasons, they have a chance to be better.
I agree with you on the window. The big thing is you've got Green and Andy Dalton paired up for four more years. Plus, on paper, you've got two young tackles that should be able to protect. You've got some young first-round corners that should be able to play. Their best pass rushers, Geno Atkins and Carlos Dunlap, each have three years left on their deals and you can still build around them. A franchise QB who has time. A Pro Bowl receiver. Athletic rushers and cover guys. That's a formula to keep the window and the shade up beyond 2016 at least.
Cincinnati Bengals host OTAs at Paul Brown Stadium practice fields 6/1/2016