The Bengals secured Mike Nugent before free agency started.
Hi GH, writing today to talk about Maualuga's new deal, I think I speak for a vast majority of the fan base when I ask what were we thinking giving a two down LB that misses a ton of tackles a 7.2M payday, I understand that they are front loading it so they can cut with no dead money in the final two years of the deal, but it's inexcusable to spend 9M on him and a K who is unreliable over 45 yards.
For reference the Bills just sign Jerry Hughes coming off if a very good season for 9M/yr. seems like we overpay for marginal talent in house and trust the draft for everything else. You consistently say we are in the most successful stretch we've ever enjoyed, however, how long does getting booted out in the first round fly? Elite teams make savvy FA pickups (NE-Revis, SEA- Bennett, Baltimore-A. Boldin), got any insight on this subject? Patrick Lyons, Charleston, WVA
PATRICK: I don't think you can call these deals inexcusable. Not when the range for a starting inside backer these days per year, according to overthecap.com, is between $4 million and $10 million and Maualuga's $5M per year is 19th in the league among middle men.  Not when Nugent's $1.75 million average is 15th in a league where the average for a kicker is just about that.
What would be inexcusable is not having a middle linebacker going into Pittsburgh in December and you're trying to stop Le'Veon Bell. Who is the middle backer if you don't pay Maualuga? OK, let him go and you don't know if you have Vontaze Burfict this season? That would be inexcusable.
The numbers suggest they're better with Rey than without him. It is fair to say there is a very wide gap between what the coaches feel about him and what fans like you feel about him and I guess you guys are just going to have to agree to disagree.
As for Nugent, I understand he had a big-time slump at the beginning of the year, but when he hit 15 straight to end the season, two were from 44 yards and one was from 49, before he hit the club's longest field goal ever from 57 in the playoff. So I think saying he's unreliable from 45 isn't fair. In '13 he kicked a winner from 54 yards out at the gun and 11 days later kicked another 54-yarder that gave them the lead with less than two minutes left before the Dolphins' two-minute drill tied it.
That said, they're giving him about the average, so I don't see an egregious error.
You're right. Maualuga's cap count drops the next two years, but not so they can cut him without dead money. That's so they can keep him with a lesser cap count while trying to sign some of the 11 starters and regulars up after this season.
I think your gripe with the Bengals is not so much the deals for Maualuga and Nugent, but that they don't make big money moves, like the Pats did with Revis, the Ravens with Boldin and the Seahawks with Bennett. There's no question they were savvy moves and helped their clubs get to the Super Bowl.
But the Bengals have made their share of savvy moves, too, except it was keeping their own Pro Bowlers like Geno Atkins and Vontaze Burfict and doing a Jerry Hughes-like deal with Carlos Dunlap. Who knows what happens if Atkins and Burfict don't get hurt right after they signed? And, say all you want about the Andy Dalton deal. But the contract they gave him does give them outs and is not a Jay Cutler team-killer.
And so we have the debate.
Is lack of big-time free agents keeping the Bengals from getting over the hump, or has it helped them keep a playoff team together? Would the Bengals be the Pats with Revis? Or would they be the Browns because they put too much money into one player and lost three others?
I only say this is the most successful run in franchise history because it is. And I've done it in the context of how they've approached free agency and the draft. Even Bengals basher Mike Florio of profootballtalk.com has suggested the Bengals shouldn't stray far from a course that has logged five play-off berths in the last six years.  Just because it's been the most successful run in history doesn't automatically mean a one-and-done in the playoffs is accepted.
But you've also got to remember this has been a pretty solid blueprint and you can't just blow it up now with a couple of major deals that could cost you more players. There has to be a balance. Sure, I could go for a flyer now and then. But does it cost me Marvin Jones or Andre Smith or Giovani Bernard?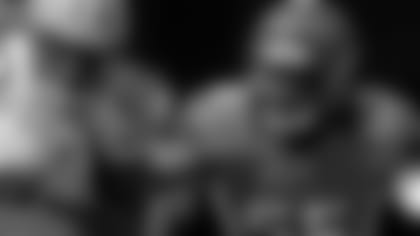 All eyes are on Vontaze Burfict's rehab.
With the constant injuries the team faced last season at the linebacker position, how do you see them performing in 2015, and do you see them targeting any specific players in the draft or even free agency to help with depth? Brad Wipert, Lexington, KY.
BRAD: So much depends on the return of Pro Bowl WILL backer Vontaze Burfict from microfracture knee surgery. They don't know if or when he'll be back, so I see them trying to get at least two guys, probably one each in free agency and the draft.  Something could happen with former Packers linebacker A.J. Hawk after Monday's visit and I think they have to draft a linebacker by the third round.
Maualuga should be fine since he's coming off his best season. The guy they really need to amp it up is Emmanuel Lamur, coming off his first season as a starter and a guy that struggled vs. the run. They have to decide if he's more than just a nickel backer. Vincent Rey should be even better, as long as he plays about 200-300 snaps as a backup and not 1,000. They've got to get more out of Marquis Flowers, last year's sixth-rounder, and they should since the biggest jump for a guy is between his first and second seasons. That's why they have to be encouraged about Lamur.
Hey Geoff, Many media signals are pointing towards the Bengals signing Greg Hardy. Is there anything coming from the team that would lead you to believe that signing Hardy is a legitimate option? How much are they looking to spend on a free agent lineman? Rich Hidy, Cincinnati, OH
RICH: Nothing. I thought a month ago, maybe. But not now. Not knowing what his punishment is going to be and the high price probably takes them out of it.
Geoff, Love your work. I'm frustrated with the Bengals malaise when it comes to FA. No one expects them to spend money like a drunken sailor, but this team seems to always come up with excuse why not to pursue players. Fact is, the bengals have built a strong draft based roster. Why not add a few key upper tier FA to help put you over the hump. Don't understand this philosophy. Maan Aboulhosn, Titusville, FL
MAAN; Good to hear from you again and thanks for the kind words.  And, yes, this is The Great Debate, isn' it? That's the thing. Because they have drafted well, there's not a lot of room to swing big deals because the salary cap is quickly engulfed by the number of guys they want to keep. It's not like the old days, when you could blow it on Antwan Odom seven years ago (five years, $30M, 11M guaranteed in '08 numbers) and not have a lot of guys you had to keep in-house.
The thing with their free-agent philosophy is a lot like those shots from the bar that come around the table near closing time. You either like it or you don't and nothing is going to convince you either way. Indeed, there doesn't seem to be a wrong answer. You can argue it is keeping them from getting over the hump, and the teams they're trying to beat in the AFC, such as New England, Baltimore and Indy, have used it to their advantage. But the Bengals and Steelers have been successful in cultivating their own players and not delving into free agency and, leaders like the Pats, Ravens, and Colts, like the Bengals, have also done their work primarily through the draft.
It seems like they'd rather re-sign a 25-year-old Marvin Jones at wide receiver than sign a 31-year-old Trent Cole despite their need for a pass rusher. But they view the team as a whole. OK, you get eight sacks from Cole in '15. Does that put you over the top this year or behind the 8-ball next year?
Talk about 50 shades of gray. If you got an answer, let me know.
The Bengals have made their splashy signings their own, like Carlos Dunlap's five-year, $40 million extension.
It seems to me Greg Hardy probably won't be in Bengals stripes this year since the team looks to be resigning their own. Would the Bengals really consider resigning Michael Johnson one year after they let him go in free agency, if the Bucks release him this week? And would he even want to return after the organization didn't step up to pay him last year? Wade Borts, Watford City, ND
WADE: They can't comment on Michael Johnson's situation because he's under contract and they would be penalized for tampering.
 All I know is they have a mutual admiration society. Mike loved his teammates and environment here and everyone – to all the way up top – had high regard for him as a man and a player. That was clear when the Bengals played the Bucs last season. I didn't see any bridges burned on either side of the water.
 It was a straight business situation. The Bengals basically offered Johnson and Carlos Dunlap the same five-year, $40 million extension before the 2013 season and Dunlap grabbed it. The Bengals had already franchised Mike at about $11 million, so that didn't make him mad.
Hi Mr. Hobson, Love your Hobson's Choice. Cincinnati has a bit of a history with resigning our own guys and not really looking to free agency much to get added help. Are there any names for which you would see Cincinnati putting in a bid this year or should we really pay more attention to the draft again than the free agency? Obviously we probably won't put a bid in for guys like Suh, but it would be neat to go for someone who would help this franchise get past its one and done curse. Nicholas O'Maley,  Raleigh, N.C.
NICHOLAS:  Thank you for the note and kind words.
The Bengals have been pretty consistent through the years. Their big moves are in the draft and re-signing their best players and free-agency is reserved largely for tweaking and filling. Former Packers linebacker A.J. Hawk and former Chiefs tight end Anthony Fasano are players that have visited and play positions that fit their needs. Although they've just tendered SAM backer Emmanuel Lamur at a second-round compensation, he's trying to bounce back from his first season as a regular in which profootballfocus.com rated him the 39th outside backer out of 40.
One pool of players to keep an eye on is the secondary market in the wake of the big deals this week. There are times teams cut players to make the contracts fit financially and that's a prime guy for the Bengals because signing a released player doesn't figure into the draft choice compensation formula.
But they're main focus is going to be on keeping some of those 11 regulars and starters that are up after next season.
Are the Bengals looking for a wide receiver in free agency? Chuck Ciampi, Waterbury, CT
CHUCK: No, they're going to wait and get a young guy in the draft. They've got to pay their own three free-agent wide receivers next year, A.J. Green, Marvin Jones, and Mohamed Sanu.
The Bengals already have an Andre Johnson-type guy. His name is A.J. Green.
Hi Hobson, I love the blogs keep up the great work! My question is what would you say the odds are of bringing in Andre Johnson? I know it's unlikely but not only does he still have some left in the tank think of the positive influence he could have on an already great pro A.J. Green. Obviously the money has to be right with so many guys coming off the books next year. However, it could play in their favor since Sanu or Jones haven't proved to be durable enough to last a whole season at a high level. Not only that it could help in bringing they're numbers down to make both extensions much more affordable. Andy's proven he can't carry the load with this move we set ourselves up heavily in depth so there are no more excuses. So if he can't do it with a group featuring Green, Jones, Sanu, Johnson, Wright, and probably a rookie then we will know it might be time to move on. If you have any pull in the organazation please urge them to pull the trigger I feel as the window is closing let's go all in and bring a ring to the Queen City! P.S. Bring back Michael Johnson when he gets cut (fingers crossed) Kyle Lunce, Toledo, OH
KYLE: Thank you to the college home of Andrew Hawkins, speaking of wide receivers.
You make some good points, but I have no pull and even if I did, I'd have to stay away from Johnson. Great player, but not now. I thought he looked about done when the Bengals played back in November (three catches, 36 yards). They couldn't trade him, he's coming off the worst yards per catch of his career, and he'll be 34 in training camp, three big warning signs. I think they're better off keeping Green and Jones on the field (21 TDs in 2013) and drafting a young guy that can run. At this point, five years in, Green has to be your Andre Johnson when it comes to a positive influence in the group and I think he's proven that. What's interesting about your point is that Green has often said Johnson is one of the guys whom influenced him with his blue-collar approach.
Instead of constantly looking at Andy Dalton for the lack of success in the postseason, do you think there is any merit in saying that Marvin Lewis is not a big game coach? He seems like he isn't creating solid game plans or making in game adjustments in a manner that helps his team win. Is it time to move on, despite his recent success to find a coach that could possibly put us over the top? Dustin Overholser, Myrtle Beach, S.C.
DUSTIN:The one-and-done .Ibid is frustrating, in large part because it's so difficult to put your finger on one thing. But I can't hop on that big game bandwagon when it comes to Marvin. Simply because a guy that has been to the playoffs five times in six years in the best division in the game must be doing something right in big games.  You've got to win about five or six big games a year alone just to make it to the playoffs.
 Just take this year. The opener in Baltimore, huge. The win against Baltimore at home. Even huger. The win in New Orleans after the Cleveland debacle. Maybe the biggest win of the year. The win in Cleveland with the Browns at 7-6 and the Bengals trying to hang in at 8-4-1 after the loss to the Steelers? Big because it knocked Cleveland out of the title hunt. Then they must 10th win at home against Denver on Monday night to qualify for the playoffs, breaking Peyton Manning's 8-0 spell against them? Bigger than big. That's five right there.
Look, there are all sorts of reasons, but it's not like they haven't won big and must games before.
Mr Hobson, you are plugged into all things Bengal related and I have a question about Mike Brown and how he chooses to operate as owner/gm. My question is how you can expect different results by operating and doing the exact same things year after year. This is just one fans opinion but it seems that Mike Brown is perfectly happy with winning 9-10 games a year and losing on wildcard weekend. If he wasn't happy he would have change up his approach and bring in some real talent in free agency to compliment the draft. Give the fans something to get excited about Mr. Brown and maybe the team wouldn't struggle selling out home games during the season. Winning 40 games in four years is great but it means nothing without playoff wins. Kenny Moore, Bluefield, WVA
KENNY: I hear you. But here is the debate. The Bengals believe one of the reasons they have won 40 games over the last four years and are in the hunt every year is because they have stayed away from the big free-agent signings that have killed them in the past (Odom in 2008 and Antonio Bryant in 2010) and instead have focused on re-upping their own guys that have led to their success in an effort to keep a good team intact. Since '09 they've drafted or signed six rookies that have been to the Pro Bowl and have extended four of them.
Something to get excited about? Four straight play-off teams? Five in the last six years in the toughest division in the league?  I mean, what a ride it was in '14. Despite all the injuries, they came within a fumble in the last minutes of the season of winning the AFC North. Exciting?
I know. I know. It's not enough. It's not the big one. I get it. The frustration is palpable. And the most frustrated guy is Mike. He believes he is giving fans what they want by keeping a winning team together, getting to the playoffs, and having a shot every year to win the tournament. I mean, you can't say the last four years haven't been exciting.
And, you're right, they've come up empty in the postseason. But this team is much closer than it was when it was chasing the Sam Adams and Dexter Jacksons of the world in free agency. Both Mike and Marvin believe free agency is a piece of the puzzle. But it's not the puzzle.
Here's what Lewis said back in January at the Senior Bowl of potential free-agent signings:
"I don't know who they would be," Lewis said. "Come in right away and play, not just a starter, but above the starting level. They can make everyone else above them better. You've got to be careful what you say with big free agent. That term doesn't fit me very well. The guy has to be a fit to what we are doing. We don't want to take a step sideways to try to immerse someone into what we are doing. This guy has to be an accent, an upgrade to the things you are doing."
I don't see anybody down here perfectly happy that they lose on Wildcard Weekend. But they seem to be saying you have to make sure you get there and this is how they've gotten there.
I find lots of fans hoping to catch a good edge rusher in free agency. In my opinion, this year's draft class is full of starting caliber talent. We may be able to get an immediate contributor in the second round! With our recent history, doesn't it make more sense to resign key players and address the edge rush in the draft? Ray Nicodemus, Piqua, OH
RAY: They did last year (Will Clarke in the third round) and they ended up playing him just 61 snaps. I agree, there are guys there. But you have to play him if you pick him. That's why your young veteran rusher might be Clarke instead of a free agent.