The Bengals are sticking with Andy Dalton.
Geoff, I am wondering, now that the Bengals secured four addition picks in the draft (11 total), if this will affect their participation in the free agent market? I'm afraid that they will pass on FA and sit back in their old comfort zone and "build from the draft" and because its cheaper (sorry, burt thats what the fan base sees). I would like to believe they will finally be aggressive at least in developing a viable offensive front line and maybe DB. Of course, resigning Atkins, Dunlap, and Eifert come first. Also, if they do shore-up the front line via FA, do you see them taking a QB at 12 if one of the top four fall to them? Personally, I'd like to see them take Quenton Nelson at 12 if he's there, even over a tackle. Your thoughts? Greg Burns, Connersville, IN
GREG:  I think that's a question that begins to be pursued this week in your neck of the woods at the NFL scouting combine and I expect director of player personnel Duke Tobin to be asked it in both his national and local media availabilities on Wednesday. I do sense a move to shore up the offensive line with means beyond the draft, but I'm not sure if that's going to be the unrestricted free agent route.
You know the Bengals' argument. In their mind, it's not a question of spending, but a question of value. They'll drop a huge number, but they hate to do it on what they see as the one-in-three crapshoot of signing guys from other teams. I think it's more likely they acquire a starting offensive lineman via trade than signing a UFA, but both are uncharacteristic moves, aren't they? I think they'll address the line in free agency, but it won't be for a market buster.
The only way they take a QB at No. 12 is if they get a major slide. Can't see it any another way in the first round. And that would probably be the only way to get Nelson at No. 12, right? A major slide because he's long gone before that, I would think. Let's think a little defense. There are a couple of big, athletic defensive tackles that are going to be sitting there that ought to get a look for a team that's been undersized there since Domata Peko left. That is if, of course, if they think they can get a left tackle the next day.
With 11 FAs Who Are The Bengals Top Guys They Wanna Resign? With Tyler Eifert Bein One Of The FAs I Feel He Needs Resigned I Know His Injuries But This Offense Is At Another Level With Him On The Field Did He Turn Down A 3 Year Deal Last Year? Will The Bengals Pick Up Adam Jones Team Option This Year? Will The Bengals Restructure Any Players Contracts This Year To Gain More Cap Space An Or Extend Other Players Contracts Besides Geno An Dunlap? #WhoDeyNation #WhoDey4Life #Bengals #OurYear. Josh Mason, Cincinnati, OH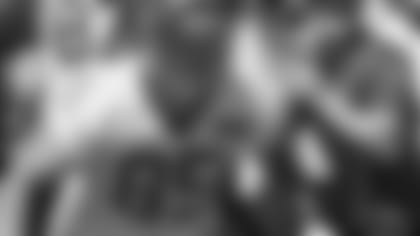 Tyler Eifert: great talent, brittle history.
JOSH: They'd love to re-sign Pro Bowl tight end Tyler Eifert, but how much do they love him? They're going to have to be talked in to giving him guaranteed money after missing more games than he's played in the five seasons since going No. 1 in 2013. I would think they're thinking more along the lines of an incentive-laden one-year deal (can you blame them?) and so he's probably gone. There's so much money out there and a team other than the Bengals is going to roll the dice on some guaranteed cash and then we'll have to wait for the next five years. Will he play 75 games and go to three Pro Bowls? Or will he have to retire after the 2019 season? I don't see the Bengals playing this NFL version of Russian Roulette. I mean, Tyler Kroft is a solid player in the red zone. He's not Eifert, but the man knows his way around in there.
We'll know for sure by March 12 or 13 on Adam Jones in the lead up to free agency on March 14. The emergence of William Jackson and the money they're paying Dre Kirkpatrick and Darqueze Dennard would surprise many if they bring back Jones on the same deal when he turns 35 shortly after Opening Day. But Mike Brown and Marvin Lewis have been known to go to bat for him and if they can work something out, they may.
Speaking of Kroft, there are those in the building that would like to extend him in the last year of his deal and move on from Eifert. Agents and clubs exchange contract ideas all the time so what some may see as a rejection others may see as an outline. If Atkins and Dunlap get done, it's probably going to be during or at the end of training camp. Free agents they'd like to take off the market in the next month look to be both Smiths (Andre and Chris), punter Kevin Huber, and maybe center Russell Bodine.
Greetings! I am a huge fan of the Bengals and of your writings, so I decided to ask a question for you this week. I have heard many people discussing Lamar Jackson in association with our #12 pick. I personally believe the team will take and should take an offensive tackle, however, I wondered what your opinion on the possibility of taking Lamar Jackson with that pick. Sincerely, Daniel Chase, Cincinnati, OH
DANIEL:  Thanks for reading and taking the time to write.  Looking at some of the draft web sites, Jackson doesn't rate a top 12 pick and looks to be, at best, the fifth-rated QB. So I can't imagine the Bengals taking him there. Like I say, the only QB I see them taking at 12 is if they've got one rated highly and he does an Aaron Rodgers slide circa 2005.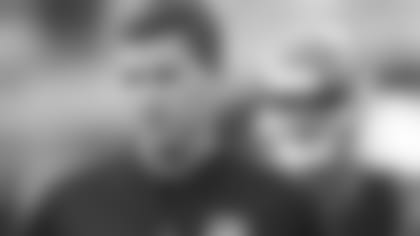 Bill Lazor: revamping the offense with a term in his own right.
Hey Geoff, this is my second time writing in now, and I will say this first off. I love this article and I always look forward to seeing what my fellow Bengalites want to know and where they stand on the teams current state. I just want to know why this organization has settled for subpar for my entire life. I was born in '95 and have lived through dark times and some slightly brighter times now, but mostly I get my hopes up and defend my team to death but for the first time in my life this past season I finally felt what my Dad talks about all the time with this team.
He has very little faith in our ability to get over the hump because of the teams continued acceptance of the status quo. Why do the Brown's continually torment their fans? We want to see a Lombardi Trophy in Cincinnati and I know they do too, but it never seems like we take the right steps. Coaches that win Super Bowls do it in their first couple years in the league or together with their QB's. Marvin has been here for 15 years and we haven't really progressed outside of a 5 year playoff stretch in which we still couldn't win one.
We just watched Mike Mularkey get fired for winning a playoff game for the love of God, but we sit back and let Marvin waste AJ Green's prime without giving him either a upgrade at QB or at least a new completely overhauled staff from top to bottom. The only person in our front office I trust is Duke Tobin because he built a contender that Marvin coached into mediocrity. You defend our mediocrity with your life, but when will we really get to see some change?
Because NEWS FLASH-- Marvin Lewis will never win a Super Bowl as our Head Coach he is too conservative when it matters the most and it kills us because we have no Killer instinct to finish a game. How many times do we have to watch this team go up over Pittsburgh and then blow it in the last 5 Minutes? If you can tell me that without going on about how we overhauled the staff this season and actually tell what will really make this year different I might actually be able to sleep nice without thinking about how My Favorite team in all of sports always chokes. Konnor Kinser, Tipp City, OH
KONNOR:  You sound like me around 1982, a 23-year-old guy griping about the Red Sox to his father in the Fenway Park bleachers. "Wait until June, pal," Roy Hobson would say. "Then they become the Red Flops." This is what we do, right? I mean, somewhere there's a 23-year-old and his dad grilling Belichick about sitting Malcolm Butler and wondering if he's past his prime. Just like they grumbled about Paul Brown in Cleveland 60 years after he'd been to 11 championship games. This is what we do, right?
I understand all the angst. Here's what I don't get. The notion about settling for sub-par stuff. The year you were born, they traded up to grab the top pick in the draft and after Ki-Jana Carter tore his ACL on his third NFL carry, they were still in the race in October and they signed old Steelers running back Barry Foster off the street, a bold move that fizzled when he decided not to play after one practice.
 Since then they've made enough moves and signed enough big deals to keep their roster together long enough to be coming off their most successful decade in history.  Certainly the lack of a play-off victory and a Super Bowl title is a raging disappointment and we can all see moves they should have and shouldn't have made. I guess what I don't understand is the desire to blow it all up after they've put together one of the better formulas in the league since '09.  The anti-Marvin people have their case and the pro-Marvin people have their case and you won't move them.  Are the pro-Marvin people defending mediocrity or are they sticking with the most successful head coach in team history in an effort to get over the hump right now instead of starting from scratch?
I think I've been writing this for months. The only way they can tolerate going for the status quo is if they rip up the offense and get Green and Dalton some help schematically and philosophically with major changes. They did what they had to and made those coaching moves. Let's see what they do with that new staff. You have to consider Bill Lazor a new offensive coordinator. You can't judge a coordinator totally without an offseason. We all know they've got some top talent on that side of the ball. That's where this re-boot relies. If they don't score, it has to get blown up and they have to make the major focus the offensive line. They have to make sure the loss of Andrew Whitworth doesn't have the same decade-long impact like the loss of Pro Bowl guard Max Montoya set the tone for the '90s.
It's tough being a fan of any team, no question. That's why we do it. I like the roster. They've got guys that can run and play and have skins on the wall and they've got some new ideas.  It's a do or die year, isn't it? They have to score. Thanks for checking in.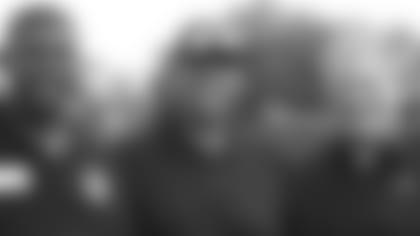 Willie Anderson, Anthony Munoz, Dave Lapham take in training camp last season. No mediocre history there.
Geoff, enough of the today in Bengal history. reeks of reprinting old non relevant articles. cannot believe that there is that much interest in a mostly mediocre historical record. I certainly am more interested in what the organization plans to do and, yes changes being made to break the mediocrity. so far, not so much!! Rick Brown, Cincinnati, OH
RICK: Sorry you feel that way. We're trying to come up with a balanced site that has a little bit of everything for Bengals fans. I can understand people who have no desire to read about the past. Others do, though. There are a lot of memories there for a lot of people.  The value of history is always relevant and never mediocre even if some of the events are.
(Anthony Munoz, Paul Brown, Boomer Esiason, Chad Johnson, Isasac Curtis mediocre?)
 But I think it's pretty clear where we're putting our priorities. The current team and news has been front and center at all times. The "This Day Feature," has only been complementary since it started on April 20, 2017, and will continue to be until the last entry on April 19, 2018. Thanks for the feedback.
Mr. Hobson, do us all a favor and send this trade idea up to the boss man. I believe it would help greatly in solving some of our offseason woes, and frankly its pretty darn realistic. CIN- 1st (12 overall) BUF- 1st (21 overall) and OT Cordy Glenn We solve our LT issue, and now have the luxury of going BPA (even if its double dipping on the O-line) What do you think sir? Would Mike Brown and company pull the trigger or would they want more in return? Jon Nickerson, Dayton, Ohio.
 JON: Love the concept. I have no idea how that matches up in the trade points system for the draft, but it would be enough for me. They have to come out of this offseason bulking up the O-line somehow and some way, and that's one way. So the memo has been passed on.