On the deflate gate thing with the Pats, why not collect a few balls that have been intercepted of Brady's and have them checked, we would know how long he has been using a "Nerf" ball. No wonder he has such a great completion % every year, I bet if you look they have less fumbles and now we know why his receivers seem to catch everything thrown at them. It's a huge advantage. I hope he finally takes responsibility for something that was obviously the Q.B ' preference. Tony Smith, Ocala, FL
TONY: I've been trying to stay away from this since it involves my two least favorite subjects. Science and politics. If you cheat, you should get punished, but I'm sure Tom Brady isn't the only QB to doctor the ball if they discover that he has. That's my problem. The NFL should widen the probe to include the entire pass-happy league it has spawned with its seven-on-seven rules.
(I'd like to see how much pressure was in the ball the Giants' David Tyree squeezed to his helmet a few Super Bowls ago.)
As for Brady's receivers catching everything, well, his roster of pedestrian wideouts proves how great he is. He's been throwing to Brandon LaFells his entire career except for three years with Randy Moss and by then Moss was 30. Those guys need a lot more help than a deflated ball.
I enjoy your work Mr. Hobson. Thank you for all you do. I know Lewis has already stated how they are sticking with Dalton, (I am not a Dalton hater) but what do you think of Garrett Grayson of CSU? I believe his ceiling is very high in the NFL. Also, drafting him would allow Bengals to possibly trading Dalton and allowing the Bengals to chase more expensive free agents. Suh, maybe? Lewis stated "we didn't have time for a new quarterback" but was Dalton really asked to do anything a rookie QB couldn't do towards the end of the season when Jeremy Hill was running so well? Garrett Hundley, Burlington, KY
GARRETT: Thanks for the kind note. After Marvin Lewis' comments last week, I just don't see them addressing the quarterback situation this year. Maybe next year is a different deal, but the only thing that may change is the veteran No. 2 if Jason Campbell decides he wants to go somewhere and have a chance to play. At least at the start of the season, A.J. McCarron last year's fifth-round pick, has no chance of being the backup and they'll be looking for a vet if it's not Campbell.
Grayson has NFL size (6-3, 215) and he sounds like a good prospect with enough arm strength. You've seen the projections on him that have him going as early as the second round. He didn't have a good bowl game and his offense may have too much pistol formation stuff that will make his transition to the pro game a little longer.
But with needs on the offensive and defensive lines, I just don't see them taking a QB high in the draft. They've got their developmental guy in McCarron, they can't trade Dalton because of his contract, and they've defended him to the end of the earth. For 2015.
Don't look for any big free agents like Suh. I think they'll end up with more than usual, but it will be the Tier B and C guys at linebacker and tight end. If they go for a high-priced player, it wouldn't be a tackle, but a pass-rushing end.
What do you think the Bengals will do with Dalton Playoff struggles/QB performance? He is a veteran QB, but looks very inconsistent and makes poor judgments. He has a great supporting cast around him, but he hasn't prove to be an elite QB in the NFL. Do you see the Bengals bring in a Rookie/Veteran QB to compete with him? Who Dey, Omid Shahrava, Chicago, IL
OMID:  He's not an elite QB, but from what they're saying they still think they can win with him. As you can see from the answer above, I think they're staying put for '15. As for his weapons, he didn't have the same ones he had in '13 when he threw a club-record 33 TD passes. Because of injuries, the guys who combined for 23 of them were basically missing in six of the games, including the Wild Card.
As a Bengals fan for as long as I can remember I can certainly say we've come a long way, with that being said we still have room to improve, as always. My question is, depending on free agent moves and draft picks, along with current players staying healthy, how far do you think the Bengals can go next year? I have no doubt in Dalton or his confidence. Austen Craun, Sidney, OH
AUSTEN:  This core of players can win it all if they stay healthy. That's just off sheer numbers of four straight playoff berths, but there is work to be done.
 They need to get their receiving weapons healthy, they need to get their defensive line rotation jacked up again with an outside pass rush threat, and they have to bulk up at linebacker and tight end.
But you've been watching what has been going on the last month. In the postseason, the best players play the best. That's how teams survive. It's usually a great play or great performance and the Bengals' core just not Dalton has a checkered past in big games. It would be fine if they were something like 20-44 over the last four years, then you could just tear it down. But with 40 wins, there is obviously talent there.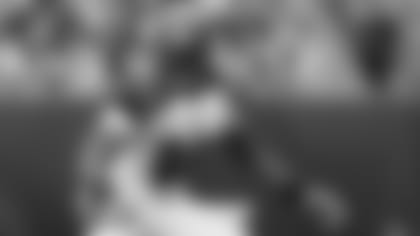 The Bengals are in the hunt to find more pass rushers to bolster eight-sack man Carlos Dunlap.
Hey Geoff, love your Bengals coverage, keep it up! My question is about the draft. I'd love to see them get a great pass rushing DE or DT in the first round and it looks like there may be some good ones there. What are some names that come to mind as far as who the Bengals would be looking at? They're at 21. I would love to see them get Bud Dupree from UK. Couldn't he put on a little weight and be a great fit as a pass rusher with Dunlap and Atkins? Thanks again! Wade Shultz, Cold Spring, KY
WADE: Thank you for reading. The names you hear at end make you wonder if they're going to be big enough or if they're tweeners. Guys like Shane Ray at Missouri, Eli Harold at Virginia and Dante Fowler at Florida seem a little light to play end. Inside players like Danny Shelton of Washington and Leonard Williams of USC have shown they get after the passer. The Bengals will look at them and all the rest and then not tip their hand, but you're right, it's a need.
Dupree looks to be a really good prospect, but he seems to be more of a 3-4 rush linebacker and doesn't seem to fit their need for a 4-3 end to complement the work of Wallace Gilberry. Hi Geoff, We all know that Kevin Huber is home-grown, playing at UC and McNick. My question is did he play grade school ball at Guardian Angels in Mt Washington or Pee Wee Ball with Mt Washington Pee Wees? Or did he learn to kick playing soccer? I've watched a lot of punters, e.g. Ray Guy, et..al. but he's the best that comes to my mind! Lynn  S. Marshall, Cincinnati, OH
LYNN: Huber played his first game in sixth grade for Immaculate Heart of Mary in Anderson Township before going to McNick. That certainly is high praise when you invoke the great Ray Guy.
Mr. Hobson, I've been a Bengals fan since 1970 (I was 9 yrs old) I know you must be a fan too, please help bring it home for us!!!!! If the Eagles are truly interested in trading Nick Foles??? Could you get the Bengals thinking about and even more so acting on bringing him to Cincy? I've watched Foles in at least seven games and he has the arm and the intelligence to be a victorious Super Bowl talent. I've been a fan of Football most of my life and for the most part I've been a good judge of talent. In the beginning Dalton was a bit better than average but his confidence has been shaken to the point that it's made him just an average talent. The Bengals have most of the parts it takes to win the Super Bowl but they need a good quarterback to do so. Few teams can win it with a Dalton/Dilfer like talent. I think the Bengals can get Foles for a 3rd or 4th round pick. Foles had a 27 TD - 2 Int. year with Macklin/Jackson, We have AJ Green and a compliment of talented pass catchers. Would you please mention it to the higher up? T.Castle (I still believe Ryan Mallett could be groomed to be a starting QB..a previous message I sent you) T Castle, Maysville, KY
T: I appreciate you taking the time to write. We're just talking fantasy here because they can't trade Dalton now with his contract. But Foles? They're dumping him for a reason. Here's the problem getting rid of Dalton and replacing him with another veteran. Is he going to be better than you got? Foles doesn't exactly strike me as a big-game QB. Be careful what you wish for. I agree with you on Malllett, but, again, look at how badly he played vs. the Bengals back in November. Who are you going to get?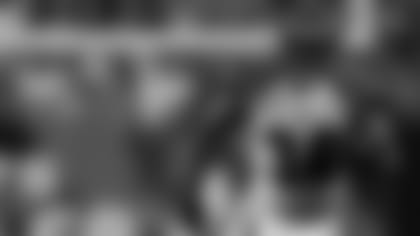 Boom Herron in his Cincy days.
What is your take on the loss of Boom. Dan Scouto? The fb Devin in New England Seems like the Bengals didn't want them? They are all playing well for other teams. INDY. SF NE. Rocky Rose, Oxford, OH
ROCKY: It's better than the alternative, which is how it used to be. If the Bengals cut you, there was a time you were never heard from again. But Pats fullback James Develin, Colts running back Boom Herron and 49ers linebacker Dan Skuta show how well the Bengals have scouted recently.
Herron and Develin were cut, but you didn't hear an outcry. I guess in hindsight you'd say they should have kept Herron instead of BenJarvus Green-Ellis in 2013, but nobody was saying that at all back then and it wouldn't have made much sense since BJGE was coming off a solid '12. The only reason Herron played in Indy is because of the curious case of Trent Richardson and the Ahmad Bradshaw injury. He'd have a tough time making this club right now with Hill, Gio, Burkhead, and Peerman. A good back, but the Bengals have them, too.
The Bengals preferred Chris Pressley to Develin, but since neither is here you can say that came down to fit. The Pats are using Develin much the way the Bengals are using Ryan Hewitt, but Hewitt is more versatile and is a better player. Develin is a good role player, a role that wasn't as defined here under then offensive coordinator Jay Gruden.
Skuta left free agency and that's the only one of the three that makes me wonder. As the Bengals special teams captain and best teams player, the coaches hardly used him from scrimmage and he's been an outstanding backer for the 49ers. They could have used that backer depth this season.