Let's take the long view with Giovani Bernard.
The Bengals top 3 downfield threats have been missing from the offense. The defense hasn't been playing well, and its leader playing hurt and inconsistent. They've been playing prolific QB's in this span. Yet, they don't run the ball. It would shorten the game, lessening the opposing QB's time of possession, give our defense a rest, instead of 3 straight clock killing incomplete passes on repeated 3 and outs. We got an excellent line, Bernard, who was given a chance as a rookie last year, and Hill, who should be the starter. Why no running game? Paul Roe, Cincinnati, OH
PAUL: Couldn't agree with you more. To go into a game on the road against the NFL leader in points scored and time of possession and throw it 10 of the first 12 plays is, well, surprising. On top of that, the Bengals defense had come off two exhausting games totaling 162 snaps and played three backup linebackers in the last three quarters.
If there was ever a time to run the ball…
To offensive coordinator Hue Jackson's credit, he second-guessed himself about not being stubborn enough to stick with the running game. You don't see that kind of honesty in pro sports very much. And Jackson won't be down long. Look at his track record. He's a top 10 guy and his running games, in the end, get it done.
And to me, the best way to get this team back on track is to shorten the game and help the defense work through its issues and I would think that means unveiling Jeremy Hill. Look how the big back is helping the Steelers.
And I love Giovani Bernard. He proved Sunday there is no one tougher with a bigger heart on this club. Move him around, use him in space, and give him as many touches as Hill between passes and runs on the perimeter. But I'd love to see Hill go off tackle 15-20 times a week.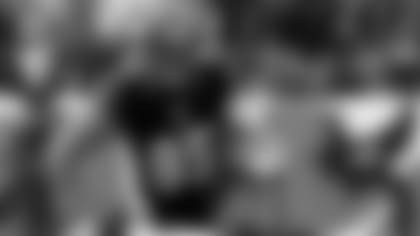 Look for Tyler Eifert some time in November.
Hi Geoff! Thanks for your coverage of the team. I look forward to your articles every day (even dreadful Mondays like this week.) The Colts had 10 days to prepare for this game and it showed. Any fear that the Colts have established a blueprint for suffocating this Bengals offense? Also, I firmly believe that Tyler Eifert is the spark this team (and Andy) needs to get this offense to the next level, along with the obvious need to get AJ back. What is the timetable on Tyler's return? How is the elbow progressing and how soon can he contribute? I've bled orange and black since I can remember! Week 7 is not the time to lose the faith!  Jason, Perkasie, PA
JASON: Thank you to Bucks County. Eifert is eligible to practice Wednesday and play against Cleveland Nov. 6, but that's not going to happen. How he's progressing is anyone's guess. He's out of the sling, but it is going to depend on how much he can bend the elbow. He could be ready by the 10th game in New Orleans on Nov. 16. He certainly looked good in the first 10 minutes of the season and he looks even better in this month of the Bengals getting toasted by offenses that are Tight Ends-R-Us.
Carolina probably had the same blueprint, it's just that they were down at cornerback and the Bengals backup receivers took advantage. As long as A.J. Green and Marvin Jones aren't lining up, teams are going to make the Bengals backup receivers beat them and they couldn't contest the Colts' full complement of corners. Until the receivers can win or Green comes back, the Bengals are going to see eight-man, and nine-man fronts. It's like Bengals cornerback Adam Jones said when talking about freshly-signed receiver Greg Little. A nice pickup, but what we really need is 18 back.
Hey Hobson! Are we the most injured team in the NFL right now? Seriously I can't remember a season where we were so hurt. I mean Green, Jones, Burfect, Hall, Newman, Atkins, Eifert, the list goes on and on. Speaking of Eifert, any news on his return? We could really use some more pass catchers out there to help Dalton and the Offense out. Speaking of offense, what on earth was Hue Jackson thinking with that game plan last Sunday?! Martin Mims, Steubenville, OH
MARTIN: The Bengals are banged up, but not any more than the Arizona Cardinals. They've played three different quarterbacks, of the front seven players who were regular starters a year ago nose tackle Dan Williams is the only remaining healthy one on the roster, and their best defensive player (Calais Campbell) has been out three weeks and they're still off to their best start since 1976 at 5-1.
So it happens and teams get by. But, yes, this is a worst-case scenario with their best player (Green) and their defensive quarterback (Burfict) missing extended time. Any offense missing its three top receiving options is going to have some tough days.
But the league is all about adjusting. It sounds like Hue already is after he was unsuccessfully pass heavy without his best weapons in Indy. Now more than ever they have to run the ball.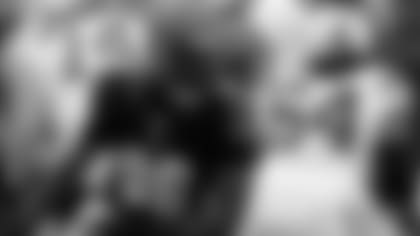 Carlos Dunlap has been active early this season and was in on two turnovers Sunday.
Thank you Hobson for answering questions, mine is where is our dominate defense line gone? i see Geno isn't there yet. Do we have an answer besides Dunlap? Alex Ludlow, Richmond, VA
ALEX: Thanks for writing. Geno not being Geno is a huge part of it. When you don't have that dominant force in the middle, everyone takes a step back. Plus, they're not getting the production from that rotation that in the past would have eight guys play at least 20 or so snaps. On Sunday they had seven guys play at least 35 snaps, but they need to get more from tackle Devon Still and Margus Hunt off the bench.  Things should get better when tackle Brandon Thompson comes back, maybe as soon as this week. But until Atkins returns to what he was, it's not going to be what it was. So more guys will have to do more.
Do you think the Bengals will look at WR Pettis (just released by STL)? He has good size and better hands than Little for sure. Tim K., Cincinnati, OH
TIM: I think you're pretty much looking at the same guy. Both are 2011 draft picks (Little a second, Pettis a third), both relatively big (Little is 6-2, 220, Pettis is 6-3, 207) and both cut from the teams that drafted them. Pettis may have better hands, but profootballfocus.com had him rated 76th among receivers this year and 75th last year. They've already got a week invested in Little. Let's face it. The only answer out there is in the Bengals training room. No. 18.
From what I understand the Bengals don't have any trades on the table and have not shopped tight end Jermaine Gresham. Percy Harvin was never a factor and if he was, his salary cap number would have killed it.
Hi Geoff, Greetings from the Netherlands! A quick question for you. Is the performance problem of the second stringers in the preseason rearing its head now due to injuries to the starters or is there something more going on? Kind regards, Najib, Aalsmeer, the Netherlands.
NAJIB:Hello to North Holland.  The injuries on offense are pretty cut and dried. No matter who you've got behind Green, Jones, and Eifert, you're going to be severely reduced. Those guys don't grow on trees. And at linebacker, they're starting their fifth and sixth guys because, remember, Sean Porter is out for the year with an ACL tear. Their depth is talented, but young. Same thing on the defensive line, where they've got to get more from a pair of second-rounders in Hunt and Still.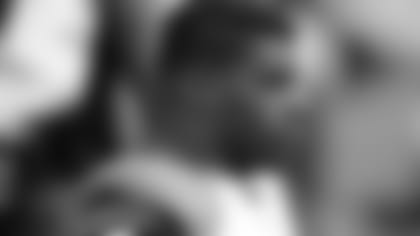 The Bengals were looking for outside experience with wide receiver Greg Little.
Why did the team sign Greg Little to the team, when James Wilder jr. and Cobi Hamilton is on the practice squad? John Rembert, Cincinnati, OH
JOHN:  Wilder is a running back and they are set there. They felt like they needed an outside receiver with experience and Hamilton has yet to play in a game and evidently they don't think he's ready because they've cut him the last two training camps. They love his physical gifts, but Hamilton, a sixth-rounder, has to meld them into playing the position. Little, a second-rounder, can play right away and did. Not many guys on the street with 41 NFL starts and two years of leading a team in receiving.
What is it going to take for Marvin Lewis to be fired? Derek Pounds, Akron, OH.
DEREK: They're still 3-2-1 with 10 games left and could be back in first place at 4:10 Sunday, right?
Hey Geoff, i am a bengals fan all the way from Iowa. I read all of your responses to questions from fan, which is why i am asking you i respect your opinion. My question is even with all the injuries we have it didn't look like we were playing to win last week against the colts, obviously with the defense on the field that much they were bound to get tired and scored on, what's going on with the offense is it marvin lewis not being aggressive enough with play calling or is Andy not making the right reads? Samir Jukic, Urbandale, IA
SAMIR: Thank you for your confidence and here is my opinion. The defense is beat-up and exhausted and they need Hue to take the air out of the football, run it, and control the clock until the defense gets squared away. They also need A.J. Green back. You take away an offense's best player and I don't care what you've got behind him, you're going to struggle.  I think they were too aggressive on Sunday by passing so much. I thought Andy played better than many of his mates Sunday. It wasn't great, but he didn't panic and he didn't turn it over when they were ripe for a turnover with a lot of people in his face. But he didn't get a lot of help from his line or his receivers.
Hey Hob! First off I want to say I believe we can climb out of this hole we're in. What I am concerned about is that there seems to be no one really taking charge and firing everyone up on offense. There seems to be a lackluster amount of passion lately. Am I wrong to want to see Dalton fired up and pushing the offense? I believe in this year's team and hope we show up this week because the Ravens will. Dusty Kehoe, Maysville, KY
DUSTY: It's the age-old question. Does winning produce passion or does passion produce winning. Andy's just not a wear-it-on-your-sleeve kind of guy and not that he has to be. Better to be who you are than to fake it. What you would like to see is that the entire offensive unit, starting with the offensive line, play with an aggressive abandon and that was certainly missing Sunday in Indy. But they had it the first three weeks. Best way to fire up the offense is to run the ball. It's contagious and opens it up for everybody.
After 24 year of almost constant frustration and disappointment, I find myself wondering why I bother to care anymore. Yet, every Sunday I sit in front of the TV to watch them. Do you have any advice for a man who wants to move on but is having trouble letting his beloved Bengals go?  Ben Cormier, Beavercreek, OH
BEN: I would never dream of barging into something as personal as the relationship between a fan and his or her team. This is sacred, private ground, like marriage or Fenway Park. But since you asked…
You don't want to let go. If you had, you would have been long gone by Akili Smith, or T.O. But you've stayed for the ride. And that's the thrill of it. The Ride. Sometimes it's Kings Island. Sometimes it's New York City. On Sunday, it was a four-car pileup on I-74. If you've got friends in Buffalo or in Oakland or in Jets garb, ask them. They are a part of you. There's a new storyline every week. Every Sunday is different. Most of the time for most fans of anything, it's hard.
But what did Jimmy Dugan say in a "League of their Own"?
"It's supposed to be hard. If it wasn't hard, everyone would do it. The hard... is what makes it great."
Ten games left. First place on the line Sunday. Enjoy the ride.