[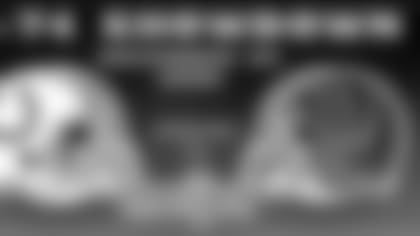 ](http://www.meijer.com/)
Posted: 12:45 a.m.
The last time the Bengals played the Colts, the ball bounced off Chad Johnson's hands into his heart and produced a Pro Bowl player.
Much has been made about the truck trip to the RCA Dome that Johnson made last year with quarterback Carson Palmer to take notes at the weekly chemistry lab offered by that renowned pigskin professor Peyton Manning and his keen sidekick, the good doctor Marvin Harrison. But it was the bus trip back from Indianapolis on Oct. 6, 2002, with Jon Kitna's words ringing in his ears that changed his life.
"That was the turning point in my career," Johnson said Wednesday after calling Sunday bigger than a game and christening the matchup with the undefeated Colts "a historical event."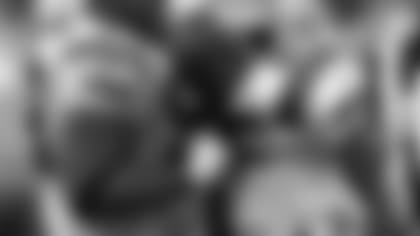 Bengals defensive tackle Oliver Gibson tries to console Chad Johnson after Johnson's drop led to a 28-21 Colts victory in the 2002 season. (Jonathan Daniel/Getty Images)
Kitna and Johnson have already made history against the Colts. Three years ago on a fourth-down play in the last two minutes of a game the Bengals trailed, 28-21, Johnson let Kitna's pass careen off his hands at about the Indy 25 for an interception. After the game, Johnson was so distraught that Kitna felt he had to talk to him. The guys told him to leave him alone and let him calm down, but Kitna ignored them and went right to him in the locker room.
Kitna reached down and remembered some of the things Hall of Fame quarterback Warren Moon told him when he broke in at Seattle.
"Up to that point, I don't think Chad took it seriously enough," Kitna said Wednesday after the media sea around Johnson's locker parted. "I told him what Warren Moon said. You find out what kind of person you are when you go through adversity. From that point, he hasn't missed a snap in practice. He goes hard every play. He was lining up on kick return, on punt return, whatever he could do to make himself a better player. Just look at him. I think he's doing great."
Johnson is now is on the verge of a third straight Pro Bowl and going stat for stat with one of his role models, Harrison, the Colts great who is already 11th on the NFL's all-time touchdown list in just his 10th season. With Palmer and Johnson vowing to be as good for as long as the record-setting duo of Manning-Harrison, they can take heart in the fact they have hooked up more times for more yards at this point in their careers:
PALMER TO JOHNSON (First 22 games:) 133 catches for 1,959 yards, 14.7 average, 12 TDs, five 100-yard games. MANING TO HARRISON (First 22 games:) 128-1,832, 14.3, 19 TDs, seven 100-yard games.
Where Johnson now hangs in his locker a cornerbacks checklist (Marlin Jackson is the guy for the Colts this week), he used to post a tattered "Pro Football Weekly" story on Harrison. Compare their numbers since 2003, after Johnson had a full offseason to digest the Dome talk as well as reap the rewards of the Marvin Lewis mindset, and Johnson and Harrison are more like stat twins than mentor-pupil:
JOHNSON SINCE 2003: 238 catches, 3,437 yards, 14.4 average, 24 TDs HARRISON SINCE 2003: 233-3,009, 12.9 average, 33 TDs JOHNSON's CAREER (69 games:) 335 catches, 4,932 yards, 14.7 average, 30 TDs HARRISON'S FIRST 69 GAMES: 375-5,145, 13.7, 40 TDs
"That's good. He's a smart receiver. He creates ways to get open," said Johnson, who has also picked Harrison's brain at the past two Pro Bowls.
But it was the taste of failure that did it. On that day Johnson dropped the ball, Harrison caught nine for 145 yards.
"He really took it hard," Kitna said of Johnson. "He's become quite a player. People talk about the way teams play us and why we can't do this and why we can't do that. Everything they do is because of what No. 85 can do. He makes defenses change and adjust to him. Nobody in this league can cover him one-on-one. You see it every week. Tennessee got impatient at the end of the game, left him one-on-one and, what? (Two) passes and a touchdown?"
Mentor speaks; Chad listens
It was the advice of another mentor that helped get Johnson in Palmer's truck a year ago last week for a Monday night game in Indianapolis. It was the day after Johnson had a bit of a tough game against the Cowboys. The Bengals won, 26-3, and he had eight catches for 74 yards.
But the TV caught some frustrating moments when he didn't get the ball and the announcers ripped him all game for what they believed to be pouting and showing up Palmer.
Johnson thought he was just being his emotional self and was taken aback the next day when Ravens linebacker Ray Lewis mentioned it to him in a phone call. Lewis suggested that he watch how Manning and Harrison work.
That day, Johnson reported his talk with Lewis as, "He said, 'You've got to be able to walk alike, talk alike, smell alike.' "
Johnson was able to get two tickets in the Colts family section that day from Indy running back Edgerrin James, a member of his Miami clan, and he hooked up with Palmer to watch the masters work against Minnesota. In between signing autographs next to James's family, they watched Manning hook up with Harrison six times for 81 yards in a 31-28 victory over the Vikings. They also watched Harrison catch his 800th pass on a night Johnson and Palmer talked about doing great things together for a long time and breaking their records.
"Probably longer," said Johnson, when asked if he and Palmer will be together as long as Manning and Harrison. "I just know."
Which could alleviate some of the Terrell Owens contract panic that radiates through Bengaldom periodically like a sore tooth. As Palmer said Wednesday about Johnson's future here, "Chad and T.O. are two different people, two different characters. They're both phenomenal athletically and as receivers. But I don't see that happening to Chad and me at all. ... We know we're going to be with each other for a long time. Whatever records they've set, we're hopefully going to have a chance to beat and break."
Johnson says Manning-Harrison, now in its eighth season, sets the standard for quarterback-receiver tandems like Jerry Rice has for receivers. Their 90 touchdown connections are an NFL record, as are their 755 completions and 10,034 yards. Johnson takes comfort that he and Palmer are close to what Manning-Harrison did in their first 22 games together.
"That's what I'm looking at," he said.
Their drive to that Colts game has now morphed into an A.J. Foyt-like legend. Call it the Indy 9-85. Palmer was laughing about it Wednesday.
"I don't know what people think was going on in that car," Palmer said. " It was an hour and a half drive. It was a good chance to talk and to get to know each other better. People are so intrigued with this car ride, like Chad was teaching me how to rap. I don't know what people think was going on. It was just a normal car ride like anybody else jumps in the car with a buddy and drives for an hour and a half or two hours or whatever it was."
Johnson is still moaning about the trip.
"It was boring. Carson is boring. The music selection was boring. The only fun thing was the game that we watched," said Johnson, who then got serious. "That little trip might not mean a lot to others. But for us, it's helped been responsible to take our play to another level."
Since then, Palmer and Johnson have worked harder at developing their own line-of-scrimmage language through eye contact and hand signals.
"It was a visual experience for Carson and me. We picked up so many things," Johnson said. "The way they communicated without having to say anything to each other.
"Carson and I are trying to be where Marvin and Peyton are. We're pretty cool to this point , but we're nowhere near where they're at."
The Bengals duo wanted to see what they couldn't see on video or TV, and that was watching Manning and Harrison interact after a play and between series.
"We had a good chance to pick up what they do on the sidelines, the way they communicate, just watching them go over pictures," Palmer said. "Peyton every once in a while would draw something up. You could see just by hand movements and body language, you could get a good feel for what kind of things they were talking about. It was just a good chance for us to watch the two guys that we both look up to and the combination of quarterback-receiver that we want to be and we aspire to be, just a good chance to see what they do and how they do it and steal some stuff from them and just try to get to where they are."
Johnson likes Manning and Harrison's ability to leave the playbook, but stay on the same page.
"For us to be on a different page outside of the system that we're in, I think that's why Peyton and Marvin are so good," Johnson said. "They can go outside of their Indianapolis Colts offensive system. They have their own page."
Palmer and Johnson are beginning to publish their own pamphlet. Hand signals have produced touchdowns this season in Chicago (a 40-yarder when they realized cornerback Nathan Vasher was going to bump Johnson at the line of scrimmage) and in Tennessee, when they saw rookie cornerback "PacMan" Jones line up on Johnson one-on-one with less than five minutes left in the game and they waved on the go-ahead score from 15 yards out.
"Carson seeing one thing and me seeing the same thing and us being able to communicate," Johnson said. "We have to do it with hand signals. That's what Peyton and Marvin do. As far as reading defenses, knowing what the adjustment is, attack whatever the weakness is that they're showing in the coverage."
Colts head coach Tony Dungy, a former Steeler and later a Vikings coach, knows exactly what he has in Manning and Harrison.
"They're phenomenal. I've been around some good passing combinations," said Dungy last month. We had Warren Moon and Cris Carter in Minnesota, and Lynn Swann, (John) Stallworth, (Terry) Bradshaw in Pittsburgh, but I've never around a wide receiver and quarterback that work as much as these guys do. They are both very smart and are both perfectionists. They just spend a lot of time perfecting their crafts."
Dungy further said of the 49ers Hall of Fame connection: "Denny Green said that Rice-Montana and Rice-Young were very similar. They've impressed me in their desire to be good and not to have any glitches out on the field."
The future says whether Palmer and Johnson join those tandems in the books. On Sunday in what is now being bandied as "The I-74 Showdown," the present is going to show where they measure up with the best. History says the roots were sown at the other end of the highway.
"This game is going down in history, man," Johnson said.