Jeremy Hill has racked up 20 TDs in two NFL seasons.
Long before Jeremy Hill joined the Bengals as one of their prototypical big backs in 2014, Pro Bowl left tackle Andrew Whitworth watched and admired the Baton Rouge, La., native. He thinks those days are right around the corner again for Hill, the most embattled Bengal of all in the roughest of offseasons.
His fumble with 1:23 left opened the door for it all in what is still that unspeakable Wild Card loss to the Steelers. But at just 23 years old, he's just one year removed from being arguably the Bengals' Most Valuable Player in one of the best seasons ever by a Cincinnati running back.
And Whitworth sees the '14 version of Hill for this upcoming season.
"I know him well enough. I knew he was going to bounce back from that and he'll find out what makes him tick," Whitworth said Monday. "If he had to go through a humbling moment to find it, that's great. When he finds that thing that makes him tick, he's special . . . As an athlete, you say 'I'm tough enough to fail and try to do it all over again.' I think he has the ability to do that."
Monday is when Hill stood where he stood in the wee hours of Jan. 10 to try and explain the inexplicable. In quite possibly one of the classiest and poignant group interviews ever by a Bengal, this time Hill didn't try to explain how he fumbled the first-and-10 play from the Steelers 26 and the Bengals leading, 16-15.
Instead he explained how it is going to boost his career.
 "I've been watching football before I could walk. Obviously when something like that happens, they get the blame and you blame that person. I get it," Hill said in front of his locker. "That's the business. That's how it works. And I'm totally fine accepting that and I embrace that. I think it's going to help me this offseason and help me for the rest of my career. Once you have the season I had and that moment at the end of that season, it can only go up from there. That's how I'm looking at it and that's how it will be."
 It has become the Bengals' version of The Fumble. Or The Immaculate Reception. Or Hail Mary. Or any other post-season disaster mired at the bottom of the NFL underbelly.
Cleveland has "The Fumble," with Earnest Byner losing an AFC title. The Raiders were victims of the "The Immaculate Reception," and "The Tuck Rule," in AFC divisional games 29 years apart.  Hardly a  man is now alive from '75 that remembers the Vikings blew an NFL Divisional game by giving up Cowboys quarterback Roger Staubach's self-described 50-yard "Hail Mary,' touchdown pass with 24 seconds left.
And less than 24 hours after Hill's gaffe and 40 years after the Hail Mary, Vikings Pro Bowl running back Adrian Peterson cost Minnesota another divisional game with a fumble.
Yes Virginia, it has happened before.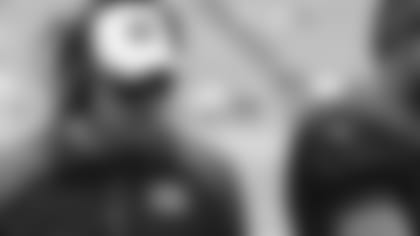 Running backs coach Kyle Caskey says Hill began to return to form late last season.
But after talking to Hall-of-Fame running back Marshall Faulk shortly after it happened, Hill is vowing to discard the ash heap of history into, well, the ash heap of history.
"Right after the game, (Faulk) was just saying that play does not define you," Hill said. "That's what I took most. I know who I am as a runner, as an athlete, as a player. I definitely can't let that play define me."
Hill is ready to take on all-comers. He stayed in Cincinnati to train this offseason, but hasn't heard the slightest nasty peep from Who-Dey Nation in person when's he's been out and about in Bengaldom.
"I watched it," Hill said of the Peterson fumble. "I think Pittsburgh the next week against Denver, their back (Fitzgerald Toussaint) fumbled in the fourth. It's happened before. It's the game. Obviously no one ever wants to do that and hurt their team that way. It's a part of it. You've just got to continue to fight through it, and hopefully your team can overcome it.
"You can't run. You can't hide. That's just part of it. What am I going to do? Go hide in the locker room? You have to face the music and keep getting better every day . .. I embrace the challenge. I embrace the doubters. I embrace the negative and all that stuff. It's great. It's part of football.  The great competitors, the great athletes, they all embrace it. I see myself as no different. I'm going to continue to face every day and get better every day and my opportunity will come to overcome that."
Quarterback Andy Dalton didn't say anything to Hill in the heat of the moment in a locker room fueled with emotion. But he did say some things to him later in the offseason and reminded him that he's a big-time player who is a big part of this offense. "I think he's in a good place. Guys are encouraging him and supporting him," Dalton said. "Stuff like that happens. It's just that it happened to him on that specific play in that year. But the biggest thing is he has to realize he can't do anything about it, but he can control his future."
Whitworth says it's pretty cut and dried. The story is still being written.
 "It sounds like he understands it," Whitworth said. "People are going to say he never bounced back from it or they're going to say look what he did since that and he did come back from it."
Hill has done what he's always done. Whether it was after his NFL Rookie-of-the-Year-type season, a 1,000-yarder at 5.1 yards per pop, or after last season's mystifying slide to 3.6 yards per with one more carry for 330 fewer yards. He's trying to find a way to get better.
"He's come in here every day with a great mindset. He's been over for it a long time. He just happened to talk about it today,' said running backs coach Kyle Caskey on Monday. "He doesn't worry about his numbers. How many carries he's got. When he says he just cares about winning, that's very believable. He's got his head down studying the offense trying to become better."
Not only is Hill trying to wipe away The Fumble, he's trying to wipe away the whole year of 2015. In '14 he had three runs of at least 40 yards, none last year. In '14 he had eight runs of at least 20 yards. In '15, his only one, a 38-yard touchdown, took him until the final regular-season game.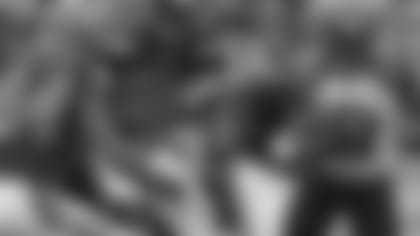 Hill had his most yards (98) and carries (22) last season in Cleveland.
Everyone has a theory. After busting outside to score two TDs on Opening Day, he tried to take everything wide. Or, he tried to hit too many homers and didn't settle for enough doubles. Or . . .
All theories. Nothing tangible.
"You don't have a great year, and people nitpick on the same things you were doing the year before. That comes with the territory," Hill said. "Me, it's just being who I am and being what got me here and not straying away from that. I'll continue to do those things, and I'll continue to listen to my coaches and support my teammates."
 Things were definitely different in '14 with wide receiver Marvin Jones and Pro Bowl tight end Tyler Eifert out of the lineup. When they came back in '15, the offense exploded bigger than better than ever with more options. It was better, but also different.
"It's a mixture of things," Whitworth said. "Putting him in scenarios that are good for his solid runs and executing those things.  We were probably more of a no-huddle, quick-snap team. Not like Philly was, but something in between. Some of that stuff is a little more of a scatback- type world. For him, that's the first time he's played in that because at LSU it was all down-hill power running. It was a learning process for him.  It's a different style of game we were playing."
Hill and Caskey offer no theories. Caskey says at the end of last year Hill was running powerfully and confidently like he was as a rookie. Hill just shrugs.
"All the cliché stuff, that's what I'm about right now," Hill said. "What I've realized in this league is you can talk and make promises and if you don't go out on the field and back it up, it means nothing."
But he guarantees he's not going to alter the hard-pounding game the Bengals plucked in the second round of the draft.
"I really think my running style was very similar from my rookie year," Hill said. "It's just a lot of times I would get tackled by that last defender, where my rookie year I might have made him miss and score. I'm not going to reinvent the wheel and completely change who I am. That's not how I got here. I'm going to keep working every day and my time will come."
The Cincinnati Bengals and the NFL Foundation teamed up to contribute $200,000 to the Deer Park Community City Schools athletic department.