Carlos Dunlap can get to a quarterback no matter how garish the uniform.
With 14 passes defensed already, Bengals left end Carlos Dunlap has as many right now as Ken Riley had for all of 1976, when one of the two greatest Bengals cornerbacks who ever lived led the AFC with nine interceptions.
Or think of it like this.
With 14 passes defensed already, Dunlap would have led the Bengals in five of the last six seasons.
Or think of it like this.
With 14 passes defensed, he has twice as many as the runner-up on his team (WILL linebacker Vontaze Burfict), six more than any another NFL defensive lineman, and just three shy of NFL leader Casey Hayward of San Diego.
Cornerback Casey Hayward.
"He's like long-armed Batman or somebody," said Browns head coach Hue Jackson, who sees Dunlap Sunday (1 p.m.-Cincinnati's Channel 12) in Cleveland. "He's got these arms all over the place. As a defense these guys get their hands on balls, tipping balls, knocking balls down. Him and Michael Johnson and Domata Peko and Geno Atkins."
But nobody is doing it like the 6-6 Dunlap, racking up passes defensed by tipping passes at the line of scrimmage like some crazed shot blocker on NBA 2017.   The 6-7 Johnson, author of the biggest tipped pass in the Marvin Lewis Era at right end when he got a piece of Packers quarterback Aaron Rodgers'  fourth-down pass to preserve a 2013 win, has two this season and 31 in his career. A nice number. After all, Dunlap has just 26 coming into this season.
"You better go talk to him," said Johnson, when asked what goes into tipping  passes. "He's got how many? Fourteen? You better go ask him."
Dunlap isn't saying too much about how he does it. After he got Eagles rookie quarterback Carson Wentz four times on Sunday, he politely didn't delve into how he did it. Perhaps  he followed the eyes of an unwitting young quarterback?
"I'm not going to go into detail on that," Dunlap would only offer.
But he knows what Jackson has planned.
"Just expect the unexpected and adjust to it. They are where they are right now and any little trick or gimmick to get their team a spark, he's going to do it," Dunlap said. "He probably has a play in for me. Something he did here that I might have showed him. He's going to test the water and see if I corrected it."
Dunlap says if he were Jackson, he'd run the zone read to death like he did back in October at The Paul. The Bengals won, 31-17, but not before someone named Kevin Hogan rushed for 104 yards. Hogan, an undrafted rookie quarterback out of Stanford, made his NFL debut that day even before Cody Kessler got concussed when Jackson used him as a change-of-pace to confound the Bengals at various junctures.
Mike Johnson went as far to say that it may have looked like the zone read, but it wasn't. It may have looked like the option, but it wasn't.
"Come into the film room and I'll tell you what it is," Johnson said. "Hue knows what we're taught to do. He knows the rules we follow and all that. it's always a tough game. I know we got after them pretty good the last couple of times up there (a combined 67-3 in the last two games), but it's going to be a tough game. It's a tough environment and Hue's a good coach so we don't think it's going to be easy."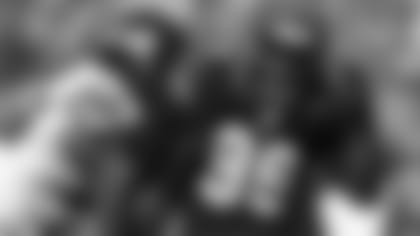 But eventually who ever Jackson has at quarterback, they're going to have to throw it. And there is Dunlap. Hogan himself has suffered the Dunlap Effect, getting a pass tipped and having linebacker Vincent Rey pick it off. A Dunlap tip has turned into an interception three times this year, the last time on Sunday when Burfict gathered it in.
Burfict is the straw that stirs the defensive drink. But Dunlap knows he gives it a little ice when he gets his hand on the ball.
"A lot of teams are trying to eliminate the rush by quick-throwing so you get your hand on the ball and Tez can come down with the ball, that's a win for the defense," said Dunlap, who says he did nothing to improve the skill in the offseason after getting just one pass defensed all last season.
"Just adjusting to their adjustment. They're throwing the ball quick. They're trying not to let us play to our strengths, which is the rush So we're going to get our hands on the ball. Domata got one. We're going to get Geno to get one soon."
Peko actually has three and Atkins is still looking. Atkins may get a pick before he gets a pass defensed because Dunlap is liable to tip it to anyone. The whole thing is an exercise in instinct because he says it's something that you can practice. But what do you do to practice it?
"It's something that you kind of see, have a knack for," Dunlap said.
If it looks like he's swatting basketball at times, he is. At Fort Dorchester High School back in Charleston S.C., that's what he was known for when the seasons changed.
"That was all I was good at in basketball, really," Dunlap said.  "I was pretty good at defense. I didn't put up a lot of points. Put-backs and dunks and stuff like that, but I wasn't a shooter. I specialized on the defensive side."
In the early 2000s while most kids were channeling shooters and playmakers like Kobe Bryant and Allen Iverson, there was Dunlap playing like, well, who?
"Ben Wallace," Dunlap said.
On Sunday he knows Jackson is going to roll out some pick and rolls just for him.
 "You just got to key the quarterback, understand where he's looking," Dunlap said. "It's a lot of timing. You've got to time it up right."
Andy Dalton 2016 Man of the Year Nominee.