Melissa and Andrew Whitworth celebrate her win in "Dancing With Our Hearts."
How Melissa Whitworth kept the Bengals undefeated tells you a good deal about how her husband emerged as one of the best leaders anyone has met anywhere in football and offers an insight into what helps keep it all rolling on the river.
"I was always a singer. I never danced. Never," she is saying during a rare break in her week. "Andrew is a really good dancer. I always said he would win if he got in this because he's so light on his feet and has good rhythm. I'm the opposite of that."
But with her Tina Turner legs (real) and Tina Turner wig (fake) and a Miss Louisiana determination, Melissa Clark Whitworth again amazed her friends last week and won the "Dancing With Our Hearts," celebrity dance competition for charity. In a Cincinnati knockoff of "Dancing With The Stars," held at the tony Phoenix in downtown Cincinnati she raised nearly $3,000 for the Marvin Lewis Community Fund.
Now, if she was singing she would have been a lot more comfortable. She's been doing that since she was ten and her voice won the talent portion of all four of her appearances at the Miss Louisiana pageant. The year she won she sang "The Prayer," and it was answered.
But she and her partner, Jeremy Mainous, one of the event's organizers, swept to the win dancing to "Proud Mary." After performing last in front of a panel of judges anchored by former Reds great George Foster, her husband greeted her amid the cheers and cell phone flashes with, "You had your game face on, didn't you?"
It's the face they've worn since they arrived via the second round in 2006 out of Louisiana State. Long enough for Whitworth to become one of the driving forces behind the best run in Bengals history as they stalk their sixth postseason in seven years. Well enough that one of Melissa's friends calls her "The Matriarch."
"The joke is my wife always says she wants to be like Melissa when she grows up," says right guard Kevin Zeitler. "She handles herself so well as a person and a mother."
The Zeitlers were there last week. So was her long-time friend from the days Andrew served as the Bengals NFL Players Association rep, NFLPA first lady Jenny Winston, wife of tackle Eric Winston. The Burkheads. The Halls. Even Sherry Gruden, the wife of the former Bengals offensive coordinator, came back.
They were all there whooping her on, just like the tables backing their dancers for The Cincinnati Zoo, Northern Kentucky Hates Heroin, Cystic Fibrosis Cincinnati, or the Family of Fallen Fireman FAO Daryl Gordon.
"I think what she cared more about was the support," says quarterback Andy Dalton, who was there with wife Jordan. "They're a great example of husband and wife on this team. We're trying to be that same thing. People that everybody can come to if they need something. I think that's one thing anybody would say about Whit. If they ever needed something they could definitely go to him and he would help out and I would say the same thing for Melissa. That's something for me and J.J. We look up to that."
Like the Pekos on defense, Anna and Domata, the Whitworths have an open door policy. Everyone, it seems, has a story about the Whitworths. Or, as Melissa calls it now with four children ages four and under, "The Circus."
"We pray together, raise our kids together, take care of other players and wives on the team together," Melissa Whitworth says. "We try to live our lives intentionally and for that reason 99 percent of the time we're on the same page."
Somewhere amid the madness is the common sense Maya Angelou mantra they try to live by.
"People will forget what you said or what you did," is how Melissa Whitworth remembers  the Angelou quote. "But they'll never forget how you made them feel."
Tyler Eifert spent the first half of his rookie season living in their basement. When Winston signed at the end of last season at the last minute and showed up without his family, the invite was always there for dinner. A week after Dalton was drafted, he and Jordan were invited to a Big Whit 77 Foundation event. They invited the fourth-rounder, Clint Boling, too. This past draft, when the Bengals took two tackles in Cedric Ogbuehi and Jake Fisher, they invited them over to watch the Mayweather-Pacquiao fight that weekend.
"I think a lot of leaders end up marrying the same kind of personality," Winston says. "Whit is all about being an inclusive guy. He's coming from, 'Let's be together on and off the field. That gets better results.' His wife seems to follow suit. She was always inviting me over for dinner or whatever and it's greatly appreciated. It's great for young guys like Ced and Fish . . . I think they see her as like a big sister."
Which is exactly what former Bengals tackle Anthony Collins called her.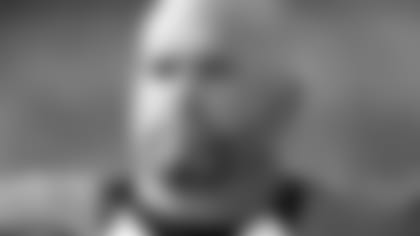 Whitworth is set to play in his 145th Bengals game Monday night.
Eifert, the next generation, calls her "Mom." "Momma Bear" is common among the younger wives and girlfriends.
"Sometimes you can be in places where you come to work and there's not a lot interaction outside the field," says Winston, a veteran of five teams. "Those aren't good teams that I've been around that do that."
The Whitworths usually host the watch party for the wives and girlfriends when the Bengals are on the road. It's at those get-togethers she has found an X and O soulmate in newlywed Miranda Green, A.J.'s wife.
"She really knows her football. She knows what's going on and so do I, so it's been fun bonding with her," Melissa Whitworth says.
But on this morning Melissa is driving to the Daltons, where the women's bible study is held. On this day it is doubling as a baby shower for Laura Hawk.
And she seems more amazed than ever she won the dance thing.
"I was starting from zero. I didn't know anything," she says. "It was three days a week, six hours a week for two months."
But, as her father once told her, she never goes half in on anything. She got the whiff of the same kind of competiveness that gripped her in the pageant years and during her college water skiing days. When it came time for the big show, she stepped on someone's wayward button and spent most of the dance trying to get it off her shoe.
You can almost hear Marvin Lewis say, "Great focus."
You can definitely hear the competitiveness hung over from the 2003 Miss America Pageant.
"Twelve years later and I'm still mad about it," she says of not winning one of the categories, including her rendition of "The Prayer." "As a news anchor, I was comfortable with the interview. And I've been singing in front of people since I was a child. But to basically learn how to dance, it was really a big commitment for the family. But it gave me a chance to do something for me."
Family is where it begins and ends for them. Her ground rules are simple and a lot of them sprout from the fiber of competitiveness she shares with her husband.
"Andrew is obviously super competitive and so am I, but we do it in a way that supports each other," she says. "I want him to be able to concentrate on football six months a year. I don't expect him to do anything during the season. Not take out the trash or change a light bulb. Whatever it takes for him to be the best player and best teammate he can be.
"It's hard enough what they go through with their bodies. Andrew is in his tenth year and doesn't recover as fast as he used to," she says. "When he comes home, I want him to chill and enjoy the kids."
She can't remember the last time she left during the dinner hour and bed time ("Maybe never"), but when she did last week during the Bengals' off day, by the time she got home Andrew had been up and back to the emergency room with Drew, their oldest. Five stitches in his head after falling in the tub.
"It's something that could have happened if I was home or if anyone was here," she says.
When she got the text, she was leaving the Daltons' charity event and had just listened to Jordan Dalton give an eloquent speech about helping the families of ill children.
"She's always had a kind heart and been so precious," Melissa says. "But she has really taken to the role. 'I am the quarterback's wife and I'm going to step up and be a leader.' And she does it with so much grace and confidence. It's been pretty cool to watch . . . I was sitting there thinking, 'I've watched her grow up before my eyes.'"
It's kind of what Bengals offensive coordinator Hue Jackson was saying this week. Jackson was here when Whitworth was a rookie.
"Best leader I've ever been around," Jackson says. "You have quarterbacks as leaders. Middle linebackers as leaders. But when you have an offensive lineman you can lean on, that's pretty special. To watch him grow as a man and a father, it's huge. I know she's been a big reason for his success. They're mentors. I think they see themselves as people who help families, help anybody who asks. It's awesome Spectacular."
Even the idea for Proud Mary came with everybody else in mind.
"First of all, I love Tina Turner," she says. "I sing it a lot at karaoke. And it's an upbeat song. I wanted to dance to a song where people would say, 'Oh, we love this song.' "
A lot of Tina Turner and a lot of Maya Angelou. A pretty good team.
But then, she's used to being a good teammate and having one around.
"We live to be good witnesses and good parents," Melissa Whitworth says. "He just happens to play football."