[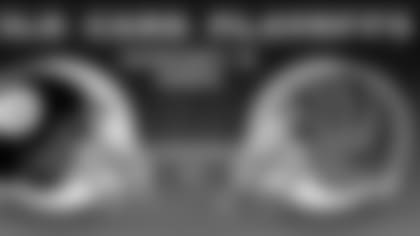 ](http://www.cincinnatibell.com/)
The Bengals are as healthy as they've been in ages with all their players probable for Sunday's first-round playoff game against the Steelers, including defensive tackle Bryan Robinson after missing the last six games with a foot injury.
But wide receiver Chad Johnson's quotes are doubtful for the week. Approached by reporters Monday, Johnson said he was forbidden to talk to the media this week "by a higher authority."
That would suggest head coach Marvin Lewis, but Lewis told his team Monday he's not going to do anything differently this week even though 41 of his 53 players have never been to the playoffs.
"If he has talked about anything it's that we're not going to coach like this is a different week or a different game," said quarterback Carson Palmer. "Whether it's a big game or a game nobody cares about like last week, or the Super Bowl, you can't do anything uncharacteristic. You can't try to prepare a different way. You can't practice a little bit harder. You can't change anything that got you here. We've done a good job to be AFC North champs. To have the record we have, to beat the teams we have, we're not going to go about it any differently. If someone gets us third-and-18, or we go three-and-out, we're not going to act any differently, or respond differently than we would have four or five weeks ago."
The last time the Steelers lost was to the Bengals back on Dec. 4 in a 38-31 shootout that had been viewed as a landmark victory in the shift of balance in the AFC North. But not so fast. The Steelers are still very much in the balancing act.
"It gave us confidence. They were supposed to be the Super Bowl champs. Everybody was thinking it was going to be their year," Palmer said. "We went toe-to-toe with supposedly one of the best teams in the league. We proved to us and everyone around us that we can play any team on any given day if we just eliminate the turnovers and penalties, and mistakes. That our players are good enough, that our schemes are good enough that we can beat anybody on any given day."
Palmer completed five of eight passes for 54 yards and reported Monday that his groin is fine and doesn't bother him. He said he prefers not to sit out ("I don't like byes") and likes the rhythm of playing every week. He understood why Lewis pulled him, but he's glad he was able to lift any doubt about his injury.
"I don't think anybody was too worried about it," he said.
Although he ended up 124 yards shy of Booomer Esiason's club single-season passing yardage record of 3,959, Palmer did become the Bengals' first 100-rating passer at 101.1, second to Peyton Manning's 104.1 and in front of Ben Roethlisberger's 98.6.
Robinson, who injured his foot in the Nov. 20 loss to Indianapolis, has been grinding in the weight room for six weeks in an effort to return this week.
"Unofficially I'm probable," Robinson said Monday. "I haven't run on it yet. We'll see how it feels when I go out there (Wednesday)."
Also probable is defensive lineman Carl Powell (neck), who has missed the last three games, plus cornerback Deltha O'Neal (knee) and left tackle Levi Jones (shoulder), both who missed last Sunday's game.
Lewis said linebacker Landon Johnson and cornerback Keiwan Ratliff suffered concussions at Kansas City, but both should be fine for this week's game.