Jim Haslett's last NFL stop was in Washington, where his defense won an NFC East title.
Jim Haslett may be the 1979 NFL Defensive Rookie of the Year and he may have returned to coach the Steelers defense in his hometown of Pittsburgh and he may have been named NFL Coach of the Year in 2000 after his first year with the Saints.
But at age 60 and in his fifth different decade in the NFL, all that doesn't prevent him from showing up at his new office at 3:30 a.m. when he can't sleep. That allows him to put a dent in the grading of video cutups of prospects as the Bengals new linebackers coach gets ready for next week's NFL scouting combine.
"Learning the system, looking at the incoming talent, there's a lot of things going on," Haslett says.
Haslett, who spent last season as a consultant at Penn State, has already seen so many things and that's why head coach Marvin Lewis and defensive coordinator Paul Guenther moved so quickly to sign him after the season when Matt Burke moved to Miami.
Haslett brings such vast experience that it ranges from losing his job and his furniture when Hurricane Katrina hit New Orleans just before the 2005 season to playing in the Bengals' first post-season victory on the losing side as a Buffalo Bills linebacker in a 1981 Divisional Game at Riverfront Stadium.
The Saints lost all but three games during that '05 season, when he figures about 23 of their players lost their homes. Then there was a stint as the Rams interim head coach in '08, a year as a head coach in the developmental UFL, and in his last NFL post as a defensive coordinator from 2010-14 he led the Washington defense to a No. 5 ranking in 2012 during the last season the club made the postseason.
But even though Haslett went to Avalon High School and Lewis 57, went to nearby Fort Cherry High School on the outskirts of Pittsburgh and both ended up coaching for the Steelers, this is their first time together.
"Somebody told me we played against each other, but I don't remember," Haslett says.
That's OK. There is a lot going on: GH: You've had so many varied experiences in the NFL, including that last season as head coach in New Orleans in 2005 that was marked by Hurricane Katrina.
JH: One of a kind.  It's only happened once and hopefully it will never happen to anyone again. That was a hard experience. You take a whole football team and you move it into another city. Every game is an away game. Obviously some things are more important, like family, your home, all your possessions.  That was a hard year.  That was probably the hardest year I had coaching. Trying to keep it together, trying to keep them focused. Obviously we didn't do a very good job, but it's a part of life.
GH: What did you take away from that year?
JH: Don't take life for granted. You just never know. There are more important things than football . . . Football has been good to me . . . I don't know what I could have done coming out of college. If you go back and look at it, I don't know what else I would have done. I don't know if I could have been an elementary ed teacher.
GH: You're football all the way . . .
JH: Played 10 years in the league and coached in it (21).  It's interesting. Nothing stays the same. It's a challenge. Every year it's something different. You have to stay ahead. Players change. Schemes change.
GH: What are the biggest changes since you played?
JH: Mostly the fast-paced offenses. The linemen are bigger, obviously. The linebackers have gotten smaller. People are throwing the ball around. But you still have 11 guys. You can only do so much with those 11. It's like, 'I came up with this new coverage,' or 'I came up with this new blitz.' You know what? Somebody ran it before. Someone has tried it. It boils down to having good players, No. 1. You have to have great players to win in the league. And then you have to be fundamentally sound, and they have to love the game. I still think if you can draft guys that like football and enjoy being around it, that's a big plus nowadays. It's hard to find guys like that.
GH: Growing up in the Pittsburgh area, I'm sure you wanted to play for the Steelers.
JH: I thought I was going to get drafted by them. (The Bills) came out of nowhere.  I thought I was going to Pittsburgh. It worked out in the long run, but I thought when it came to that point. I was for sure I was going there.
GH: Bengals- Steelers has become quite the rivalry.
GH: Some would say it's bordering on dangerous.
JH: If you can stay upright after the games you play in (the AFC North), this division beats itself up so much, if you can stay healthy you have a chance to win a Super Bowl because the team that stays the healthiest into the playoffs has a chance.
GH: Where is the Bengals-Steelers rivalry now in your mind?
JH: I think it's at its all-time high because of the way the game is played between the two and obviously there's a dislike of each other. I think it's great for football. I think it's great for TV. We have to play well against those types of teams and if you can win, stay healthy, you've got a chance.
GH: You have to love the fact you walk into a situation where the rivalry is really ratcheted up.
JH: Yeah, I think it's going to be fun. Obviously it will be on TV twice a year.
GH: It's hard to believe you've never worked with Marvin Lewis. Both of you are from Pittsburgh and about the same age. I get the sense you're excited about teaming up with him.
JH: We missed each other while I was in Pittsburgh. He was in Pittsburgh (1992-95), then I got there (1997-99). We've coached against each other for a number of years. I think he's done a great job. We've got to get over the hump here because we've got a chance to win the Super Bowl.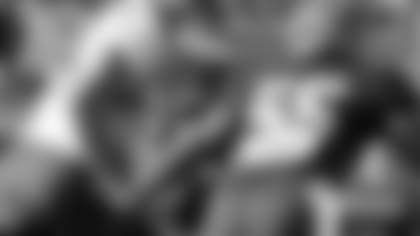 Haslett says Vontaze Burfict (55) and Luke Kuechly are two of the best backers in the NFL.
GH: After watching tape, what do you think of Vontaze Burfict and his style of play?
JH: There's a target on him or whatever you want to say. People are watching him. If he just plays the game like he plays and doesn't worry about the rest of it, he'll be fine because he's a heck of a player and he makes a lot of plays.
GH: His game is playing on the edge, right?
JH: You can still play like that, but you have to watch the little things.  He should have been playing when I was playing. But like I said, the game changes all the time and he'll be smart with it I'm sure. I'm excited to work with him. Hopefully I can help him out in those areas.
GH: It sounds like you think he's a throwback. Does he remind you of anyone from your era?
JH: No, he's a little bit faster than those guys. Elusive. Quickness. He's in his own little deal right now because probably he and (Luke) Kuechly are two of the best in the league.
GH: You've got some young guys coming in like last year's third-round pick, P.J. Dawson. What do you think of Dawson and the other young guys?
JH: Just looking at him on film, he was a great player in college and I think he's a guy that is going to have to get more playing time and I think the more he gets the better he'll get. It's hard for me to evaluate everybody because I just watched them some in preseason.  You didn't see a lot in the games, but what little they did they were fine. The young guys will just get better and better every time they go out there.
GH: As player, what is the one game you remember playing against the Bengals?
JH: The play-off game we should have won. They called a delay of game. I still don't think it was a delay of game. We scored a touchdown and they called it back. It would have been the (tying) touchdown and the Bengals went on to the Super Bowl. We were really good that year on defense. They were well-coached. They had the West Coast offense. Later, they had Ickey (Woods). That was my wife's favorite player. That offensive line was really good. They had good receivers . . . For a long time (quarterback) Kenny Anderson was the only guy who ever completed 70 percent of his passes . . . It was just a good team.