Darqueze Dennard figures to get plenty of work in the second half of the season.
Dolphins defensive coordinator Kevin Coyle and Vikings head coach Mike Zimmer saw the same thing when their old team took Michigan State cornerback Darqueze Dennard in the first round of the 2014 draft.
"Congratulations, you just got another Leon Hall,' Zimmer texted to the Bengals draft room from the upper Midwest and the same thought flashed through Coyle's mind in South Florida.
"Physical. Smart. Competitive," said Coyle this week, once again the Bengals secondary coach. "(Dennard) is healthier than he's been all year. I envision he's going to have more opportunities and have a chance to compete. We're going to have a healthy competition at the nickel position."
How fitting that the possibility they take the wraps off Dennard in the slot comes Monday night (8:30-Cincinnati's Channel 5 and ESPN) with Hall on the other side for the Giants at Met Life Stadium?
Hall still casts a shadow in the Bengals locker room after nine seasons he became one of the franchise's best cornerbacks ever. You could make him the third corner behind should-be-Hall-of-Famers Ken Riley and Lemar Parrish and be OK.  Not only does Dennard watch film of Hall playing the slot in this scheme and text him often, but Pro Bowl cornerback Adam Jones credits Hall with his own locker-room rise.
"Who didn't Lee help?" Jones asked before Thursday's practice. "In every way. A true professional. I was not a professional before I met Leon Hall. Leon Hall helped me mold myself into a professional."
More irony? The sense is that Dennard, with only 126 snaps this season, is going to get more work Monday in the face of Eli Manning's 38 passes per game as the Bengals try to improve a pass defense on pace to allow the second most passing yards in franchise history.
"He's had some things happen to him like injuries that have held back his snaps," Coyle said. "But I think he's ready to put that behind him."
And Hall, with 124 of his 282 snaps coming in the slot, may not play at all a week after being a healthy scratch for the first time since, well, ever.
"I haven't even thought about that yet. It would be unfortunate but at the end of the day, going into this week I knew that was a possibility," said Hall when the New York media asked him about possibly being inactive against his old team. "It would suck for sure. Just as much as it did last week. It would obviously be nice to be out there and make some plays, but we'll see what happens and how the week pans out and what happens on Monday night."
Hall, who turns 32 next month, was on the verge of signing a one-year deal with the Bengals back in May. He politely declined to go into details how it fell through during Thursday's conference call with the Cincinnati media, but it was clear that after off-season back surgery book-ended two Achilles' reconstructions that the Bengals were putting young corners such as Dennard and the second-year Josh Shaw in front of Hall.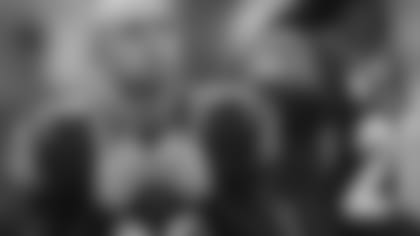 Leon Hall as a Bengal: injuries took their toll.
Although profootballfocus.com rated Hall 22 out of 29 slot corners last season with quarterbacks enjoying a 94.8 passer rating throwing his way, he was not ready to play second fiddle, he had no intention of playing the fiddle and retiring.
"I think if I did that, I would regret it dearly," Hall said. "Obviously, they've got some young guys there, some young talent. You've obviously got to look at them. You drafted them, so you have to give them a chance. 
But injuries and the presence of first-round corners like Hall have curtailed Dennard's chances. Playing behind him he only took 61 snaps as a rookie and a season-ending shoulder injury held him to 191 snaps last year. An ankle injury in the first week of this training camp now seems to be behind him, but that means he has fewer than 400 career snaps.
And he admitted earlier this week he's getting edgy.
"It's not easy. I'm a competitor. I know what I can do on the field. I know my capabilities," Dennard said. "I know what type of player I am, so it's definitely frustrating. At the same time we've got good players. These guys did a great job throughout training camp and the season. We won games with them. They are good players, just have to get ready, stay ready. When my number is called I have to be there to make plays."
Like Hall, Dennard is admired for his fire and his ability to compete. So he's burning to prove himself and the flames lick a bit at frustration.
"I feel like I still haven't had a chance. You look at the amount of plays I've had in my career it's definitely more positive than negative," Dennard said. "Not even close with the positive and negative plays if you look at the plays I have played. But those guys have played at this level for a while and done Pro Bowl type things and All Pro type things as well. You got to look at their resumes as well. I know what I can do. Only thing I can do is keep working and be ready when my number is called. "
Hall's number has been called for several positions by the banged-up Giants secondary, mainly the slot corner and nickel safety. The Bengals remain bullish on Shaw and if you look at the PFF numbers, his numbers in the slot are actually a bit better than Hall's. In 159 snaps, Shaw has allowed no TDs and made a pick while opposing QBs nick him for an 81.3 passer rating. Hall has allowed one TD, no picks, and a 115.3 passer rating.
But the Bengals are 20th in third-down conversions and are looking to better the mix. Dennard, still taking notes on Hall's film, is on deck.
"Just his body movements. The way he puts his body in position," Dennard said. "And his study habits. He had really good study habits from the time I was here and it showed."
Dennard is enough of a Hallogist that he knew about him long before the Bengals drafted him. He can go back to 2009, when Hall and Johnathan Joseph had such a dominant season they were co-MVPs of a Bengals club that swept the AFC North and won 10 games with an offense ranked in the bottom tier of the league.
"I wouldn't just limit Leon as a slot corner, especially when I was coming up in 2009 and 2010," Dennard said. "He was an all pro corner outside. He did a good job of that. I think a lot of people forget about Leon. He was a shut-down corner at that time and I have much respect for him.  He still helps me to this day."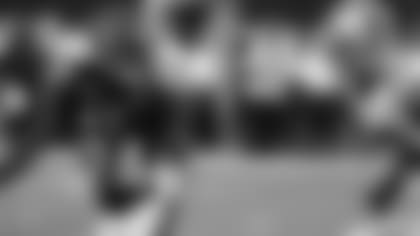 Adam Jones: "Leon Hall helped me mold myself into a professional."
More irony? Four years ago Friday he offered the quintessential Leon Hall game against these same Giants of quarterback Eli Manning and versatile wide receiver Victor Cruz, a combo Dennard faces Monday night since Cruz can work in and out of the slot.
On Nov. 11, 2012 Hall covered Cruz out of every formation but New York's infrequent two receiver sets, so he pretty much shadowed Cruz on a day Manning only targeted him four times after going to him 95 times in the previous games, third most in the league. Cruz, who came into the game with 57 catches, had just three for 28 yards and didn't make his first catch until less than three minutes left in the first half of the Bengals' 31-13 victory.
That kind of tight coverage is going to be paramount Monday against Manning's quick throws.. Like 2012 the Giants are among the leaders in allowing the fewest sacks. But that day they got him four times as then left end Robert Geathers observed, "You've got to take your hat off to the DBs; they covered their butts off. Eli had to pump the ball. I'd say that's how we got our sacks."
Hall admits that it all feels a little funny being on the other side of the only team he knew.
"It is weird. Once I started watching stuff a couple days ago, it was strange," Hall said. "I've watched them on film before, but it was a little different because I had to actually study them as opposed to just watch."
And he sounds like a fan. Even though he wasn't here with two of their three top wide receivers.
"I think my opinion is biased. I think great things of all of them," Hall said. "The young guy, I don't know much about him but I like him. Is it (Tyler) Boyd? I like what he's doing. (Brandon) LaFell has been productive in the league for a while, and all the other guys I pretty much know. Obviously, you know as well as I do what they're capable of. From Andy (Dalton to A.J. (Green) obviously, and Tyler (Eifert) is coming back, starting to get in stride. It's good to see C.J. (Uzomah) out there too. I was happy about that."
But he's closest to the DBs and the feeling is mutual.
"I was able to watch a little of the game in London. Sometimes it's hard to watch some of it. I remember we were getting ready to play Green Bay and they were playing Dallas," Hall said. "I got to watch quite a bit of that. Every chance I can get to watch the game I still do and I always keep an eye on a good handful of players. Especially ones like Quezzie that I was close to when I was there. And a few others. Adam. Shawn (Williams) and George (Iloka). That whole group I always keep an eye on and try to when I can see how they're doing."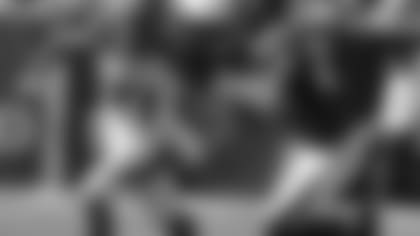 Dennard began to emerge last year before he got hurt.
Dennard is doing OK, but he thinks it's time. Time for more play time. He was the third of five cornerbacks taken in that 2014 first round and has played the fewest snaps of any of the five. Of the two taken behind him, the Chargers' JasonVerrett went to the Pro Bowl last season while Denver's Bradley Roby won a Super Bowl ring as Denver's third cornerback.
He admits it used to drive him crazy when he'd keep up with them.
"I  used to, definitely. I'd be sitting here lying to you if I didn't. I actually still talk to all those guys," Dennard said. "Pretty much every DB in my draft class, either first rounder or undrafted, I talk to all those guys. Pretty much communicate and keep up with each other. I talked to Jason Verrett when he tore his ACL. Told him he's done a hell of a job, great player. Knew he was a great player at TCU. You see Bradley Roby winning the Super Bowl as well."
The two corners taken in front of him, Justin Gilbert to Cleveland and Kyle Fuller to Chicago, are struggling. Gilbert has been traded in the division and has played just 11 snaps this year for the Steelers. Fuller began the season on injured reserve and there is speculation his Bears career is over while the team gets ripped for not trading up for the player they targeted in Aaron Donald, taken by the Rams a slot ahead of Fuller.
"Talk to Gilbert, too. He's had changes over there in Pittsburgh," Dennard said. "Looking at them and those guys having their shots, definitely frustrating, was frustrating the first time. But my grandma always told me everybody's story in life was different. Everybody goes through their own trials and tribulations. This right here is just a stage with a bump in the road."
Just like Hall's little rough patch here. But he's not going back on his trip.
"I came to terms with it a long time ago," Hall said of the finish to his Bengals career. "Once I made my decision to come here, it was all in for me. Once I make my mind up on something, I go with it. When you start looking back and think what if? That's when your current situation starts to falter."