Bengals founder Paul Brown had a big say where the NFL put the Pro Football Hall of Fame.
The Pro Football Hall of Fame is one of those many Paul Brown secrets. Like the draw play, playbooks, and face masks, it's been around for so long that you forget he helped make it happen.
Now's a good time to remember how Brown's larger-than-life reputation nestled The Hall near its roots and his in small-town Ohio. On the weekend of May 3-4, The Hall bolts out of Canton, Ohio into Cleveland's International Exposition Center to host the inaugural interactive Pro Football Hall of Fame Fan Fest.
Jim Brown, Paul Brown's greatest player, highlights a glittering, array of 100 Hall-of-Famers. He'll join Joe Namath, Barry Sanders, Lynn Swann, Terry Bradshaw, Marshall Faulk, Warren Sapp, Franco Harris, and the rest in five hour show carnivals that are repeated in four shows on Saturday, May 3 and Sunday, May 4, from 10 a.m.-3 p.m. and 4 p.m.-9 p.m.
 (Tickets can be purchased at ProFootballHOF.com/FanFest, by calling 1-844-FAN-FEST (or 216-265-2624) or by visiting local Ohio Discount Drug Mart store locations. Parking at the I-X Center is free.)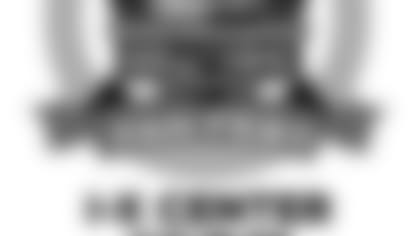 "It's like a lot of things he did. He never stepped forward and said, 'It was me folks,'" recalls Bengals president Mike Brown, Paul's son. "He never took credit for things. He didn't crave applause. He did what he thought was right. And he was proud of this."
Think how proud Bengals founder Paul Eugene Brown would feel today with the Hall of Fame now stepping so briskly into a new era, much like he ushered in the age of pro football when he took command of the inaugural Cleveland Browns in the new All-American Conference in 1946.
Among the many activities open to fans that first weekend in May are chalk talks in two 1,000-seat movie theaters where Hall of Famers discuss the upcoming draft and their memorable football moments, they can see Hall of Famers conducting clinics with local college and high school teams, and they have a chance to play on a regulation field with visits from Hall-of-Famers.
 It's in Cleveland because the Hall is in Canton and one of the big reasons the Hall is in Canton is because in 1959 Paul Brown was the right man in the right place.
"Paul was the champion of the community," says Joe Horrigan, the Hall's Boswell as vice president of communications/exhibits. "He was the go-to-guy. It took a lot of people to get it done, particularly from the business community because Canton was going to have to come up with the money. Paul was the guy that had connections with both the locals and the NFL."
Plenty of people had a hand in the Hall coming to Canton. The list could start with Henry Timken and William Timken, the most influential businessmen in town who put up the first $250,000. There is Hall architect Robert Forsythe, fundraiser Bob Lilly, lawyer F. Stuart Wilkins, and Clayton Horn, the editor of The Canton Repository.
But like one of Brown's game plans, he brought it all together with his powerful credentials and do-it-now personality.
The newspaper is a good place to start. It's no coincidence that the first musings about a Hall of Fame in Canton came from the paper's beat writers covering the Browns, the team named for Paul Brown, and coached by Paul Brown to the league's first modern dynasty. Germane Swanson and Chuck Such had daily access to Brown and the legendary coach was always free with his opinion that Canton should house such a facility.
According to Todd Porter's 40th anniversary story in the Repository, the first mention of the project came under Such's byline in 1959: "Pro Football Needs a Hall of Fame and Logical Site is Here."
 With competition coming from Green Bay, Detroit, Los Angeles and the Pittsburgh area (Latrobe, Pa., was home of the first pro player), Brown's support was key.  He was respected enough in the NFL that he was on a committee with owners George Halas of Chicago and Art Rooney of Pittsburgh to find a place. As Horrigan says, "For anyone knew, he was the owner of the Cleveland Browns."
And he was respected enough in Canton that they forgot how Brown turned neighboring Massillon into one of the nation's high school powers before he won a national title at Ohio State and seven pro championships.
"He knew the Canton people. He was a Stark County hero, if you will," Mike Brown says. "Football was important in Stark County…He was well positioned with them. He had their confidence. He was for the project being built in Canton; he thought that's where it should be built. The Detroit Airport (was an option) and that's long since deserted, but Canton was where the NFL was organized."
And for a young Paul Brown who grew up 70 miles from Canton in Norwalk, Ohio, Canton meant something else, too.
"The Canton Bulldogs were the first big winning team in the NFL," Mike Brown says. "There are teams that have a run of winning seasons. We would think of Pittsburgh, for example. I would think of the old Cleveland Browns, and the Bears before the Browns. The first one of them all was Canton when my dad was growing up. He thought (the Hall) would be good for Canton, for Stark County. He had contacts with people in the area, plus he had the people in the National Football League. He had the respect of both and helped bring this thing together and he did it an artful way. He did it behind the scenes. He encouraged people to keep it going."
His biggest move may have been to get the NFL to do nothing. According to Porter's story, the NFL planned a 1960 owners' meeting to select a site and Brown knew Canton wasn't ready because land and money weren't ready.
 "We called Paul Brown, and he went to that meeting," Forsythe told Porter. "He got the decision tabled for a year. We had a year to put it all together."
Then a year later, when Canton did have the land and money, a schedule quirk prevented them from making one final on-site presentation to the league and Brown, Halas, and Rooney had to get on a train to San Francisco for the decisive meeting without seeing the plans for the ditch.
But with a special plane flight ferrying photos to the meeting, Canton pulled it off.
 "Paul Brown had a lot to do with it," Forsythe told Porter.
 By the time Brown was enshrined in Canton in 1967, he was already starting his own venture as the head coach and general manager of the Cincinnati Bengals. When they buried him a quarter of a century later down the road in Massillon, his only piece of jewelry was a Pro Football Hall of Fame tie clasp.
"He had pride in the Hall of Fame," Mike Brown says, "and how it had become a good thing for the National Football League and Canton."
 Featured events at May 3-4 Pro Football Hall of Fame Fest:
-Four-Time Super Bowl Champion Terry Bradshaw performing his one-man standup show, "America's Favorite Dumb Blonde" -Autograph sessions with never before groupings of Hall of Famers, an exclusive once in a lifetime opportunity
-6,000 square football official Pro Football Hall of Fame merchandise store
-Fans can simultaneously attend Chalk Talks in two 1000 seat movie style theaters of Hall of Famers discussing the upcoming 2014 NFL Draft and their memorable football moments on their Road to Canton.
-CNN legend Larry King will host the Saturday Road to Canton sessions and Pro Football Hall of Fame President David Baker will host the Sunday sessions. Interactive Q & A with fans.
 -Fans can see Hall of Famers conducting clinics with local college and high school teams on a regulation 100 yard football field
-Fans and their families will have free time to play on the 100 yard field with Hall of Famers stopping by for visits
-Fan can bring in as many football memorabilia items as they wish for FREE appraisal by Heritage Auctions (ha.com) "The World's Largest Collectibles Auctioneer"
-All of the above will be televised in giant screens at each venue
-Fans will see and photograph Iconic busts of the Pro Football Hall of Famers, rarely removed from Canton
-Fans will be able take photos of the Hall of Famers in the Bust Gallery  -Fans will have a chance to take photos with all Hall of Famers throughout the show
 -Fans can visit a Pro Football Hall of Fame exhibit titled, "Pro Football and the American Spirit," featuring footage and rare artifacts honoring NFL players as members of the U.S. Armed Forces
-Iconic busts of the Pro Football Hall of Famers rarely sent from Canton.
-On display for fan photo opportunities Disney will stage two children's shows, "Radio Disney's Ultimate Field Day Experience" on Saturday 5-7 p.m. and Sunday 1-3 p.m.
-For Families, there will be interactive games for children ages