CLEVELAND - Bengals cornerback Leon Hall made his first interception of the season a memorable one Sunday when he stepped in front of Browns wide receiver Braylon Edwards along the right sideline for a 50-yard touchdown return that gave the Bengals a 7-0 lead just 6:30 into a cold-weather struggle on the way to a 14-0 shutout, Cincinnati's second blanking at Cleveland in the last three years.
Cleveland, which extended its streak without an offensive touchdown to 20 quarters, was also shut out by the Bengals at Cleveland Browns Stadium on Nov. 26, 2006. But on Sunday the Bengals gave them just 182 yards, the Bengals' stingiest effort in head coach Marvin Lewis' 96 games and the fewest they've allowed since Oct. 29, 2000, also 182, and also in a victory at Cleveland, 12-3.
With the impending difficult weather conditions predicted for Sunday's game, Bengals defensive coordinator Mike Zimmer challenged his defense in Saturday's team meeting to pitch a shutout. The message was received.
"Zimmer's the general. If he says shut 'em out, that's what we're going to try to do," Bengals linebacker Brandon Johnson said. "We always try to do what our coaches say, but this was serious. They've gone a few weeks without scoring a touchdown and we didn't want to be the first. Let somebody else be first. "
Sunday's win was Cincinnati's first on the road this season. Defensive tackle John Thornton, who sacked Browns quarterback Bruce Gradkowski on the Bengals' last defensive snap on what may have been his last road down as a Bengal, saluted his third defensive coordinator in six seasons.
"Coach Zimmer talked about that last night at the meeting," Thornton said of the shutout. "It was the first time we've really mentioned it this week. As we got into the fourth quarter, we said, 'Let's get this shutout for Zimmer.' It was a fun day for us."
Hall then became the first Bengal to have more than one interception this season when he halted the first drive of the second half with a leaping pick at the Cleveland 19 about halfway through the third quarter and then added his team-record third with 10:46 left in the game as the Bengals posted their first shutout since the 2006 blanking of the Browns.
"The defense gave us a huge lift. Leon Hall, AFC Player of the Week," Bengals guard Bobbie Williams said, offering up a prediction.
Hall had gone the previous 14 games this season without a pick after pulling down five as a rookie last season. "It's the longest I've gone in a season without getting an interception," he said.
The Bengals finished with four interceptions, marking the first time they had that many in a game since last Dec. 23 against Cleveland.
Hall's third interception of the game, last done for the Bengals by cornerback Deltha O'Neal on Sept. 18, 2005 against the Vikings, came when he dove in front of Edwards on a long ball that got hung up in the wind.
Hall had as many interceptions as the Bengals leading receiver, rookie running back James Johnson, who had three receptions. "I haven't done that since high school," Hall said.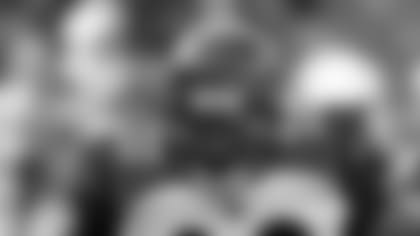 Cedric Benson rumbled for a career-high 171 yards on the ground. (AP photo)
The Bengals responded to the smashmouth conditions by feeding the ball to running back Cedric Benson 38 times for a career-high 171 yards. With 118 of those yards coming in the first half, it marked the first time since Dec. 11, 2005 against the Browns (when Rudi Johnson had 124 in Cincinnati) that the Bengals had a 100-yard rusher in the first half.
The 38 carries by Benson were the most by a Bengals back since Johnson carried it a team-record 43 times against Houston in 2003.
"It shows the confidence they have in me, and it makes me feel good," Benson said.
The 171 yards for Benson were the most by a Bengals back since Johnson had 169 that day against the Browns back in '05. That helped the Bengals increase their record to 21-1 in the last 22 games in which they've had a back carry at least 25 times.
Bengals quarterback Ryan Fitzpatrick attempted just nine passes (completing five for 55 yards), the first time the Bengals attempted nine passes or fewer in a game since December 14, 1974, a 27-3 loss at Pittsburgh in which they threw eight passes.
"We knew it was the kind of day where we had to make one or two big plays and take care of the football," Fitzpatrick said. "When Leon made that pick-6, that was definitely one of the big plays we needed."
With 5:37 left, right tackle Stacy Andrews went down with a right knee injury when he got rolled up. He was led off the field and replaced by Dennis Roland making his NFL debut. The postgame news regarding Andrews was that the team is fearing the worst, a torn ACL, but there is yet no confirmation.
It was Hall's first NFL touchdown and the Bengals' third defensive touchdown of the season. Previously, cornerback Johnathan Joseph and safety Chinedum Ndukwe returned fumbles for touchdowns. It was the Bengals' first interception since picking off Donovan McNabb three times in the Nov. 16 tie against Philadelphia.
Benson turns it over early
The Bengals lost a chance to add to their 7-0 lead three minutes after Hall's pick when Benson broke into the clear on a 46-yard run and Browns cornerback Eric Wright came up from behind and reached around to steal the ball out of Benson's arms at the Cleveland 26 to end Cincinnati's longest run of the season.
Bengals head coach Marvin Lewis ran his record to 6-1 on challenges on the play when replay overturned Wright's 13-yard return on the play and that Benson tackled him at the 26.
But the Cleveland drive ended when former Bengals left guard Eric Steinbach false-started on fourth and one at the Cleveland 49.
Then, an offsides call on Browns nose tackle Shaun Rogers on third down gave rise to a monstrous 15-play, 89-yard drive that consumed 8:36 and ended on quarterback Ryan Fitzpatrick's beat-the-blitz 20-yard touchdown floater to wide receiver Chris Henry beating Wright down the left sideline for Cincinnati's 14-0 lead with 8:02 left in the first half.
The drive was long enough to feature the coming out party of James Johnson. Rogers' penalty, on third-and-nine from the Bengals 12 moved the ball to the 17 and Fitzpatrick's shovel pass to Johnson resulted in a 15-yard reception off right tackle.
It was the first of five straight third-down conversions on the drive, the last one coming when Fitzpatrick dropped a shotgun snap, picked it up, headed to the perimeter and cut back inside to avoid Browns linebacker Willie McGinest for a seven-yard gain.
Johnson also had 16-yard catch-and-run on a checkdown in the middle of the field on third-and-11 and followed Andrews for a 12-yard sweep on third-and-four.
Fitzpatrick then found Henry for the score for the second time in as many weeks.
That was Johnson's lone carry of the half as the Bengals racked up 191 yards rushing for a season high, eclipsing the 159 they rang up on Jacksonville. The 191 yards were the most by the Bengals since Dec. 9 last year against the Rams when they had 192.
"Benson did a good job reading which way I was taking (Cleveland defensive tackle Shaun Rogers)," said Bengals center Eric Ghiaciuc, who has received some criticism due to has lack of strength and size in the trenches. Asked if he felt like he answered some critics Sunday, he said, "Yeah, there aren't a lot of big centers in this league."
The Bengals had a shot to take a bigger lead heading into the half, but after Fitzpatrick's long third-down pass to wide receiver Glenn Holt was double covered, Shayne Graham's 48-yard field goal with the whirlpool at his back was woefully short because of a high snap with 1:13 left in the half. It was only Graham's third miss in 18 tries this season.
The half ended on Ndukwe's sack of Browns quarterback Ken Dorsey after Cleveland nosed the ball to the Bengals 38.
The Bengals defense held the Browns to 92 yards in the first half with Dorsey 5-of-9 passing for 32 yards through the air. Cleveland's biggest weapon was wide receiver Joshua Cribbs running direct snaps and running the option once to running back Jason Wright. The bellcow running back, Jamal Lewis, had 37 yards on nine carries in the half.
Fitzpatrick completed four of just eight passes for 59 yards in the half, none to wide receiver T.J. Houshmandzadeh. Rookie Andre Caldwell converted a third-and-four on a diving seven-yard catch over the middle. Houshmandzadeh ended his streak of consecutive games with a catch at 56, as he was only targeted one time and did not record a reception in the swirling winds.
It's the first time since October 28, 2001 at Detroit the Bengals have won a game without Chad Ocho Cinco or Houshmandzadeh making a catch. In the same manner as Sunday, in that game Ocho Cinco was inactive while Houshmandzadeh was held without a reception.
"See, we can win without us catching a ball," the pending free agent Houshmandzadeh said with a smile. "That's what happens when you play good defense and you run the ball. Yeah, it's tough (not to make a catch), but it doesn't matter; we won."
PREGAME NOTES:** An injury sidelined Bengals wide receiver Chad Ocho Cinco for the first time since his rookie year Sunday when a hamstring problem put him on the inactive list. Just as surprising on head coach Marvin Lewis' list of 45 for the game against the Browns was that rookie wide receiver Jerome Simpson was also inactive.
Last month, Ocho Cinco missed his first game in 113 when he was sent home from Pittsburgh for insubordination, the first game he had missed since he missed four with a broken clavicle in 2001. He practiced this past Wednesday and Thursday, but didn't on Friday when he surfaced on the injury report.
Getting the start in his place was rookie Andre Caldwell, who has started twice before in a three-receiver start.
Also down for the Bengals were running back Kenny Watson (also fighting a hamstring), left tackle Levi Jones (back), tight end Ben Utecht (foot), as well as offensive lineman Evan Mathis and cornerback Simeon Castille.
The Bengals arrived at Cleveland Browns Stadium for the coldest game in the six-year Lewis era at 18 degrees and a wind about 30 miles per hour blowing off Lake Erie for a wind chill ranging between minus five and 15. It was the coldest kickoff since a 9-degree day in Cincinnati on Dec. 17, 2000 against Jacksonville.
Workers scraped the grass field pock-marked with bits of snow with rakes and blowers on a morning the sun began to hit the field at about noon. Throw that together with two teams that combined for just 67 points in their last eight games and the CW was for a game where there might not be an offensive touchdown.
The Bengals beefed up for a smashmouth game against Browns running back Jamal Lewis by bringing defensive tackle John Thornton off the bench to play left end and putting left end Jonathan Fanene at right end. Converted linebacker Darryl Blackstock had made the last two starts at right end.
Also back in the starting lineup for the first time since suffering a foot injury Nov. 16 was safety Chinedum Ndukwe and he was paired with Chris Crocker, making his first Cleveland appearance since the Browns traded him in 2006.
The wind was enough of a factor that the Bengals' flight home to Cincinnati was moved from the downtown Burke Lakefront Airport to Hopkins International Airport.
The Bengals were also greeted with a game program that had Steinbach on the cover.
Another former Bengal, defensive end Shaun Smith, was scratched because of injury and was replaced by Louis Leonard, a second-year free agent out of Fresno State.
Linebacker Brandon Johnson was the Bengals added Gameday captain for a toss the Browns won and then deferred to kick to the Bengals in their white shirts and black pants, an ensemble in which they came in with a 7-10 record.