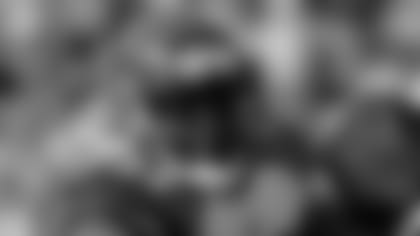 Rudi Johnson was a workhorse with 97 yards on 29 carries. (Jamie Squire/Getty Images)
BALTIMORE - The Bengals answered their critics who questioned their standing in the smashmouth AFC North by winning a typical brawl here at M&T Bank Stadium, holding off the Ravens 21-9.
While holding Ravens running back Jamal Lewis to just 49 yards on 15 carries, the Bengals remained unbeaten when running back Rudi Johnson rushes at least 25 times as he pounded for 97 yards on 29 carries.
"A lot of people said we weren't physical enough on offense and defense," said Bengals quarterback Carson Palmer, after he had another 100 passer rating day with 248 yards and two touchdowns. "We answered it. We're a physical offensive line and we're a physical team."
Right tackle Willie Anderson said after Palmer knelt down on the last play of the game to make the Bengals 7-2 record official heading into the bye week, Palmer tapped each of the linemen and said the victory belonged to them.
"I don't know if we've ever been called soft," Anderson said, "but I've never heard us called tough."
And they did it holding Lewis to less than 100 yards for the first time in his eight games against the Bengals and Johnson coming within three yards of becoming just the second back this season to rush for 100 against Baltimore.
The win pushed Cincinnati's road record to 4-1 and keeps the Bengals in first place in the AFC North. It's their most road victories since 1995 and the nice thing is they don't have to go for No. 5 for another month. They travel to Pittsburgh until Dec. 4 to play a Steeler team that is half-a-game behind in the North. After the bye, the Bengals host the unbeaten Colts Nov. 20 before taking on these battered Ravens (2-6) back at Paul Brown Stadium Nov. 27.
"You can't hide from that in this conference," said Johnson referring to the physical style. "You've got to play physical in this conference. If you don't you'll finish on the bottom."
Palmer to Henry puts it away
The Bengals won the game on a character-filled 91-yard drive against the NFL's second-ranked defense that was capped on Palmer's three-yard touchdown pass to Chris Henry on a crossing pattern with 6:05 left in the game that made it 21-9. With left tackle Levi Jones (knee), running back Chris Perry (ankle), and wide receiver T.J. Houshmandzadeh (cramp) going down and coming back from injuries, the Bengals got two huge plays from wide receiver Chad Johnson. One a leaping 12-yard catch over the middle on third-and-nine, and the other a leaping, rolling catch for a 48-yarder when he got behind Pro Bowl cornerback Chris McAlister that put the ball on the Ravens 4.
Johnson showed up at the stadium Sunday morning and saw the list that Bengals Head Coach Marvin Lewis had taken from his locker last week. The list was taped to Johnson's locker and posed the question, "Who will cover No. 85 on November 6, 2005?" Johnson had listed all members of the Ravens secondary, but Lewis replaced it with a list of his own emphasizing team goals. But it re-surfaced here Sunday morning.
"This shows Marvin has a sense of humor and he knows what he's doing," said Johnson, after he caught 91 yards on five catches. "When I got here today and saw that, can you imagine how much that motivated me?"
After Henry's touchdown, he was assessed a 15-yard penalty for taking off his helmet. Houshmandzadeh claimed that linebacker Tommy Polley hit Henry in the facemask, and that's why Henry removed his helmet. The Bengals were forced to kick off from their own 20, and a 41-yard return by B.J. Sams gave the Ravens great field position at the Cincinnati 40. Baltimore drove inside the Bengals 10 but a sack of Ravens quarterback Anthony Wright by Bengals defensive end Robert Geathers on third down pushed Baltimore back to its own 14. One play later, Wright's pass attempt on fourth and goal to tight end Todd Heap was off the mark and the Bengals held on for the win.
The third quarter was straight out of the absurd. With the Bengals riding a 14-6 halftime lead, they almost gave up a huge play on the first possession of the second half when tight end Matt Schobel got stripped of the ball by defensive end Adalius Thomas near the Ravens sideline. Safety Will Demps picked it up and ran it back for the touchdown, but the play was inexplicably whistled dead when Demps picked up the ball back at the Baltimore 42.
With the Ravens in an uproar on what was clearly a blown call, the Bengals held and forced a punt.
Then, the Bengals lost a touchdown and a field goal on their next drive. Henry fried Pro Bowl cornerback Chris McAlister on what was ruled a 34-yard touchdown pass down the right sideline for a 21-6 lead. But the Ravens challenge was upheld with the ruling that Henry didn't have possession as he went out-of-bounds.
Then running back Rudi Johnson lost 10 yards on a jam up, and kicker Shayne Graham sent a 48-yard field-goal try wide right.
The whackiness continued. The Bengals ran Ravens quarterback Anthony Wright out of the game when he hurt his ankle on tackle John Thornton's hit with about four minutes left in the third quarter. That brought on Kordell Stewart (yes, Kordell Stewart) and with everyone knowing he wasn't going to throw a pass, he still finished off a drive for Matt Stover's 31-yard field goal that made it 14-9 with 14 minutes left in the game.
The Bengals copied the Ravens blueprint the hosts have used for years to bludgeon them in this place by parlaying a turnover and the running game into that 14-6 halftime lead.
It should have been 14-3. The Bengals had allowed Baltimore just 87 yards with 1:50 left in the half. But they let the struggling Ravens offense off the hook in that final 72-yard drive when a roughing the passer call on safety Kevin Kaesviharn led to Matt Stover's 32-yard field goal with 11 seconds left.
It marked the first points against the Bengals in the final two minutes this season.
Another turnover leads to points
With a 7-3 lead, linebacker Landon Johnson forced the Bengals' NFL-leading 29th turnover when he stripped tight end Todd Heap as he was about to lean for a first down at the Baltimore 35. But Kaesviharn recovered the fumble at the 31 with 4:38 left in the half, and Johnson then darted for 20 yards on the next two carries.
Facing a third-and-goal from the Baltimore 8, offensive coordinator Bob Bratkowski called on some trickery to get rookie wide receiver Tab Perry's first NFL touchdown. Working out of the shotgun, Palmer ran the shovel pass he has used mainly to running back Chris Perry. This time it was Tab Perry coming in motion, and he bolted up the middle and rode blocks from wide receiver T.J. Houshmandzadeh and left guard Eric Steinbach. He broke linebacker Bart Scott's tackle to get in with 1:50 left in the half.
Chris Perry did contribute in the first scoring drive, a 12-play hike of 80 yards that gave the Bengals a 7-3 lead on Johnson's one-yard run with 5:56 left in the half. On third-and-three from the Baltimore 5, Chris Perry followed a load on a sweep left to get to the 1 for the first down.
The Bengals used three defensive penalties to get the touchdown, two of them killers on Scott. The first one was an illegal contact call for an automatic first down on a first-and-20 from the Ravens 39. The second one came on third and seven from the Ravens 15 when he was called for pass interference covering Houshmandzadeh.
The Ravens pass rush kept the Bengals under control in the air, limiting Palmer to just 79 yards on eight-of-11 passing in the half. He sent three passes each to Houshmandzadeh (37 yards) and Chad Johnson (31).
The Bengals' promising first drive got blown up when they couldn't block the Ravens pass rush in giving up back-to-back sacks after allowing just seven in the last four games.
Even Palmer's first and only completion of the quarter came as he was getting shoved to ground by Scott coming up the middle. Palmer got off an amazing 11-yard pass to Houshmandzadeh, and after Rudi Johnson picked the right and left edges for nine, four and six yards, the Bengals were looking at second-and-three from the Ravens 30.
But Scott got there this time, along with tackle Kelly Gregg coming up the middle for a seven-yard sack, and then defensive end Adalius Thomas came in from the right side to dump Palmer for another seven-yard loss to take the Bengals out of field-goal range.
The Ravens, who have scored more than one touchdown in a game just once this season, stalled on the Bengals 16 and needed a 34-yard field goal from Stover to give Baltimore a 3-0 lead with 3:33 left in the first quarter.
Wright engineered two huge first downs, one each with his arm and legs. He converted the first third down of the drive on a third-and-five for a career-long 22-yard run, and then found Heap for an eight-yard throw over the middle on third-and-six.
Kicker Shayne Graham's three extra points gave him the team record of 105 straight to break the record held by Doug Pelfrey.
Although the Ravens came into Sunday's game with the NFL's worst offense, the Bengals arrived wary of the Ravens trying to spring Jamal Lewis for his first 100-yard game of the season.
The Bengals had to re-order their defense again with rookie linebacker David Pollack inactive for the second straight week with a sprained knee. Head coach Marvin Lewis decided to combat the running game with 320-pound Shaun Smith and deactivated tackle-end Carl Powell. Lewis also put down wide receiver Kelley Washington, indicating he thinks Houshmandzadeh's hand is fully healed.
But the Bengals opted not to activate linebacker Caleb Miller off the physically unable to perform (PUP) list and went into the game with 52 players on the active roster. A moot point, really, since only 45 players can dress for the game.
Smith, a second-year player, hasn't played the past two games after dressing for the first five and played pretty well for about a dozen snaps a game. Landon Johnson, who had a team-high 10 tackles last week against Green Bay, got his second straight start in Pollack's spot at left outside linebacker. The Bengals are looking to Smith to provide some ballast in the middle in rotating behind tackles John Thornton and Bryan Robinson in a run defense that gave up 221 two weeks ago against Pittsburgh and is ranked 22nd in the NFL.
Pollack's absence also means right end Robert Geathers will take more snaps at right end on passing downs. Ravens backup quarterback Anthony Wright has struggled with a 71.1 overall passer rating (only Miaimi's Gus Frerotte is worse in the AFC), but he's sixth in the league in third-down passing and is 6-0 in starts in this building.
Also inactive for the Bengals were three guys that have yet to dress for a game this season: fullback Nick Luchey and defensive linemen Matthias Askew and Jonathan Fanene.
The Ravens' second-ranked defense survived the loss of Pro Bowlers Ray Lewis at middle linebacker and Ed Reed at free safety last week when they held the Steelers to only 101 yards rushing in a 20-19 loss. Reed and Lewis were out again, and injured defensive end Anthony Weaver dressed but Jarrett Johnson got his fifth start at left end opposite Terrell Suggs.
Also inactive for the Ravens was quarterback Kyle Boller, expected to be ready when the Ravens come to Paul Brown Stadium in three weeks.
The Bengals, dressed in white jerseys and black pants, introduced their offense as a unit before the game in a stadium that until last year had been a den of inequity for them. Palmer's three fourth-quarter touchdown passes capped the club's second biggest road comeback ever in breaking its 0-6 skein in a facility that opened in 1998.
Lewis, who once coordinated consecutive shutouts of the Bengals here when he was with the Ravens, sent out former Baltimore safety Anthony Mitchell as one of the Bengals game captains and he called a coin flip won by the Ravens. Mitchell joined Robinson, safety Ifeanyi Ohalete, defensive end Duane Clemons and fullback Jeremi Johnson.