Vontaze Burfict chased down his first Pro Bowl last season under Paul Guenther when the new Bengals defensive coordinator coached the linebackers.
When the Bengals open their on-field practice phase of their voluntary off-season program Tuesday morning, new defensive coordinator Paul Guenther is going to waste no time implementing his "Fundamental But Fast," mantra he used as linebackers coach.
During last week's conversation with Bengals.com, Guenther talked about how he assigned his players to watch the first 22 snaps of Seattle's defense in their Super Bowl shutdown of Denver last February.
 "They weren't trying to trick anybody. They lined up, played their stuff, they played fast, and they got after their butt," Guenther said.
Guenther is asking his veterans "to take ownership,' of a defense that has finished in the NFL rankings seventh, sixth, and third but still doesn't have a post-season victory.
"It's not OK what we did last year," Guenther said.
GH: What do you want to accomplish in the next month?
PG: I want us to get better than we were a year ago. I want our players to understand that it's good we went undefeated at home; it's good we won the division. We hit some of our goals. But how can we get better at this point? We have a defense that has some veteran players. I want them to understand when it comes time, regardless of the call; they have to take it upon themselves to make plays in certain situations.  It's not OK what we did last year.
GH: You want the players to take more upon themselves?
PG: It's more so the veteran players that have been here and been through the last three years and the playoffs saying, 'Hey, we need to step it up. We need to take ownership of what we're doing here, too.'
To understand when you watch playoff games, when you watch the Super Bowl…I had them watch the first 22 plays of the Super Bowl on Seattle's defense. Seattle made about four calls. Basic defenses. But they just outplayed them. Their players said they weren't going to be denied in that game. It was evident when you watched the tape. I had the players watch it as an assignment. I told them I'd never put another defense in our meeting room. But I put it on their i-Pads to take home and watch. My point is they were very simple. How they executed the calls was excellent. They weren't trying to trick anybody. They lined up, played their stuff, they played fast, and they got after their butt. You can say that a lot during the season, but when you get into the playoffs where one turnover, one missed assignment, one missed coverage can cost you a game…We didn't play well enough against San Diego to beat them. There are no excuses about that. We didn't play good enough on defense.
GH: Anybody or any position you're looking at in particular to put the heat on….
PG: The one thing I told them in the meeting is the only reason I'm here is to win. Whether you're a starter last year or a rookie this year, the best guy is going to play. If you can help us win, you'll play. The minute you stop showing us you can't help us win, you won't be here anymore.
GH: You were Mike Zimmer's right-hand man putting together these top 10 defenses over the last three years.  You know the players and what they do well. Do you feel like you're in Zim's shadow, or does it matter because you're so immersed in the defense?
PG: I don't really care if people think I'm in Zim's shadow. I have a job to do. My job was to help building the defense to where it is today. A lot of hard work went into that. They players that are here, the system that we run has come full circle from the first day Mike walked in the door here. Zim and I got along, we saw a lot of things the same way. He gave me a lot of leeway as far as putting stuff in. I learned a lot from him. But I've got a job to do. I can't worry about if I'm in his shadow or the next guy's shadow.
GH: How do you think you'll be different?
PG:  I don't know if it's going to be much different about how we coach the players. We're going to be demanding of the players. We expect them to do it the right way. I'm going to expect a lot more of the players as far as knowing the overall defense. It goes with the players taking ownership. Listen, if they give us a funky formation, we know. We've got our rules down. Boom. Boom. Boom. I never thought about how different I'm going to be. I'm going to be the way I coached the linebackers. That's how I'm going to coach the group.
GH: Linebackers are going to be interesting. Emmanuel Lamur is back. You've got a plethora of ends. What spots intrigue you?
PG: I'm looking at all the spots.  We've got seven or eight corners. There are certain spots. We've got a lot of numbers at D-tackle, but can any of these guys play? I have a good feeling about three of our defensive ends and what their strengths and weaknesses are. Can I get Margus (Hunt) up to speed? Can I get Will Clarke up to speed? Can I get Sam Montgomery, Dontay Moch, those guys up to speed? How can they help us? If it's only for 10 plays a game? If you can help us win, you'll be here. If you can't, you won't.
The (jury) is still out in who the other D-tackles are going to be. Brandon (Thompson) did some good things. Devon (Still) got injured. There are players maybe on the back end that will have to show what they can do.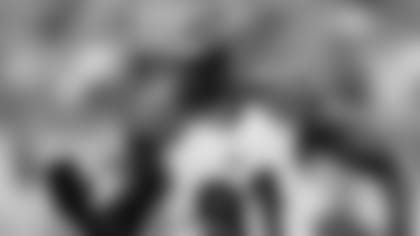 11-year lineman Robert Geathers is the only Bengal that has played under all four of Marvin Lewis' defensive coordinators.
GH: What do you see going on at the safety opposite Reggie Nelson? What do you get from a veteran like Danieal Manning?
PG: Manning is a veteran guy that's played in different systems. He's played in a Cover Two system and a Man system. He can do a lot of different things and he's a versatile guy. Kind of what (Chris) Crocker did for us. There'll be a fit for that. No jobs are going to be won in OTAs.  You're not going to say, 'This guy is going to win a job in shorts.' It's not going to happen. Guys may impress you by their movement skills, their awareness, and how they play. But there won't be any jobs won come June 15.
GH: You're just trying to establish a tone?
PG: Correct. In my opinion the spring is about establishing your identity, working together, and working on your technique. Learning the schematics of the defense and being an expert on your technique. Then when we come back to training camp, it's more Xs and Os type thing.
GH: Do you think your identity is any different?
PG: No. We're going to  be real aggressive. We're going to try and play the game on our terms. Not let the offense dictate what we do. I think we have enough athletes and skill guys that can match up. Whether it is a four-receiver set or a three tight-end set, or a three-back set. We have the guys that can match up. Obviously we have to stay healthy through the spring.
GH: Is this defense going to do different drills or have a different approach this spring?
PG: We'll add some wrinkles. The drills are going to be broken down by positions more. Fine-tuning certain guys. One of the reasons why after the season was over this place was attractive (to me) was because of the players. I know the players. I know Domata Peko. I know what he needs to work on and what he's good at. I know Junior Geathers. I know Carlos (Dunlap). I know Vontaze (Burfict). I know Rey (Maualuga). I know what they're good at and what they need to work on. Leon (Hall). Reggie. Terence (Newman). I've seen them play. I've watched them for years now. That's the advantage I have rather than a new guy coming in and having to learn this thing from step one. I'm going to work that to my advantage and try to help them work on their weaknesses throughout the spring.      
GH: It's also the first chance you really get to say, 'This is how I'm going to do it.' What do you think the players will say when they walk out of here June 18? Paulie G is a what?
PG: I don't know. Regardless of whether the players like me or they don't like me, what matters to me is that they play hard and they play their assignments right. That's the only thing that matters. I don't care either way, honestly.