Defensive coordinator Paul Guenther checked in at the combine this week and is energized by coaching staff additions.
INDIANAPOLIS - With ten of defensive coordinator Paul Guenther's starters or regulars staring at free agency in 10 days, the Bengals' highly-acclaimed drafts of the last half decade could get their stiffest test of the five-year-old Green-Dalton Era.
And as he took a break from scouting this year's draft class, Guenther sounded like the kids were ready if there are massive losses in free agency from a unit that set the Bengals' 16-game scoring record.
"We have a lot of guys back. Our guys play hard and they study," Guenther said. "I don't expect anything differently. A lot of guys are saying we got guys are going to be leaving, a lot of free agents, but I don't think we're going to lose as many as people think. It's a good group. It's a damn good group. I'd go to war with any of them. We should pick up where we left off."
He's banking on stardom for 2013 third-round safety Shawn Williams, counting on reliability from 2014 first-round corner Darqueze Dennard, and looking for break-out seasons from 2015 draft picks P.J. Dawson at linebacker and Marcus Hardison on the defensive line, not to mention last year's undrafted defensive   tackle DeShawn Williams.
All told, they took a total of 711 snaps, fewer than starting safety Reggie Nelson (1,074), starting cornerback Adam Jones (871), backup linebacker Vincent Rey (744) and barely more than starting safety George Iloka (654) and slot corner Leon Hall (677), all free agents.
"We've drafted. If we lose a corner, Quezzy has to step up. And maybe we draft a corner," Guenther said. "If we lose George, Shawn Williams has to step up. If we lose a linebacker, Vinny or Paul Dawson. There are guys there. It's part of the process. Build your team, build your roster. Those guys have to start playing. I'm not scared of playing guys like that. I never have been.
"Quezzy could have been a starter at corner for us last year. Paul Dawson wasn't ready to go in there yet from an overall perspective. Not just football, but the whole picture. When he comes back in April he has to be a different guy. And say, hey, I'm ready to compete for a starting linebacker job. Shawn has prepared his way all the way through. He doesn't say two words. When he got an opportunity in the spring when George got hurt, he went in there and you didn't realize he was in there."
With WILL linebacker Vontaze Burfict suspended for the first three games, Dawson, a third-round pick, is getting a lot of scrutiny from Guenther after a season he felt Dawson could only play 35 snaps. Guenther's not worried about his play, but he wants him to adopt the professionalism of a guy like Rey. Particularly after Guenther says he climbed the proverbial table for him during the draft.
"He's got some of the things that Vontaze has as far as instinct. He's got some of that," Guenther said. "But he's got to learn how to do it right all the time. I said 'You're not going into the game until I feel good about it.' I'm going to give him hard love because I was the one that wanted to bring him here." 
Two other guys that are also getting are hard love are  high picks at defensive end, 2013 second-rounder Margus Hunt and third-round pick Will Clarke. With Guenther saying this is the best defensive draft he can remember, there is a short leash.
Yes, the Bengals are probably going to draft a linebacker again, but that's not what Guenther is spending his time studying. He's always looking for rushers and corners. With veteran rotational lineman Wallace Gilberry also headed to free agency, he thinks starting ends Carlos Dunlap and Michael Johnson need more help as he seeks "a wave."  
"First year you're on scholarship. Second year, you better show me something. Third year, if you don't do anything, I'm looking to replace you. Period. That's with any guy," Guenther said. "We're always going to draft rushers and cover guys. That's what we're going to do. The linebackers and safeties we'll find somewhere. We'll make them fit. If there's a big time linebacker early in the draft and he's sitting on our board, then we'll discuss it. But we're going to draft rushers and corners. We've got to look at our four rushers right now, on the outside you've got Dunlap, you've got Johnson, you've got Margus and Will Clarke. Wallace is a free agent. Is that package good enough for us going into 2016? No. I'm always looking to get better."
Even though Hardison didn't play at all after getting drafted in the fourth round and Williams played on the practice squad until he was promoted at the end of the season, Guenther likes what he sees. They're both three techniques, but he says Hardison can also kick outside.
But he's quite interested in what has been bandied about as a deep d-line class.
"I don't have the wave that I want right now. I want to get a wave," Guenther said. "So whoever those guys are, whether it's Will and Margus going in there after these guys, or its some guys that are going to work out tomorrow. I want a wave of guys. I think everyone saw how the Super Bowl went. Denver, that's a wave of rushers right there."
What a difference a year makes for Guenther, who had a rocky first year as coordinator in 2014 with a slew of injuries. As he heads into his third season, Guenther appears much comfortable with the intangibles draped around him. Not only with his players but a revamped staff that marks the biggest coaching change in head coach Marvin Lewis' 14 seasons.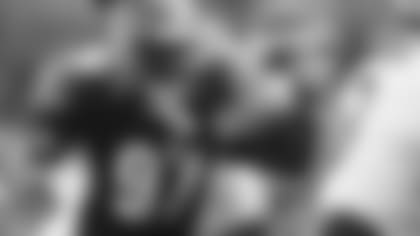 What a difference a year makes in Guenther's evaluation of Geno Atkins.
It will be recalled that it was about this time last year that Guenther challenged Pro Bowl defensive tackle Geno Atkins with his observation that he had played like 'just a guy,' in his first year back from ACL surgery.
Atkins responded with a monster season, maybe his best yet, and now he is now longer just a guy but an emerging leader as he heads into his prime at age 28.
"Geno was great this year by the way; you can put that in ink. I know what I said last year, but he was awesome," Guenther said. "He was a different guy this year. He spoke. He helped out with the younger guys. I always ask the D-linemen, 'How is it going in there?' I respect their opinions, so I ask can we rush them straight, do we need to game them, what do we need to do? Usually he will tell me, 'Hey, were kicking their (butt) coach, just keep calling what you're calling.'
And although right end Michael Johnson had just five sacks in his return from Tampa, Guenther feels he brings so much more.
"Michael Johnson, in my opinion, was an unbelievable get for us in a lot of ways, ways you don't see," he said. "He's a great leader. Michael Johnson is a great leader in a lot of ways." 
Atkins, Johnson and first-time Pro Bowl left end Carlos Dunlap are going to get a new coach in 20-year NFL veteran Jacob Burney in the wake of Jay Hayes' departure to Tampa. Then with secondary coach Vance Joseph taking Matt Burke with him to Miami, Lewis and Guenther struck quickly to sign two former defensive coordinators in Kevin Coyle to coach the DBs and Jim Haslett to coach linebackers. And it helps that Coyle is an 11-year vet of the Bengals and actually worked a year with Guenther in the secondary.
Guenther now envisions a full-service staff that makes the week run more efficiently, harkening back to the days when Guenther was defensive coordinator Mike Zimmer's aide de camp.
"I like having experienced guys. I like guys who have been through what I've been through," Guenther said. "I want guys to come to me on Tuesday when we're game planning and bring the information I used to bring to Zim. As a coordinator, you didn't have to ask for the information, it just came."
Guenther also likes the match of Haslett with WILL linebacker Vontaze Burfict. Haslett, 60, a former Defensive Rookie of the Year and Saints head coach who played in the rough-and-tumble 1980s, has the same kind of aggressive mentality.
"He was a dirty dog, too. I don't mean that in a bad way," Guenther said. "He claws and scratch just like Has. Has will be good. I told Has he has to build a relationship. He's been through it. He's been a coordinator, a player, a head coach. It will be a good match. He'll good for everybody in the room."
Guenther and Burfict have spent the offseason talking about how he's a marked man and that he must change his style of play to cut out post-snap activity. But Guenther also thinks the defense has a target on it after barely missing the scoring title.
"I think we're going to be marked. We've got a reputation, some of its good; some of it isn't so good. We have a lot of guys back," Guenther said. "Our guys play hard and they study. I don't expect anything differently."
Well, there is one big difference. There is the excruciating pain still lingering from the Wild Card loss where the defense allowed the winning points in the final bizarre 1:23 that included a fourth-down conversion and two 15-yard penalties that have put the unit's composure under the microscope.
So Guenther has circled April 18 on the calendar, the first day of off-season workouts at Paul Brown Stadium. He didn't leave them with much last month, but plans to welcome them in a major way. Among others, he has consulted with Panthers defensive coordinator Sean McDermott. McDermott confirmed that it's the same feeling whether you lose the Super Bowl or the Wild Card.
"I didn't say much. I said this is what it is, you played your butt off and I appreciate your efforts, but if we don't learn from this moving forward we're stupid," Guenther said. "The most important meeting is the April meeting when they come back. I've had my mind on that meeting for weeks about how are we going to move forward with this and how are we going to use this as fuel to push us forward."
This gallery features photos of current Bengals players at past NFL Combines