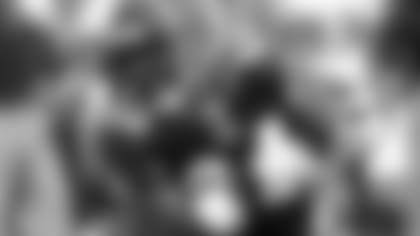 T.J. Houshmandzadeh had 105 yards receiving in the 16-10 victory.
A sea of orange greeted the Bengals at sold-out Paul Brown Stadium Sunday and their season-long stinginess on defense preserved their unbeaten record with a grinding 16-10 orange-and-black victory over the black-and-blue Texans.
It wasn't pretty. It was brass knuckled. The Bengals fought through the hand-to-hand combat of 14 penalties and the loss of both their centers in the first half to run their record to 4-0 for the first time since the 1988 AFC champions in a game of grit symbolized by left guard Eric Steinbach playing center in a game for the first time in his life.
"We held together," said quarterback Carson Palmer, who shrugged off the adversity peeling off his huddle and pitched his seventh straight game of a 100-plus passer rating. "We didn't start going different ways. When it got bad, we gelled together. ... When it's not going great and things aren't how they used to be, that's where you see where you are as a team."
Palmer, who has now gone 10 straight quarters without an interception, said it was the kind of game that whoever forced the first turnover would win.
"When you look back on it three weeks from now, they'll add up the victories and they won't remember which ones were pretty," said defensive tackle John Thornton after he recovered that precious turnover.
Winning with defense
After watching his team win for the eighth time in the last 10 games dating back to last season, Bengals head coach Marvin Lewis enjoyed watching his big-time defensive players make a strong fourth-quarter stand.
"They expect to win," Lewis said. "If you have good players, you win games.
"Our guys responded, adjusted, and responded. ... Interesting enough, I talked to our guys all week about expanding their roles, and we had some guys expand their roles today."
The Bengals waited nearly 57 minutes for that NFL-leading 17th turnover and those players turned in the biggest play of the day when end Justin Smith sacked Texans quarterback David Carr and forced a fumble on a ball Thornton recovered at the Houston 35 with 3:14 left in the game and the Bengals clinging to a three-point lead.
As they did all day, the Bengals then overcame the yellow flag that very nearly submarined their bid to take an unbeaten record into next Sunday night's prime time appearance on ESPN against 2-2 Jacksonville.
After left tackle Levi Jones committed the team's 14th penalty of the game with a false start, Shayne Graham came to the rescue with a 46-yard field goal with 1:10 left to account for the 16-10 final.
What more can be said about this defense? In holding a team to one touchdown for the sixth straight game dating back to last season, the unit erupted for seven sacks, including the NFL firsts for Cincinnati's top two draft picks, linebackers David Pollack and Odell Thurman on back-to-back plays early in the fourth quarter that drove the Texans back 28 yards and tipped a fragile game of field position.
The Bengals have allowed just 38 points this season, a single-digit pace that would give them a 16-game NFL record of 152. It's also the fewest points they've allowed in the first four games of any season, and the 104-38 scoring margin is the largest of any four-game start in club history.
"The two biggest plays of the game were those sacks," said wide receiver T.J. Houshmandzadeh. "The two sacks got us the ball back in great shape and took them out of any kind of field-goal range."
Two weeks after setting a franchise-record 17 penalties, the Bengals committed 14 and it cost them three touchdowns. The three biggest flags came in a 10-10 game late in the second half, and two after the Bengals were standing on the Houston 8. A procedure penalty on right guard Bobbie Williams and an intentional grounding call on Palmer forced Graham's 42-yard field-goal try and it slid it right for his first miss in seven shots this season with 28 seconds left in the third quarter.
The Bengals not only had to fight the flags, but the adversity of injury. And not only did they lose one of their top defensive players in free safety Madieu Williams before the game with a shoulder injury, but they also lost their only active centers for the rest of the game when Rich Braham injured his left knee early in the game and then Larry Moore got carted off the field with a right knee injury with 3:36 left in the first half.
Lewis said Moore definitely won't play against Jacksonville and he may be lost for the year with what looked to be a serious problem as he left the locker room in a cast. But Braham said it was looking like he could play next week. If Braham is not ready, Lewis said rookie center Eric Ghiaciuc, the club's fourth-round pick, would get the call.
Williams, Lewis said, is questionable for next week, but he did say the injury was like the labrum injury linebacker Landon Johnson suffered last year and ended up starting 11 games with a brace.
With right tackle Willie Anderson playing despite a tender back, the Bengals had to dress tackle Stacy Andrews instead of Ghiaciuc. So the Bengals had to move Steinbach to center and replace him with Scott Kooistra.
It was the first time Steinbach had ever played center in a game even though he had dabbled it during this past training camp. Kooistra, who rarely played from scrimmage in his first two seasons, has now pinch hit at right tackle and left guard, respectively, the last two weeks.
"All I wanted to do was make sure Carson got the snap, then I would do the stepping," Steinbach said. "Everybody helped me get through it."
When it rains, it pours, and the road ices up. Even before the game started, Anderson reinjured his back as he loosened up in the weight room. When Moore went down, offensive line coach Paul Alexander told Anderson, "Now you have to play."
"The thing is, I couldn't sit down the whole game because it would tighten up on me," Anderson said. "I was exhausted. But (Jon Kitna) and I were talking about this the other day. We've been around too long to complain about wins in this league. They don't hand them to you.
"Steinbach did a great job and I think he got help from Bobbie. He knows the offense and I think he helped out with the calls. Levi was calling out the defenses. Yeah, we were doing it (by committee)."
Kooistra picked up the 12th penalty and it could have been devastating. It was a holding call that wiped out a 21-yard pass to wide receiver Chad Johnson that put the ball at the Texans 2 with about seven minutes left.
But Palmer and Houshmandzadeh were on the same page all day. Palmer, who hit 25 of 34 passes for 276 yards, went to Houshmandzadeh on the first snap after the penalty for an 18-yard play over the middle to set up Graham's 27-yard field goal with 5:04 left in the game that made it 13-10 and ended Cincinnati's second drive of the game that consumed at least seven minutes.
Houshmandzadeh finished with the fourth 100-yard receiving day of his career, grabbing a season-high 105 yards on eight catches.
The Texans had tied the game at 10 with the first points in the third quarter against the Bengals this season with a Bengal-like 10-play, 90-yard smash job that took 7:20 and ended on Carr's four-yard touchdown flip to fullback Morgan Norris off play-action with 7:40 left in the third.
Carr, who looked much better in his first game under new offensive coordinator Joe Pendry, completed 17 of 26 passes for 174 yards, and posted the best passer rating against the Bengals this season with 97.3. But the seven sacks by seven different players more than made up for generating just one turnover. Since they didn't turn the ball over themselves, the Bengals are now 13-1 under Lewis when they have a plus-differential in turnovers.
The Bengals found life as the favorite tough sledding Sunday when their high-powered offense didn't light up until late in the first half in taking a 10-3 lead over the Texans into the locker room.
Palmer's 26-yard bomb to rookie wide receiver Chris Henry was ruled incomplete when Henry stepped out of bounds. But a pass interference call on cornerback Demarcus Faggins put the ball on the 1 and produced a one-yard touchdown pass to fullback Jeremi Johnson with 1:09 left for Cincinnati's third touchdown this season in the half's last 69 seconds.
Steinbach's first drive produced the game's only touchdown, but the Bengals had a shot to get a late field goal after that when they forced the Texans to punt from their own end zone.
Punt returner Keiwan Ratliff raced the ball to the Texans 45, but Bengals linebacker Marcus Wilkins was called for an illegal block in the back to blow up any chance of getting points.
It was the seventh penalty of the game against the Bengals in what has become a flag-draped season. One flag cost them a touchdown on their first drive of the game, and Steinbach's holding penalty ended another one that had penetrated the Houston 40 on Rudi Johnson's 11-yard run.
Coming into the game averaging nearly 30 points per game, the Bengals did manage to roll up some yards. Running back Rudi Johnson had 40 yards on eight carries (and finished with 88 on 19 carries) and Palmer hit 12 of 16 passes for 129 yards in the half, but they couldn't finish anything off.
On the play after Steinbach's holding penalty, Moore let go with a high shotgun snap and it led to Palmer's second sack of the day.
The Bengals defense, which didn't allow a touchdown for the third straight first half, did a nice job keeping Carr in check. They sacked him three times (end Robert Geathers got his first one of the season) and he passed for just 79 yards, but running back Domanick Davis did do some damage with 50 yards on 12 carries on his way to 81 yards on 19 carries.
The defense survived a third-down facemask call on Thurman when he came back to make a good play on the perimeter to trip up Davis on third-and-seven from the Bengals 13. Kris Brown's 28-yard field goal tied the game at 3 with 1:29 gone in the second quarter.
The Bengals offense that leads the NFL in time of possession came out and clocked the Texans on its first drive with 15 plays that chewed nearly eight minutes. But two red-zone snafus prevented a touchdown and the Bengals had to turn to Graham's 24–yard field goal with 4:29 left in the first quarter to take a 3-0 lead.
On first down from the Houston 6, Palmer had running back Chris Perry open running to the first pylon, but he led him too far. Then on third down from the 4, Palmer threaded a rope between two defensive backs for a touchdown to Houshmandzadeh. But Houshmandzadeh lost his second touchdown in as many weeks on a flag for an illegal formation when the officials ruled that running back Rudi Johnson had "covered up" tight end Matt Schobel on the end of the line.
When the Bengals re-ran the play, cornerback Dunta Robinson blitzed from Palmer's blindside and forced a fumble that bounded to the Texans 9 and was recovered by Chris Perry for Graham's field goal.
The Bengals on-a-roll defense took its first hit of the season Sunday when Williams went on the pregame inactive list with a shoulder injury he sustained during Friday's practice.
Kaesviharn moved from strong safety to free with Ifeanyi Ohalete coming off the bench to play strong in the starting lineup. Kaesviharn responded with a sack and Ohalete had three tackles.
In preparation for working with a depleted secondary, the Bengals made cornerback Rashad Bauman active for the first time this season, giving them Bauman and Greg Brooks as extra corners behind Tory James, Deltha O'Neal and Ratliff. Ratliff can also move to safety on passing downs in a pinch, but it looked like he stayed pretty much at nickel corner in coming up with a team-high five tackles with Kaesviharn.
In order to make room for the new active players, Lewis opted to sit a linebacker in not dressing special teams standout Larry Stevens. Also not dressing for the Bengals for the third straight week was wide receiver Kelley Washington. Also not dressed were defensive linemen Matthias Askew and Jonathan Fanene, and fullback Nick Luchey, as well as Ghiaciuc.
The loss of Williams is quite a blow. A second-year player on the verge of Pro Bowl status, he's second on the team in tackles with 19 and has an interception along with four pass breakups. What the Bengals lose with him is his range in tackling and ball hawking.
As the PBS crowd hunkered down for its 13th straight sellout, Lewis opted to send out the defense for pregame introductions and the unit that has produced an NFL-high 16 turnovers and 12 interceptions took the field as one.
Lewis's game captains were linebacker Landon Johnson, safety Reggie Myles, Houshmandzadeh, defensive lineman Carl Powell, and Bobbie Williams.