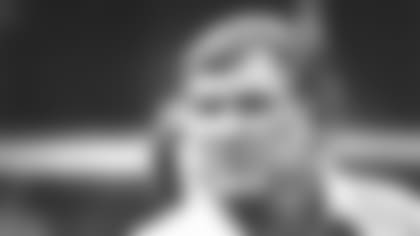 During the 30th anniversary of the "November to Remember" that led his 1981 Bengals to the AFC championship and the franchise's first Super Bowl, former head coach Forrest Gregg announced Wednesday that he's being treated for Parkinson's disease at the Colorado Neurological Institute.
In an interview with the Associated Press, Gregg said the diagnosis may be related to the several concussions he suffered as a player.
"I don't pretend to say that I'm important to the scheme of things in the whole world, but I can do something and help along people who have this disease," Gregg told the AP. "So, I'm kind of just saying that I have it, I want to do something about it and I think I found the right people to help me along the line." For Dave Lapham, the left guard on that team who saw Gregg's iron will form the backbone of that run, he has no doubt his old coach is fighting the disease in the same manner. Lapham, the long-time Bengals radio analyst, recalled Wednesday that even before he coached the Bengals, Gregg beat melanoma.
"I know that his mindset is going to be that he'll fight it every minute of every day," Lapham said. "I remember being in the weight room with him here and he'd say, 'It's not as easy as it used to be.' But he went after it. A tough-minded guy. He set the tone for that team, no question. He's the greatest tone-setter I've ever been around."
For Louis Breeden, one of the Super Bowl starting cornerbacks, it made him pause. He was on the phone with another '81 teammate on Wednesday night, left end Eddie Edwards, and when Breeden passed along word Gregg was sick, Edwards responded, "Oh no. The best coach I ever had."
"And that was from a guy, Eddie, who would complain about how tough Forrest was," Breeden said. "But Forrest was fair. He called it straight. When he critiqued, he critiqued. He'd start at the top, Kenny Anderson or Anthony (Muñoz), and it was fair. That's all players want. He was the best coach I ever had in Cincinnati. My best to him and his wife Barbara. I'm thinking of them."
It was that towering presence that Lapham says makes Gregg a "Mount Rushmore guy."
"Just a big guy with a personality and a profile and a jaw that looked like it'd be on Mount Rushmore," Lapham said.
Gregg, 78, a Pro Football Hall of Fame tackle who played on six NFL championship teams with the Packers, has the highest winning percentage in Bengals coaching history at 34-27 during his four seasons from 1980-83.
"I consider Forrest a very dear friend," Bengals president Mike Brown said in a statement. "We have seen him often during the years since he left the Bengals, and he called some time ago to inform me regarding his diagnosis.
"This is of course a matter of serious concern, but I know Forrest as a man of exceptional determination and spirit, and we are assured he is receiving the best possible advice and care. I applaud him for helping to raise public awareness of the fight against Parkinson's Disease, and the Bengals look forward to continuing our warm relationship with Forrest, his wife Barbara, and the Gregg family."
Parkinson's is a neurodegenerative brain disorder causing tremors, rigidity, bradykinesia, impaired balance and other symptoms diagnosed in 50,000 to 60,000 Americans per year.
According to a press release from the institute where Gregg is being treated, Parkinson's most often affects people over the age of 50, but can occur much earlier. Treatment focuses on symptom management and slowing the progression of the disease through medication, rehabilitation therapy, exercise, and nutrition. Surgery can be an effective treatment in some cases.
The AP said Gregg's symptoms include hand tremors, a stooped posture, shortened stride and softened voice.
"It's someting you think about; you wonder," said Bredeen, who recalls getting knocked out three times. "All the research they've done and all the things they've learned, you just hope it doesn't affect you later in life."