Cornerback Dre Kirkpatrick, who signed a long-term deal last month, is the first pick in the 2012 draft the Bengals hope to replicate.
The Bengals head into Draft Month focusing on just that.  The Draft. After a brisk three weeks of free agency have come and gone, Bengals director of player personnel Duke Tobin has the floor.
The release of middle linebacker Rey Maualuga last weekend looks to be the final major pre-draft move in a fitting finish to an offseason they have pledged to get younger and faster. After they picked up six free agents and lost six free agents, the final tally showed them securing four starters with an average age of 28 and losing three with an average age of 31 while keeping their powder dry for two more compensation draft picks next year.
While some critics of the offseason have declared it a gutting of the roster and raising the white flag of rebuilding, the Bengals eye the weekend of April 27-29 with 11 picks (their most since 2009) as a supplemental draft for their core.
As Bengals President Mike Brown said earlier this week in Phoenix at the league meetings they view this offseason as "re-plenishing." It's about what they had planned with their budget (in the yard of $20 million) to re-stock instead of rebuild while keeping true to the formula that has yielded the most successful decade in club history with one of the most homegrown rosters in the NFL.
Bengals head coach Marvin Lewis sees it as the Greening of the Green-Dalton Era. Last season their average age on the Opening Day roster was 26.3, the oldest since the 2011 draft plucked A.J. Green and Andy Dalton 1-2.
"We got younger on the roster. We went from the youngest team in the NFL to one of the older teams very quickly," Lewis said in Phoenix. "That's what happens. That's the hardest thing on coaches when you subtract veteran players from the position groups, the position coaches job is to bring on the next players. That's what it is. That's part of the process."
While 20 of the 22 projected starters were on the roster last season, that includes their two leading receivers, two leading rushers, and two leading sackers. Only middle linebacker Kevin Minter and right guard Andre Smith have come from other clubs and Smith returns after a year hiatus interrupted his seven-year run as the Bengals starting right tackle.
Former Cardinal Kevin Minter is the only projected defensive starter who played elsewhere last season.
 "That is a pretty good barometer for maintaining continuity," said Bengals vice president Troy Blackburn this week. "I don't think the numbers support (massive change). The reality is you are going to see a lot of great players from last year on the roster starting and you are going to see almost every starter having been a guy on the team last year."
 The Bengals have been here before and been to the postseason not that long ago with this head coach and quarterback.
You only have to go back five years to 2012 when they were faced with finding six new starters and were staring at 10 draft picks. Like this year, only two starters came from other clubs (running back BenJarvus Green-Ellis and cornerback Terence Newman) and they improved a game from 9-7 to 10-6.
By the time the 2011 and 2012 draft classes fused, the Bengals won the 2013 and 2015 AFC North titles and they're banking on that same success from the 2015-2017 group.
 This year they're replacing five starters and, like 2012 (right guard Kevin Zeitler), the only rookie starter they'll potentially add is in the first round. Things can change like they did in 2012, when rookie free-agent linebacker Vontaze Burfict had to start the third game of the year because of injury and free-agent rookie center Trevor Robinson had to start in mid-season also because of injury. But this is the plan for 2017.
They released Maualuga and saw starting nose tackle Domata Peko leave, but the coaches didn't see them in the same roles this year. They also didn't re-sign running back Rex Burkhead, but the coaches also didn't project him in any bigger role than the one that saw him touch the ball 121 times in four years behind Jeremy Hill and Giovani Bernard.
So they focused on keeping Pro Bowl left tackle Andrew Whitworth and cornerback Dre Kirkpatrick and were prepared to make some cuts to make room for them before they got word that Whitworth had signed with the Rams for three years.
 They didn't want to lose the 35-year-old Whitworth, their esteemed leader and franchise great. But they also didn't want to give him a multi-year deal given his age and their desire to give 2015 first-round pick Cedric Ogbuehi a chance to replace him.
 So that ended up allowing them to re-sign Kirkpatrick at more than $10 million per year as well as bringing in old friend Andre Smith as a starter to replace Zeitler at right guard at a bit north of $3 million. They'll turn the loss of Zeitler and Whitworth into third and fifth-round comp picks,  respectively next year, and they structured the unrestricted Minter's $4.25 million deal (an in and out with Maualuga's  $3.5 million cap hit) with a $1.1 million workout bonus designed not to affect the awarding of the third- and fifth-rounder.
(Starting wide receiver Brandon LaFell, a $5 million cap hit for the first of his two-year deal, was the first one in.)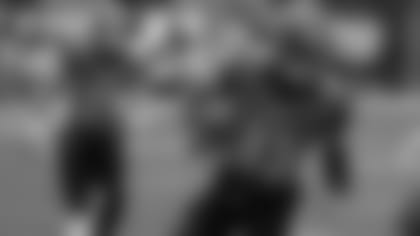 Tyler Boyd is coming off one of the most productive seasons ever by a Bengals rookie wide receiver.
But everyone knows the bulk of the final grade of the 2017 offseason lies in how Cedric Ogbuehi replaces Whitworth. After Ogbuehi got benched at right tackle late last season, the Bengals are crossing their fingers that Ogbuehi's belief he's a natural left tackle is correct after they took him No. 1 in 2015.
"We have been planning for this," Brown said. "It was inevitable because of Andrew's age that the time was coming. We drafted Ogbuehi and (right tackle) Jake Fisher and we now ask them to step up. We think they can. We'll see. "
And if 2012 is a true harbinger, the draft is where they'll get their best (and youngest) players of this offseason.
It will be recalled that haul included Zeitler, Kirkpatrick, safety George Iloka, and wide receiver Marvin Jones. All have signed lucrative second contracts, Kirkpatrick and Iloka here as starters and Jones and Zeitler elsewhere. Defensive tackle Brandon Thompson remains here as a backup.
All but one of the picks made the Opening Day roster and the guy that didn't make it, the last pick, sixth-rounder Dan Herron, stuck on the practice squad.
The Bengals are sure to put a dent in that 2017 Opening Day roster age.  In '11 they were the youngest AFC team with a 25.7 years average and after that '12 draft it barely rose to 25.8.
 "One thing we know is most of them will make it. Most draft picks stick," Brown said. "Just how it ends up with all the picks we have, we'll have to see. But it's clear we are going to have a lot of young, new talent. That will come into play some this year, some next year."
The Bengals are getting an extra first-round pick in the sense that rookie cornerback William Jackson never played last season because of injury. The same with fourth-round pick Andrew Billings, penciled in as Peko's replacement. Already, second-round pick Tyler Boyd excelled as the most prolific non-Green Bengals rookie receiver since Cris Collinsworth. Third-rounder Nick Vigil is scheduled to start at SAM linebacker and seventh-rounder Clayton Fejedelem impressed enough on special teams to already become a kicking game staple while pushing for snaps at safety.
"It's a process. Usually it takes some of these guys to the middle of their first year to get confident. Last year, Tyler Boyd would be an example of that," Brown said. "You can just watch and see them grow into the role. We will have players of that nature.
"We will probably have one, maybe two, who just are standouts from the get go and go in and play. Then we will have a group at the end like Fejedelem. All of a sudden people say this guy is pretty interesting, where did he come from? You will have those kind, too. It will be interesting to watch and see how they are and how they come along."
The Bengals hope it will be like watching the 2013-15 seasons after the 2011-12 drafts: two AFC North titles and three post-season berths.
Lewis all in on the Greening of these Green-Dalton Bengals and couldn't resist.
"We have some guys that couldn't practice," Lewis said. "That makes my job tougher. I believe everybody has to practice in order to go out and play. We can go back to that mantra."