Vontaze Burfict, undisputed leader of the defense, says he'll have plenty of help.
Those winds of change that A.J. Green blew into Bengaldom with Andy Dalton six years ago are here again as the locker hierarchy re-orders itself in the post-Whit and Peko era.
"We lost some great leaders," said linebacker Vontaze Burfict, along with Domata Peko the de facto captain of the defense for the last four years. "We have a whole bunch of leaders in here. But certain guys are stepping up now."
 While Burfict is a coach-on-the-field leader with all the vocals, Green, the best player on the team, has been mainly a leader by a-brilliant-no-brainer-six-time-Pro-Bowler example. But he sensed that might be changing when he saw the Bengals signed Kentucky running back Boom Williams as a rookie free agent.
"The crazy part is I had this guy who participated … when I first had my camp in South Carolina. He won the MVP and he was here (last weekend for rookie camp)," Green said Monday, his first public words since the Super Bowl.
"Old. Very old," said Green, when asked how that feels. "I'm getting up there."
But he's got company. His draft class now makes up most of the leaders on the offense at all levels with Green the Alpha male, Dalton the offensive alt-control-delete button, and left guard Clint Boling (along with right guard Andre Smith of the class of '09), the Andrew Whitworth disciple and former Green college teammate overseeing the offensive line.
"The 2011 class is going to be the leaders around here," Green said. "I feel like we've still got to be more vocal for some of the young guys. I think we're ready to step up. Clint's one of the leaders in the offensive line room, then Andy and I being the leaders of this offense, I feel like we're going to have to step up to be more vocal … That's one thing, we always draft well and having Clint and Andy, I feel like we'll be great leaders. 
"Clint leads by example. He can get vocal when he needs to be," Green said. "For the offensive line at Georgia? Yeah. He was definitely like a Whit."
When we look back on it, Monday may be the first example of Green stepping into that more vocal role. Green, who never wastes words, didn't blink as a locker room spokesman when asked about rookie running back Joe Mixon, the club's second-round draft pick steeped in controversy since an off-field incident three years ago.
"I'm a God-fearing guy and I feel like everybody deserves a second chance. I don't condone what he's done. He can't take that back," Green said. "I know he would like to. I feel like the Christian man in me, with my faith, that's the Christian way to do. I'm going to give the guy a chance. You don't look upon somebody, you help them. I feel like bringing him into the locker room with Andy and I being the leaders of the offense will really help him."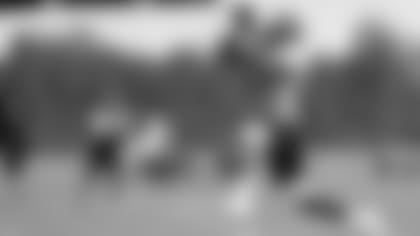 A.J. Green working it in practice.
Burfict is also pledging to help his emerging kiddie corps of backers at the WILL spot that is suddenly quite young. He turns 27 the day the Bengals play in Green Bay in the third game of his sixth season. Nick Vigil, the second-year backer projected to start at SAM, turns 24 in training camp. Jordan Evans, the sixth-round pick who says Burfict sets the tone, is 21. Rookie Hardy Nickerson, who is trying to repeat what Burfict did and play Opening Day as an undrafted free agent, is 23.
Even Kevin Minter, the projected starting middle linebacker who is a five-year veteran with 175 career tackles, doesn't turn 27 until late in the season. Now that Rey Maualuga is no longer here, the only backer older than Burfict is 29-year-old Vincent Rey.
"Ray was a leader and I always followed in his footsteps. I just have to do the same things," Burfict said. "Be a role model, lead by example, make sure I'm in the playbook, make sure I'm helping young guys out. I think about it.  If Nick Vigil messes up, it's on me. I have to make sure they're always ready and on time."
Nickerson, out of the University of Illinois, and his fellow free-agent rookie Big 10 backer in Penn State's Brandon Bell are two guys with a lot of career snaps who are expected to make a pretty good run at this thing. Nickerson with his brains and Bell with his versatility. Burfict is ready to impart the experience that came out of Arizona State undrafted and went to a Pro Bowl four seasons ago,
"I'll have talks with them and make sure they understand what to do to stay in here and what to do if not this team, maybe make another team," Burfict said. "Just tell them my journey so they don't make the same mistakes I did. Just understand how to be a professional athlete."
If anyone knows how to relate to the kids, it is Burfict. He was one of Bengals head coach Marvin Lewis' youngest captains ever at 23 in his third season when his teammates voted on the eve of the 2014 season.
That's because Burfict is a coach on the field with his vast knowledge of the scheme and his innate instincts and it's why he'll probably wear the "C," again after injury and suspension at the beginning of the season the past two years.
"Definitely," said Burfict when asked if he wants the 'C,' again. "I am a captain."
Photos from the Bengals Rookie Mini Camp on Friday, May 5, 2017.