John Ross made his Bengals debut in the third pre-season game in Washington.
It looks like Bengals rookie wide receiver John Ross won't be rushed into the lineup to replace A.J. Green after various publications reported Monday that Green won't be suspended following Sunday's ejection stemming from a fight with Jaguars cornerback Jalen Ramsey.
And the way Bengals head coach Marvin Lewis is handling Ross, even if Green couldn't make it Sunday in Tennessee (1 p.m.-Cincinnati's Channel 19) as the NFL's last-ranked offense slides into a pace for historic club lows, Lewis may not have activated Ross even though he's been practicing for three weeks.
That's what happened Sunday. Ross played a handful of snaps in his return last week against the Colts, but when wide receiver Cody Core came back from a concussion in Jacksonville, Ross was back on the bench.
Raise your hand if you thought Ross would have no catches on one target out of 11 snaps in two games at the half-way point.
But on Monday, Lewis said he believes Ross is going to contribute this season and Ross agrees.
He says his legs are starting to get back under him and his knee is fine. He says he won't need any off-season procedures and the fastest man to ever run at the NFL scouting combine is starting to understand why his transition to an NFL field has been so achingly slow. And Lewis doesn't hesitate to remind him.
"John has had three weeks of practice now. Let's let him practice and let's get him comfortable playing football again before we put him back in there," Lewis said. "When he knows what to do and how to do it all the time, and when he can play productively, then he'll play fast, he'll play with confidence. But he wouldn't be very confident (right now). Each day, he gets more confident with playing football. He hasn't been playing football. That's the thing. You have to (practice) 11-on-11 enough to be comfortable with it."
 Ross is buying in. Especially when he remembers how out of shape he was when he came back to practice earlier this month.
"I was running two plays and I'd be exhausted for two drives," Ross said. "You have to be in shape. In this league everybody is faster. It doesn't matter how fast I can run.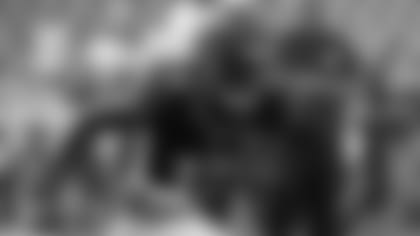 John Ross is looking to contribute down the stretch.
"People can line me up all day and tell me to run 4.22," he said of his combine record time. "But after the first one I probably won't get back to that 4.2. It just depends how I'll condition myself. That was hard for me to see. I thought in my head, I'm fully healthy. I need to be out there. But after I sit down and evaluate the film and I'm like, I don't look the same as I did on the last play."
"That's what they mean. (Wide receivers) Coach (James) Urban always tells me, 'You've got to get your legs back.' I'm starting to get them back. It's starting to show up."
Ross admitted that watching on Sunday when they lost Green was extremely frustrating. How natural it would have been if Ross, the next first-round receiver after Green, would have been able to step in. With the Bengals  on pace to finish last in NFL offense for the second time in their history (in 2008 they were last when their backup QB started a dozen games) with their fewest points (258)  since they were shut out three times in 2001, somebody needs to be a spark.
"I don't think it's whether I think that I can. It's the fact I'm not able to physically. I'm actually not even dressed," Ross said. "It's very hard because when A.J. is down, as a player, whether you're me or Joe Mixon or Brandon LaFell, you're like, now I've got to step up. It's hard for me because I'm sitting on the sidelines and I can't. In my head, I'm letting him down. If something like that happens, and I know it won't happen again, but I have to uplift him, I have to be there for him.
"I hate losing more than I like winning. It's tough. Even though I didn't play, it's still hard."
Not only is there the mental part, but there is the physical reality Ross is simply behind. He not only missed the spring camps because he was rehabbing from shoulder surgery, but he wasn't even here for much of them because of NCAA rules. He couldn't get on the field against DBs until the second week of training camp and he couldn't play until the third pre-season game and when he tweaked his knee in the pre—season finale it set him back almost two months.
But offensive coordinator Bill Lazor remembers the pure diligence of the rookie and veteran minicamps, the two spring dates Ross was allowed to make, he made.
 "He hasn't played or practiced a lot of football at all. I think he's a very intelligent football player, I think football's very important to him," Lazor said. "From rookie minicamp, he couldn't do anything. He would walk behind the formation and line up behind the guys doing the routes, wanting to learn. There's nothing negative on what John is doing. I think it's important to say that. I can't foresee what his medical issues or anything are, but when you're smart, when it's important to you, when you're willing to work hard and you're talented, I think his future is going to be good."
Cincinnati Bengals take on the Jacksonville Jaguars in week 9 of the regular season.