A.J. Green under the watchful eye of Ben Creamer.
MARIETTA, Ga. _ In the 365-day-slicked-up-packaged NFL of the 21st century, even the mundane six weeks between spring ball and training camp have become Dancing With The Stars.
Terrelle Pryor, who plays for Washington, is training with Steelers Pro Bowler Antonio Brown.
Old friend Marvin Jones, now in Detroit, is working out with Randy Moss, a lock for the next Pro Football Hall of Fame class.
And Denver's Von Miller has invented something called a pass rush summit at Stanford, where esteemed sackers  ranging from NFL Defensive Player of the Year Khalil Mack to NFL sack leader Vic Beasley gather to pick brains about picking apart quarterbacks.
But even though the Bengals' A.J. Green is arguably the league's best wide receiver, especially before the partially torn hamstring claimed last season's 1,800-yard monstrosity, he continues to star in Green Acres. Green, a 1960s throwback, is working out with, well, A.J. Green.
And maybe Keon Roman, a self-described fifth-year senior cornerback for the football program at Kennesaw State that's been around just two years.
"You're going to need somebody to do releases with, right?" Roman asks, even though he has yet to introduce himself to the six-time Pro Bowler. "I'm for real."
Green smiles as he slips in and out of one of his army of rubber bands.
"I got you. I got you," Green assures him. "I'll be here all summer. I know you'll be around here."
Roman shakes his head and exclaims, "I thought you were 6-3. You look 6-4,' and Green laughs and says, "I am 6-4."
"Damn, let me shake your hand again," says Roman, who goes all the way with a hug.
This is what a Pro Bowl wide receiver looks like and this is  what a workout looks like for this one 29 days before his seventh training camp.
This is no summit. Try a workshop.
Try summer stock theatre.
"Low key," Green says and what else is new?
Music? What is ever on the speakers.
"Could care less," says Green, who has absolutely no interest in tunes. "I don't even know what channel is on my (car radio) half the time." 
The workout, a recovery day that will end up submerged in a pool, takes place in an office complex shoved to the side of I-75 on the outskirts of Atlanta. The front of the building that houses the Kennesaw State football staff looks like a dental office and the back has the feel of the warehouse that it was when Jim Kiritsy inherited it in 2015, a mile away from the Owls' 8,300-seat stadium. A seat for nearly every yard Green has gained as a Bengal after this season.
Green never lets them see him sweat. But he is these days in his workouts.
"Best kept secret in the south," says Kiritsy proudly, the football strength coach, a compact bear of a man with a voice that grinds like one of his morning workouts. "It's simple, but it has everything we need. It's a football-only weight room and for a mid-major, FCS, Division I-AA level, we think we're fortunate."
So does Green, who appreciates the location, a relatively easy 25-minute drive through the tenacious Atlanta traffic from his home in Roswell, Ga. It is merely 9 a.m., but the Owls have already worked out and are spreading their wings somewhere else today. Kiritsy closets himself in his office while his handful of helpers quietly go about their appointed rounds.
"The place is all his. He's got it to himself," Kiritsy says. "I told him he can even come in the back door if he wants no one to know he's here."
But as if on cue Green strides through the lobby with his trainer, Ben Creamer, an import from the land of Ignition Sports, the Cincinnati-based gym that works with the Bengals.
"Not that serious," Green says of a back door entrance.
Since recovering from the Nov. 20 tear through the heart of Bengaldom, Green has attacked this next season through the front door. He discarded his previous off-season workout regimens in an effort to continue what Bengals strength and conditioning coach Chip Morton puts him through during the season. So Green lured Ignition's Clif Marshall to Atlanta for the two months leading up to the April 17 start of Morton's program in Cincinnati.
"My wife is the one who told me all the great ones have two trainers," Green says. "She knows what's best for me."
After Miranda Green's husband spent the next two months at Paul Brown Stadium blowing away everyone with how good he looked, there was no question he was going to continue the program for the month leading up to the July 27 conditioning test that heralds the start of training camp the next day.
"Oh yeah. it's the best OTAs I've had in a while," says Green of how Marshall prepared him. "I felt great. Fast. My legs felt refreshed. I'm really excited about getting into training camp."
Along the way Green lost Marshall, Indiana University basketball's new strength and conditioning coach. But Morton's deep bench has produced the 34-year-old Creamer, Marshall's successor as Ignition director and a veteran of working with the Bengals when it comes to his specialty of hand combat. Creamer, whose father taught him the Who-Dey chant before he could talk while growing up on Ohio's Route 73 corridor in Waynesville, knows that Green's 23 mile-per-hour go route was the fastest time of any Bengal tracked  by the GPS during the spring practices.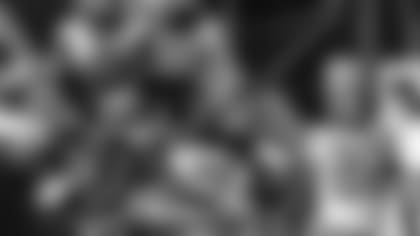 Green's Hail Mary catch showed last year's dominance.
"The highest rate of soft tissue injuries is in training camp because all of a sudden the training levels are so high and there's the shock," says Creamer, who is tasked with mimicking Green's training camp workload. "Your goal is to make sure the body has been through that when camp begins. He's gone through the yardage he'll run, all the routes, change of direction. Nothing is going to be a surprise."
No surprise here. When Green started working out again Tuesday after a 12-day break following the Bengals' mandatory minicamp, Creamer saw his GPS numbers match what he was doing in Cincinnati.
One can conclude that between the arrival of the nine-month-old Easton Ace Green and the worst injury of his life, Green has discovered his football mortality and is trying to make it all good in the weight room.
"I don't think so. Injuries just happen," Green says. "Me, personally, it's just something that happened. It doesn't look like anything has changed or anything like that. As I get older, you find new things that work for you and it gets easier to understand what works for you and that's what I'm doing.  This is the best of both worlds. I keep my bulk, keep building my strength, and I also come here and get my agility and fast-twitch muscles going. This caters more to my needs right now. I'm looking to keep that explosiveness. That quick first step."
On Green's first day back Creamer works on lower body lifting and puts him outside in Georgia's nuclear heat for agility drills that also prepare him for camp heat. Since it's a workout that can get him sore, the next day is devoted to recovery. This is where Morton's cylinder concept comes in.
"We'll stretch him out, starting with the scapula to opening up the hips," Creamer says. "We're looking for stability from knees to the shoulders and everything in between. It's a cylinder like Chip describes it and I like that depiction. It's not just the front side. It's just not abs. It's everything around and tying that mobility and stability in the hips into the core."
So today there are bands and rollers and benches and bars as Green drapes and drops that famous 6-4 frame. Even before the workout, Creamer is stretching and soothing the muscles with a deep muscle stimulator gun that gently buzzes them into shape while Green lolls on a training table scrolling through his phone.
That zapper is like the one Morton's crew uses at PBS, and this is the one Green promptly paid for and had it overnighted to his house.
"How old is Brandon Marshall?" wonders Green on the training table as he talks about longevity.
Marshall, now on his fifth team, just joined the Giants 59 catches shy of 1,000 and is one of 25 players with at least 12,000 career receiving yards. He's 33 and will be 35 at the end of his deal in New York. Green is looking to play until he's 36, so that's seven or eight more seasons. He says seven.
He's not looking for anything more. His son will be seven going on eight and "He'll understand," what his Dad does at that point. But instead of Marshall, Green is really looking at his 2011 draft soulmate, Falcons wide receiver Julio Jones.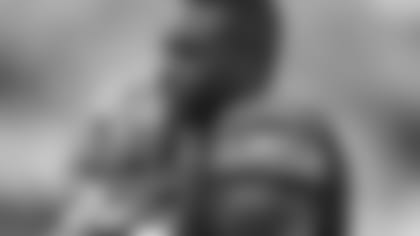 Green turns 29 on July 31, just as training camp begins to heat up.
Green knows a major reason he had such big numbers last season before he got hurt is that they were new at receiver and Pro Bowl tight end Tyler Eifert was hurt. He also knows the Bengals had a much better year the season before, when Eifert was healthy and wide receivers Marvin Jones and Mohamed Sanu were in their fourth seasons.
The man is just not going to call for the ball. Not on a training table in late June or in front of his locker after a crushing December loss,
"That's not who I am," Green says. "I know what I'm capable of doing.  Never a doubt in my mind. Last year I had opportunities and just took advantage of them. In 2015 I felt like I had a good season, but we had all the weapons. I didn't have that many targets, but I still had good yardage. This year it's just not me and Brandon (LaFell) and four young guys. Everything doesn't have to be forced to me, which I like.
"That's the goal. Win the Super Bowl," Green says. "Look at the year Julio had. He was coming off an1,800-yard season and he had what last year? (1,409). That's because they put all the weapons around him. He still made the same plays he made when he had the 1,800 yards, but when they double-teamed him they had (Sanu) and (Tyler) Gabriel. They've got to respect those guys. They went to the Super Bowl and Julio had (1,400)  yards. It's all about what you want. That's the ultimate goal is to win the championship."
But it is when he gets off the table that Green shows you what is really burning in there. Creamer introduces him to the boxing gloves and while he tapes him up, Green makes an admission.
He has watched Creamer oversee many of his teammates in the last three years during drills that amount to boxing while punching Creamer's mitts. The devastating straight right hands of Reggie Nelson and Shawn Williams. The haymakers of Vontaze Burfict. The incongruous picture of quarterback Andy Dalton ducking jabs.
"It's great cardio and it's low impact. No stress on the knees or back," Creamer says. "It's a lot more fun than jumping on the elliptical for 20 minutes and it helps in football. For a receiver it's understanding time and space to fight off the jam at the line. For Andy, it's a lot of the same principles back in the pocket. Don't get your feet crossed, get good balance. And throwing a right hand has a lot of the same mechanics of throwing a pass as far as rotating hips and follow through."
(Let it be known Creamer tapes tight and his mitts soften punches so there are no broken hands, or, ahem, thumbs.)
"Ben was always busy. I figured I'd wait until I got him down here," says Green with a sly smile. "I'm the type of person when I can't do something well I can't do it in front of people. I'm so competitive, I want to be so good, I say, 'Wait until I master it.'"
Creamer is shocked by what unfolds over the next 45 minutes. Green says the one and only time he ever boxed is "at my daddy's best friend's gym." He was 10 "and that's back when I hated to get hit and I was grabbing on to everything. I couldn't wrestle either."
But with a clock for two-minute rounds ticking, the sound of Green's gloves hitting Creamer's mitts thuds through the old warehouse like something out of "Rocky."  A smiling Kiritsy emerges from his office to take a look. Roman re-surfaces with a phone to shoot pictures.
"I'm a little mad. You know how long it took me to learn to throw a left hook?" asks Creamer, who trains fighters from the Floyd Mayweather Camp at Ignition. "It took me three months to learn."
Creamer shakes his head. Green's left hook is mechanically textbook. "Put this guy in the ring with his reach and he'd be a light heavyweight contender." His coordination is literally striking.
But not good enough. Not for Adriel Jeremiah Green. After one round, Green is hooked. Probably because he's not perfect at it. When he misses a combination, he growls at himself, "C'mon A.J." Someone has taken a video on his phone and he's appalled.
"Look at that wide receiver stance," Green says, laughing. "I'm not posting that. I'm not showing anybody that. It's not good enough. I'll study it. I'm going to buy me some boxing gloves today and put a heavy bag in my garage. Challenging. I want to get good at it."
If it always looks like the regal Green never breaks a sweat, it's because he rarely does. Creamer, and Marshall before him, are amazed at how aerobically efficient he is. He continually amazes the GPS by clearly running hard but barely raising his heart rate.
But the two-minute rounds turn him into Jell-O. As Creamer waxes poetically about the boxing benefits for a receiver at the line of scrimmage, Green cuts him off with a gasping, "It will help my freaking fatigue in the fourth quarter." And that's another reason he likes it.
"You're tired and you're trying to remember the combos," Green says. "You have to stay sharp mentally even when you're tired."
Green, the commissioner of cool, is a bit unkempt. Felix Unger has turned into Oscar Madison. After one round he's on both knees. After another round, he's on his back. Creamer triumphantly waves the GPS. There is finally a read heart flashing now that Green has pushed his heart rate to what spits out 90 percent.
 "It felt like the first day of working out again," Green pants. "I thought I was in great shape."
"Let's do this every day," Green says.
No Dancing With The Stars.
Just a summer stock production.
"I'm serious about those releases. I'm back The Fourth," says Roman, the fifth-year mid-major corner.
"I got you," says Green, the six-time Pro Bowler.