A.J. Green reverses roles duirng his camp Friday and tells the kids to go out for one of his passes
The kid steps out of the line with the other 11-year-olds catching a football almost as big as them on Sycamore High School's hotel lobby-like carpet, sticks out his hand with a smile wider than A.J.  Green's catch radius, and introduces himself with his nickname from the Price Hill rec center.
"Deuce," he says, a big play on his first name.
Deuce has got Green and his six Pro Bowls beat Friday at Green's very own fifth annual camp for 300 children grades one through eight.
"Where I come from, I didn't have turf. I didn't (know anybody) that had a camp," Green says in a break from tossing footballs and encouragement at his campers. "I probably couldn't afford it anyway."
Green figures the first camp he went to wasn't until he was the best high school player in the state of South Carolina, maybe the south, and perhaps the nation.
"The Nike Georgia camp. Elite," says Green, who probably didn't have to pay for it because he was invited.
But he's making sure that you don't have to be elite to attend this one. There are 75 kids here from the Cincinnati Recreation Commission, the Boys & Girls Clubs of Greater Cincinnati, and St. Joseph's Orphanage who Green has sponsored.    
"No way could they afford anything like this," says Tonaruse Witherspoon, who has a nickname himself.
A community is only as good as its table setters. Guys like Green, who cradles the big bowl, and guys like "Spoon," who knows how to feed the kids that need to be fed. It's been a decade since the Cincinnati Museum Center picked "Spoon,' out of the drawer of the community chest and named him one of that year's "Difference Makers."
"I helped raise his older brothers. I've had him since he was five," says Spoon of Deuce , who arrived somewhere in the middle of his 17-year run directing the CRC's Price Hill rec center.  "It's one of the at-risk neighborhoods in the city. We want to show them something different. Get out of that state of mind that this is normal, which isn't normal. A lot of single parents. A lot drugs. Expose them to something different, something they aren't around every day."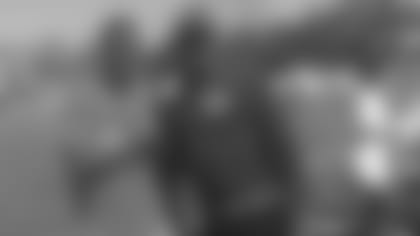 Community table setters: Green (left) with CRC's Tonaruse Witherspoon.
The A.J. Green Camp, where tight end Tyler Eifert arrives Saturday, is different. Box lunch. Coaching. Carpet. A.J. Green asking your name. Spoon has about 20 kids here on scholarship and not everyone gets to go. This week, along with the Marvin Lewis Camp, hangs there on the calendar as a tempting incentive.
"Behavior," Spoon says of what is required. "Be one of the good students in school. We've got different camps we attend. It's like every year as far as my interns go, the kids I mentor. How can they get in that program? You can't be goofing off. You can't be wising off to the patrons at the rec center. We have preschool all the way up to senior citizens. They have to interact with each other. Some kids don't know how to react in different situations. That's how you pick and choose."
Spoon has chosen well. Deuce allows that Green is his second favorite player. Eifert is his guy. He says he goes to Rothenberg Prepatory Academy. Spoon says Deuce's family life is much more stable now that he's living downtown, but Deuce says he still gets over to Price Hill twice a week to shoot baskets or play on the computers.
"He's still one of my kids. Now there are the summer programs," Spoon says.
"It's a positive place to be and the energy is good," says Deuce, who has been watching and listening.
And that's just not as easy as it sounds. Deuce's family is doing better now, but Spoon fights the battle every day with other kids and whether he knows it or not, Green helps.
"Two dollars a year for a membership. And that gets you in to any rec center in the city," Spoon says. "A lot of kids are raising themselves. It's sad but true."
It's different. And, Green, who never went to a camp, isn't all that different that he doesn't get it.
"This is the city that drafted me and it's always good to give back," Green says. "God blessed me with this talent. I can give back and that's what I'm going to do."
Setting the table. It's Green's first camp as a dad, but he's always been one, in a sense.
"That's who I am," says Green, who doesn't shy away from the role model label.  "I'm from South Carolina. I don't have to change anything. My parents have been married 32 years. That's all I know. I want to be there for my wife and son. Be there for my family. That's all I know."
Whether he knows it or not, he's setting the table so Spoon can make sure he's taking care of his extended family this weekend.
"It means a lot to them to see an A.J. Green who they see on TV every weekend," he says. "They enjoy it."