Hours before the first practice of his seventh NFL season, A.J. Green was asked, "How do you keep it fun?"
"Every time I step on this field it's an honor," Green replied. "God blessed me with the talent to play this game so it's always fun to get back here with the guys. It's a grind, but it's fun."
That might be the most perfect A.J. Green quote of all time.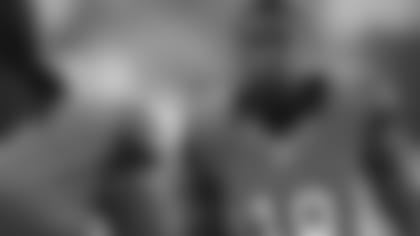 Green, who turns 29 on Monday, has abundant genetic gifts, but if you have the opportunity over the next few weeks, come to a training camp practice and watch his effort on each and every drill.
"He never ceases to amaze me," said wide receivers coach James Urban. "He is the hardest-working guy in the league in my opinion. There are plenty of hard-working guys, but he takes nothing for granted and he enjoys every moment that he gets to play the game that he loves."
Green missed the last six games of last season with a hamstring tear, but it was obvious at Friday's first practice that he doesn't plan to be cautious. In one of the first passing drills of the day, Green completely extended his body to make a diving fingertip catch on the sideline.
"That's who I am," he told me. "That's what got me here and got me to year seven. You've got to do it in a game so if you don't practice it…I know Coach Lewis doesn't like it, but hey, it happens."
"On that play he would tell you that he was disappointed in the route," said Urban. "The route wasn't very clean. He's still knocking off the rust on the foot pattern of that particular route and he said, 'I had to dive because it was such a bad route.' It's hard to tell him not to."
As the Bengals celebrate their 50th season, Green is well on his way to becoming one of the most decorated players in franchise history. A.J. is the only player in team history to be selected for the Pro Bowl in each of his first six seasons, and he already ranks second behind Chad Johnson in all-time receiving yards.
Green and Andy Dalton were Cincinnati's first two draft picks in 2011 and their 461 completions and 6753 yards are the most by any QB-WR duo in NFL history for teammates in their first six seasons.
Following the free agent departures of veterans Andrew Whitworth and Domata Peko, Marvin Lewis has publically encouraged Dalton, Green, and Geno Atkins to step up and become the new leaders of the team.
"I'm a guy that leads by example and if I have to speak up I will," said Green. "(Coach Lewis) saying that I am a captain is an honor, but I'm not going to change who I am. Andy and I know that it's our team."
Day one of training camp provided a glimpse of the impressive assortment of offensive weapons that second year offensive coordinator Ken Zampese has to work with in 2017. Green, Giovani Bernard, and Tyler Eifert were back on the field after season-ending injuries. Tyler Boyd, Brandon LaFell, Cody Core, and Alex Erickson have a year of experience in the Bengals' offense under their belts. Jeremy Hill, C.J. Uzomah, Tyler Kroft, and Ryan Hewitt are looking to have a big impact. And rookies John Ross, Joe Mixon, and Josh Malone add speed and explosiveness.
"It's year two under Coach Zampese and I think we feel more comfortable and the second go-round should be a little better," said Green. "We've added some more pieces and I feel like we're getting back to the offense that we had in 2015 with the weapons that we have. If everybody stays healthy, we'll be fine."
Led by the extraordinary Adriel Jeremiah Green.
"I just want to be the best player that I can be," he said. "I want to complete this season healthy, I want to win, and I don't want to have a season like we had last year."