A.J. Green: the first receiver to start his career with seven straight Pro Bowls.

Geno Atkins and A.J. Green continued to make their cases for enshrinement in the Pro Football Hall of Fame one day Tuesday when they each earned another Pro Bowl selection.


They were the lone Bengals named to the NFL's annual all-star game, although WILL linebacker Vontaze Burfict received a fourth alternate spot at inside backer and safety Clayton Fejedelem took a second alternate slot on special teams.

Atkins, an eight-year player named to his sixth Pro Bowl, is headed to first-ballot territory with another nine-sack season that currently leads all NFL tackles. He and cornerback Lemar Parrish now share the most Pro Bowls by a Bengals defensive player with Parrish's last one coming in 1977.  Although Green wasn't named a starter this year, he's never missed a selection with seven, trailing only Hall-of-Fame left tackle Anthony Munoz's 11 on the Bengals' all-time list.

Green has more Pro Bowl selections than four of the five wide receivers among the semi-finalists for induction into this year's Hall class: Randy Moss (six), Terrell Owens (five), Isaac Bruce (four) and Hines Ward (four). The fifth, Torry Holt, also has seven selections. He won't start with those nods going to Pittsburgh's Antonio Brown and Houston's DeAndre Hopkins.

Green is also the only receiver since the 1970 merger to start his career with seven consecutive Pro Bowls and the only Bengal at any position to make the Pro Bowl in each of his first seven seasons. Only one other Bengal, wide receiver Isaac Curtis, made it for as many as his first four seasons from 1973-76. Green's seven moves him ahead of Parrish and wide receiver Chad Johnson on the all-time list behind Munoz. Green is on pace for his fewest yards in a full season since he was a rookie, but he leads the Bengals in catches (67), receiving yards (980) and TDs (eight). He was selected but did not play in last season's Pro Bowl because of a partially torn hamstring. He's 20 yards shy of his sixth 1,000-yard season.

With 61 career sacks in 119 games, Atkins is averaging .513 sacks per game, better than Hall-of-Fame defensive tackle Warren Sapp's  .487 during seven Pro Bowl seasons. Sapp's 96.5 career sacks are behind only John Randle's 137.5 on the interior linemen's all-time sacks list. Randle, who played from 1990-2003, is a Hall-of-Famer who went to seven Pro Bowls averaging .627 sacks per game. He's starting this Pro Bowl with Titans tackle Jurrell Casey.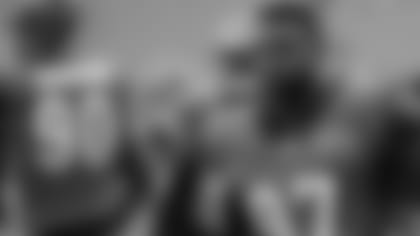 Geno Atkins: six Pro Bowls.

The Pro Bowl is set for Sunday, Jan. 28, at Camping World Stadium in Orlando, Fla. on ESPN and ESPN Deportes and simulcast on ABC.

 "Geno is having a strong and consistent season, playing at a high level and it is great to see him honored once again," said Bengals head coach Marvin Lewis in a news release. "A.J.'s production on the field continues to rival the all-time greats at his position. His peers recognize his immense value as a receiver, voting him to an unprecedented seventh consecutive Pro Bowl to start his career."