Cedric Ogbuehi is still getting advice from Andrew Whitworth.
Andrew Whitworth, whose prodigious orange-and-black legacy as a peerless leader is that he has been to more postseasons than any Bengals offensive player in history, calls his family, "The Circus."
With Whitworth and the former Miss Louisiana raising four children seven and younger that include the 2011 Lock Out Twins, maybe it's fitting that Daddy is a Los Angeles Ram because "The Circus," is now down the street from Disneyland.
"We knew it was going to be tough to leave Cincinnati," said Whitworth Saturday afternoon as he drove around L.A., having, "No idea where I am."
"We knew we wanted it to be a new situation. We didn't want to be somewhere where there was a constant reminder of missing Cincinnati. To me it was like, go all the way out to L.A. and start over or stay in Cincinnati and take whatever you can get."
He's gone but he hasn't left. His first two calls as a Ram on Thursday were to his successor at left tackle, Cedric Ogbuehi, and his bookend on the right, Jake Fisher, the first two picks in the 2015 draft that are now being asked to perform like it.
"Time to play," Whitworth told them and he plans to help by sitting down in L.A. in a few days with Ogbuehi. He's also already had a couple of heart-to-hearts with quarterback Andy Dalton and what it means for his expanding leadership and he told wide receiver A.J. Green he's still there for him and is only a phone call away if he needs anything at all.  
"I hope Bengaldom understands," Whitworth said. "I'll still be in there pulling for the Bengals … I'm still pushing guys to be the best they can be, to be as successful as they can. I didn't work that hard and that long not to see them have success.  I'm here, man.  I'm still that guy. I didn't do it because they were on my team. I did it because of who I am. I believe in those guys."
So even though old friend Mike Zimmer's Vikings and the Rams were the two most aggressive teams of what was a seven-team derby, Minnesota (Bengals North) wasn't an option. Neither were the Chargers or the Broncos, probably because they were in the AFC.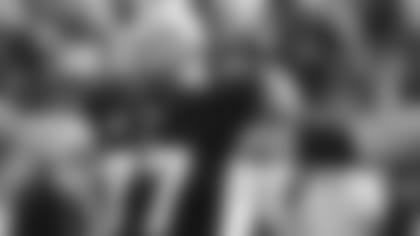 In his last eight seasons as a Bengal, Whitworth played in six post-season games.
"We were looking for some place where we could make a difference. A team that really wanted me badly," Whitworth said. "Where I could do something cool like I did in Cincinnati and help turn a locker room around in the right direction … Melissa and I got married out here and we had a great time. Nine years this Tuesday. So there was a good connection. And some place where the family could have some sun and a big time.  An adventure."
And so it was the sad-sack Rams, much worse than the Bengals when Whitworth arrived in the second round 11 years ago. Now after watching their long-time offensive captain depart after helping cultivate the most successful Bengals locker room in history, they are still hearing the up-beat pep talks.
"I will never forget when Carson Palmer left before the 2011 season and I was wondering what the heck was going to happen and we were sitting around looking at each other," Whitworth said of a season the Bengals went 9-7 to begin a run of five straight postseasons.
"Everybody was picking us to 0-16. Somebody had to step up and get the locker room in the right direction and we came out and proved everyone wrong. I have no doubt of the character of the guys in there that somebody will do it and I'll be old news. That's always the case with any football player. I hope guys take control of that team and give Mr. Mike (Brown) what he deserves."
Whitworth and the Bengals president have a deep regard for each other. They even negotiated his last contract here one-on-one two years ago. He plans to do it the Mike Brown way and write him a letter of thanks.
"I'm grateful and humbled by how much he has done for me, my wife, and our kids," Whitworth said. "Just because you leave doesn't mean you stop loving … After my career I'll always consider myself a Bengal. I hope to come back and retire a Bengals and do it the right way."
Whitworth doesn't want to focus on the nuts-and-bolts of the negotiations. He said agent Pat Dye informed the Bengals of each offer he received and he's not so sure he and Brown could have sat down in a room and got this one done. The Rams weighed in at three years with $13 million guaranteed in the first year of a $36 million deal.
The Bengals are hesitant at giving 35-year-old players multiple years. Even one year would have to be a cautious number. Whitworth's mentality was it was his first crack ever at free agency and coming off two straight Pro Bowl seasons he doesn't think he's at the end.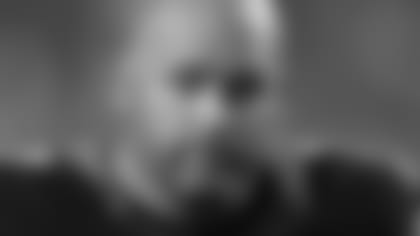 Andrew Whitworth on Bengaldom: "Best memories of my life."
"We're not mad, we're not bitter," Whitworth said. "It didn't work out. You know what? For either side to not get the deal done there has to be a little thought in you that it was OK not to get it done. That's just the nature of life. There had to be a little part of us that was OK to leave and a little part of them that it was OK if it didn't work out. It doesn't mean you don't love each other. I love Mike to death. I think the world of him, I'm not mad at him."
Whitworth leaves a franchise icon. With 168 games, only Hall-of-Famer Anthony Munoz (185) and four-time Pro Bowler Willie Anderson (181) played more at tackle.
When they went 0-8, Whitworth sparked the first victory of the year when he backed down Jacksonville's eye-poking John Henderson with a monstrous bear hug as the crowd roared for Whitworth's ejection. When they went 8-0, Dalton barely got touched in an MVP first half of the season. His three Pro Bowls matched the Bengals' three division titles.
"Our 11 years here are the best memories of my life," Whitworth said. "What we accomplished and to be a part of it is special.  The locker room and the guys, from top to bottom in the organization were great and I had nothing but great experiences and for that I'm thankful and extremely grateful. I feel I can honestly say walking away I gave them everything I had. I gave every part of me and my ability. I have to feel good about that."
He's left Cincy. But he and Bengaldom claim each other.
A look at the top 10 bench press performers of the 2017 NFL Scouting Combine