Marvin Lewis' 247th game proved to be one of his most memorable.
BALTIMORE - If Sunday's theatre-of-the-absurdly great  31-27 come-from-behind victory is indeed the last game for Marvin Lewis as Bengals head coach, it proved to be a microcosm of his 15 seasons.
There were the maddening problems at the end of the first half that resulted in a score, the curious handling of the clock that left them with no timeouts at the end of the half and just one at the end of the game, the disappearance of offense in the second half, and ill-timed penalties ranging from a late hit to too many men on the field, which can probably be traced a bit to their youth.
(Baltimore's 89-yard kick return after the Bengals kicked a field goal with 23 seconds left in the first half never happens, right, if the Bengals can wind the clock down and kick it as time expires?)   
But the Bengals also showed Sunday how Lewis turned around the franchise. His players offered their best even when they were banged up to the nth degree, forced to move defensive end-tackle Michael Johnson to linebacker if it went to overtime with starters and regulars dropping like flies. They did what they almost never did before Lewis got here and plucked a division road game from the jaws with big-time quarterback play, a ferocious defense, and the grit formed by the son of a Pittsburgh steel worker symbolized by an old rookie free agent linebacker they developed in Vincent Rey who kept getting led off the field with injury and kept coming back.
"We were resilient. He keeps things very level. We don't get rattled by anything," said flagship wide receiver A.J. Green of reasons why Lewis could return. "He coached) us never to flinch."
The decision probably comes Monday morning after Lewis meets with Bengals president Mike Brown and the handicappers are having fun with this one. As the field of vacancies gets smaller every hour so does it seem the chances of Lewis staying grow a little bigger. But Lewis suggested the discussions would have to entail more than a simple offer to return from management.
"It's more complicated than that," he said.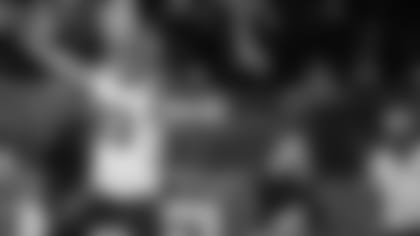 Tyler Boyd's 49-yarder won it.
And so is detailing the ebb and flow of Lewis' term, much like trying to describe how the Bengals blew two 14-point leads Sunday and crawled back from the last one with 2:38 left on quarterback Andy Dalton's desperate drive that began on his 10 in single-digit wind chill and concluded with a shocking 49-yard touchdown pass to wide receiver Tyler Boyd on fourth-and-12 with 44 seconds left. The Bengals looked around after they had knocked the Ravens out of the postseason and realized how close they had been.
In losses at Green Bay and at Tennessee they lost the lead in the last minute. Against Pittsburgh at home three weeks ago, they lost the lead with 3:37 left after they led by 17.
Maybe they're not as bad as that 7-9 record.
"And the Texans. Don't forget about that," said veteran wide receiver Brandon LaFell of the 13-9 loss to a rookie QB in his first NFL start at Paul Brown Stadium.
This team, his players said, doesn't need much.
"I think he should come back. He's the perfect guy for this team," said LaFell, the one guy in the locker room with a Super Bowl ring playing for the one coach who has been with a team longer than Lewis, New England's Bill Belichick.
"I don't think we made enough plays for him. I hope they give him a contract extension. Bring him back and we'll make plays like we made today and last week …. We let some close games get away from us … We win those three or four games and we're having a different conversation. We're going to the playoffs."
But they're not for the second straight year and that's why they're having the conversation. And Lewis isn't the only one saying it's complicated.
"We have a lot of issues we need to address," said veteran left end Carlos Dunlap. "I think we need to make some adjustments. We need a couple of more players. I can't say it's on the coaches because the players didn't make enough plays this year."
Lewis is the big stoic and while he looked a bit more emotional than usual, you couldn't tell if that was because of the stadium record cold or knocking his old team out of the postseason. It depended who you asked.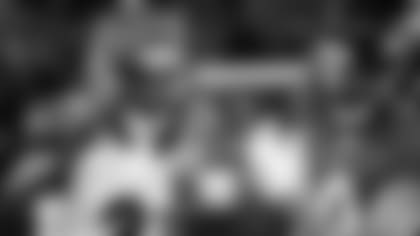 Cornerback Darqueze Dennard took a pick-six 89  yards for a TD.
"He's always emotional. You guys just don't see it. It's like he's always going to cry," LaFell said. "It was emotional, especially beating a team that he used to coach. I'd get emotional also. You always want to win one for the coach, but you also want to win one for yourself. You can't go out there and lie down. Everybody felt like we have to go out there and make plays, and that's what we did. Tyler Boyd made the biggest play of the year."
But safety George Iloka, who had the line of the season, said he wasn't emotional.
"I can't even read my fiancé's mind," said Iloka when asked if he could gauge Lewis' mood.
Or as Dunlap said, "I think everyone was emotional just because of how the year's been so up and down."
Left tackle Clint Boling, the guard who played Terrell Suggs so well, offered "I think it was emotional because there are questions about what is going to happen."
Rey said he was playing for everyone from himself to Lewis to linebackers coach Jim Haslett.
"I wanted to win it for Coach Haslett. The other linebackers did, too, because Coach Haslett put so much into this," Rey said. "He's in before us; he's still here when we leave. As players, we're around our position coach so much. We're really close with our position coach, but we wanted to win one for Coach Lewis.
"I think he'll be back. I personally think he should be back as our coach. I've been in [Cincinnati] for a while, and I have my ear to the streets, so to speak, and I've heard some people who have lived there their whole lives say that these are some of the best years that we've had under Coach Lewis as Cincinnatians. Coach Lewis brought me in, and I've learned so much from him. He's a head coach, but at the end of the day, he coaches the linebackers, so he's like another linebacker coach. I get a lot of little tidbits from him."
It wasn't exactly go out and win one for the Gipper because that's not the way Lewis handled his status.
"Marvin never made it about himself,' said right tackle Eric Winston, another warrior that played hurt when he injured his ankle on the second play of the game. "Guys have a lot of pride."
Which is something else Lewis gave them when he arrived 15 years ago.
Cincinnati Bengals take on the Baltimore Ravens in week 17 of the regular season.