Shayne Graham candidly reflected on his Bengals career when he retired this week.
When Shayne Graham said good-bye to the Bengals seven years ago, he had never really said hello.
But when he retired from football this week, he had experienced enough to do both in graciously stepping away with many more points (1,260 to be exact) than regrets (a Frank Sinatra few) as the Bengals' most accurate kicker ever and the tenth of all-time.
"I at least know I learned from my mistakes," said Graham as he reflected on that hasty, nasty exit from Cincinnati. "I can be proud and feel very blessed and fortunate with the opportunities I got in the first place.
"I started buying into what I was being told about how much money I could be making and all that stuff when I've come to realize that being part of a family and being part of a system that had the support around me and having things where money wasn't really the important thing. When you let those things drive your emotions and the emotional decisions you make, it doesn't always end up being the best thing for you."
In his last walk-off attempt, Graham offered compelling candor that took more than a few guts.
"One of the great regrets I have in my career is that I didn't realize how good I had it in Cincinnati," Graham said. "There was a time I fooled myself into thinking there were other things more important than what they were. I lost grasp of what true reality was. When I look back on it I feel like I could have been there a lot longer if I made different decisions.  But think it made me a better person, made me a better professional."
It is more than a little sad and ironic that Graham's last two field goal attempts for the Bengals were whiffs, a 35-yarder wide left and a 28-yarder wide right, glaring gaffes in the Bengals' 24-14 loss to the Jets in the Wild Card Game at Paul Brown Stadium that opened the 2009 postseason. That turned out to be his last chance at tacking on to his 779, still the second most points in Bengals history.
His final tally is 1,260 for the 35th most points of all-time. That's three more than Robbie Gould, four more than Jerry Rice and 10 more than Jim Breech, the Bengals all-time leading scorer. He made 86.76 percent of his kicks for the Bengals, 85.49 for his career and is tucked between Matt Bryant and Phil Dawson on the all-time accuracy list at No. 10.
"He made a lot of field goals for us," said Bengals special teams coordinator Darrin Simmons, who rescued Graham from the waiver wire rubble of 2003. "You live and learn … It's a maturation process everybody goes through at some point in their lives. Hopefully maybe that will help him on to his next career and if it does then that's a victory."
Graham, 39, wants that next career to be coaching special teams and Simmons, a respected 20-year veteran of the NFL trade, thinks a guy that kicked for 15 years with 10 teams has some chops.
"He's had some invaluable experiences. Especially as a specialist," Simmons said.  "The experiences he's gained, the knowledge he's gained has been invaluable. He's been around a lot of very good coaches in his career. I'm sure he could mold his style on the positives and the negatives of each of those guys. All those experiences he gained through his career will be invaluable going forward."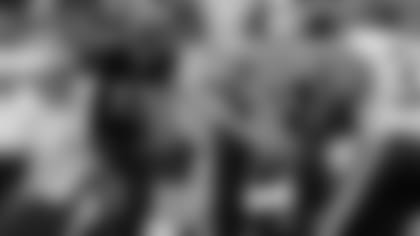 Graham, kicking at The Paul in 2009, hopes to coach.
Graham has not only kicked for Simmons, but also Simmons' mentor Scott O'Brien, as well as other kicking team gurus ranging from Jerry Rosburg to Joe Marciano.
"Having 17 years of going to meetings and training camps and being around football and helping young guys on the team to play other special teams positions, learning the schematics and fundamentals of protection and coverage and tackling I think have prepared me," Graham said. "We'll see where those opportunities take me."
He counts 17 seasons because he was cut from his first training camp by the Saints in 2000 and from his last training camp by the Falcons in 2016. But it was another failed audition, the 2003 training camp where Carolina cut him, that ignited his career.
Simmons, the Bengals' first-year special teams coach, was watching from Cincinnati. During the previous five seasons he had been O'Brien's assistant with the Panthers and the year before Graham had finished up with them kicking for the injured John Kasay. In fact, Graham kicked six extra points in the 52-31 home win over the Bengals on Dec. 8, 2002 that basically gave Cincinnati USC quarterback Carson Palmer with the first pick in the next draft.
But Simmons' first camp for the Bengals blew up in the last pre-season game when kicker Neil Rackers became an unintended victim of the punting camp competition. A dropped snap amid revolving holders ended up in Rackers hurting his knee on the ensuing scramble. Ten days before the opener and the Bengals were scrambling, too.
"Neil tweaked it and he could have kicked against Denver, but it was dicey enough that what if he hurt it again on the opening kickoff? Then you were screwed," Simmons said. "I had been talking to Scott all camp and he said Shayne was giving John everything he could handle. If it was good enough for Scott, it was good enough for me. We went with the guy that was healthy and I had some experience with him. He turned out to be pretty good."
So did Rackers, who ended up going to the 2005 Pro Bowl with Arizona, the same one Graham became the Bengals' only Pro Bowl kicker.
"I had great players around me my whole career,' Graham said. "Carson Palmer and Chad Johnson in Cincinnati. We always had great talent on those teams. We won a lot games and put up a lot of good numbers."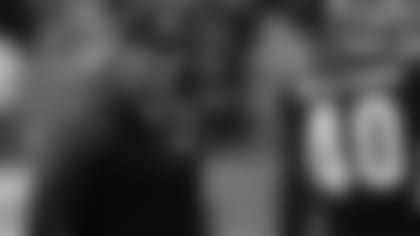 Darrin Simmons coached Graham in Carolina before the Bengals claimed him on waivers.
The Bengals' kick he remembers most is the '04 home opener in the first prime-time game at The Paul, a 16-13 win over Miami on Sunday night in which Graham gave Palmer his first NFL victory on a 39-yard field-goal on the last snap.
But there were plenty others.
Graham also had last-play winners in AFC North games in Baltimore and Cleveland, the last one a 31-yarder at the overtime gun that then Browns defensive coordinator Rob Ryan still swears went wide but helped secure that '09 AFC North sweep.  So did two fourth-quarter missiles from 32 and 43 that snapped a 12-12 scrum in Pittsburgh, the last with 1:56 left to secure the Battle of 18-12.
It was all a strand of the Bengals' re-birth under head coach Marvin Lewis. Simmons says Graham, "was part of the fabric of guys that turned it around here," in the wake of that 52-31 game in Carolina.
Like the kick on Dec. 11, 2005 with no time left in a Tractor Haul at the Paul with the Browns that snapped a 20-20 game and allowed the next week's North clinching for the first of Lewis' four division titles.
"Memory is a funny thing, but I can remember every field goal I kicked in my life," Graham said. "It was (two days after my 28th) birthday. The clock almost ran out on us. It was a 37-yarder from the right hash and I looked at the clock and it was almost down to zero."
(The other two kicks he highlights besides the prime time kick vs. Miami is the 32-yarder at the gun in Philadelphia for the Saints in a 2013 Wild Card Game and last year's career-long 54-yarder for the Falcons with 1:30 left that cemented a 20-13 win to stop, of all teams, the Panthers' 14-0 run.)     
You don't have to tell Graham about the misses, the ones that Bengaldom holds against him like a school-yard grudge. There were those two against the Jets and the achy-breaky 39-yarder at the gun of the 2006 season that went wide right and knocked the Bengals out of the playoffs when the Steelers came back to win in overtime.
"It was extremely painful to realize those were the memories that most people hold on to longer than all the successful 85, 89 90 percent years," Graham said. "One kick against Pittsburgh that could have put us in the playoffs and the bad game in the playoffs. That became what people remember.  That isn't what gave me what my value was, yet I also understand  when I signed up for this job that's also part of it."
Those last two against the Jets linger, particularly because they were the last.
"It's a shame that's how it ended. As upset as some fans were after that game, no one hurt more than me," Graham said. "I don't ask for sympathy, but I certainly understand my value was more than missing those kicks in that game. As much as I let down fans or let down my teammates, I hurt for my teammates. I hurt for the fans. I knew my job was to come through in that situation and I didn't. It's embarrassing. It's a shock to my pride. I learned from those experiences. Sometimes you have to experience those things to realize how important certain things are."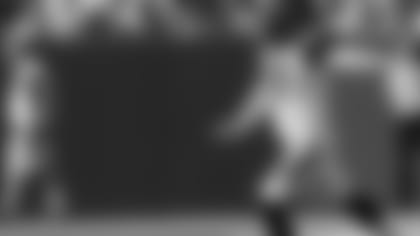 Shayne Graham kicking off at PBS.
There are other things that hang with him. When he was here, Graham became one of the most active players in town when it came to charities and it really should be a major part of his legacy as a Bengal. He still beats himself up over it.
"I was so involved in the community in Cincinnati. That's  what I should have really cared the most about," Graham said. "I bought into probably believing other things that weren't in fact not the things to believe in. But I learned after that and I realized what was really important were relationships. The people around me. I got to at least learn from those mistakes and act better in the future."
But if you talk to Keith Maupin, he's just fine with  Graham. Fine enough that he could always kid Graham about his Lamborghini.
"That's B.S.," Maupin recalled saying to Graham. "He did a lot for us. Sure did. But not only that, I liked him. He's a good guy. We were good friends. He calls me now and again."
For more than a dozen years Maupin and his son have become the relentless and resolute conscience of how America treats its military. That's how long it's been since Staff Sgt. Matt Maupin was executed while a prisoner of war in Iraq. In the wake of the heartbreak, Keith Maupin's advocacy for remembering POWs and supporting the troops has grown into the Yellow Ribbon Support Center (yellowribbonsupportcenter.com), 4326 Mt. Carmel Tobasco Rd., on the east side of Cincinnati.
At the beginning, he had help from Graham. Graham started it off by offering a trip to the Maupins to anywhere they wanted. At the first Let Us Never Forget Scholarship Dinner, Graham not only brought memorabilia, but he served as an auctioneer and  matched the $1,600 one of his game jerseys fetched.
"A guy like that, he draws a lot of people and that always helps," Keith Maupin said.  "It goes to a high school senior looking to continue their education. It's not much. It can be $250. Sometimes $1,000. Hopefully they remember where it came from. If they remember that soldier's name, then it is mission accomplished."
That was back in April of 2008, the month they carried  Matt Maupin home to Clermont County in a procession lined with yellow ribbons. Graham called his father, Tom Graham, a combat engineer in Vietnam, and asked him to send his dog tags.
Shayne Graham's idea was to make a commemorative equivalent for Maupin so that these 21st century dog tags could be sold with all proceeds going to the center.
"There had to be 500. Putting the chains on took forever," Keith Maupin said. "Shayne paid for them."
In the end, those are the memories, not to mention the big makes that Graham has held on to.
But all these years later he wanted to get one more thing off his chest. It happened after that Jets game and it has gnawed at him still even though he moved on to score 43 more post-season points with three other teams. And that includes seven with Scott O'Brien's Patriots the next year in the 2010 divisional loss to the Jets.
On this day, he was nowhere to be found as the media stalked. There would be no Shayne Graham quotes after his last and most bitter game as a Bengal as free agency beckoned.
"I was so upset after that game,' Graham said. "The reporters came in the locker room and I had taken a shower and I was visibly upset and I just didn't hang around at my locker for reporters to interview me. I didn't run from the reporters. But I also didn't hang around. Looking back on it, I feel like it's something I should have done. I've always regretted that. Even though I didn't avoid them, I still felt like I didn't hold myself accountable and I think that's something I owed my team and I owed the press and owed the fans. I've always regretted that."
Consider it closed. Graham sounds like he's eager to pass that kind of experience to the next generation of heart break. Simmons knows all about it.
"He'll find out what it's like," Simmons said, "Because he was one of those young guys at one time."
Graham's last point has been made. The 1,260th. But the Let Us Never Forget Scholarship rolls on. This year's event is April 8. Graham has an open invitation.
"He can kick for me any day,' Keith Maupin said.