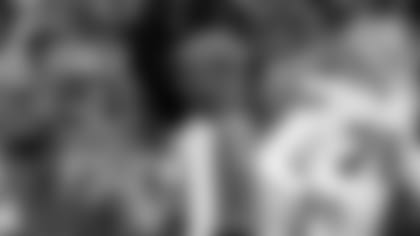 Graham watches his game-winning kick sail through the uprights. (Getty Images)
Chad Johnson called him "Money Graham," after Shayne Graham's walk-off 37-yard field goal knifed through a 15 mile-per-hour wind and 15 years of bad karma to give the Bengals a 23-20 victory over the Browns as Paul Brown Stadium exhaled with the first 10-win season since the AFC championship year of 1988.
But Graham had cashed it in all before.
Oh, it's his second walk-off winner ever, next to last season's 24-yarder in Baltimore. And his third last-snap winner if you count the 39-yarder with two seconds left last year at PBS to beat Miami in a Sunday night game.
But he has really done it over and over again inside his own dome.
"We always want to be the kicker that kicks the field goal to win the game. That's when you talk to yourself," Graham said. "I've caught myself doing it this offseason. I'd be lining up a kick and say, 'This is a game-winner,' putting myself in that situation mentally, and you can never realty replicate it until you go out there."
If there is one guy who can at least simulate a wining field goal it's Darrin Simmons, the fussy, talented assistant coach who has made the Bengals special teams a NFL top 10 staple with an obsession for detail. That includes a bottomless notebook of worst-case scenarios but while the last few seconds looked like a four-car pileup, the Bengals knew exactly what they were doing.
In fact, special teams put in a clutch bookend job of that winning drive. It started with 4:19 left in the game when the Bengals crossed up the Browns by showing them the same kick return, and then running rookie returner Tab Perry the opposite way across the field for a 37-yard run back that gave the Bengals great breathing room at their 38.
"What made it go was that Tab made a great read and then the proper cut," Simmons said.
Then, at the two-minute warning, Graham ran out on the field, threw a scrap of something in the air to confirm that the wind was still blowing hard right to left, and waited. He said he thought at halftime that the game was heading toward his first try for a late winner this season.
"There was one time, actually, when I was sitting on the bench and I looked up at the scoreboard, and I said, 'You know what? I think we're going to kick a game winning field-goal,' " he said.
And, in those last few minutes he told the offense where he wanted it.
"Right hash," Simmons said. "Because the wind was going hard right to left, and it may have even helped it go through. Rudi (Johnson) did a great job putting it right there."
After the second third-down penalty in 19 seconds on Browns cornerback Leigh Bodden covering Chad Johnson gave the Bengals a first down at the Cleveland 23 with 32 seconds left, running back Rudi Johnson cradled the ball behind right guard Bobbie Williams for three yards, and then for one yard behind right tackle Willie Anderson to get it on the hash for Graham with a second left.
But special teams is never perfect. Long snapper Brad St. Louis had been nicked earlier in the game with an unspecified injury, but he wheeled back a perfect one on the biggest snap of his six-year Bengals career.
A good enough snap to produce a good enough kick that Simmons is pretty certain that even if the Bengals didn't get the penalties, Graham's kick would have been good from 50.
"I think so. Believe me, I watched it all the way," Simmons said. "And Shayne told me it was the best field goal he kicked all day. He really got into it."
TOP 5 ACCURATE KICKERS OF ALL TIME (Need 100 Field Goals to Qualify):
Mike Vanderjagt 209 made, 239 tries, 87.45 percent Shayne Graham (projected) 100-118, 84.7 Phil Dawson, 128-154, 83.12 percent Matt Stover 371-448, 82.81 Jeff Wilkins 242-295, 82.03
His teammates are accustomed to just getting Graham close. The most accurate Bengals kicker ever is now at 83.5 percent for his career (91-for-109) after hitting all three tries Sunday. He's now hit nine straight since missing a 48-yarder in Baltimore Nov. 6 when he mis-read the wind. No such problems this Sunday.
"We wanted to get inside the 20-yard line," said Bengals quarterback Carson Palmer. "Of course, it always helps to get a little bit closer. I think anywhere from the 28 to the 30, Shayne's pretty much money; he's not going to miss from in there."

Wide receiver T.J. Houshmandzadeh: "We know he doesn't miss very often. We knew he was going to make that one."
Graham, nine straight field goals from becoming the second most accurate kicker ever behind the Colts' Mike Vanderjagt, wasn't weighed down by thinking that the hopes of winning the AFC North rested on his foot.
"In the movie, 'Hoosiers,' they go into this big basketball gym and the coach makes a point by getting a measuring tape and the rim is 10 feet above the floor," Graham said. "These goal posts are the same size no matter whether it's a division game or a game for pride."
The nice thing about Perry is that Simmons didn't have to tell him that after the opening kickoff. Perry promptly dropped his first kickoff as the reigning AFC Special Teams Player of the Week and got tackled on his own 10, the week after he returned five kicks for 197 yards that included a 94-yarder.
"Tab's good, you don't have to say anything. He knows. I told him anyway," Simmons said. "We're all anxious to return the kick and see what we can get, but you have to be patient."
Perry wore two hats Sunday, the other as one of the key players on the Bengals' second-ranked kick coverage team. He helped hold rookie Josh Cribbs, who has two 150-yard games under his belt, to 87 yards on four tries.
But it was Graham, a.k.a. Money, Golden or Shayne-o-Matic, who had the most significant field goal around these parts since, well, when? In fact, he may have locked up the first Pro Bowl berth for a Bengals kicker. Graham leads the fan voting, but the guy who leads him in the AFC scoring race, Kansas City's Lawrence Tynes, missed a walk-off winner in Dallas on Sunday night.
"He gets paid good money to do that," Anderson said. "But that tells you something about him. To be standing there with nerves of steel, and then, boom! Right down the middle. All I could say was, 'Thank you, Jesus.' "