New offensive coordinator Bill Lazor likes how Cordy Glenn sets the edge.
Offensive coordinator Bill Lazor has been going overtime making the scheme his own.
Usually the Paul Brown Stadium gym is reserved for walk-throughs for the offense and defense. But Lazor has been walking his coaches through his new playbook so they can get a feel for it before the players report next month.
Lazor has been meeting with new offensive line coach Frank Pollack anywhere they can, at the Senior Bowl, at the NFL scouting combine, in the office, in an effort to make sure the running game is in concert with the pass game, a concept that has often proved fleeting Bengaldom.
When it comes to stats, Lazor has zeroed in on one and it's not sacks or RPOs or completion percentage.
It's yards per rush in an effort to revive the worst running game in franchise history and when the trade for Bills left tackle  Cordy Glenn went through Wednesday, Lazor literally had his biggest weapon to improve it.
Last season the Bengals were mired in the bowels of NFL rushing with the fourth lowest yards per and the second worst total ground yards. The 6-5, 345-pound Glenn comes from a Buffalo offensive line that led the NFL in rushing and rushing yards per in 2015 and 2016, when Glenn played in 27 of those 32 games. He missed ten last season with bone spurs in his ankle.
"The attraction (to Glenn) was production," Lazor said during a conference call Wednesday shortly after the trade became official. "Tackle is a position where usually there are a whole bunch of plays in the game where it's clear if you did it well or didn't do it well. Usually you have one guy to block and I'd say he blocks them. It's a pretty simple answer. I think he's been a really productive player and we had a chance to watch him for a number of years. We feel really good about what he's done on tape."
The offensive line continued to evolve Wednesday in the first day of free agency under Lazor and new line coach Frank Pollack. An hour after Glenn was officially introduced, right tackle Andre Smith was gone to Arizona. Smith had been their most consistent tackle last season, but his departure had been foreshadowed by the trade of Glenn and the signing of former Giants starting right tackle Bobby Hart.
The Glenn move means Cedric Ogbuehi, the 2015 former first-rounder so gifted in space but so haphazard against the bull rush while starting at left tackle last season, is Glenn's backup. Starting right tackle Jake Fisher, who missed the second half of last season with an irregular heartbeat, has been cleared after surgery. With both Ogbuehi and Fisher still trying to find their way heading into the last year of their deals, no one is going to be surprised if they draft a tackle early.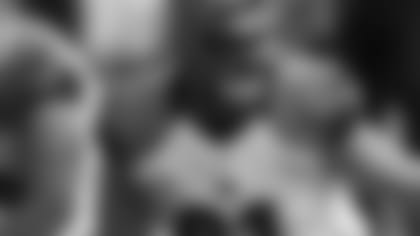 Center Russell Bodine's status is a big key in attacking the rest of the offseason up front.
But the story of this O-line rehab can't be complete until center Russell Bodine's status is resolved. They've said they want him and tight end Tyler Eifert back, but the question is if they can fit both in a $15 million free agency budget.
 Now that they are picking at 21 after the Glenn swap with Buffalo, the other factor is there are thought to be three solid center prospects in that range. But the Bengals like Bodine's experience and the durability that has allowed him to start all 64 games since they took him in the fourth round out of North Carolina.
There seems to be no question that no matter who his center is, Pollack is going to emphasize a physical, down-hill running game and Glenn is an ideal left tackle to do it. Not only is he a very large man, Lazor noted how well he can move in the running game.
"For a big man, he can move his feet," Lazor said. "It shows up when he pulls. He can run. When he goes to reach a defensive end, it looks like he can run and can get guys reached whose techniques are outside of him. And when he's in pass protection, even if a player makes a good second move on him, for a big man I think its exceptional how he can re-direct and get back in front of them. It's showed up over a number of years and against all different pass rushers. He's a big man that can move."
But Glenn is here because of one reason. He can protect quarterback Andy Dalton. That's what he does best, at least according to Profootballfocus.com. The web site rated him 31st and 21st in the run game among tackles in the 2016 and 2015 seasons, and 15th and seventh, respectively in pass protection.
"Let's face it," Lazor said. "In this league, whatever kind of offense  you are, at some point, in a bunch of games, whether it's a couple of third downs in the game or a drive at the end of the half to score, it's going to come down to passing situations where they know you're going to pass and you've got to block the edge. Whatever your style, you need people to block that edge. It's critical for us and this guy has proven he can do it."
A look at the top 10 40 yard dash performers of the 2018 NFL Scouting Combine