Three of Bengals cornerback Dre Kirkpatrick's(right)  last four interceptions have come against a Manning on Monday night.
EAST RUTHERFORD, N.J. - The frustration is now seeping in after the Bengals' 21-20 loss Monday night to the Giants at MetLife Stadium proved to be a microcosm of their season rather than a kick start.
At 3-5-1 they are still within a game-and-a-half of the first place Ravens in the AFC North, but they are two games under .500 at the latest point in the six seasons of the A.J. Green-Andy Dalton Era and in the throes of their longest road losing streak (four) since the 4-12 season of 2010, the last time they didn't go to the playoffs.
"I could go back over the last five or six years and as good as people think we have been there have been a lot of games that we eked out at the end, another team made a mistake and we got a lucky break that went our way, that's NFL football," said Pro Bowl left tackle Andrew Whitworth after his offensive line again failed to keep quarterback Andy Dalton clean. "I still feel that way about 2010. I thought that team was a much better team than the 10-game losing streak we had. It was the same kind of situation; it just never seemed to go our way. I think with this team though, the character we have, we can keep our heads down and keep working and turn this thing around."
But they seemed to realize Monday night they're running out of time and continue to be haunted by gnawing inconsistency in all three phases that has cost them dearly in their last two games, a tie to Washington and this one-point loss in which they stalled twice from the 20-yard-line or closer and gave up a fourth-down touchdown pass from the 3 for the winning points.
They erupted for seven points in 2:09 to start the game and put up 10 points in their first two possessions of the second half, but went scoreless for the game's final 21 minutes. And on defense they forced three straight punts to take the game over to open the second half, but on the winning touchdown drive they allowed a 24-yard run to the team ranked last in NFL rushing.
"It's getting to be nitty-gritty time.  Our division is wide open and we're just letting it slip away," said wide receiver A.J. Green, who had a cramp in his calf after battling a relentless double team featuring a safety over the top that held him to 68 yards on seven catches.
"We're letting it get away by not finishing these games. Tying and losing by one here. We have to start protecting our quarterback. We can't keep getting him beat up like that. Can't. Can't. Can't."
If you've seen one Bengals' loss in 2016, you've seen them all. This one had all the elements. The inability to protect Dalton at key moments and the failure to run the ball when they really needed to on offense. Like in the red zone. On defense there was the inability to stop the touchdown pass in the red zone and stop the run when they really had to. And penalties. Nine on Monday to the Giants' two with two holds wiping out third-down conversions.
"In every game we've played this year we've played good enough to win. We've also played not sound enough to lose," said safety George Iloka, who had one of the two interceptions of Giants quarterback Eli Manning. "Honestly, if you go back to every game besides the Cowboys game, we've been up there with the lead at some point.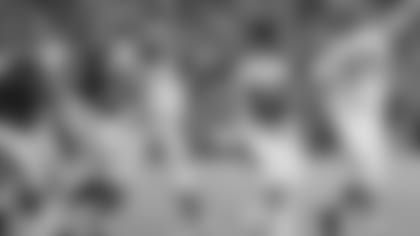 Running back Jeremy Hill split left tackle Andrew Whitworth and left guard Clint Boling for a TD, but he gained just 46 yards on barely three yards per carry.
"It's encouraging, yes, but it's also discouraging. You're right there and you inch out a loss or the other team inches out a win, depending how you look at it. We have to stay motivated. It's not looking pretty, but we're not out of it. Seven games and back maybe two out. We still have four division games left, which we can control those teams' loss column. But it still starts with us. We can't be watching the other teams to help bail us out."
The Giants, who came into the game with the fewest sacks in the league, capped their assault on Dalton in frightening fashion on three straight snaps beginning with 4:11 left in the game and the Bengals needing to keep alive a field goal drive from their 30.
The pocket collapsed three straight times. On first down the Bengals unwisely matched up tight end Tyler Eifert on Giants defensive end Jason Pierre-Paul and he nearly decapitated Dalton before he barely got away an incompletion.
 On second-and-10 the Giants gave the Bengals got a dose of their Double A gap blitz medicine with defensive tackle Damon Harrison and linebacker Johnathan Casillas sharing the sack but it could have been five of them as everyone fell on top of Dalton.  Then on third-and-17 left end Olivier Vernon moved inside standing up and shot past left guard Clint Boling for another sack.
It was a tough night for the offensive line because it struggled run blocking, too. They had another 3.4-yard per slog, this one on 23 carries, and when running back Jeremy Hill tried to convert a third-and-one from his 21 with nine-and-half minutes left with a fullback (Ryan Hewitt) and an extra offensive lineman (Jake Fisher) they could get no movement anywhere and had to punt.
With Green shadowed by a safety over the top for expect maybe "two or three snaps," he thought there might be  room to run "but we didn't capitalize," on the scheme.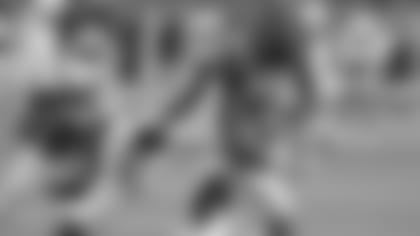 A.J. Green's TD against the Giants' Janoris Jenkins put the Bengals in an early tie.
The frustrations were just as deep on defense. If the offense had a costly red-zone miscue when rookie wide receiver Tyler Boyd couldn't hold on to a pass that could have been a touchdown but definitely a first down at the Giants 2, then the defense gave away points, too, when Manning stayed with the no huddle and calmly converted a fourth-and-three on a crossing route through a zone for a touchdown to rookie wide receiver Sterling Shepard that stood up as the winning points with 14:05 left in the game.
As ESPN analyst Jon Gruden noted, it appeared to be a mix up because the closest Bengal to Shepard was linebacker Vontaze Burfict, a matchup, Gruden theorized, the Bengals certainly didn't want.
"They just caught us in a good one.  We were in 'Switch,"" said cornerback Adam Jones of a scheme where players have to carry receivers through the zone.
Iloka said he was surprised the Giants went for it, but he welcomed it.
"It was an aggressive play call by them, but that's what you want," Iloka said. "If we stop them, that's huge. They get no points. That would have been crucial for us."
But Jones was lost in thought about the Giants' second touchdown, where wide receiver Odell Beckham Jr. beat him on a double move for a 10-yard touchdown catch with 1:17 left in the half for a 14-10 half-time lead.
"The bad part about it," Jones said, "is I watched every play they've done. I've seen that play 100 times."
On second-and-five, Jones recalled they ran the same play out of the same formation earlier and when he saw Beckham run that dig post, he jumped it. But then Beckham sailed behind him wide open as Manning pumped.
"I've got to be more patient," Jones said. "I should have just let him catch it and tackle the ball. That's the smart thing to do instead of trying to be a hero. He sold it."
Jones is also sold on an AFC North title. But he and his mates know time is short.
"We're still only two games behind with seven games to go," he said. "There's still a chance."
Or, as Eifert said, "It's a long season. It's getting shorter. We're not too far back. We have to play hard and control what we can control."
Cincinnati Bengals travel to take on the New York Giants in week 10 of the regular season.