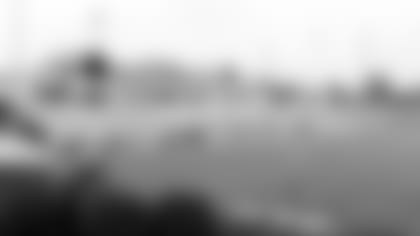 Georgetown College's Toyota Stadium
With an extra week to host Bengals training camp, Georgetown College is bracing for more big crowds and another attendance record upwards of 53,000.
The Georgetown, Ky., school is also sowing the seeds of another one-year extension with the club for the 2008 camp after its most extensive field renovation in years. As the Bengals wait on the results of reseeding one of the fields, Georgetown athletic director Eric Ward is optimistic it will pass muster with Bengals head coach Marvin Lewis and could pave the way for an extension announcement before the team reports July 26.
"I think everyone would like to hammer out an agreement before camp starts and not go into it with such a big question mark hanging," Ward said Tuesday. "We've done everything they've asked and hopefully it will sit well with them."
Although the Bengals have been toying with camping at Paul Brown Stadium the past few years, the current arrangement still seems to be a solid two-way deal. Lewis' exacting preseason schedule is eased by the convenience of the facilities and the school is looking for another financial success a year after setting camp records for revenue at an estimated $250,000, with $100,000 in parking, $125,000 in concessions, and $35,000 in corporate sponsorships.
With $40,000 in sponsorships already sold and more sessions than last summer, Ward is expecting at least the same numbers and most likely more than the 53,000 fans that gathered for what amounted to two weeks of workouts.
Because the Bengals' first two preseason games were in a span of five days last year, Lewis didn't bring his team back to Georgetown after the opener. After this year's Aug. 9 opener in Detroit, the camp lasts five more days with six more sessions that include a Monday night workout on Aug. 13.
But with travel to Detroit wiping out three straight days (Aug. 8-10), Wards figures there are probably only three or four more sessions than '06.
Yet, he knows the crowd will come even though the Bengals didn't match the 2005 AFC North title and failed to reach the playoffs last year at 8-8.
"There is still a high degree of interest, and there are a lot of marquee names with Marvin, Chad Johnson and (Carson) Palmer," Ward said. "I don't expect how last year ended to have much of an impact at all."
Ward indicated there will be a more experienced mindset when it comes to dealing with the crowds.
"I think we're just going to be better prepared mentally for it than we were last year," Ward said. "When 3,000 showed up the morning of the (intrasquad) scrimmage, you just don't expect that. Now we know, and everyone from our staff and our interns are going to know after going through it."
What the Bengals needed Georgetown to do this past year had more to do with the one place fans can't go. They needed to make sure the school supplied three NFL-quality fields.
"There were only two last year, but we were able to get by because camp was shorter," said Bengals business manager Bill Connelly. "We couldn't do that this year, and they've responded to what we've asked. You really need three because you've got so many guys and when you see special teams needing a field, the big guys working on the line, and the rehab guys needing a place, the space goes quickly."
The Bengals asked that the main field at Toyota Stadium be resodded from "fence to fence," and not just in the middle. Georgetown not only did it, but the field adjacent to the stadium was also resodded after it was unusable last year.
Plus, what seems to be the final piece for an extension agreement looks to be growing in strongly on the soccer field above the stadium, which has recently been reseeded with Bermuda grass.
"I wasn't very optimistic at first. I just didn't think they'd be able to use it when they first put it down," Ward said. "But it looks tremendous. The dry weather is exactly what that kind of grass needs. I think Marvin is going to be happy with it."
And if Lewis is happy ...
"They know how we like to operate camp and they work hard to meet our needs," Connelly said. "The buildings and fields are in convenient locations. It's close to (Cincinnati), yet it's far enough away.
"The issue has always been the fields. We'll get that resolved and there's an interest in moving forward probably on both parts."