Rookie Ryan Glasgow, seen here in training camp, has become a solid rotational player.
Ryan Glasgow is on pace to play the most snaps by a Bengals rookie defensive tackle in eight years and it works out just right since he's backing up the guy that did it and he's making the most of watching Geno Atkins' every move.
And Atkins is apparently doing the same. He's on pace to go to the Hall of Fame and he may shun the media and he may be stone cold quiet. But he's been in Glasgow's ear all year and has been the ultimate teammate. If he's a first ballot candidate for Canton, Glasgow can't tell.
"Not by his attitude and how he carries himself," Glasgow said Monday as the team reunited after the bye week for Sunday's game (4:25 p.m.-Cincinnati's Channel 12) in Pittsburgh. "He's just one of the guys … He encourages me on every play. He's a really reliable guy you can bounce ideas off and see what the offensive line is doing on the other side."
Glasgow is averaging 22 snaps per game and is earning props from the personnel department, to his linebackers, to veteran cornerback Adam Jones who puts him in the "freak," category with rookie rushers Carl Lawson and Jordan Willis. Like any economics major at Michigan, Glasgow understands the supply and demand for a three technique in the NFL and he's savoring the other 40 snaps or so he's watching Atkins.
"He's one of the best I've ever seen. It's pretty crazy playing behind a guy that seems destined to go to the Hall of Fame at this point. A guy who dominates every week. That's pretty cool," Glasgow said.
He's got a front-row seat for how Atkins explodes in the market place every Sunday and what has made the deepest impression is his mind over matter and how there is as much intangibles as innate skill.
"Obviously there are physical traits almost unmatched by any D-tackle in the NFL," Glasgow said. "It's also how he plays the game. His intensity and how he goes about his business, definitely his smarts and diagnosing the play quickly and pre-snap reads and seeing the demeanor of an O-line."
He sees it on film every day:
"On a lot of run-aways he can chase them down on the back side because he gets a jump on it. He feels the play is going to go away from him on a wide zone play. He'll either run it down or get in the A gap and chase it down for a tackle for loss (TFL). He does that stuff all the time."
Glasgow watches Atkins watch the offensive line. How it leans, the body language, the formation behind it.
"All that stuff," he said. "Are they looking right at him trying to roll him off the ball? Are they setting back ready for the pass? He's really good at reading stuff like that and it shows in his play. I feel like he's got as much talent as he does between the ears."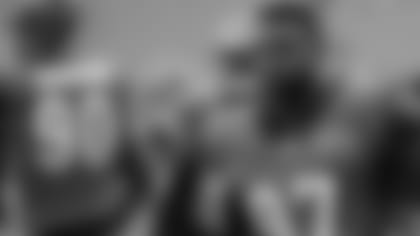 Geno Atkins: lending a hand.
He's getting plenty of help from everyone else up front on a defense he notices where "the veterans take care of the young guys." Nose tackle Pat Sims, the oldest draft pick on the team as the third-rounder from 2008, isn't a grumpy old man to him. Glasgow doesn't play the nose as much as he plays the other side, but he'll get plenty of snaps there against passing teams.
"Pat's a good dude," Glasgow said. "He helps me out with stuff in the game plan I may not be up to speed as much as he is because I don't really practice it as much,"
The 6-3, 300-pound Glasgow's versatility at both spots is a reason they took him in the fourth round, looking like a worthy heir to the defensive linemen they've grabbed in that spot dating back to Robert Geathers and his 152 games in 2004. That includes Atkins in 2010 as well as Domata Peko in 2006, a guy that Glasgow sees routinely on film and watched on this past Sunday Night Football starting for Denver.
"It's a pleasure watching him. It looks like he can still play," Glasgow said. "He knows all the guys here, I've never met him … I hear them talk about those guys that have been here. They were talking about that (Antwan) Odom guy that had all those sacks (five) against Green Bay."
They chose Glasgow with their third pick in the fourth round, which shows you why they covet those compensatory picks and don't sign unrestricted free agents. If they're going to gamble on a 50-50 shot, they'll do it on youth with guys like Glasgow that display attributes they think can potentially translate into a long, productive career at both spots.
"He's not limited in his future here," says director of player personnel Duke Tobin. "He's brought over what we saw at Michigan. High energy. Plays hard. He's a good technician. He's versatile. Those guys are going to get what they earn.  A lot of those young guys are playing a lot of snaps for us and they've been getting what they earned."
Glasgow doesn't have a sack yet and according to profootballfocus.com he's rated in a tie for 66th among 90 NFL defensive tackles. But he's also rated in the pass rush above guys like Bills Pro Bowler Kyle Williams and top draft picks like Star Lotulelei and Ziggy Hood.
"When I first got here I didn't know how much I'd play," Glasgow said. "But I think in camp and in preseason and  in the games so far I've earned my right to rotate with Geno," Glasgow said. "And he's been really good about helping me."
The understudy gets ready for another performance.
Cincinnati Bengals host practice at Paul Brown Stadium Practice Fields 10/16/2017