Geno Atkins in action last year. Paul Guenther says he's better.
Check out Geno Atkins' first two snaps of this season and you know why Bengals defensive coordinator Paul Guenther said Saturday that his perennial Pro Bowl defensive tackle has "raised his game," if that is humanly possible.
"He's running after the ball better. He's quicker," Guenther said, a day after the 17-16 loss to the Vikings in the pre-season opener. "For a guy you think can't get any better, he has."
Take the first play of the first defense's only series of the night and former Bengals right tackle Andre Smith should have known what was coming. Tight end MyCole Pruitt helped Smith block Atkins on a play-action pass, but Smith pushed Atkins over to Pruitt and Atkins ran right through Pruitt on the way to mauling Vikings quarterback Teddy Bridgewater.
Atkins couldn't bring him down and Bridgewater managed to find Pruitt fleeing from Atkins for a three-yard gain instead of 15-yard loss.
But on second down, with the coverage forcing Bridgewater to hold it and Smith and tight end David Morgan working on left end Carlos Dunlap, the enormously strong 300-pound Atkins walked back 305-pound backup guard Joe Berger just far enough in the pocket. Then when Bridgewater tried to scramble, Atkins fell off Berger and sacked Bridgewater for a two-yard loss.
"The other day in practice he had a spin move he never used to have," Guenther said. "Just when you think he can't get any better, he has."
About halfway through last season, Guenther began pushing Atkins for votes for MVP and Defensive Player of the Year. But profootballfocus.com actually rated the Rams' Aaron Donald and Atkins 1-2 last season at defensive tackle and Guenther won't buy it. Especially after his first two snaps of 2016.
"To me, he's the best inside pass rusher in the league. Not even close," Guenther said. "Because he plays the run well and rushes."
Overall, Guenther emerged pretty pleased with everyone else in Friday's game.
"They played hard. We made some good stops on third and short," he said of a defense that was overall 42 percent on third down.
But he did circle five plays that galled him, particularly the blown safety on the game's second series when he put in the second team to work against the Vikings starters.
After hitting Bridgewater on the first three snaps, on the fourth snap they dumped running back Jerick McKinnon for a two-yard loss on safety Derron Smith's blitz. They continued the domination when right end Will Clarke heaved left tackle Matt Kalil into fullback Zach Line and McKinnon ran into both five yards deep in the end zone.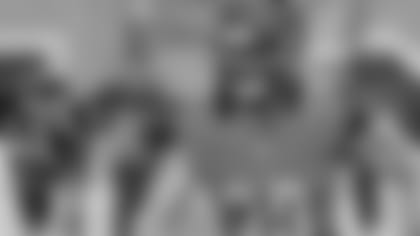 Margus Hunt (99) played 36 snaps along various spots on the defensive line Friday.
But McKinnon slithered away for 10 yards when left end Margus Hunt got washed out of contain and SAM backer P.J. Dawson left his post on the back side to try and make a play on the ball.
"We were bad on the back-side run fits," Guenther said. "If we're where we're supposed to be, its five yards deep and we win … There's no one in the cut-back lane, it's an easy safety."
One of the Scrutinized Five involved a coaching favorite, rookie linebacker Nick Vigil. It's been documented how WILL linebacker Vontaze Burfict is calling him "Luke," because Vigil's style of play reminds him of Panthers Pro Bowl linebacker Luke Kuechly. But now they may have to start calling Vigil "Tez."
Particularly since Vigil played a lot of middle backer Friday night with Trevor Roach (hamstring) and Burfict (Coach's Decision) not playing and led the Bengals with six tackles. Vigil played some middle in spring ball, but not much, and Guenther didn't see the fluster that often accompanies a rookie's debut.
And Vigil had plenty of chances. His 36 snaps were behind only the 41 of lineman Marcus Hardison and the 37 of linebacker Marquis Flowers on the defense.
* *"He's the kind of kid that reminds when (Burfict) was a rookie.  Tell him once and he gets it," Guenther said. "The next time he doesn't mess it up."
So Guenther is banking on him not biting on an underneath route again like Vigil did on the last play of the first half, which opened the field for Vikings wide receiver Laquon Treadwell 's 18-yard catch and Blair Walsh's last-snap 51-yard field goal that bounced off the crossbar and through.
"It's just understanding the situation," said Guenther, who came into training camp trying to shore up the one-minute and two-minute scenarios that plagued the defense last year. "It's not like we watched them or game-planned them in anyway. I really kept the coverages vanilla to let us execute. I didn't have an issue, really. Just the one play."
Other plays Guenther took a look at were Derron Smith not making a play on Bridgewater's high throw in the middle of the field that converted a third-and-seven ("Because he's good at it")  in Minnesota's first TD drive and the wide-open 49-yard TD catch by wide receiver Charles Johnson, where Guenther indicated cornerback Chykie Brown "sat," on the route.
Guenther thought Hardison played well in a variety of roles up front and clearly Hunt is getting a long look. They opened with him next to Atkins at tackle in the first team nickel package and Hunt ended up playing 36 snaps in a variety of spots. For instance, in that last series before the half Hunt rushed from the tackle spot and on the first series of the second half played left end in the base defense.
Cincinnati Bengals face off with the Minnesota Vikings at Paul Brown Stadium in week 1 of the preseason 8/12/2016