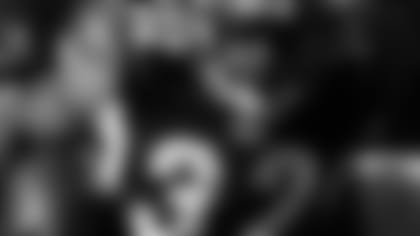 Rudi Johnson rushed for 46 yards and a score. (Bengals photo)
After an almost flawless first half, the Bengals had no answer for Falcons quarterback Michael Vick's high-flying offense that took over the second half and the clock in Atlanta's 29-27 victory.
If you think this was a big game, what about next week? The 4-3 Bengals travel to 5-2 Baltimore to either gain a tie for the AFC North lead or fall into a two-game deficit.
It was the kind of loss that shook the locker room as offensive veterans Willie Anderson and Rudi Johnson questioned the lack of a running game on a day the Falcons held the ball one quarter longer than the Bengals and the Bengals lost their grip in a tight game.
"We need to toughen up; we need to man up," Anderson said. "We have tough guys ... but it's spotty. ...The goods teams have it; we don't. Point blank."
Anderson said if the club can't find an answer, "Make changes. Shake guys up."
After Johnson spurred Cincinnati's opening touchdown drive on five carries for 32 yards, he carried just seven more times and finished with 46 yards.
"It's a joke," fumed Anderson. "To see them put who they put over me (and the rest of the offensive line) and say you can't run the ball, that's a joke."
Johnson added, "There's too much going on, trying to do too much. Stick with what's working. If you're trying to win, if you want to win the ballgame, stick with what's working. If they find a way to stop it, change up but don't cold turkey something for no reason."
On a day the Bengals dared Vick to throw, he outpassed Bengals quarterback Carson Palmer in hitting 20 of 28 passes for 291 yards and torching the Bengals for a supersonic 140.6 passer rating while Palmer went 24-of-36 for 266 yards before 65,978 Sunday at Paul Brown Stadium.
The Falcons snapped the Bengals' string of eight straight wins over NFC teams at PBS, as well Cincinati's 25-game streak of forcing at least one turnover.
Johnson said he's not lobbying the coaches for more carries, just "play football," he said.
"I'm not saying run me 50,000 times, especially when it's not working," Johnson said. "I'm just saying you move up and down the field with what's working. Keep doing what you're doing until they find a way to stop it.
"Our offensive line could have manhandled them all day. And they know that. Our offensive line knows that. They know they could have manhandled them all day long. Up and down the field. When all is said and done, we could have had our way with them. They could have helped everything out. It could have eased up the pressure on defense. Everything."
The Bengals cut the lead to 29-27 with 3:41 left when Palmer hit wide receiver Chris Henry down the middle for their longest pass of the season and a 55-yard touchdown. Palmer had the kind of time in the pocket he rarely had in the second half, when the Falcons decided to empty the middle of the field and blitz Palmer from all over.
"They brought a couple of pressures where we didn't have enough people to pick them up and we didn't convert on the hot routes," Palmer said. "They did a good job covering up the guys that are supposed to be running the hot routes and getting open."
Vick's killing throw came after the Henry touchdown when he hit Alge Crumpler for a 17-yard pass over the middle on the snap before the two-minute warning, the death knell for a Bengals team that had no timeouts.
The game fittingly ended with Palmer on the ground, sacked, even though Atlanta rushed just three. He was sacked just twice, but had heat much of the second half.
With the Falcons clinging to a 26-20 lead early in the fourth quarter and ripping off seven of their first 10 third-down conversions, Vick completed a back-breaking 21-yard completion that set up Morton Andersen's 39-yard field goal with 7:42 left to give Atlanta the huge two-score lead. Vick scorched the Bengals on a drive that consumed more than seven minutes, and he took advantage of defensive end Justin Smith spinning inside on a three-man rush.
That gave Vick time to roll out and find wide receiver Roddy White in front of cornerback Deltha O'Neal.
Vick picked on O'Neal moments earlier, when fullback Justin Griffith got behind O'Neal on the perimeter on an eight-yard touchdown pass with 2:21 left in the third quarter that broke up a 20-20 game. That was set up on a 22-yard pass to Crumpler (another guy the Bengals couldn't solve on his 72-yard day) and a roughing penalty against Vick that was called on rookie middle linebacker Ahmad Brooks.
The Falcons' bid for a two-point conversion failed when the point-after-snap was dropped, but it didn't come back to haunt because the Bengals offense left its game in the first half.
After a roughing the passer penalty on Falcons defensive end Patrick Kerney, the Bengals could only get a 26-yard field goal from Shayne Graham that tied the game at 20 with 4:34 left in the third quarter.
Wide receiver Chad Johnson backed up his bilingual boast with some big catches Sunday (six catches for 78 yards), but the Bengals had trouble giving Palmer time to throw the long ones.
Johnson's NBA move off his catch and run from 12 yards out helped give the Bengals a 17-13 halftime lead as the offenses combined for 432 yards in the half.
Vick, who hit 12 of 18 passes in the half for 158 yards, hit Crumpler muscling through safety Kevin Kaesviharn for a 16-yard touchdown pass with 1:54 left that cut the Bengals lead to 14-13.
But Palmer, in a zone of his own, wheeled the Bengals back down the field to get Graham's screeching 51-yard field goal into the wind with 15 seconds left in the half for his longest kick of the season and the second longest behind his career long of 53 against Denver in 2004.
Palmer hit 13 of 21 passes for 131 yards and a 95.5 passer rating in the half, and the big play in the two-minute drill was his 18-yard throw to leaping wide receiver T.J. Houshmandzadeh among three Falcons against a blitz that Atlanta unveiled in the last drive.
Houshmandzadeh had a big half with 68 yards on five catches (he finished with six for 70), and started the Bengals' second touchdown drive when he followed Chad Johnson's block on a 13-yard reverse. Chad got his first catch of the day a few plays later with 8:36 left in the half on a seven-yarder in front of cornerback Jason Webster and got his helmet knocked off by safety Lawyer Milloy.
Johnson followed it with his second and last catch of the half. He caught a quick throw from Palmer at the line of scrimmage at the Falcons 12, deked Webster inside, beat him back outside and then dragged Milloy as he stretched for the pylon.
Bengals open strong early
After scoring just four touchdowns in the last two games, the Bengals looked like their old selves on Sunday, especially on the first series when they opened the game with a crisp 10-play drive that resulted in Rudi Johnson's one-yard touchdown for a 7-3 lead with 6:40 left in the first quarter as the Bengals responded to Morton Andersen's 42-yard field goal.
But Rudi got it just one more time in the half and went into the locker room with 34 yards on six carries.
The Bengals scored for the 17th straight time this season in the red zone on that first drive when Palmer hit Houshmandzadeh on a quick four-yard turn-in on third-and-two and Johnson set up his own score when he followed fullback Jeremi Johnson on an eight-yard draw to the one. Rudi then got his fifth touchdown of the season following pulling left guard Eric Steinbach to the right side.
Palmer, who extended his string to 153 straight passes without an interception, had plenty of time most of the half. With Atlanta sack ace John Abraham not playing Sunday, the Falcons opted to move end Patrick Kerney over rookie left tackle Andrew Whitworth.
But Vick wasted no time showing the Bengals why is he one of the NFL's most dangerous players in staking Atlanta to a 3-0 lead on the game's first series. On consecutive plays he hit Ashley Lelie for a third-down conversion on a 28-yard pass over cornerback Tory James and then ran untouched around right end for 14 yards with the Bengals biting on a play fake to the left.
Yet the Falcons, who came into the game with the worst red-zone offense in the NFL, had to settle for Andersen's 42-yarder just before they reached the red zone. And they had to do it again on the next series when Cincinnati stuffed the NFL's best running attack with rookie tackle Domata Peko and veteran safety Dexter Jackson combined to stop running back Warrick Dunn on three yards with two carries from the Bengals 25. After wide receiver Roddy White got his feet tangled in the end zone with James on third-and-seven, Andersen made a 40-yard field goal to cut the lead to 7-6 in the last minute of the first quarter.
The Bengals defense held its own with the explosive Falcons in the first half. Vick hurt them at times with his 112.7 passer rating and rookie running back Jerious Norwood burned linebacker Landon Johnson's missed tackle for a 32-yard catch-and-run on Atlanta's touchdown drive.
But the Bengals also got a nice open-field tackle from defensive end Robert Geathers that tripped up Vick for a loss, and defensive tackle John Thornton punched the ball from Vick on another short run, although the Falcons recovered the fumble.
The Bengals did a decent job against the feared run in the half. The Falcons had 4.4 yards per pop on 17 carries for 75 yards. Vick had 27 of them on five carries. The Bengals ended up holding that No. 1 running attack to 3.8 yards per pop. The problem was they had 38 chances because of the third-down failures.
The Bengals suffered a tough loss on defense early in the second half when Kaesviharn left the game with a knee injury. Kaesviharn had been a force in the first half neutralizing the Falcons' elite special teams.
PREGAME NOTES: The Bengals showed their faith in rookie middle linebacker Ahmad Brooks on Sunday when they kept him in Sunday's starting lineup and moved Brian Simmons to the strong side in place of the injured Rashad Jeanty.
Simmons, the nine-year veteran, added the Falcons to his resume. It's his first start at strong under head coach Marvin Lewis after 31 on the weak side and four in the middle this season before he missed the last two games with a neck injury.
In those two games, a 14-13 loss to Tampa Bay and last week's 17-14 come-from-behind victory over Carolina, the defense played well while Brooks made his first two NFL starts in Simmons' spot and led the team in tackles each game.
Brooks, a third-round pick in July's supplemental draft, arrived late but with a scouting report that raved about his combination of speed and 6-3, 260-pound frame. Against the Bucs 10 of his 14 tackles were solos, the most by a Bengal this season, and last week he racked up his first career sack, his second tipped pass and eight more tackles while Simmons played sparingly in a reserve role.
With Jeanty missing his fourth straight game with a foot injury, the move kept Landon Johnson and his 43 team-high tackles on the field. Johnson went back to weak, where he started the first three games of the season before Jeanty got hurt.
Along with Simmons, the Bengals also got back strong safety Dexter Jackson for his first start since he twisted his ankle Sept. 17 against Cleveland. Jackson took about 20-25 snaps backing up Kevin Kaesviharn and had three tackles and a pass defensed.
As expected wide receiver Chris Henry was activated for his first appearance since coming off a two-game suspension from the NFL. With rookie Reggie McNeal as the third quarterback, the Bengals fourth and fifth wide receivers were rookies Glenn Holt and Ethan Kilmer.
Besides Jeanty, also inactive for the Bengals were a pair of injured offensive linemen, center Rich Braham and left tackle Levi Jones, as well as limping wide receiver Kelley Washington. Rookie safety John Busing and rookie linebacker A.J. Nicholson were also down, as was quarterback Anthony Wright in his third week of recovery from an appendectomy.
With Tab Perry and Anonio Chatman on injured reserve, running back Chris Perry returned the opening kickoff 22 yards to the Bengals 26.
In a funkier than usual warmup, wide receiver Chad Johnson emerged from the locker room with "Ocho Cinco" sewn over the front of "C.Johnson" on his nameplate. Earlier in the week in honor of Hispanic Heritage Month, Johnson declared his name for the week would be "Eight Five" in Spanish.
Also Bootsy Collins unveiled his second Bengals video with the premise centering on Collins leading the Bengals bandwagon and picking up the past with former players such as Cris Collinsworth, Dave Lapham and Ickey Woods. Other alums making cameos are Tim McGee, Joe Kelly, Mike Martin, Vaughn Booker and David Fulcher.
Fulcher doubles as the team's compliance officer in uniform matters and he said that changing a name on the uniform is a finable offense. But Johnson removed it for the game.