The players. The coach. The founder. The game. Everything is where it should be.
Like Ken Anderson's moustache. Dave Lapham's biceps. Ken Riley's sideburns. The smoke steaming off Eddie Edwards' ears. The Riverfront Stadium scoreboard, locked at Bengals 27, Chargers 7.
Jan. 10, 1982. Twenty years ago when owner Paul Brown walked through the minus-59 wind chill to the home locker room to congratulate the first Bengals team to ever go to the Super Bowl.
"I remember how elated he was," said coach Forrest Gregg. "He had a big smile and said, 'We're going to the Super Bowl.' "
Twenty years ago this Jan. 10. But Brown and Gregg helped sow the roots of the Bengals victory in the Freezer Bowl on a muddy field in Philadelphia 20 years before that. It always seems to be like that in the NFL, where small quirks of history end up blocking for championships.
In 1960, Gregg was the right tackle for Vince Lombardi's Packers. Lombardi decided to prepare for his first NFL championship game indoors in Green Bay. But in a tossup 17-13 loss to the Eagles that ended with the Pack on the Philly 10-yard line, Lombardi and his players wondered if the great outdoors gave the Eagles the edge. Temperatures were in the high 40s, but Franklin Field was muddy with icy patches in the shadows.
Gregg never remembered Lombardi going indoors to practice again on the way to five NFL titles. The last one was secured in the 13-below lore of the Ice Bowl on Dec. 31, 1967 in Green Bay, the only NFL game played in colder conditions than Cincinnati's AFC championship game 14 years later.
The Ice Bowl turned out to be the next-to-last game Lombardi coached the Packers and became the ultimate moment of his "Winning Is The Only Thing" legend. One of the reasons Lombardi was there for a fifth title is because he listened to the advice of the only man to win more professional championships than he. When Lombardi's hometown Giants came courting during that 1960 season, Paul Brown, then coaching Cleveland, urged him not to leave for New York because Green Bay had been struggling so much before he arrived that the Packers franchise might die if he left.
There were other factors, such as Lombardi having more power in Green Bay than he would have in New York. But Lombardi heard Brown's argument, which was also used by NFL commissioner Pete Rozelle.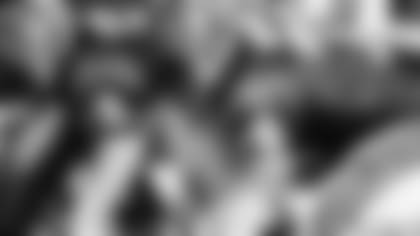 It all came in full, frigid circle 14 years and 10 days later in Cincinnati
at nine-below zero and at the top of the world.
"If there's one thing I learned from Lombardi," Gregg said, "it was if you're going to play outdoors, you have to practice outdoors. I think that helped us more than anything because we got more reps, more plays in that week outside.
"The difference in the two games was that the equipment was better (in 1982). In Green Bay, the field was ice. You couldn't plant to pull or cut. Except for a few patches, there was no ice in Cincinnati. And the shoes were better."
It had been bitterly cold in Cincinnati all week and the weather forecast for the Bengals' first-ever title game appearance was ominous. Riley, playing the first championship game of his 13-year career, told his wife to stay at home and watch on TV "instead of subjecting yourself to the elements."
Cornerback Louis Breeden remembers it being so cold in practice that it hurt.
"Forrest didn't keep us out there very long," Breeden said. "But I remember thinking, 'What are we doing out here?' "
It quickly became obvious during pregame warmups. Breeden put on pantyhose, a sweatsuit, thermal underwear, anything he could find. Usually, he would stay out for about an hour to get loose. But Gregg called in everybody after about 10 minutes.
Gregg may have been an old school Lombardi guy, but the old man didn't have the modern conveniences Gregg had at his disposal. While Lombardi would only let the offensive linemen wear gloves, Gregg let his receivers wear what he called the new "golf gloves." Except tight end M.L. Harris.
"M.L. had these big leather gloves," Gregg said. "I mean regular gloves, just like you would wear around driving your car or something. I asked him, 'Can you catch in those things?' and I saw that he could so I let him wear them. If you've got the equipment, use it. I'm not interested in seeing how tough of a man you are."
But Gregg cast an admiring glance at his offensive linemen. Led by Lapham, his left guard, the O-line had decided to play in their shirt sleeves.
Gregg, Jerry Kramer, Fuzzy Thurston and the boys had never dreamed of doing that against the Cowboys all those years ago.
"I was thinking, 'You're better men than me,' " Gregg said.
Lapham wanted to keep his arms bare so the Chargers' feared "Big Hands" Johnson couldn't grab anything for leverage on the way to the quarterback. They slathered their arms with Vaseline to make it really tough to grab and then rubbed it in on the Chargers by just showing up in warmups literally breathing smoke.
"It was a psyche game all the way," Riley said. "I remember when we would go to Pittsburgh and (Steelers center) Mike Webster would do that with his guys: play with no sleeves. And Pittsburgh is cold like Cincinnati.
"Before the game, I got together with our defensive linemen. Eddie Edwards, Ross Browner, Wilson Whitley, and I told them they should do the same thing. We did. The Chargers were coming from California. They didn't want to be out there. We heard they showed up for practice Saturday and got right back on the bus to go back to the hotel."
In fact, Chargers owner Gene Klein tried to get the Bengals not to play the game. He met with Bengals assistant general manager Mike Brown Sunday morning and urged him that they call Rozelle together and ask him to postpone the game. Brown, now the Bengals president, could see the Bengals had the Chargers' stat-popping passing game led by quarterback Dan Fouts right where they wanted it and told Klein no.
"It was so cold," Mike Brown said, "that you were hot. Maybe because you had so many clothes on, but it was odd. The one thing I remember is that every time Fouts tried to throw a long pass, it would just die. Like it would hit a glass partition."
Breeden, who ended up wearing only the pantyhose under his uniform because he couldn't move in anything else, saw the ball react crazily.
"I went to jump for one of Fouts' passes and it ended up hitting at my feet," Breeden said.
That wasn't the craziest thing on a crazy day all facial hair froze. That probably happened to Edwards. It was the first game Riverfront had heated benches, but the modern comforts didn't seem to help Edwards. He burned his ears trying to keep them warm in a heated cap and Riley swears, "he burned them raw. You could see the smoke coming off his ears."
And, oh yes, the Bengals ended up playing the most efficient game in their history. Anderson, the NFL MVP, remembers quarterbacking the Bengals into two scoring drives straight into the wind chill factor. He was known for his efficiency and this was his signature game. It showed he should be in the Pro Football Hall of Fame with Fouts.
Fouts did throw a 33-yard touchdown pass to tight end Kellen Winslow on a miserable day to pass, but he also threw two interceptions. Anderson surgically hit 16 of 22 passes for 161 yards, the longest a 19-yarder to tight end Dan Ross over the middle that Anderson dropped over the linebackers in the Chargers' two-deep zone.
And Anderson threw for two touchdowns. The first, longest and most important was an eight-yarder to the gloved Harris in the middle of the first quarter. That made it 10-0 and came a few plays after the Chargers suffered a mentally-jarring fumble by their rookie kick returner. James Brooks would help lead the Bengals to their next Super Bowl seven seasons later, but he also helped get them to their first with that fumble, one of four Chargers turnovers that made the difference.
"We only had one turnover and that was late," said Anderson of Ross' fumble on the last series. "That was a big reason why we won. We were used to it. We practiced in it. And going up 10-0 so early was big. We stuck with underneath routes and crossing patterns. A lot of that stuff we did all year."
San Diego's Hall of Fame aerial circus never got off the ground. While a future Bengal in Brooks struggled, Breeden stepped in front of a former Bengal in receiver Charlie Joiner for an interception that set up the touchdown that made it 17-7.
"They didn't feel like catching it and I didn't feel like guarding them," Breeden said. "They weren't happy about the conditions, but people forget that we beat them pretty good out there."
Back on Nov. 8 in the San Diego greenhouse, Breeden set an NFL record by taking an interception 102 yards for a touchdown in a 40-17 victory. These Bengals were a powerhouse in any conditions, the team that Mike Brown calls the best in franchise history.
"What didn't we have on offense?" Anderson has asked several times down through the years. "We had a 1,000-yard running back who ran over you in Pete Johnson. Danny Ross was a 70-catch-a-year tight end. (Receivers Cris) Collinsworth was sneaky fast, Isaac (Curtis) could still run and we had a fast third receiver in Steve Kreider who could also produce."
And they all clicked in the cold. With Johnson banging it out on the ground, Ross caught five balls for 69 yards. The Bengals outgained the Chargers only 318 to 301, but it was the turnovers that made the difference.
In the Ice Bowl, the defining moment had been Packers quarterback Bart Starr coming into the huddle with 16 seconds left and the Packers looking at third-and-one from the 1 and trailing Dallas, 17-14, with no timeouts. He scored on a wedge play in which he knifed behind center Ken Bowman and right guard Jerry Kramer as Gregg tried to dig in on the ice next to them.
"There wasn't any play like that in this game," Gregg said. "But what I'll always remember is how our guys played like it was another game. They just went to work like it was any other day. And the way they executed in those conditions was just amazing. We played as if it was a normal day."
It wasn't, of course. It was the day the Bengals got to the big game. Riley remembers being "on a natural high" in the locker room. Breeden remembers guys just happy to thaw out, never mind going to the Super Bowl. Anderson remembers how happy Paul Brown was as he shook hands all around.
When it gets cold, Anderson still has that feeling. His fingertips still get sore in the cold. Ever since that day, he has to wrap himself in clothes at the first sign of a drop in temperature.
"I went to a friend's house that night," Anderson said. "'Take your coat?' I said, 'No thanks, I think I'll keep it on for a little bit.' I wasn't warm enough to take off my parka until about 11 o'clock."
Which is funny. Twenty years ago on Jan. 10. The coldest day in Bengals history has the warmest memories.
"It was a great day," Mike Brown said. "I would dearly love to have another one just like it."