Sixth-rounder Cody Core showed his NFL hands in Friday's first day of rookie minicamp.
The first-round pick, Houston cornerback William Jackson, looked like he'd been around for half a decade and the third-round pick, Utah State linebacker Nick Vigil, looked like he'd been around for the other half.
The fourth-round pick, Baylor defensive tackle Andrew Billings, stoned one of his own 300-pounders on a tackle stunt and put him on the ground while the fifth-round pick, Arizona State guard Chris Westerman, didn't blink as one of offensive line coach Paul Alexander's six centers.
Such was the first day of rookie minicamp for the Bengals Friday at Paul Brown Stadium, which went off so crisply that even head coach Marvin Lewis, who barely tolerates rookies (publicly, anyway), couldn't say enough.
 "That's probably the best opening day we've ever had with that," Lewis said of the tempo and keeping bodies off the ground. "We've tried to impress that upon them, and they heard my warnings.
"They haven't been practicing football. But it shows they've been doing things to get ready to get here. That's good."
And that means the receivers, too, which should soothe Bengaldom for about 10 minutes or so in the hunt to replace Marvin Jones and Mohamed Sanu.
Barely did a ball drop on Opening Day as second-round pick Tyler Boyd flashed NFL quickness and sixth-round pick Cody Core maneuvered his NFL body and NFL hands (ask Jackson about the quick hitter where he wooshed by and ran away from him) until he had to get carted off the field late with an NFL-sized cramp.
A long way to go, but, and it's no small thing, they looked the part, as they say. And so did the three undrafted rookies that prove receivers come in all shapes and sizes. Alonzo Russell of Toledo carried in his 6-4, 206-pound chip on the shoulder, caught the ball smoothly, and can't wait to hook up with Bengals Pro Bowl wide receiver A.J. Green.
"That's who I'm always compared to. I guess because I'm tall and go get it," Russell said. "I'm hoping he can teach me some things. I'll soak it in."
Meanwhile 6-0, 190-pound slot candidate Alex Erickson of Wisconsin looked comfortable in any role and 6-0, 202-pound Antwane Grant out of Western Kentucky "had a good day and didn't look out of place," said receivers coach James Urban.
"Receivers come in all mixes and models and we represent that in what we have right now," Urban said, "They had great effort and I think we had one ball late in team period on the ground. That's what we tell them. When in doubt, catch the ball. They might run the wrong route or run the wrong depth. But catch the ball and I thought they did that."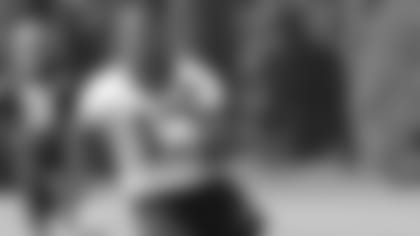 Rookie free-agent Alonzo Russell says he's heard comparisons to A.J. Green when it comes to style of play.
It is weekends like this that Lewis is banking on to cut down mistakes. There was a time a few years ago when Kentucky Derby weekend was free with no rookie minicamp. But with time with players getting more and more precious and rookies becoming more of a factor, here we are.
"We want to maximize the amount of time we can spend with these guys. This gives us an opportunity to spend time with them on the field, and the coaches to work with them," Lewis said. "We're not overdoing the team aspect of it. The receiver needs a little bit of that. We want to put Tyler Boyd and Cody Core in a position to learn the offense as quickly as possible. .. Those young guys that have an opportunity to contribute on offense, like Christian Westerman. We're doing this for them; so they have the opportunity to get as close to football as we can." 
History shows the Bengals aren't going to get blockbuster rookie seasons out of Boyd and Core, the leading candidates to fill in behind Green and Brandon LaFell. In 2012, Jones caught 18 balls and Sanu 16. And with Pro Bowl tight end Tyler Eifert and running back Giovani Bernard other options, they don't need blockbuster. Just competence.
And Boyd seemed to get that Friday.
"It's all about me making good decisions around here," Boyd said. "I think that's been floating around about me making decisions, being more mature, being grown, handling my business. I feel like how I carry my business off the field is what they're looking at the most."
Boyd was referring to a DUI incident last year, but the Bengals seem to feel like he's got what it takes on and off the field. Sure, he gives off a whiff of cocky, but Lewis doesn't mind that.
"That's why you pick a guy like that. You don't want to pick a church mouse. It won't go very far if you do," Lewis said. "He's going to be a good player."  
Boyd may not be as polished or as experienced as Jones, but he's got some quicks. As a former high school Wildcat quarterback, Boyd also ran it and threw it at Pittsburgh, rushing 63 times for eight yards per carry. He didn't show he can consistently stretch the field like Jones, but he says there were reasons.
"Pitt had a lot of routes going downfield," Boyd said. "What limited me was the loss of a running back. Every time they saw me line up on the outside, they would double me with the safety so that I wouldn't be able to stretch the field. They plugged me in the slot with little quick stuff. That would allow me to get yards after catch. Get what I can. On the outside we'd take some opportunities. But they didn't respect our running game. I was a running back in high school, so my (yards after catch) is pretty legit."
So are his hands. He teamed up with Erickson to flawlessly catch punts jettisoned from tryout player Cody Mandell of Alabama. Secondary coach Kevin Coyle, who helps special teams coordinator Darrin Simmons with the returners, liked what he saw and Lewis went as far to say they could help in that area.
"It was breezy. It was windy. We didn't know the punter. They were trying to get the right depth," Coyle said. "For the most part they were really good catching the ball. They didn't have time with the jugs machine or anything like that, so that was impressive."
But then, everyone caught the ball. There were some who'll tell you that at his Ole Miss Pro day, Core looked like the first-round receiver and not Laquon Treadwell. How about Toledo's Russell? He was all-league four years running with a 4.48 40-yard dash in his past and didn't get drafted.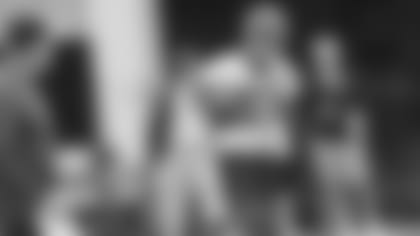 Tyler Boyd got his feet wet catching punts as secondary coach Kevin Coyle monitored.
"I was a little shocked. A lot of teams showed interest," Russell said, ticking off Washington, Green Bay, Oakland, Philadelphia, and Jacksonville. "I have to prove my worth all over again. I feel like I had a successful college career and it still wasn't good enough. I have to take it up another notch. I wasn't respected for what I did. I have to go out there and get that respect. It started when I walked in here."
Russell, who has an ear issue that is to get treated, expects to be on the field when the rookies and vets get together at the end of the month. He did catch balls without a helmet in some of the drills Friday and his skills came as no surprise to undrafted Bowling Green quarterback Matt Johnson, the MVP of Russell's MAC.
"He's a great target. I've been watching him for five years," Johnson said. "I've seen it so many times where they throw it in his vicinity and he goes up and gets it one-handed and two-handed. It doesn't matter. He goes up and gets it. That's why he's here."
Erickson is here because he was invited as one of the Bengals' 30 visits for draft prospects and immediately felt a connection. Kind of like the one he felt as a walk-on quarterback at Wisconsin before becoming a highly productive receiver in his last two seasons. Here's a guy that ended up having more catches in Madison than the great Al Toon.
"I saw the environment and I felt the right vibe. I had a relationship with Coach Urban," said Erickson, a schoolboy basketball and track star as well as an option quarterback that rolled up All-State numbers in Darlington, Wis. "The things they saw in me are the things I saw in myself as a player. They knew me. I watched the Bengals quite a bit with all the great teams they've had. It's a good team with a lot of good players and the coaches are second to none. I saw that on my visit and today when it was hands on."
We've seen this guy before. Dane Sanzenbacher? Jordan Shipley? If he stays healthy in the slot?
"There's a lot of guys in the league making their money inside," Erickson said. "Tough guys. Good hands."
At least on the first day, there seemed to be plenty of that.
Cincinnati Bengals host rookie minicamp at Paul Brown Stadium practice fields 5/6/2016