Bengals season ticket holder Karl Schaulin announced Cincinnati's fourth-round draft selection at Radio City Music Hall.
When the call came in just a week before last month's draft, Karl Schaulin could hardly believe his luck.
The man who says he isn't often graced with any strokes of luck for prizes or giveaways had been the season ticket-holder randomly chosen by Bengals executive vice president Katie Blackburn to fly to New York City to attend the NFL Draft and announce the team's fourth-round selection.
He actually thought something had gone wrong when he got the call.
" 'Oh no, did something happen? Did I forget something?' " he wondered, but it turned out to be the start of a run of good luck.
To kick off the journey, head coach Marvin Lewis introduced Schaulin at his pre-draft news conference April 23. They exchanged pleasantries and he told Lewis that in order to channel some good fortune he'd don the jersey of 2010 fourth-round pick Geno Atkins, a two-time Pro Bowler.
"I still really couldn't believe it until (the news conference)," said Schaulin, a club-level season ticket holder of 10 years. "It was a little bit surreal, frankly. When I was walking out, I also met (Bengals president) Mike Brown and a few other people along the way.
"Everyone that I talked to that Tuesday was so interested in, 'Where are you at?' or 'Where are you from?' and 'Best of luck.' It was really extraordinary."
Next was New York and the Sheraton in the heart of Times Square, where he and his family soaked in the city that never sleeps. And of course on Saturday they trekked just a couple of blocks to Radio City Music Hall, where his moment waited.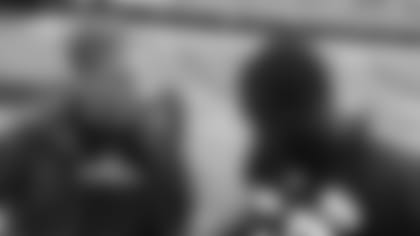 Bengals rookie Sean Porter signs the draft card Schaulin used to announce the pick.
But first, Schaulin got time to take in the spectacular scenery. From the network television sets, to observing the intricacies of the draft process, the full show was on display. His son even snapped a picture with NFL commissioner Roger Goodell.
Then it was showtime. Along came pick No. 118—the 21st pick in the fourth round—and Schaulin stepped up to the mike to deliver the news: the Bengals had selected linebacker Sean Porter of Texas A&M.
Surely a memorable moment for any fan and Schaulin's is no different. But he quickly makes it clear that his appreciation is for the experience and not just the big moment.
"What I found fascinating was that this is an NFL-sponsored event, and it would be easy for the Bengals to take this as an obligation. But, in fact, I found just the opposite," he said.
Schaulin gained two new friends along the way, Nick Cosgray and Dan Willen of the Bengals training staff and the team's representatives at the draft. Schaulin hung around to talk shop with them at the Bengals table both before and after the announcement, allowing him to thoroughly take in the experience. Although most teams had a fan announcing a pick that day, few appeared to come close to Schaulin's experience.
"At the table behind us was a guy announcing for (another NFL team), and it was as if he wasn't even there," Schaulin said. "All the while I'm sitting there between Nick and Dan, and they're great. They told me what was going on and gave me a draft card and showed me the process.
"I'm looking around, and nobody else (other guest announcers) is doing anything; they'd do their pick, and they'd leave. And I'm there hanging out."
Schaulin is so grateful and thought highly enough of the experience that he crafted thank you notes to Brown, Cosgray and Willen.
"They didn't have to do that," he said of the depth of the experience. "They could have just taken it as an assignment, something they had to do."
To cap it off, Schaulin visited PBS on Saturday morning to take in the morning session of rookie minicamp. And before practice, he got the opportunity to meet the man whose name he announced. Schaulin and Porter chatted for a few minutes and shared pictures of the event, and before being whisked away to start drills Porter signed the draft card Schaulin had read for the selection.
And, of course, he also shared a few minutes catching up with Cosgray and Willen.
"It was really one of those experiences that you'll never forget," he said. "Something you didn't expect. Just unbelievable."
All thanks to a little bit of good fortune.