Chad Johnson, back when he led the AFC in yardage four straight years.
Chad Johnson is walking through Times Square with his hat pulled slightly down so he doesn't get recognized. He's in New York to take care of some business he says and, no, he hasn't seen the Naked Cowboy, the Times Square guitarist born in Cincinnati.
"No. I saw the Naked Cowgirl, though," The Ocho says.
His phone is cutting out between the beams of the buildings and the belches of the buses. But one thing is coming through loud and clear like a Chad Johnson prediction.
"To me he's the greatest (Bengals receiver) of all time because he can do things I wasn't able to do," Johnson says. "High-point the ball. And he's a much more consistent pass catcher than I was."
Here's another thing coming through loud and clear. Chad Javon Johnson, all 38 years of him, has aged gracefully and graciously and that's saying something in this era of politics where graffiti-like insults are traded instead of ivy-covered ideals, cyberbullies, and aging greats like Michael Jordan turning Hall-of-Fame speeches into just another trash-talking session.
"Records are made to be what?" Johnson asks and when the answer is "broken," he says, "Exactly. Exactly. Exactly."
After Green made like the Beatles and romped through his second continent in as many weeks with 121 yards in Wembley Stadium last Sunday, he's on pace to not only break Johnson's single-season Bengals record of 1,440 yards, but bury it with an asterisk.
At his half-way point of eight games Green is leading the NFL in receiving yards with 896 and catches with 59, on pace to also break T.J. Houshmandzadeh's club record of 112. Johnson and Houshmandzadeh both did their deeds in 2007, when Johnson was 29 and in his seventh season, on the last ride of his four straight AFC receiving yardage titles.
At 28 and in his sixth season, Green looks like he'll at least lead the AFC for the first time with a 187-yard edge on the Colts' T.Y. Hilton.
And there are those 100-yard games. Johnson has 31, Green has 28 and is on pace to get that, oh, next month.
"What better player would you want to break your record?" Johnson asks.  "Someone like that. The dude is pure class and plays the way the game should be played at receiver."
They are, of course, The Odd Couple of the Bengals record book.
The low-profile Green is the fastidious Felix, so neat about his emotions with a glacial calm that borders on cold-blooded execution. Just ask the shell of Josh Norman. Johnson is the outrageous Oscar, unravelling swagger, bombast, and yards into national celebrity that can still be seen in, well, Times Square.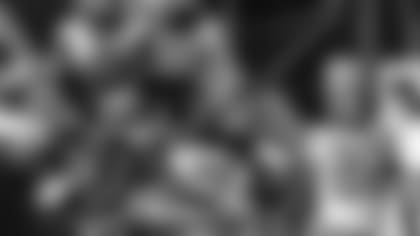 After Green high-pointed the Hail Mary last week, a trait Johnson envies, he came down with theTD.
"We're totally opposite as far as personality goes," Johnson says. "But he gets the job done. He gets the job done."
The matchup between Green and Norman, Washington's Pro Bowler cornerback and yapper who styles himself as a modern-day mouthy star like Johnson, didn't work out too well for Norman.   Like this Age of Twitter, he's a little too angry, a little too in-your face as the five penalties suggest. And when he went after specific officials following Sunday's game, just a little too mean.
"I would never do that," Johnson says. "The officials and I are always friends."
Although Johnson was one of the first public personalities to get on Twitter and make it his own, he's more a product of the last easier decade of DVRs and flip phones. It's just as well he's been retired five years because he loved the game too much to play in this Age of Anger, where it seems like every player just has to have a  chip on his shoulder about some imagined slight.
"I didn't really have a temper. I was always smiling and happy," Johnson says. "You could probably count on one hand the time I had a temper and it was more so related to losing than anything."
Talk to Johnson about playing wide receiver in the NFL and you get an idea what it was like to talk hitting with Ted Williams, the first true scientist of swing. They share the same kind of passion about their art and Green is one of his favorite subjects. He was up at 9:30 a.m. Sunday watching the War of Wembley.
"He could have had more early, just like he could have had more this season if there hadn't been a few misses with Andy (Dalton)," Johnson says. "But he had nine for 121 yards. That's good. It's hard for me to evaluate him off the TV because I'm not there every day and he's been so consistent with his numbers and catches during his career. So it's hard for me to say how he's improved. But I'm sure there are some intangible we can't see off the TV view."
Green is 6-4, 210 pounds. Johnson was 6-1, 192 pounds. Different receivers. Johnson was like a dancer, stunning  cornerbacks with the quickness of his supersonic release, setting them up like the Rockettes with blur-like feet that  got faster the closer they came to stopping, and then finishing them off like a Broadway ballerina by contorting his body in all kinds of shapes to fit the catch.
Green, on the other hand, is one of those stretch-fours from the NBA. He can post up, like he did on Norman when his second-and third-and-fourth efforts got a first down over the middle on third-and-10. He can run the floor, like he did on the 40-yarder in Wembley. He can go up and get the rebound a la the Hail Mary against Cleveland. He can step back and hit the three-pointer, like his sliding catches under the zone.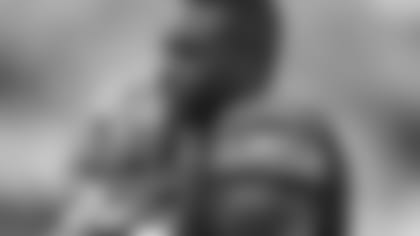 **Green: leading the NFL in yards and catches at his half-way point.**
Johnson calls Green "a hybrid." As he tries to think of a tall receiver that is as good of a route runner as Green, he's stumped. There is Randy Moss with that blazing speed, but ….
"I can't think of anyone that tall who does that after Randy Moss," Johnson says. "To be A.J.'s size and run the routes he does to get open and to high-point the ball, the stuff he does is really good.
"At all times when you're one of the top tier receivers, they game plan for you. They game plan for A.J. When you're able to be good, when you're able to constantly get open, consistently be productive year in and year out when they game plan for you, that's when you know you're elite."
Johnson says the best receiver in the game is the Steelers' Antonio Brown. And not because he's from Miami and is more his size.
"He can do everything. He's someone you really can't stop," says Johnson, sounding like he's talking about himself back in the day. "Once they move him around, it's a wrap defensively. And if you stop him some times, they can put him on special teams and he can kill you as well. That's what makes him really, really, really special.
"From a receiver standpoint, his skill set is like no other. Getting off the ball, getting off the jam. Creating separation. Reading bump-and-run. Beating double coverage. It's ridiculous."
The Ocho says it's useless to compare Green and Brown because they're so different. "Night and day," he says. But obviously he'll take Green on his team.
"Look what he's done since he's been in the league," Johnson says. "It's phenomenal."
For the last 13 seasons there have been only two years a Bengals receiver didn't go to the Pro Bowl. Johnson went to six of eight. Green has been to all five. In his first year of eligibility, Johnson made the preliminary Pro Football Hall-of-Fame ballot for the cut to 25. He's not going to get there yet with Terrell Owens ahead of him and there are five Bengals that should get in ahead of him (Ken Anderson, Ken Riley, Isaac Curtis, Willie Anderson, Lemar Parrish), but he deserves to be in the conversation.
"I don't really care about that stuff, man," Johnson says. "I played the game to have fun. Whatever accolades come along with that, so be it. If they don't come, so be it. My life still goes on. It doesn't change much."
It's like Johnson says, "C'mon dude, I would tell corners right before the snap what route I was running and they still couldn't stop me. Who does that? I had fun."
He still is and watching Green every week is fun for him, too. And there's something nice about that as Green continues to high-point his records.
Cincinnati Bengals host Washington Redskins at Wembley Stadium as part of the NFL international series 10/30/2016