The draft cards for A.J. Green  and Andy Dalton.
CANTON, Ohio - As any good Bengals pilgrim who crosses the threshold of the Pro Football Hall of Fame, we made the journey Wednesday to the locker that houses the mecca of the No. 78 belonging to Anthony Munoz.
But as pro football's inexhaustible collector of customs tells you, Jon Kendle says there is plenty where that came from. Munoz's jersey is one of about 650 artifacts the Hall displays at one time, but Kendle figures that is less than one percent of what is stored on the bottom two floors of the game's most hallowed edifice.
"Typically, museums (display) about five percent," Kendle says during a break from putting the footnotes in football. "But because of our vast collection, it's a lot less than that."
So for every Munoz jersey, there are about 25 vintage meticulously drawn plays and scouting reports from Bengals founder Paul Brown. Kendle, a Canton kid who grew up to fulfill a dream as the Hall's archivist, says every day is Christmas while stringing together lights for researchers and scholars with 40 million pages of documents and six million images.
This is a good stretch to be awash in nostalgia. It is the Bengals' 50th season and next year is their 50th anniversary. It is the 15th anniversary of the AFC North and the 20th anniversary of Bengals running back Corey Dillon breaking Jim Brown's single game rookie rushing record, an event heralded currently in the great rookie moments display.
And the Hall is already preparing for the NFL's Sept. 17, 2020 centennial.
Kendle, in love with the Bengals since the No Huddle '80s even though he grew up (near) Cleveland and not in Cincinnati despite head coach Sam Wyche's famous admonition, pushes back the shelves like Bengals Pro Bowl tackle Geno Atkins opening the A Gap and emerges like a professorial Santa Claus.
So feast your eyes on a letter dated April 5, 1976 from Bill Belichick. A week away from turning 24, he thanks the Lions in a carefully typewritten letter for letting him view some film before they hire him that season to be an assistant special teams coach.
Savor Chicago Bears co-founder Dutch Sternaman's journal of the 1925 season that reveals decades before the players took in most of the salary cap Red Grange and his agent hauled in about 60 percent of the gate in the Bears tour with college football's greatest star.
Marvel at the 1962 letter from Dallas exec Tax Schramm. His organizational heir, Cowboys owner Jerry Jones, is going into the Hall of Fame this coming August primarily because he helped turn the NFL into a $10 billion industry. When the Hall was about to open its doors and was looking for donations, Schramm offered $1,000 in installments of $333.34 for three years.
And Kendle is thankful for the kindness from strangers and friends alike.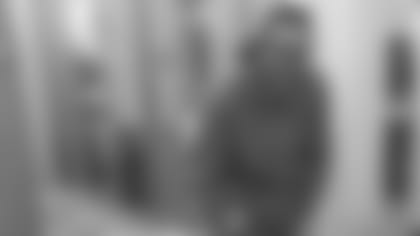 Pro Football Hall of Fame archivist Jon Kendle is always on the look out for any shred of the game's legacy.
"We would love to bring everything to Canton to preserve it and invest money to make sure the material is housed in the right conditions," Kendle says. "Just to know what's out there. We've gone to teams helping them know what they have so we know what they have."
A few years ago the Hall went to Paul Brown Stadium at the Brown family's request to catalogue Paul Brown's massive trove of papers and belongings. Much of it stayed in an office closet but a lot of it made it to Canton, like one of his fedoras that is currently in the basement with the other "three-dimensional," items that are rotated on display and in temperature-controlled storage.
Kendle and a crew recently went to Buffalo to do the same thing with the Bills and rescued mounds of info that wasn't stored in the best of places to grow archives during a punishing winter in a creaky stadium.  One of the Hall's archives rooms that can only be accessed by key card is still busy with the sifting of a collection gifted by one of former NFL commissioner Bert Bell's secretaries in the days long before the Merger. The only way in without a key is an appointment and a mission.
Kendle can celebrate seven decades on a table. Here is Paul Brown's 1951 scouting report from a Cleveland game against the Packers, complete with his drawing of kick-off coverage. In the middle is Bengals head coach Marvin Lewis' call sheet from the 2000 Super Bowl when he was the defensive coordinator of the Ravens' record setting defense that kept the Giants out of the end zone that night in Tampa. Over there are the official 2011 draft cards of A.J. Green and Andy Dalton, part of the collection the NFL has donated since 1997 with every card of every player drafted.
"Pretty good draft," Kendle says.
 "We know that a lot of the items are sentimental, but we take whatever we can get. We're not collectors. We're looking to preserve the legacy of the game."
Like Christmas, gifts can come from the most surprising of relatives. Dick Vermeil, the old Eagles coach who won a Super Bowl with the Rams, sent along a string of gems that somehow included Bengals quarterbacks/wide receivers coach Bill Walsh's analysis of Cincinnati's passing game from 1970.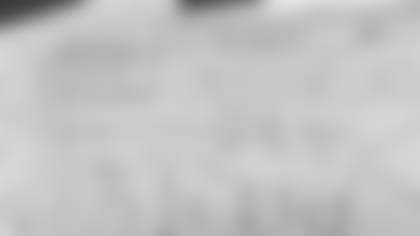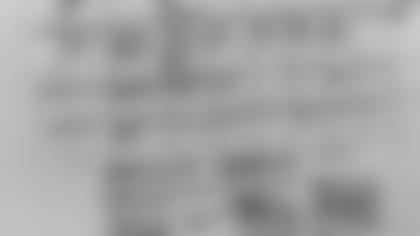 Paul Brown's scouting report from the 1954 college all-star game (above) along with Marvin Lewis' call sheet from 2000 Super Bowl (bottom).
The Xs and Os for quarterbacks Virgil Carter and Sam Wyche worked for the earliest franchise berth ever for an expansion team, but Kendle also has his hands on one of those rare Paul Brown innovations that didn't work.
 "A ball warmer," Kendle says. "It looked like an egg with heating coils on the inside. It was cast iron. When the balls would be wet and freeze, (Brown) tried to see if they could warm up the balls and dry them off when they were waterlogged and get them back on the field. The heating levels were a little bit too high and they actually baked the leather on the football so they came out rock hard."
But years before Deflategate, there was no controversy and no egg on Brown's face. In fact, one of Brown's contraptions still lives every time every play is called into a helmet on offense and defense. In his basement Kendle also has one of the first rudimentary radio helmets Brown slapped on quarterback George Ratterman in the '50s.
"The Cleveland Browns donated it," says Kendle, but not every Paul Brown item from those days came from the club.
One of his warm-up jackets was donated by a neighbor. Apparently when Brown was fired, he didn't want anything with the team's name on it even though it was his own and handed them off.
"The league is so big now I could clip articles and videos 24-7 and not come close to keeping up with it," Kendle says. "But I've got to try and keep 50 years ahead."
Except every day is Christmas.
Throwback gallery of the Bengals 2001 Draft Class.