Joe Mixon knows who ran before him.
Jim Anderson, who coached 14 different Bengals runners to 100-yard games before retiring four years ago, wasted no time to take a look at the next one Friday when the club conducted the first day of rookie minicamp at dreary, drip-dry Paul Brown Stadium.
It didn't take long to find out who Anderson had come to see. You didn't have to coach the Bengals running backs for 29 years to know that Oklahoma's Joe Mixon had arrived as advertised. Big. 6-2, 230-pound big. (Maybe a little too big for head coach Marvin Lewis at the moment). Fast. Smooth. Hands.
"Bounce," Anderson said. "He's got bounce."
Bounce. Feet. Light feet. Nimble. Not Corey Dillon feet or even Rudi Johnson feet. Not those violent, digging feet that ripped up the turf and record books.
"Bounce," Jim Anderson said, which may be the one thing he has in common with Harold Green, another Bengals No. 28. Those light feet may be the one thing he doesn't share with Dillon, the Bengals all-time rusher who, like Mixon, came out of the West Coast 20 years ago and fell to the second round.
"Look at his legs," Anderson said. "Thick. Power pack."
Only one half of the Bengals' prized top two draft picks displayed Friday. No. 1 pick John Ross, the wide receiver from Washington, is recovering from shoulder surgery but he still gave an indication that he's going to have a quick impact on the Bengals offense.
Even though Ross couldn't practice, he lined up behind the receiver playing his spot on each snap for those obligatory mental reps. And he was lining up both inside and outside.
"No preference. I don't mind (the slot). Anywhere they stick me," Ross said. "I don't think there's a lot of difference in how much routes you can run in the slot or run outside … They moved me around a lot. Not all three (spots). I'll probably work all three positions. I think it's good to learn all three."
But since Mixon is the one guy that worked Friday, there was a lot of talk about running backs. And Mixon was the guy talking about them. It turns out he's a bit of a connoisseur of them. Thanks to YouTube, he's probably seen more of Dillion and other Bengals backs such as Rudi Johnson and Cedric Benson than Jeremy Hill and Giovani Bernard, the men he'll battle for playing time.
"You need all 11," Mixon said before practice. "Once I get to learn the playbook I feel like I'll fit right there with the veterans. I feel like me, Jeremy, and Giovani will complement each other very well. I'm looking forward to get an opportunity to do that."
Mixon isn't wearing No. 28 because of Dillon. It's because of Adrian Peterson, the Pro Bowler and fellow Sooner who has become a fan after their chats when Peterson visited campus and because Mixon has modeled his game after Peterson's varied style.
How's this for a draft day text from the best NFL back of his generation?
"Good luck. Congratulations," Peterson texted Mixon. "Can't wait to watch you. Look forward to seeing you on TV."
But Mixon never saw his second favorite back. He retired a decade before he was born.
"Walter Payton was one of those backs who would do it all," Mixon said. "He'll take it to you and make people miss. I feel like he was the best all-around back back in the day."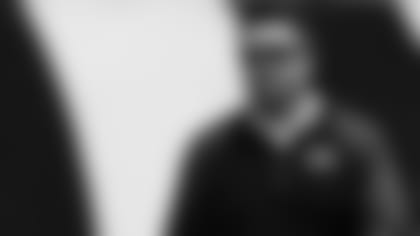 Running backs coach Kyle Caskey has a loaded backfield.
Mixon isn't comparing himself to these guys. He's simply a fan of the position he plays. He likes watching them and is looking for any tip or clue to make himself better.
"Only time will tell on this level and how I can showcase what I get to do," he said. "I'm just looking forward to that opportunity. Until then, I've got to get ready and get myself in the best shape possible. Basically, learn that playbook."
The book has not been bad so far. He says offensive coordinator Ken Zampese and running backs coach Kyle Caskey have put the dizzying diagrams of pass protections on the board and "it's not much different than Oklahoma."
Lewis isn't surprised Mixon isn't in great shape. Not after visiting about half the NFL before the draft.
"He needs to get in shape again," Lewis said with a laugh. "A lot of guys go through that. That's one of the things that, when they come here to visit, you always encourage them that for the next week and a half to get back on their training routine, because they've spent the last two or three weeks traveling and visiting teams … So they've got to get back and get after it, and get back to work to get their conditioning level and their running back up (to par). And then it's a different kind of running when you're doing football, as opposed to basically the combine training these guys were doing."
So no surprise there but Lewis may be taken aback how much Mixon knows about the backs that have played for him, as well as the great ones.
"Eric Dickerson. Barry Sanders. Jerome Bettis is another good one," Mixon said of his views. "Corey Dillon actually. He was a big back definitely taking it to guys. He was a Cincinnati great.
"I know a little bit about Rudi Johnson," Mixon said. "He was (physical) and he was crafty, too."
But Mixon can never get enough of Benson.
"He was a dude. Big 3-2," he said. "A bruiser. He's running into you. He's not trying to run around you. He's trying to do whatever he can to get in that end zone. If it's to go around or go through you, he's going to choose to go through you. Cedric Benson. I like him a lot."
But Mixon isn't going to put himself in a box when it comes to style. And why should he? Like Bengals radio analyst Dave Lapham observed Friday, "Big man with little man's feet."
So will it be a Corey Dillon stiff-arm? Or will it be savvy Rudi J? Or Just Plain Ced smashing through instead of dashing around?
"I don't know. When the preseason and the regular season come around we'll see," Mixon said. "Whatever the situation is. It depends. I try to mix it up. So when they put on the film they don't know what to do. They're thinking about it. That's when I set them up … you never know."
Photos from the Bengals Rookie Mini Camp on Friday, May 5, 2017.